As season pass-holders and Orlando residents, we go to Disney a lot. No, seriously, A LOT. Last year, we used our passes 30 times, and considering we're blacked out all summer and during Spring Break and Christmas, that means we're going almost every available weekend. For the off-season, we also have Disney water parks passes for Typhoon Lagoon and Blizzard Beach. Plus, we've been on one Disney cruise so far. (p.s. all of those things have been on our own dime)
So, you could say we're fans.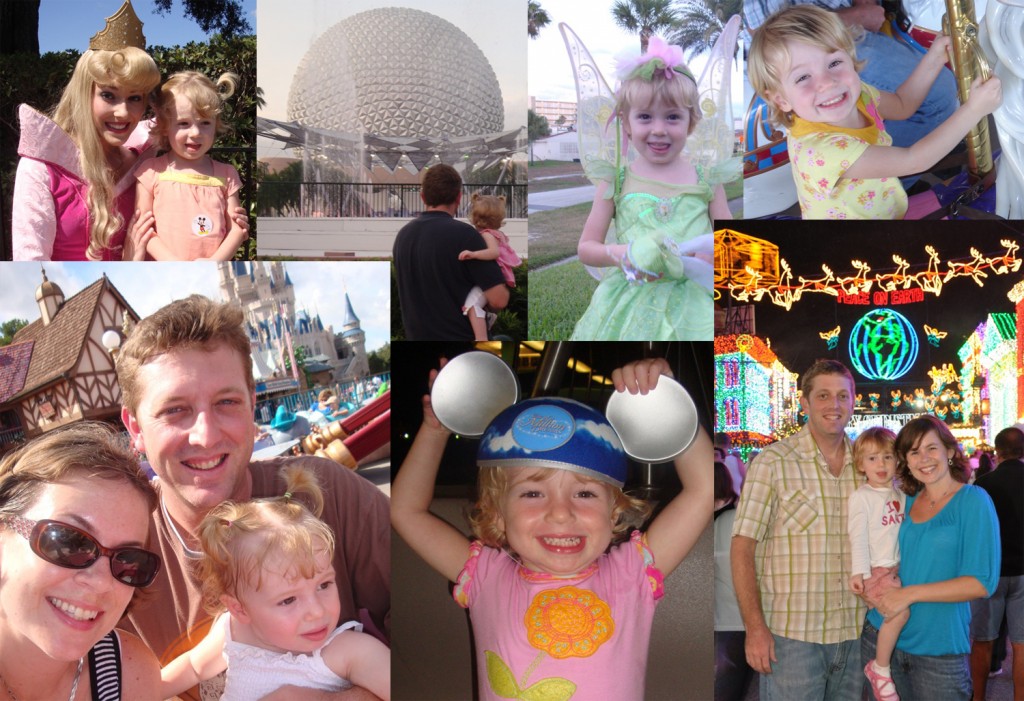 If you're looking for tips, tricks and recommendations, please do not hesitate to leave a comment with your question. Chances are, I've got an opinion!
Here are the posts I've done on our Disney adventures. If there's anything specific you'd ever like to see a post on (attractions, restaurants, entertainment, etc.), leave me a comment or send me an email!
A great place to get started is my four-park guide to doing Disney With a Toddler.** (this really needs to be updated. I promise it's coming but email me if you have any specific questions about the New Fantasyland changes or see the posts below)
Magic Kingdom:
— Magician Mickey's Greatest Trick Yet: He Talks! (November 2013)
— This is What Makes Disney Disney (September 2013)
— Dining in Beast's Castle (January 2013)
— Celebrate the Magic projection show on Cinderella's Castle (December 2012)
— The New Fantasyland (November 2012)
— Big Changes in Storybook Circus, including the New Dumbo Queue and Playground. Plus, a New Princess Joins the Ranks (Sept. 2012)
— Exploring the New Fantasyland (April 2012)
— On a First-Name Basis With the Princesses (January 2012)
— Christmas in the Kingdom (Dec. 2011)
— Tink to Tink: Main Street Electrical Parade and Tink Meet and Greet (Nov. 2011)
— Fall Arrives at Magic Kingdom (Sept. 2011)
— Birthday in the Kingdom (Jan. 2011)
— Living Spontaneously (Jan. 2011)
Epcot:
— E's Excellent Spring Break (Flower and Garden Festival) (April 2012)
— My Favorite Florida Spring Things (Flower and Garden Festival) (March 2012)
— Our First Pass at Food and Wine (Oct. 2011)
— Lotso Huggin at Pixar Weekend (May 2011)
Hollywood Studios:
— Wreck-It-Ralph Meet-and-Greet and Osborne Lights (December 2012)
— An Action-Packed Day: Jake, Ariel and Belle (October 2012)
— Stars Wars Weekends (May 2012)
— Disney Christmas in July Blog Hop: Osborne Family Spectacle of Dancing Lights (July 2011)
— Memorial Day Madness: Stay Wars Weekends (May 2011)
— Wordless Wednesday: Star Wars Weekends (May 2001)
— Star Tours Reopens! (May 2011)
— Osborne Family Spectacle of Dancing Lights (Dec. 2010)
Animal Kingdom:
— Girls' Day Out at Animal Kingdom (March 2012)
— Off the Beaten Path at Animal Kingdom (March 2011)
Restaurants:
— Birthday Fun at the Hoop-Dee-Doo Revue (February 2013)
— Lunch at Be Our Guest Restaurant (January 2013)
— California Grill (Jan. 2011)
— Hoop-Dee-Doo Musical Revue at Fort Wilderness (February 2013)
Special Events:
— Walt Disney World Marathon Weekend: Mickey Mile and Marathon (January 2014)
— Christmas at Disney: Park by Park Guide (December 2013)
— Limited Time Magic: Unleash the Villains: Friday the 13th at Hollywood Studios (September 2013)
— Disney on Ice: Princesses and Heroes (September 2013)
— Limited Time Magic: Long-Lost Friends Weekend (January 2013)
— E Runs the Mickey Mile During Marathon Weekend (January 2013)
— Rockin' Out at Disney on Ice (September 2012)
— DadJovi Does the Disney Marathon (Jan. 2012)
— Soaring Princesses and Silly Horses at Disney on Ice (Sept. 2011)
— Disney's Royal Family 5K (Feb. 2011)
— True Grit: My Husband's Disney Marathon (Jan. 2011)
— A Runner is Born: Mickey's Marathon Kids' Fest (Jan. 2011)
Movie Reviews:
— Wreck-It Ralph (November 2012)
— Frankenweenie (October 2012)
— Why We Need More Meridas (June 2012)
— Chimpanzee: My Monkey Meets the Monkeys (April 2012)
— Tale as Old as Time (Jan. 2012)
— Silly Old Bear: Winnie the Pooh (July 2011)