Fall is coming! Fall is coming! It's coming, I promise.
Consider the evidence.
Exhibit A: Football is back!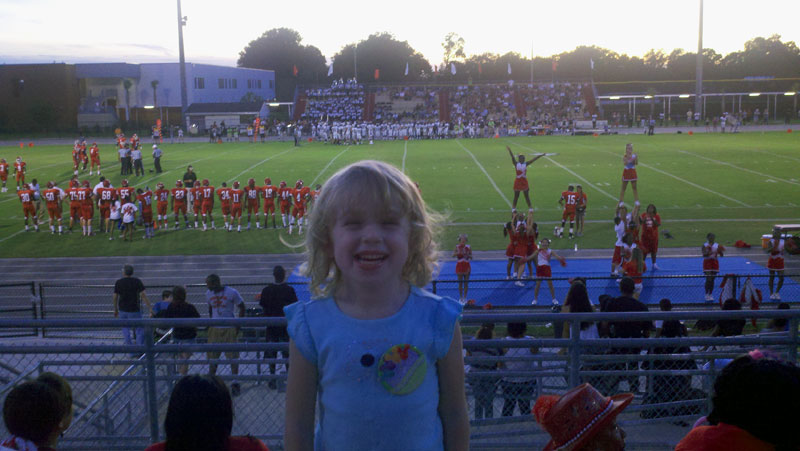 On Friday night, the weather was so nice we took E. to a high school football game. Oh, the memories it brought back. The team's colors were even red and white, and for 5 seconds, it made me feel like this again: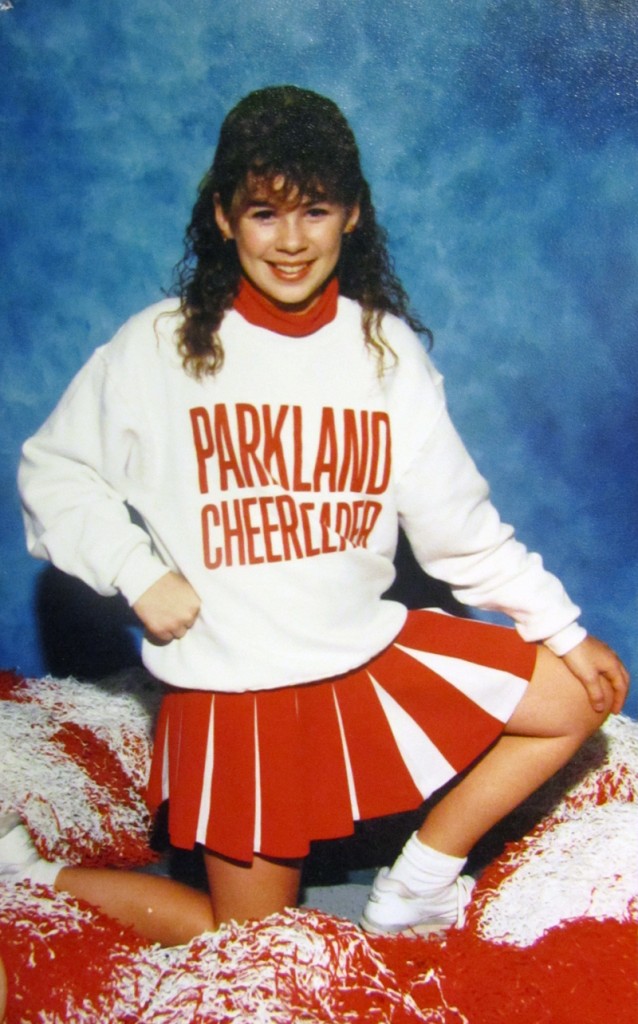 Why yes, I was a cheerleader from sixth through 12th grades. I think this is circa 8th grade. For some reason, I found my junior high cheerleading pics tonight but couldn't find any high school ones. I must have burned them all.
As we were watching the game, I could feel the cheers coming back to me. Don't worry — I didn't embarrass E and DadJovi by getting up and joining in (although I wanted to). E had one very important question though: "Mommy, why do they spell so much?" Excellent question. I didn't have an answer but once I thought about it, I realized that I can't spell the words aggressive (B-E AGG-R-E-SS-IVE, be aggressive, be-e aggressive, WOO!) and psyched (P-S-Y-C-H-E-D, psyched is what we want to be, get psyched, c'mon, c'mong get psyched, WOO) without doing the cheers. And the woos.
Please don't judge me for both my poor spelling and my cheer past.
Exhibit B: DadJovi's dad is back from the mountains.
Every summer, DadJovi's dad leaves hot, humid and miserable Florida behind and heads to his cabin in West Virginia for the summer. Can you blame him? We get so jealous of the cool, mountain breezes and his long, luxurious hours of reading on the back deck. It's enough to make me want to retire prematurely.
We all miss him when he's gone, especially one little sprite in particular.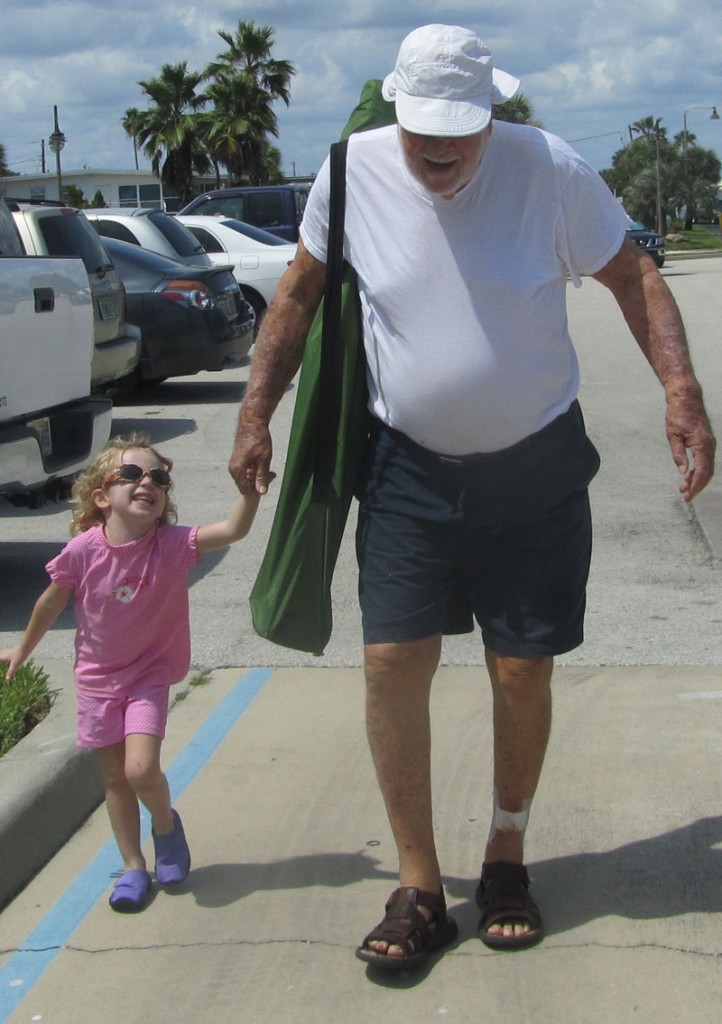 To celebrate his return, we hit Daytona Beach on Saturday. It was a choppy surf day and we were there for high tide, which didn't leave a lot of beach to enjoy. Somehow, we made due.
September is actually my favorite month on the beach. It's not as blazing hot and the water is so warm (it was 82 degrees on Saturday!). I could probably sit there for 8 hours, but, alas, we were only there for about an hour on Saturday. Oh well. One hour is much better than no hours. I think it's because I'm a "new" Floridian (8 years now and going strong!). Growing up, it was a big deal to head down to the shore (yes, we called it the shore before Jersey Shore). Whether it was a beach in New Jersey, Delaware or Maryland, I loved to go … even if the water was frigid! I'm still not used to be only 45 minutes from a beach. It's fabulous.
Exhibit C: Disney, Disney, Disney!
Our summer blackout period is finally over, so we'll be hitting Disney. A lot. Look, even Mickey says fall is all but here.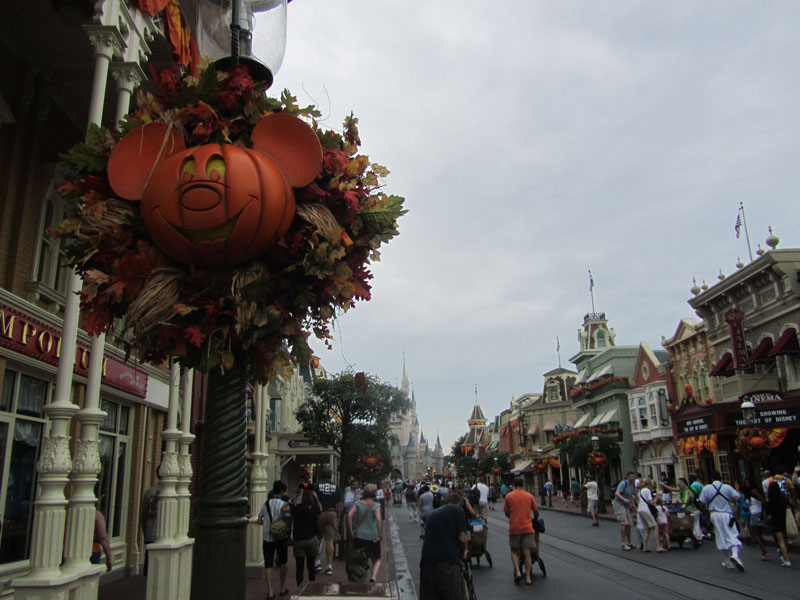 OK, the mouse may be pushing it a bit, but the crowds were definitely lower today. Man, I love when the rest of the country goes back to school! For the next couple weeks, the parks will feel almost empty. Our good friends met us there today to help us take advantage of the shorter wait times.
We even had a milestone — E is finally tall enough (well, thanks in part to her cowgirl boots. Shhh, don't tell Mickey!) to ride Thunder Mountain. This is her on her first time ever riding it.
Think she liked it? She liked it so much that she and her Daddy immediately hit it a second time (no line!). Look closely, and you'll see them waving to me on the platform. Poor old Mom can only take the roller coasters in moderation these days.
In our first two-and-a-half hours there today, we hit Thunder Mountain twice, Splash Mountain, Pirates, the newly restored Tiki Room, Aladdin, Peter Pan, Cinderella's Carousel, Philharmagic, the racecars and Winnie the Pooh. Not bad, huh? Plus, E got to spend the day with her BFF. His dad and DadJovi grew up together, so it's so funny to watch them with their kids.
We were out of there by 1. Perfect. I even got to come home and take a 90 minute nap, which probably hasn't happened in more than a year. DadJovi admitted when I woke up that he dozed some too, which means our non-napping 3-year-old was a free-range kid for awhile. Oh well, the house was still standing when I got up.
I also realized that my lip was killing me. Oh, in case you missed my tweets this weekend, let me bring you up to speed.
[blackbirdpie url="http://twitter.com/#!/momjoviblog/status/110121207566831616″]
[blackbirdpie url="http://twitter.com/#!/momjoviblog/status/110121331785338882″]
You're jealous, aren't you? Well, today that lip is even worse.
What's up with the zit, yo? Is adult acne contagious? If so, I'm totally blaming Katy.
Well, the lip keeps getting blacker-and-bluer by the hour. Maybe it'll give me street cred it our all male fantasy football league. They're already scared of me anyway. I was league champ last year and I intend to repeat again. Team MomJovi is a force to be reckoned with.
So, what's saying fall to you?