As y'all know, we're a bit Star Wars obsessed in our family. Um, remember this Halloween costume?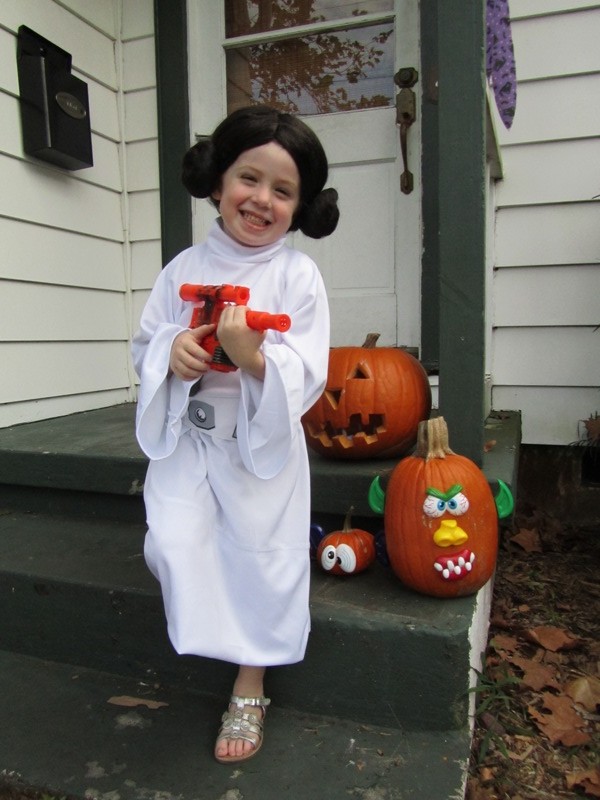 Or all of this?
Obviously our very favorite Disney event of the year is Star Wars Weekends at Hollywood Studios. This year, Star Wars Weekends added an extra weekend (which is good for us considering how crazy our May is) and added the event we've always dreamed of — Star Wars character dining!

On a recent Sunday, we showed up bright and early at Hollywood Studios for our breakfast with characters from a galaxy far, far away, suited up for our adventure.
Right when you walk into the Sci-Fi Drive-In Theater, you get your first encounter with a character.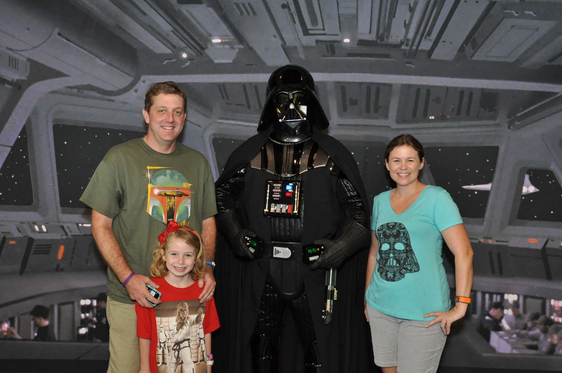 Sometimes Boba Fett is here, too, but we were happy for some one-on-one time with the Sith-Lord-formerly-known-as-Ani. Darth Vader was quite touched with my choice of clothing for the event. He couldn't talk but I sensed that he was thinking, "Impressive. Most impressive."
After bidding adieu to Vader, we walked into the main dining area. The Sci-Fi Drive-In was bursting with Star Wars gloriousness everywhere you looked.

You'll have to forgive the photos. If you've never been into the Drive-In, it's pitch-black in there. Frankly, I'm surprised I got as many useable photos as I did. New fancy camera FTW! If only I really knew how to use it.
We settled into our car, ready to see what goodies they'd bring for us to eat.
It didn't disappoint.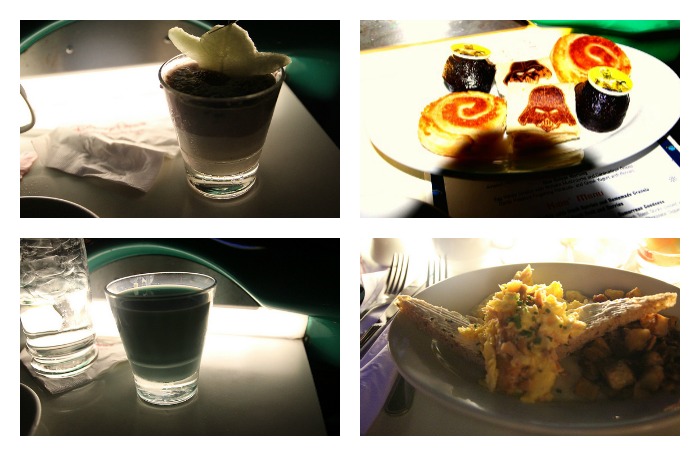 The breakfast is definitely pricey — $47.99 for adults and $29.99 for kids — but it included plenty of food. We started with the (horribly photographed) plate of pastries first, which featured C3PO cupcakes, Vader pastry puffs and Leia bun cinnamon rolls. There was also yogurt parfaits with Yoda-shaped melon; blue Bantha milk and I ordered the Dune Sea as my main dish. It was smoked salmon scrambled eggs, with mushroom potatoes and goat cheese toast. SOOO good. You were able to choose from several options for your appetizer and main course. For dessert, we all got strawberry surprises, which featured little bursting balls of strawberry flavored gel (I think; it was dark).
But mostly, you were there for the character greetings. All of them even signed E's character signatures book, no matter how challenging it proved to be. Space hands were meant for blasters, not pens.


Stormtroopers are always fun, but we were most excited for one particular bounty hunter: Greedo!

I'm not sure whose photo-bomb is better — the Jawa's or bitch-face Anakin's. Yeah, definitely Ani's.
Speaking of the Jawas, they were far and away the best character interaction. Thanks to the always changing and entertaining big screen, we knew what to expect.


E traded a Jawa one of her pins for a glowing cube.


The jawa spent a lot of time interacting with E and through its (or they he or shes?) sign language, they were able to communicate quite well. They were fast friends after that.


UTINI! UTINI!

Apart from the characters, my favorite part was the clips of the 1970s Star Wars Holiday Special. It was everything.


As hard as it was, we finally had to tear ourselves away from the Galaxy.


On our way out, we saw that the Galaxy's most feared bounty hunter had finally made an appearance. Thankfully the castmembers let Boba's biggest fan jump back in line for a quick pick.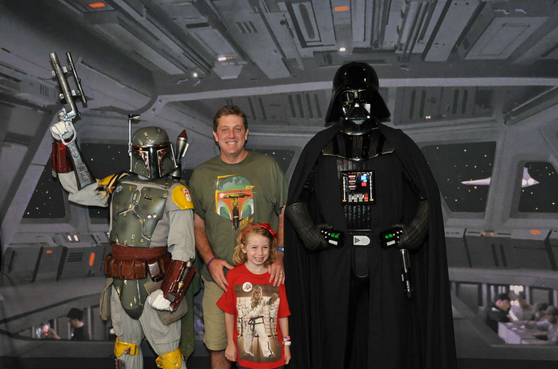 I really hope this becomes an annual event. Given the fact that most seatings are fully booked, I'm cautiously optimistic it'll be back. And maybe next year, there will be a Rebel or two, particularly a certain scruffy nerf-herder. We'll jut have to make sure to leave the "Han Shot First" shirt at home.
The Star Wars Galactic Dine-In Breakfast is available now through June 15 from 8 to noon. Click here for all the details!