Ever since I first heard that Angelina Jolie would take the starring role in Disney's "Maleficent," there was no doubt I'd be seeing it. She and her perfectly prosthetically enhanced cheekbones were meant for this role.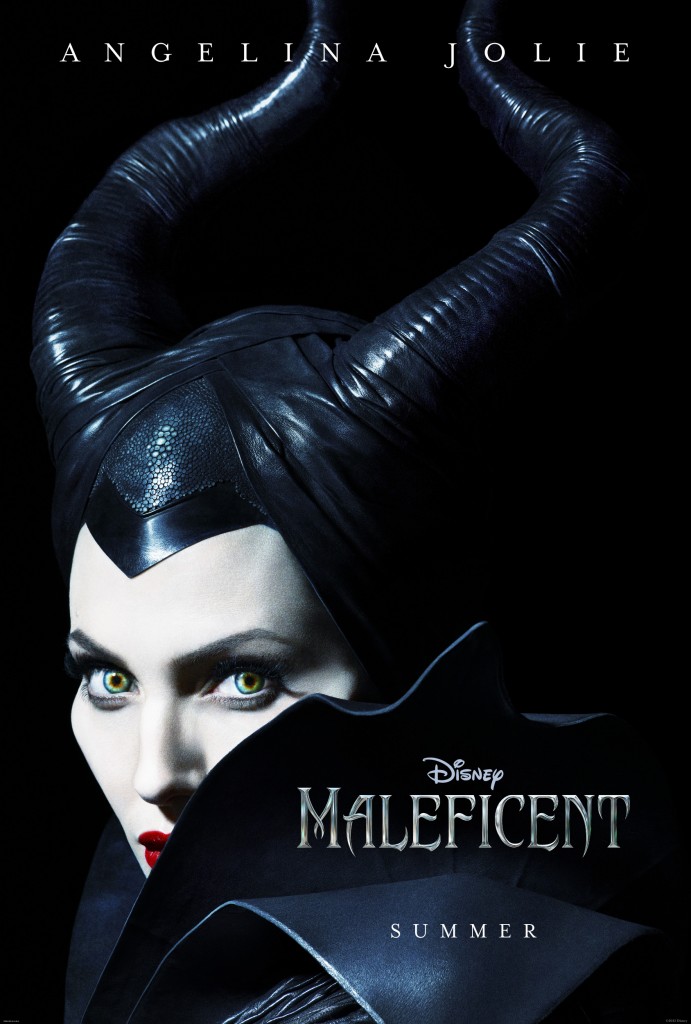 I know this comes as a surprise, but I don't actually know Angie (although I'm sure she wouldn't mind me using Brad's nickname for her) but from what I can glean from the interviews I've seen with her, I'm sure she relished the chance to finally play the bad girl. A decade after busting up America's party with its golden couple, she now gets to step into the role of the most famous baby christening crasher in history. Bravo.
Even though I knew I'd be seeing the movie, I wasn't sure if I could take E. In case you're just arriving in my little corner of the blog world for the first time (welcome!), I have a 6-year-old fairy/Star Wars/Disney (but-not-so-much-the-princesses) loving girl. The first time she saw the trailer for "Maleficent" she declared she would NEVER see that movie because it looked too scary (yet she's never once flinched at "Revenge of the Sith." Go figure). But after seeing it a few more times, she started thinking that maybe she would like to see it.
Typically, I would have just chanced it and taken her to the movies, but this week, I had the opportunity to attend a pre-release screening of the movie on a school night. So, I grabbed my Maleficent-loving and film geek friend Emily and off we went.
The headline? I will absolutely be taking E to see it. The movie is rated PG. There are some violent scenes (more on them in a moment) and a few moments of fright, but frankly, I think the snowmonster scene in "Frozen" is scarier than anything in "Maleficent." And maybe it's just me, but I still think the dragon in the original "Sleeping Beauty" and the witch in "Snow White" are way scarier than anything Disney has put out in the past couple decades.
I'm sure she'll review it on her own blog, but Michelle brought her 8-year-old son and afterwards he told me he didn't find any of the movie scary, either.
As for the movie itself, is it great? No. It had the potential to be quite good but it just seems to miss in a lot of parts, especially with its supporting cast. The actors are all fine but they're just not given very much to work with. As Emily wisely pointed out, other than Maleficent, they're all idiots. And they really bimboed up Emily's beloved trio of fairies.
I know they're intended to provide some levity to the film, but I just found them to be painfully vapid and annoying. I like my fairies clever like Tink. Or fierce like Maleficent.
Yes, spoiler alert (which you probably learned in the trailer), Maleficent is also a fairy, but someone stole her wings.
Elle Fanning is quite lovely as Aurora. She has some moments of spunk and to me, is leap years ahead, in terms of girl power, than animated Aurora (sorry Emily's list), but for the most part, she's a background accessory. At least her hair seems more fitting with her time, unlike poor Prince Phillip, who is inexplicably sporting Harry Styles' hairstyle (how have I never realized that his name is just like hairstyle? Is it a nom de plume?). I seriously thought a One Direction member had somehow snagged a role.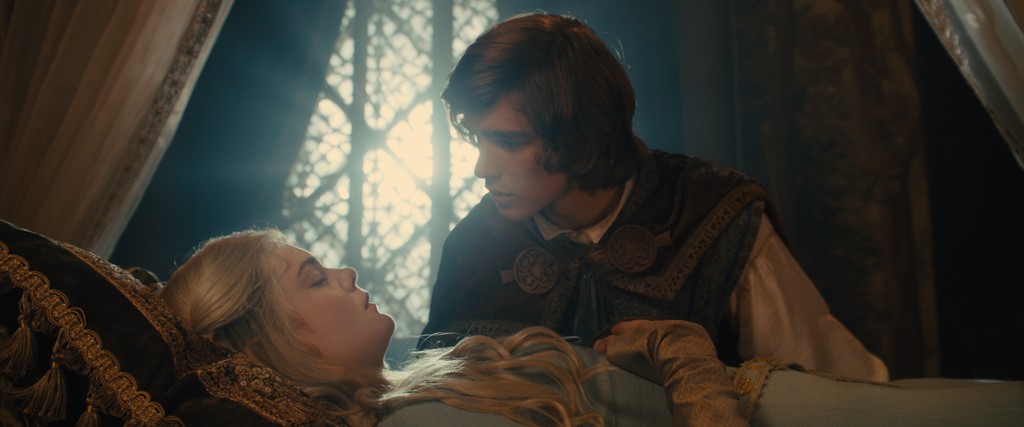 Disney has become very self-aware of its own, shall we say, troubled, film history in recent movies. "Maleficent" is no exception. Prince Philip seems mighty uncomfortable with kissing a girl he's barely met, especially since she's fast asleep, and it takes a lot of (obnoxious and somewhat offensive) goading from the fairies for him to do the deed. Without giving too much away, let's just say that the "Frozen" effect is, thankfully, in full effect in this film. I won't say any more but I predict you'll see it coming, too.
One final criticism before I move on to the good stuff. There just seems to be a lot of unnecessary violence in this movie. The first battle scene happens quite early in the movie as Maleficent tries to protect her fellow magical creatures' realm from an invading and attacking greedy human army. There isn't any blood or gore but it does feature some of the film's scarier moments thanks to the odd tree creatures that seem to be a cross of the Orcs and Ents (tree creatures) from "Lord of the Rings." Later in the movie, Maleficent turns her shape-shifting sidekick Diaval into an angry, snarling wolf and that will likely frighten some younger viewers. I was expecting the dragon scenes to be scarier but by that point in the film, the humans are far scarier than any other creature could be.
Speaking of film inspirations, you're also briefly going to feel like you're watching "Avatar" when the magical creatures' kingdom is introduced.
But let's get back to the good stuff. I love an interesting retelling of a tired old tale. Even knowing going in that Maleficent would quite clearly become a sympathetic figure in this version, I thoroughly enjoyed learning her new story nearly as much as I enjoyed learning about Elphaba's alternate backstory in "Wicked." Angie gets to be a fierce fairy with the most glorious film wings since John Travolta's in "Michael" (OK, maybe I could have worked harder on that comparison; someone else help me out here).
I mean, c'mon. Not only can she make horns looking sexy, she's ROCKING those wings. Wait until you see her in flight. The wings are spectacular and the story behind how she loses them is heart-breaking and character-changing for our heroine. I'd be hell-bent on vengeance, too!
The real joy in this movie, though, is the many moods of Maleficent. From relishing in her newfound darker side …
… to confronting her own confused feelings towards Aurora …
… it's impossible to take your eyes off her. Her scenes with her real-life daughter Vivienne as a young Aurora are perfectly precious, and if I were Angie and Brad, I'd have 10 more kids. Better yet — can I get adopted into the Jolie-Pitt clan?
I could just watch the many faces of Angelina all day long. Remember how campy she seemed in The Tourist or Mr. & Mrs. Smith? It was all practice for "Maleficent!"
That's a good thing, though, because it distracted me from the fact that the movie just can't quite pull it all together. To be honest, I'm actually more worried that E. will be bored rather than scared. Let's just keep that between us, though. I don't want Mal coming after me.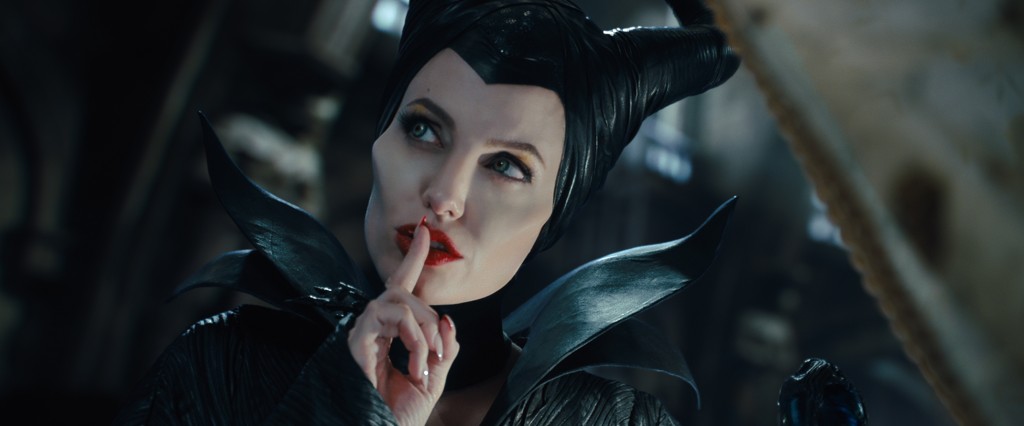 The takeaway? I'll see it again in theaters with E but sadly, I don't predict this will be a constant-viewing movie. One plus? After a lifetime of saying it wrong, I now know the proper way to say MaLEFFicent.
Will you see "Maleficent?" Who is your favorite film villain? And what do you think of classic story retellings: love 'em or hate 'em?