I'd say I had an average appreciation for space travel as a child. Of course, like every other school kid in America, I was watching live when Challenger exploded in January 1986. I'd turned 9 the day before and seeing the tears streaming down my third-grade teacher's face is branded in my brain forever.
Later, I watched the movie "Space Camp" over and over again, daydreaming about heading to space with Kate Capshaw and Joaquin (when he was still Leaf) Phoenix.
But that was probably the extent of my interest. Moving to Florida in 2003 changed that. Suddenly, I could step outside my front door and watch shuttle launches from my across-the-street neighbor's yard. So cool. Even cooler? In 2004, I started working for a local TV station's website and one of my regular duties was to head over to Kennedy Space Center to cover shuttle launches and landings (and more than my fair share of scrubs, the most dreaded word to space watchers).
I mean, how can you top seeing this view from a mere three miles away, feeling the ground shake beneath your feet and the firing rockets pounding in your chest?
These pictures are from a launch of space shuttle Discovery in December 2006. Night launches were ridiculously awesome. Suddenly, the night would turn to day, illuminated by the powerful solid rocket boosters.
I was hooked.
From an early age, we also tried to instill a love of space in E, starting with her first launch experience when she was just 5 months old through the very final launch in July 2011. Why so sad? Because, as per our tradition, we watched the launch on TV then we ran outside to watch it ascending to the east. Sadly, on that very final launch, it was too cloudy in Orlando to see the shuttle in Titusville. Big sad faces all around.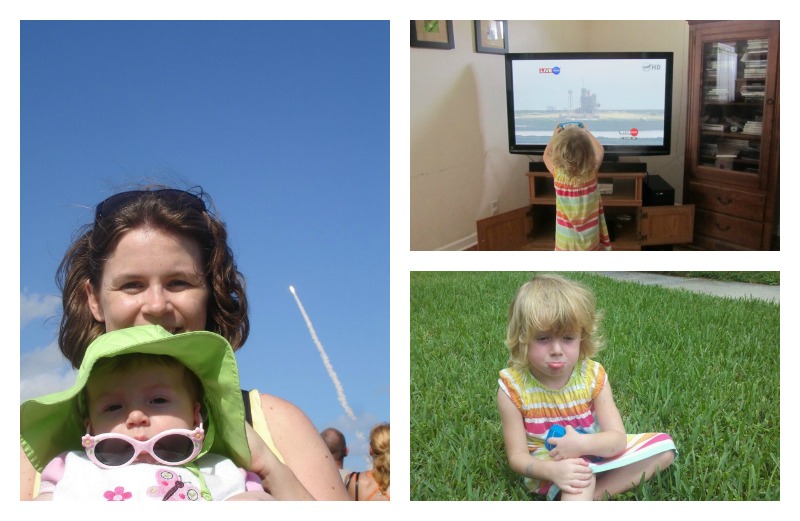 As you may recall, we also had an amazing visit to the wonderful Smithsonian's Air and Space Museum Steven F. Udvar-Hazy Centerin Washington DC last summer.
Since the shuttle program ended in 2011, many have wondered if there's still a future at Kennedy Space Center. Guess what? Not only is there a bright future, but the past is alive, well and accessible, too.
Our family was recently given the chance to explore KSC and let me tell you, if you're not including it on your Florida visit plans or if you're a local who's never been, you've got to get over there. It's a must-do.


I don't know how it's taken me so many years of learning about NASA to find out that the NASA logo is called the meatball. So now you know, too!
Almost immediately you are greeted by some of President John F. Kennedy's soaring words about space exploration.


They've done a wonderful job throughout his namesake complex of incorporating his inspirational words.
Since this was our third visit there, we knew exactly where we wanted to head first: the Apollo/Saturn V Center. You reach this via the KSC Bus Tour, which is included in admission. You'll want to allow for a couple hours for this and it's well worth the time.
The bus tour takes you around some of the most recognizable areas of the space program, including my favorite: the Vehicle Assembly Building, or VAB.

I don't know if it's possible to have a crush on a building but I have one on this glorious one. During the tour, the bus drivers share all sorts of interesting facts about the sights you're seeing. For example, our driver shared with us that not only is the VAB the largest one-story building in the world, the old Yankee Stadium could fit on its roof and there'd still be an acre to spare! Plus, you'll find out how big each of the stars and stripes in the flag are (think in terms of FEET not inches) and cool facts about the massive bay doors.
Over the course of the bus trip out to the Apollo/Saturn V center, you pass by a number of landmarks, including the massive crawler, which transported the shuttles from the VAB to the launchpads.

And you pick up a number of fun facts, including this one: when the crawler was fully loaded with the shuttle, external fuel tank and rocket boosters, it would weigh 18 MILLION pounds and get a gas mileage of 32 FEET per gallon.
The tour also takes you by launchpad 39-A, the site of 82 launches, including all 12 to the moon. I mean, that's history!

We had a GREAT bus driver on our visit who was full of all sorts of interesting information about the historic landmarks, as well as the beautiful natural surroundings of the area. KSC is part of the Merritt Island National Wildlife Refuge Area so it's not uncommon to see some of our Florida wildlife, including water birds, gators, manatees and even some resident Bald Eagles.
Hello, little friend!

When you get off the bus, you line up for the first phase of the Apoll/Saturn V center experience. And sometimes, it's so romantic you can't keep your hands off each other.

Guys, I seriously waited forever for them to stop making out to take my shot but it just never happened. I get it, though: NASA is a huge turn-on for me, too. Carry on lovebirds. Buzz would be proud.
Do yourself a favor and don't skip past the simulated Apollo launch experience. It's pretty great. As you sit in bleacher seats, a '60s era launch comes to life in front of you, complete with a rumbling room.

Between the recreated launch control room to the actual news coverage and launch video from the day, it's like stepping back in history. And at the end, the real Jim Lovell has a special message for you, via video.
Then it's time to check out a real treat: a MASSIVE Saturn V rocket laid on its side. This is the rocket that sent men into space 13 times and to the Moon and back. Pictures can't do it justice, but I'll try.
If you're going to go to the Moon, you're going to need some big boosters. Just ask the little girl under the big rocket.

One of E's favorite parts of this center is following these signs to a very special discovery.

That's (supposedly) a piece of the moon that you can touch. Whether it's true or not, it's still pretty cool and E always brings it up when we talk about KSC.
Here's a pro tip: there's a pretty decent cafeteria in the Saturn center, so we like to take our lunch break here and take our lunch outside along the water to eat. From here, you can see the launchpads and sometimes even spot a gator.
After lunch, we headed back to the main KSC Visitor Complex for another out-of-this-world exhibit: Atlantis!

On the way in, we even had the best kind of character interaction. Who needs Buzz Lightyear when KSC has astronauts?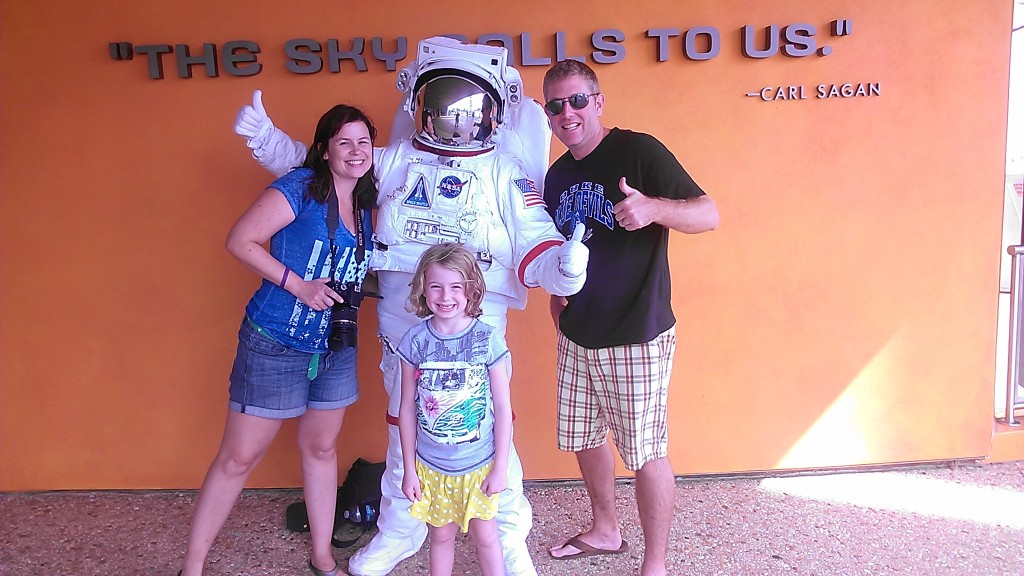 As fun as that was, it's awfully hard to top seeing this beautiful lady in real life.

Amazing. I mean, you look at the shuttle and think, "How could this thing that looks like it's covered in quilts and roof shingles actually make it to space and back?" Well it did, time and time again.

As my husband and I soaked in the sight of Atlantis, displayed in a way that only spacewalking astronauts ever saw her, E was preparing for her future life aboard the International Space Station.

Another kid-favorite feature is the slide that I think has something to do with the pitch of landings. All I know is it's high, fast and E always insists on doing it many times.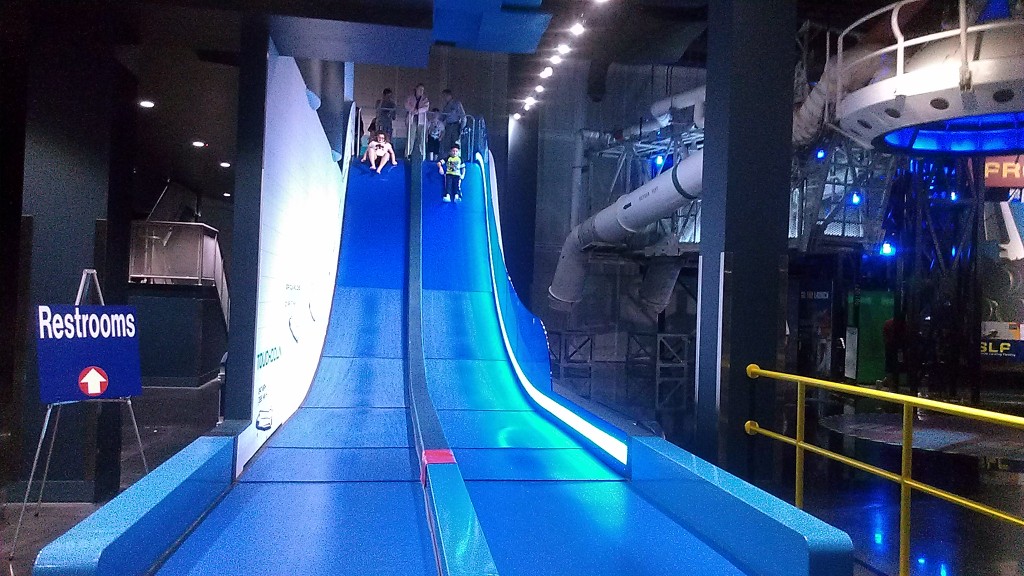 The tribute to Stephen Colbert and his efforts to bring a treadmill to space may be my favorite exhibit.

After a lot of exploring and learning, we let E play on the great covered playground for a bit.

And there's always time for Dippin Dots.

But wait, there's so much more! There's the Rocket Garden, with its hands-on capsules.

And the History of Space Exploration center dedicated to the beginnings of the space program, including the Mercury 7 studs. Plus, an unexpected treat: the original Mercury Mission Control Room, which was used for four years before Mission Control moved to Houston.

Another fun fact: the technology in your smartphone is way more sophisticated than every computer in this room … combined. How did they do it? Incredible.
We also found the capsule that sent our "neighbor" John Young to space.

His boyhood home is in our neighborhood and we've pointed it out to E on bike rides. So she was very excited when she found his name on the wall next to this capsule.
I've taken up enough of your time but there is so much more to explore at KSC: a really fun and interactive Angry Birds exhibit; IMAX movies on the Hubble Telescope and life aboard the ISS; the Space Shuttle Launch Experience ride; Lunch With an Astronaut and much more.
Tickets are pricey (starting at $50 for adults and $40 for kids and up, depending if you add on special tours; the Saturn V and Atlantis centers ARE included in admission), but I can't tell what a spark this experience has lit in E. She came home and immediately spent the rest of the weekend creating what she calls a space closet out of cardboard box. I was all on board until I discovered her using a knife to poke holes in the top to create star holes. Science can be dangerous!
Who knows what her future holds but for now, she's dreaming about traveling to space herself and that's a very cool thing.
Just watch out for those sonic booms.

Disclosure: Our family was provided with three free regular admission tickets to Kennedy Space Center. All opinions are mine, unless of course NASA used the Force on us. Which, in case they're wondering, is a totally acceptable use of the Force.
Are you a space nerd? If you could, would you go to space? Considering I get sick on Boeing 737s, I'm pretty sure I'd be screwed in space, but a girl can dream. Have you ever been to KSC? What was your favorite exhibit?