I've been a blog lurker for years, but for one reason or the other, I never took the plunge. That ends now. For better or worse (and as a rookie blogger, I'm sure it's going to lean more toward worse for awhile), it's time to take the words of this blog's namesake to heart.
"It's now or never. I ain't going to live forever. I just want to live while I'm alive."
— Bon Jovi, "It's My Life"
I've learned so much from other bloggers over the years. I'm not arrogant enough to think that I could be some wise leader myself, but if my first 3 1/2 years of motherhood are any indication, it takes a lot more than a village to raise a child — it takes the collective ideas, experiences, lessons and insights of as many as possible to just learn enough to not screw up your child!
So, who's in my family? Well, obviously, there's me:
I'm a 34-year-old sometimes journalist living in Florida. I grew up in Pennsylvania, and I'm a graduate of the S.I. Newhouse School of Public Communications at Syracuse University (us Newhouse nerds grads are very proud of our school within the school).
After college, I moved to Washington, D.C., where I covered the 2000 presidential election and 9/11 for one of the big three networks. I also got to meet a lot of celebrities and may have partially stalked Josh Hartnett for awhile across the U.S. But that's totally what your 20s are for, right?
I also met now husband in D.C. He dragged me kicking and screaming (OK, maybe that's a bit dramatic but it certainly was a bit traumatic for me) away from my semi-glamorous life to the humid South in 2003. This year, we celebrated our 5th wedding anniversary, so I guess the move worked out for the best.
Together, DadJovi and I have a very smart, very precocious and very amazing 3-year-old daughter that we'll just call E. (feel free to assign your favorite E. name to her).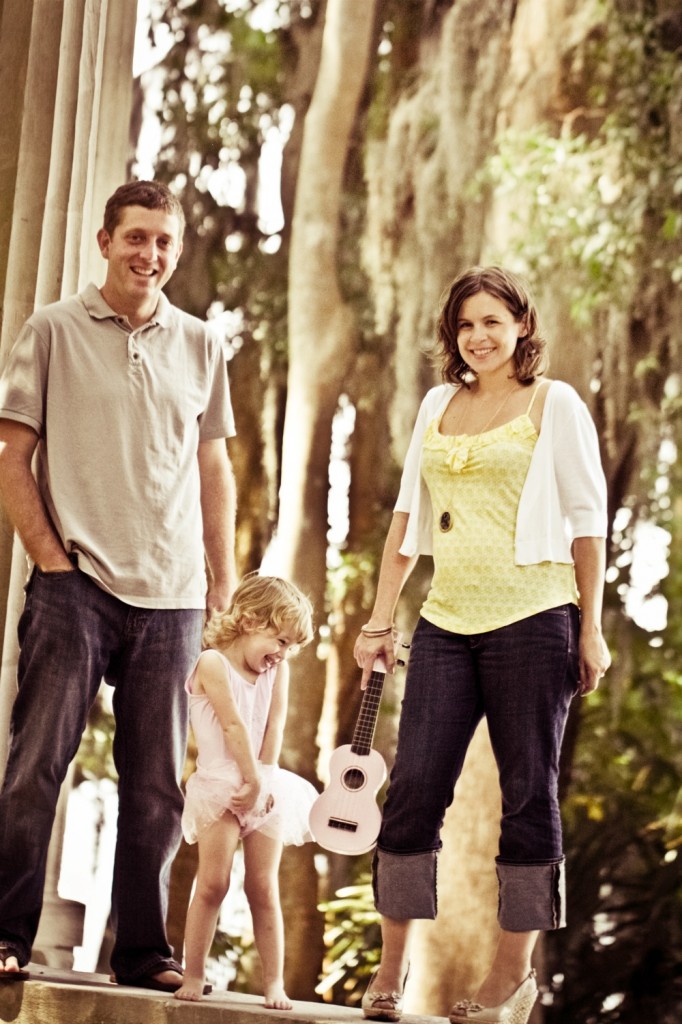 We're a 1.5 income family. DadJovi excels in the exciting field of real estate law. He's a die-hard Duke fan (he went there for undergrad) and he's always trying to brainwash our daughter. She thinks the Blue Devil brings her Christmas presents with Santa. Enough said.
As for me, I have the best job in the world. With an amazing, talented group of some of the smartest journalists and techies in the business, we launched GrowingBolder.com in 2007 and now we're on our way to evolving into a major media empire. After the birth of E., I went to part-time, so I actually get the best of both worlds (I'm grabbing that title from you, Miley)  — a fulfilling, rewarding and challenging career that gives me the freedom and flexibility to spend a luxurious amount of time with my child. Don't hate me because I'm lucky.
Don't get me wrong — it's not all perfect. Like everyone, we seem to never have enough money, time or energy. And as other part-time working moms can probably attest, rather than feeling lucky, my Mommy Guilt finds a way of creeping in and I usually feel I'm failing at either not parenting enough, not working enough or both.
Plus, I miss my friends and family up North … a lot. I'm not quite sure why it's so hard to make friends as easily as an adult, but it just is. I'm hoping this blog helps me find the gang for the next phase of my life in the bloggie world.
And finally, the question you're dying to ask — why MomJovi? In a word, Jon. I've loved Jon BonJovi since elementary school when Slippery When Wet was released. I was too young to understand the sex-fueled lyrics and heavy beats of the big-haired band but I just knew that once I heard it, I was never going back to my former love, Michael Jackson. Since then, music has always been a big part of my life. Some of my favorite memories in life involve live music, from some of the biggest shows to unknown bands in small venues. I hope that I'll never stop loving music. These days, some of my favorite bands include The Beatles (duh), Wilco, Kings of Leon, Dr. Dog, Iron and Wine and of course, Bon Jovi.
Thanks for stopping by, and if you like pop culture, sports, music, cute kids, travel, Disney, food and more, then I think you'll find at least something you can relate to — or laugh at my expense.
Let's rock!