In the same way you knew from the beginning of my Tina Fey book review that it was going to be positive, here's a spoiler alert for my Bon Jovi concert review — LOVED IT!
It's been years since I've seen the boys from Jersey in concert, and I'm ashamed to admit that I almost took a pass on the show. I've seen them three or four times and as much as I love Bon Jovi (um, have you seen the name of this blog?), I've certainly moved on from them musically.
But then my pal Katy graciously agreed to come to the show with me, so I was back on the Bon Jovi bandwagon!
And just one song into last night's show, I was reminded all over again why I fell in love with the band in the first place. They just plain rock. Period. I mean, for 2 1/2 hours, they left it all on the stage. And c'mon, how hot is this man?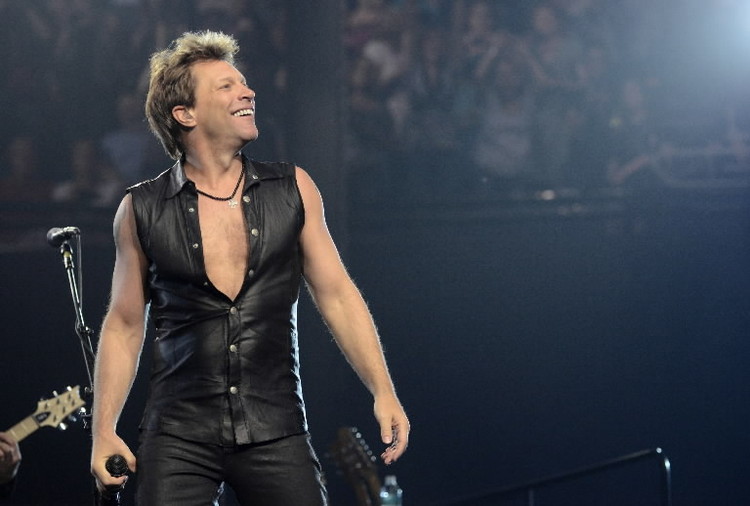 (SOURCE: ORLANDO SENTINEL SLIDESHOW FROM CONCERT)
His body, stamina, body, energy, body, enthusiasm, charisma and did I mention body? are unbelievable. From the time they opened the show with "Lost Highway," the band just never stopped rocking. At one point, he even made a few jabs at Bieber and Gaga and he's right — THIS was a show. Forget the bells, whistles, infamous hair (OK, that may have been there), egg costumes and Philip Treacy hats, this was a show dedicated to the music, not theatrics.
I believe I've written about this before, but I HATE when I shell out money to see one of my long-time favorite artists and they refuse to play some of their biggest hits. I'll never forgive Madonna for charging me $125 10 years ago and only playing a banged up version of "La Isla Bonita" and "Holiday" from her vast greatest hits library.
Luckily, Bon Jovi knew what we were there for — the songs we sing out loud in the car or in dive bars. The songs we remember including on mix tapes or dedicating during the Hot 8 at 8 (or whatever your town's equivalent was to a nightly request hour on the radio station). I wanted my Slippery When Wet and I wanted it loud! And Jon delivered.
Just to make sure I didn't miss any, I kept a running setlist on my phone last night (dork alert). Of the 21 songs, there were three I didn't know for sure. But thanks to my random notes, which I'll include below because I'm honest like that, I was able to decipher them to bring you, my friends, the complete setlist from the Orlando Bon Jovi show. Get ready to cue the guitar in your head because you're going to be singing along before you can help yourself.
Lost Highway
You Give Love a Bad Name
It's My Life (**On every other site that's had the setlist today, this song is listed as sixth. I hadn't had that many beers by this point, so I'm sticking with my own notes)
Born to Be My Baby
We Weren't Born to Follow
Runaway
Work for the Working Man
We've Got It Going On
Bad Medicine — with an interlude that included Rod Stewart's "Hot Legs" and The Isley Brothers' "Shout" (yes, THAT "Shout"). This was such a fun little medley. Who else could get 20,000 to raise their hands up and shout and still look dead sexy doing it?
Lay Your Hands on Me
Make a Memory
Bed of Roses
I'll Be There For You
Who Says You Can't Go Home
My notes: "?? River sink me? Shoot me?" translates to: Sleep When I'm Dead (Note: I have no idea what I thought I was hearing, but if it wasn't for other setlists, I never would have cracked this mystery)
My notes: "One on one?? Kingdom come?" translates to: Blood on Blood
Have a Nice Day
Keep the Faith
ENCORE: My notes: "Sha la la" translates to: When We Were Beautiful
Wanted Dead or Alive
Livin' On a Prayer
I mean, how great is that? And for the 18 songs until the encore, the band barely took a breather. Yes, there was a bit of a lull during "Bed of Roses" (not one of my favorites. The whole imagery of that ballad is just a wee bit cheesy even for me) and for the last few songs before the encore (clearly, I don't know those songs as evidenced by my setlist notes above, so that could be why I was ready to get back to the good stuff). But that's barely even a complaint because I just smiled from ear to ear for the whole show.
One more note. As you may have read, Richie Sambora was not at the show because he's recently checked into rehab. I'm not the world's biggest Richie fan and his voice, frankly, annoys me. But you forget how may songs feature his high-pitched harmonizing. "Runaway" and "Dead or Alive" weren't the same without him. But as long as Jon was there to shout one of the greatest lyrics of any song ever — "I've seen a million faces, and I've rocked them all" — all was right in the arena rock world.
Here are a few fun pics from last night. As you'll see, we were in the cheap seats. But the new Amway Arena is gorgeous, and we were to the side of the stage. If you're going to be high, choose seats near the stage. The sound was still great and we got to peek into the "backstage" area to see the band before they took the stage and when they popped back for a moment to take a breather. Very cool.
Ahhh, I'm so happy I went. I mean, me not going would be like Perez Hilton suddenly not covering Paris Hilton, right? So mock me for my hair-band loving ways if you want, but me and the 20,000 other fans who were willing to do Jon's bidding (an audience only version of "Dead or Alive" was pretty awesome and must be an intoxicating feeling for any musician) aren't apologizing. We're gladly added to the millions of fans who've spent nearly three decades singing along, and we'll be there to keep on livin' on a prayer with the band.
Anyone want to go karaoke with me?