DadJovi and I are in the midst of a heated disagreement. At issue: should we sign E. up for dance lessons? Since we can't agree, I'm taking it to the jury: you.
For months, I had planned on signing her up this fall for lessons. She's 3 1/2 now, so I think she's old enough to follow basic instructions for the lessons. Plus, she LOVES to dance. Remember Key West?
And she prances around our house all the time. Every night, we put music on the record player and she puts on a performance. Mostly it's inspired by the kids in Sound of Music or Angelina Ballerina.
So I really think she wants to learn how. And I also feel a little bad that I haven't signed her up for anything yet — no music lessons, no sports, no gymnastics, etc. Is she falling behind already? Friends of mine with older kids all encouraged me to learn from their mistakes and not start sports until at least 5. And my brother, who is a very gifted pianist, thinks 8 or 9 is probably an ideal time to start piano lessons (which DadJovi and I agree she WILL do since we both regret never having learned to play. Nothing like living your dreams through your kids, huh?).
And if I'm honest, that's probably a big reason I want her to take dance lessons too. Growing up, money was very tight. So I was always very jealous of all the Kellys and Heathers who took dance lessons. Since one of the reasons we decided to stop at one kid was to give E. those opportunities we both missed out on, I just saw this as one of those things she should get to do.
DadJovi is in favor of some sort of lesson — just not yet. He still thinks she's too young and that it'd be a waste. And worse, it might burn her out prematurely before she's ready to appreciate some sort of arts or music lessons.
But he's also been very against dance lessons for one reason — he's seen too many episodes of Toddlers and Tiaras. To him, that's what dance lessons are — too much makeup, skimpy outfits and inappropriate dance moves. I argued that ballet is not like that. It's a beautiful, old form of art that encourages grace, strength and an appreciation for the past.
But then I saw this: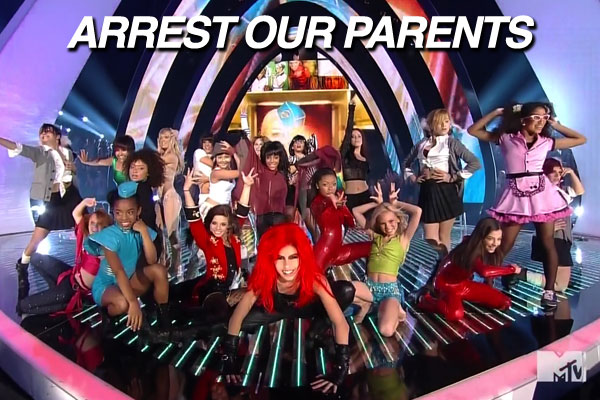 And I found out that some of the girls were 10 and 11. Is ballet just a gateway dance to slutty dancing?
So now I'm temporarily off lessons but I'm still torn. Am I worrying about something that won't be an issue for years? Is 3 1/2 still too young anyway? Or should we forget about dance and sign her up for something I think she'd like just as much — drum lessons! We've already looked into them and found out she can start right away.
How young is too young for lessons? DadJovi says for now, he thinks the most important thing for her is to just play and to keep getting exposed to as many forms of art as possible. Lessons can come later. But I fear she's falling behind already.
Help!