Forget Christmas. Epcot's annual Food and Wine Festival is probably our favorite time of the year. It's the reason we got our Disney season passes in the first place and during its six-week run, we try to hit it as many times as possible (here's last year's recap).
After looking at this weekend's forecast, we knew we only had one shot to hit it this weekend — Friday night. As soon as DadJovi got home from work, we headed out toward Disney, and guess which nap-hating kid decided to pass out? She was OUT. She even stayed asleep for the transfer into her stroller and the walk into the park.
Welcome to Food and Wine, E.!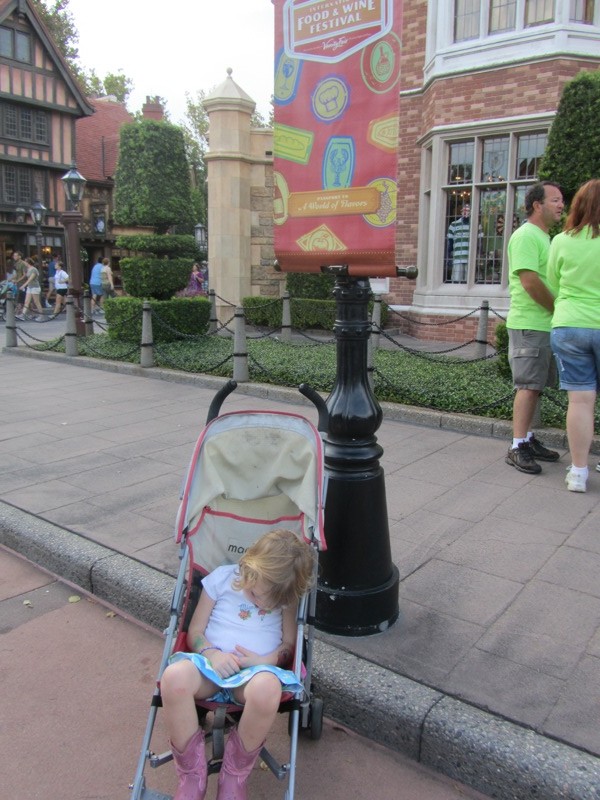 Since we came into Epcot through the back entrance, we decided to hit Ireland first for one of my favorite new items from the past couple years — the Lobster and Scallop Fisherman's Pie.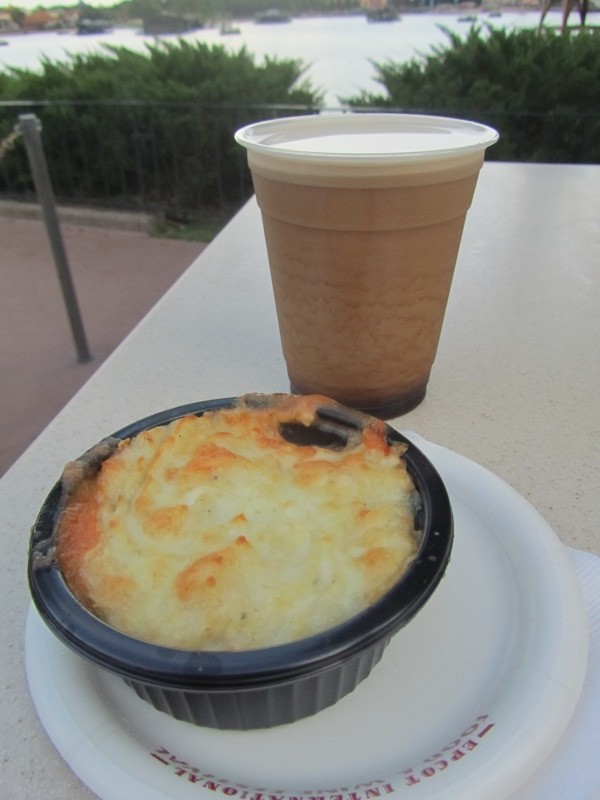 Washed down with a Guinness, it was the perfect way to kick things off. It's like a shepherd's pie with creamy mashed potatoes atop seafood baked in a nice, rich sauce. It's delicious.
We skipped Canada, even though it features the No. 1 selling item at Food and Wine — the Canadian Cheddar Cheese Soup. We finally tried it last year to see what all the fuss it about and honestly, I'm not that big of a fan. It's OK but so not worth the longer-than-usual lines. I do plan to hit Canada during a future trip for the Maple and Moosehead-glazed salmon but we decided to skip it this time.
Instead, we headed for Greece. It usually has really long lines but given the threat of rain, all of the lines were relatively short Friday night. Win for us!
As I was still devouring the Fisherman's Pie, DadJovi ordered a Chicken Souvlaki with Tzatziki.
It was pretty good. Not great, but good. But you know what was good? The fact that E. was still asleep! It was suddenly an unplanned date night. I knew we'd pay for it later, but frankly, I was too busy enjoying our leisurely evening of munching on goodies and enjoying a couple drinks to worry too much.
Next we headed for one of this year's new booths — Hawaii. First, I had to convince DadJovi, that no, we should NOT sign up for Disney Vacation Club. The pictures of the new resort in Hawaii look very tempting though.
Since the booth is new, I decided to order both items. Up first, the Kalua Pork Slider with Sweet and Sour Dole Pineapple Chutney and Spicy Mayonnaise.
I wish I could say that I loved this. I really WANTED to love it. But it was just meh. I think the bun is what ruined it for me. It was a sort of stale mini-hamburger bun. I think if they switch the bun out, this could be a winning dish. The pork was tasty, but I think they could be more generous with the pineapple chutney. Just my two cents.
But the other dish did not disappoint. It was a Tuna Poke with Seaweed Salad and a Lotus Root Chip. First off, look how pretty it is.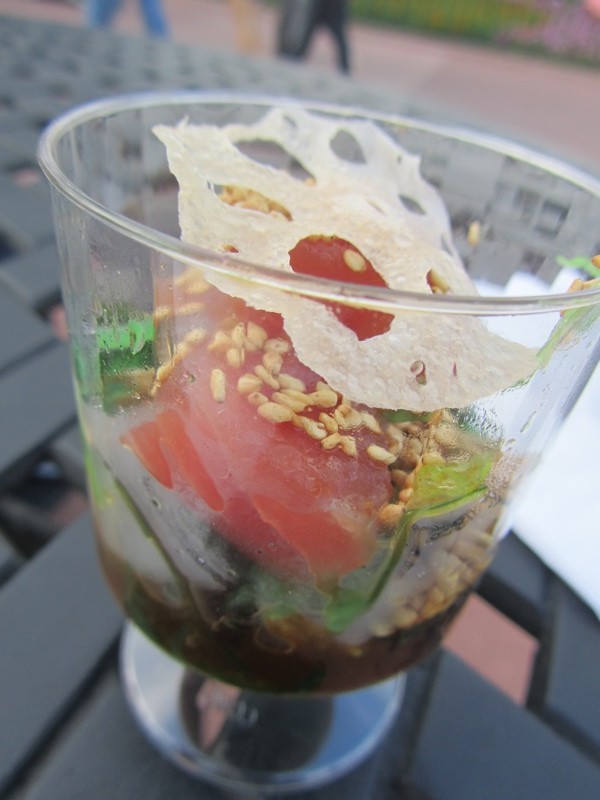 I loved the sauce on it so much that after I finished the seaweed, I drank the remaining sauce. That's totally why they served it in a cup, right?
By this point, we were starting to feel a little guilty about how much good food we were eating without E — not that she would have eaten any of it anyway. Should we wake her? Well, maybe just one more stop.
Funny story first — a couple years ago, we watched the documentary "King Corn," which was sort of a precursor to "Food, Inc." After watching it, DadJovi decided to quit meat cold turkey (pun intended). For about six months, he ate no meat. I went very meat-light but never quite gave it up … especially when it came time for Food and Wine. He's never quite gotten over my foodgasm over the lamb chops at the Australia booth, which is remarkable because I usually don't even like lamb.
Ever since he's been back on meat, he demands we stop there each time. Sadly, I don't think it will ever fill that empty, envious lamb-chop shaped hole in his heart from a couple years ago.
But it comes close.
This year, they've outdone themselves with a new side — Grilled Lamb Chop with Potato-Goat Cheese Salad and Shiraz Reduction.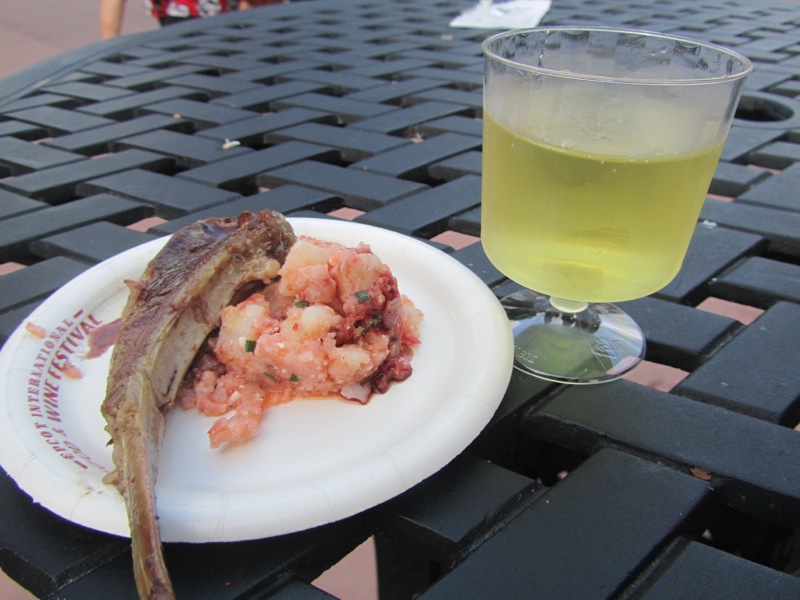 Why have I never paired potatoes with goat cheese? Wow. I wish they sold that salad by the quart. Next time, though, I will make a different wine choice. I tried the Lindeman's Bin 90 Moscato because I don't recall ever having a moscato. And I don't think I'll ever be getting another one either. It was very sweet, almost like a dessert wine. Definitely the wrong pairing with the lamb chop. Blech.
OK, now it was DEFINITELY time to rouse E. It wasn't easy. In fact, it took me so long to wake her up that by the time I finally got her awake, DadJovi was back with our next goodie — the Grilled Beef Skewer with Chimichurri Sauce and Boniato Puree from Argentina.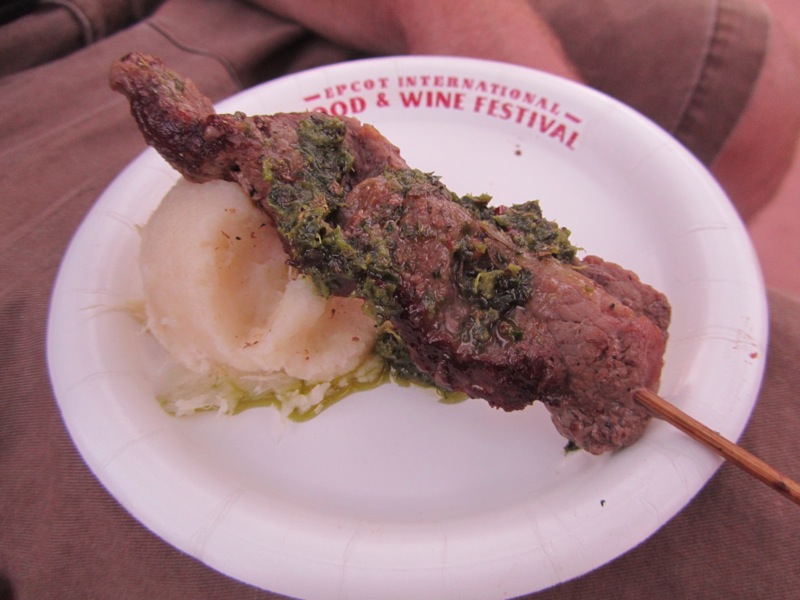 Unfortunately, I only got the tiniest bite because my motivation for getting E. awake was about to walk away — Duffy! I told her if she woke up, we could see him. As she was still rubbing the sleep out of her eyes, I suddenly noticed they were putting up the rope to cut off the line. I grabbed her and went sprinting over — it's the fastest I've probably run in years. But it was worth it.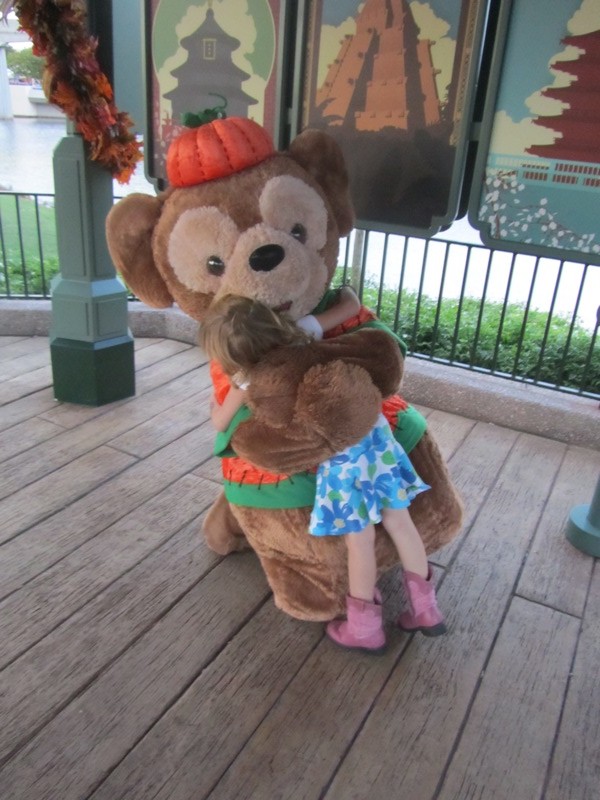 But then the hug reached the uncomfortably long territory. Poor Duffy probably wondered if this kid was ever going to let go.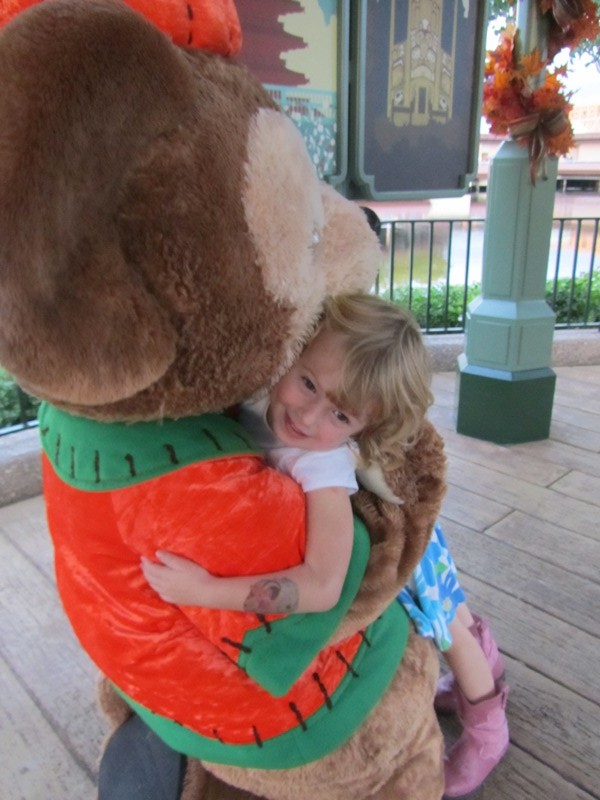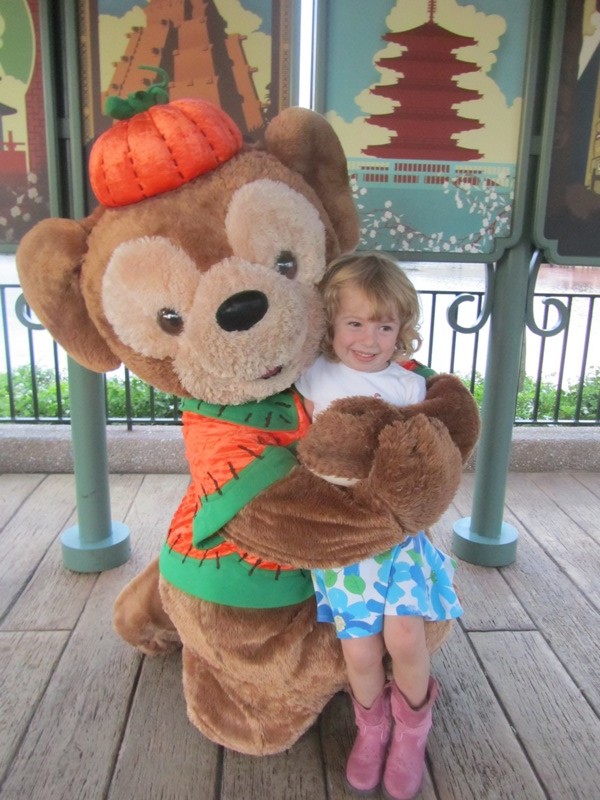 We usually skip the Mexican booth because the lines are always soooo long (I'll never understand why the booths of the most accessible cuisines — Mexico, Canada and Italy — are the most crowded. Isn't F&W a time to experiment, people? But I digress). But after my Twitter pal Kate suggested I try the Crispy Shrimp Taco with Chipotle Lime Mayo and Cabbage, it's all I could think about! When we got there and saw there was no line, we took her up on her advice. I'm so glad we did. It was in the top two or three things I had that night. Damn you familiar food winning out again!
I missed getting a picture because just after we ordered it, it looked like it might start sprinkling. So we headed into the Mexican pavilion for the Three Caballeros boat ride, featuring Donald Duck. DadJovi insists we've done this before. I stand by the fact that I've NEVER been on this. In any event, E. loved it!
By the time we got off the ride, the rainfest had started. We tried waiting it out for awhile but then realized, it wasn't letting up. On went the parkas and out we went.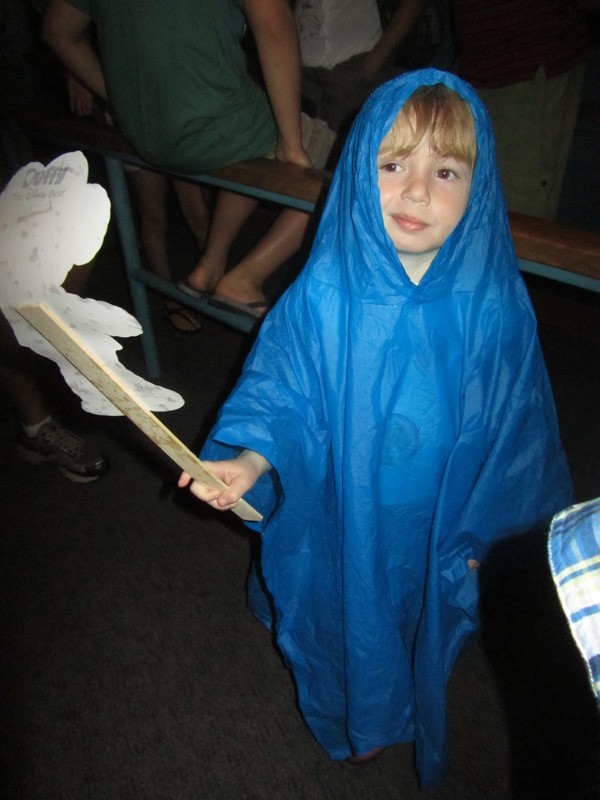 We dodged the rain for a few more minutes by hitting the Maelstrom ride in Norway. That ride is a little bizarre, no? Personally I think they need to shake things up and instead focus on a different Scandinavian: Eric Northman.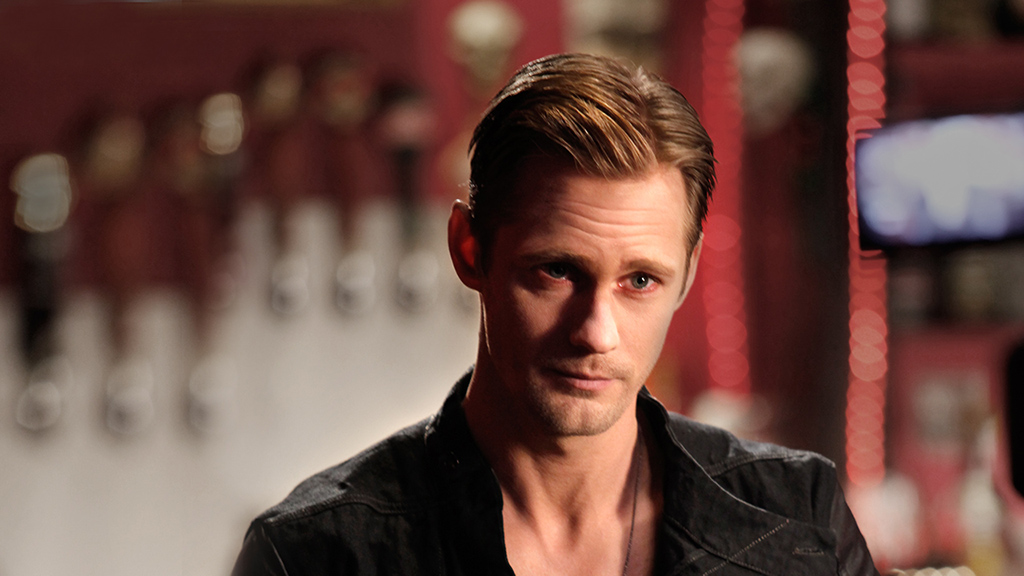 Wouldn't that be way more sexy, er, interesting?
But, the ride only lasted a few minutes so back out into the rain we went. We also figured that you know, perhaps we should feed our child dinner?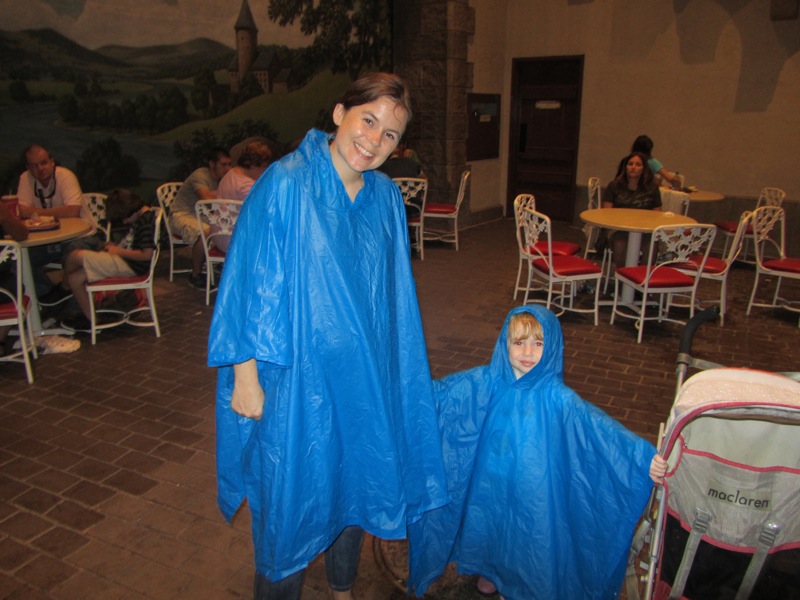 We offered chicken nuggets but she opted for a soft pretzel from Germany instead. Apparently she's carbo loading.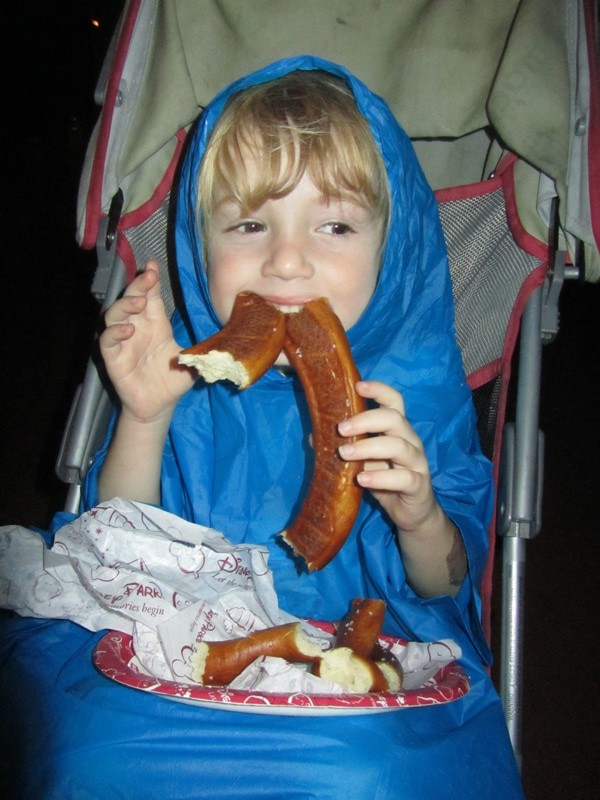 And between rain drops, DadJovi and I split two more dishes — the Seared Filet of Beef with Smashed Sweet Potatoes and Braai Sauce from South Africa and the Beef Rendang (Coconut-braised Beef) with Jasmine Rice from Singapore. I didn't take pictures because it was raining too hard but I didn't really like either dish. I thought they were too spicy (for me) but DadJovi insists the beef from Singapore was his favorite dish of the night. How could we have such different tastes?
We planned on ending with the Belgian waffles on our way out but that was the ONLY booth with a line — and it was deep.Whoever thought to add that to F&W last year is a genius. That line is never short.
But I think we did enough damage for our first time out. For our next trip, I have a couple things at the top of my list: the new Coq au Vin dish at France (and the sparkling pomegranate kir!), the seared mahi mahi in Brazil and the lobster roll and pumpkin mousse in America.
Have you been to Food and Wine? What are your hits and misses?