Previously on MomJovi.com, audiences worldwide were left in suspense. Would DadJovi successfully build the Ikea dresser? Would he keep his sanity? Could this marriage be saved?
Well, folks, it was a close call on all fronts.
This is how far he got during Night 1 of the Great Ikea Project of 2011.
It already had a huge fan base.
With the concentration of a fine craftsman, he turned his attention to the trickiest part — the drawers.
Handy Manny totally works in his boxers too, right? Oh wait, that's just when he visits the backroom of Kelly's hardware store.
It was about this time that the system really started breaking down. Let's just say we won't have to wonder where E. learned not one, not two, but at least eight versions of the F word. See that old-school Coke bottle on the table? Thankfully it was Mexican Coke because somehow that glass didn't shatter when it was tossed on the floor. I think he forgot I'd picked up soda bottles for dinner and assumed it was plastic.
The dresser has five drawers. After successfully putting the first one together, DadJovi proceeded to build the drawers backwards not once, not twice but THREE TIMES. It wasn't pretty around here.
At least someone was pleased with the progress.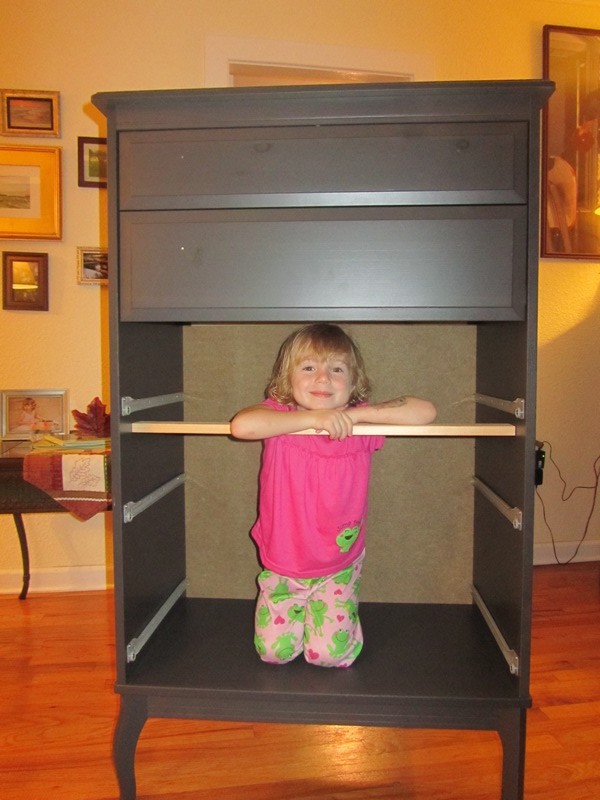 But then I put her to bed before she was traumatized any further. There was only so many times she could ask him, "Daddy, what's wrong?" before he truly lost his shit.
After about another hour of sweating, laboring and plotting to smite the Swedes off the face of the Earth, it was done! We stood back to admire his handiwork.
And that's when I noticed it. Do I tell the person who has spent probably six hours laboring over this mega-project that I see a flaw? Or do I live with it?
Yeah, biting my tongue isn't exactly my style. Let me draw your attention toward the floor.
Those are lovely curved legs, huh? There's just one problem. That picture was taken from the side.
Yup, he never even noticed that the two curved legs should be in the front and the two straight legs should be in the back. Oops!
A few adjustments later, we were back in the business. And then I made the mistake of one more close inspection. I'm a lot of fun, huh? Honestly, I just can't help myself. What can I say? I can't seem to leave producing and supervising at the office.
Now, this is what I see every time I look at the dresser.
What are the chances I can get a small pot of that gray paint from Ikea? Nte troligt! For you non-Swedes, that mean's not likely. I totally speak Swedish by association now. (and, by the way, I could play with Google translate for hours. It's entirely too much fun).
But, at the end of the day, it's SO much better than the dresser we had in there before. The old dresser was beautiful on the outside but it was just past its prime. The drawers stuck as you tried to pull them out and left tiny wood shavings all over E's clothes. Fun, huh? Poor baby would get splinters in her knees just from putting her leggings on!
I think it fits in nicely in her room.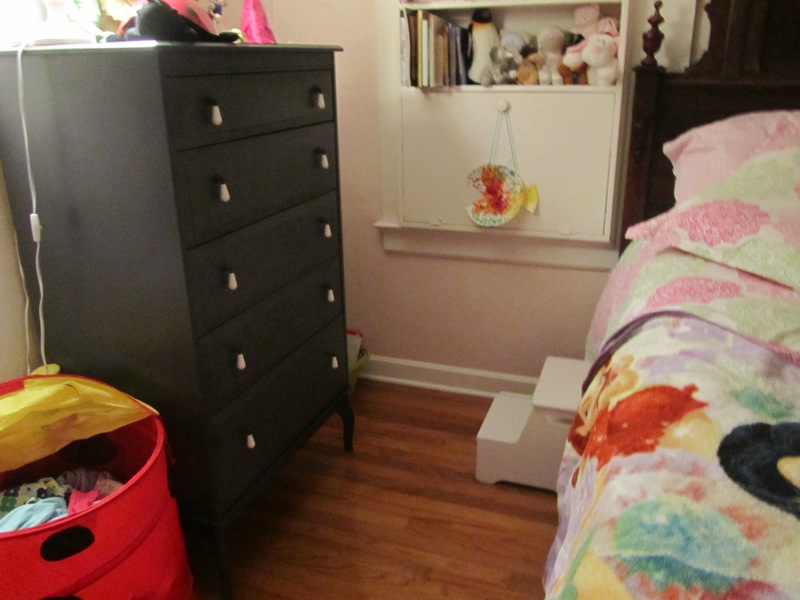 Even if the color doesn't match her bed and vanity (she has my mom's old bedroom suite from when she was a little girl. My great-grandmother bought it for her), the handles match the ones on the vanity, so it works.
Even if it didn't, she's just going to have to deal with it. Forever. I suspect she's not getting a new dresser until she goes to college. Unless she wants to build it herself.
Are you surprised the dresser is in one piece? And would you have told your carpenter that the legs were on wrong?