This post is coming two days after the fact, but in my defense, I'm still full! Here's why:
Epcot's Food and Wine Festival is one of the main reasons we have Disney season passes. We used to get the 4-day Florida resident passes every year just for the F&W, but we always realized we wanted to go more than four times. On Sunday, we hit the festival for our second time of the year, and we plan on going back several more times before it ends on Nov. 14.
If you've never been, the festival celebrates the food, wine and beers of countries from around the world. Kiosks are set up in every country, and for F&W they set up booths for countries that aren't always represented at the World Showcase. As you walk the loop, you can sample goodies from every country from South Korea to Germany to Puerto Rico to South Africa.
At each booth, there are usually two different meat, seafood or vegetable choices and one dessert, plus a variety of wines, beers or liquors from that country. The plates are small (tapas-sized portions) and range in price from around $2.50 to about $6. If you've ever been to a Taste Of … festival, it's sort of like that. But SO MUCH BETTER!
OK, so this time, we started in the back at France (we usually come in through the back gates) because we knew we wanted to end in Canada and/or England to watch Off Kilter and the British Invasion.
First stop, France, and first things first — Mama needs a drink!
Why yes, I will have a Parisian Cosmo Slush, thank you very much, my dear husband. While I was waiting in line for this photo opportunity …
… he bought me that. He's a keeper, no? Plus, he brought food. At first E. and I thought he brought us crème brûlée. Hey, I'm not one to complain about dessert first, but I thought it was an odd first pick for the day.
But DadJovi informed us that that wasn't a custard topping — it was savory, smooth and creamy mashed potatoes. The dish was actually Braised Short Ribs in Cabernet with Mashed Potatoes, and ohmyyum. I think at the end of the day, despite eating a lot of delicious food, we agreed that this was the non-dessert highlight of the day (more on that later).
Look at all that beefy goodness tucked inside those taters. The beef had some nice crunchy braised bits yet was still nice and juicy and tender. OK, mouth watering now. I must move on.
Next, we meandered over to Belgium. On our last visit to F&W, we wanted to hit the new Belgium kiosk (this is its first year at F&W) for the Freshly Baked Waffles with Berry Compote and Whipped Cream but the line was always way too long. Sunday was a strange day, though — hardly any lines in the early afternoon. So, even though we weren't quite ready for dessert, we seized the opportunity and grabbed some waffles. And oh man, were they worth the wait.
We've eaten at nearly every Disney restaurant (both in the parks and at the resorts), been on a Disney cruise and I'm not lying when I say that this is my husband's favorite thing of all time. They were so light and airy and just melted in your mouth. Amazing. We actually circled back around again at the end just to get two more and next time, we'd probably even wait in a long line for these. I now have a new item on my wish list: a wafflemaker. If I can come anywhere near to these at home, I'd be in breakfast heaven every day.
After dragging ourselves away from Belgium, we headed to Morocco, another booth that's usually packed, to grab a Beef in a Pita Pocket.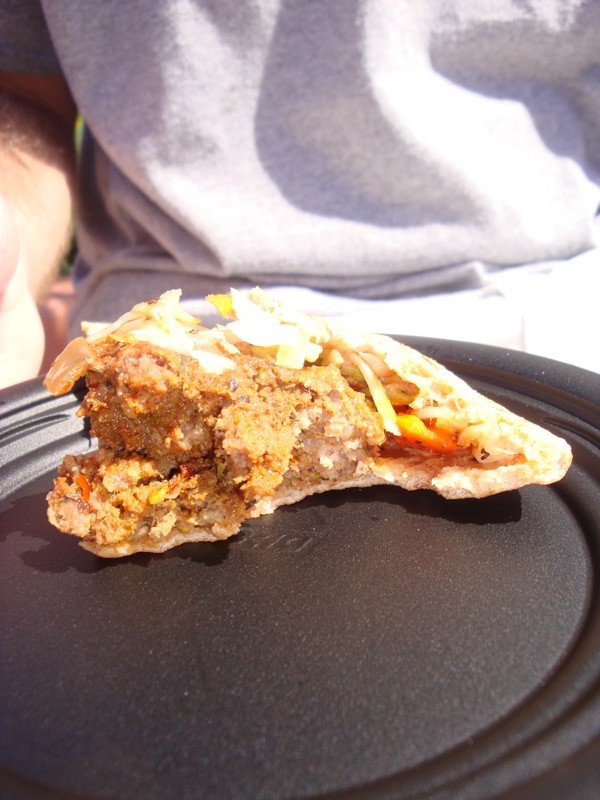 Sorry but we started noshing before I remembered to take a picture! I'm a wimp so I found it a bit too spicy for me (and I normally don't have problems with Middle Eastern spices) but the flavor was really good. And there were all kinds of crisp, shredded veggies in it like carrots and cabbage to cool it down a bit. Definitely a good choice but I'll probably try the other option, the Falafel Pita Pocket, next time instead.
After all that beef, I needed a good old American brew to wash it down. So we headed up the hill for the Hops and Barley booth so I could get one of my favorite beers that I only usually get at F&W– a Sam Adams Cherry Wheat. God Bless America.
We grabbed E. a soft pretzel the size of her head in Germany, then headed to Singapore to spice things up for us.
In case you haven't been to Singapore lately, that's a Shrimp Cake with Singapore Noodle Salad. The noodles were spicy good. There was curry, obviously, and I think there may have been saffron. The shrimp cake was served on a sugar-cane skewer and to be honest, I was expecting more flavor out of it. The whole dish was only OK, although it was fun to eat. Shrimp lollipop? Yes, please!
We took a break from eating and while Mom and Dad were digesting, E. decided it was a good time for a drum solo.
On our last visit to F&W, we hit the stretch of countries from the drawbridge into Africa to start of the World Showcase pretty hard, so we just kept on walking this time (don't worry, Argentina, I'll be back for your Grilled Beef Skewer with Chimichurri Sauce next time. I've been having special dreams about you). We popped into the newly revamped and reopened La Hacienda de San Angel to use its bathrooms check out the renovations. It looks really nice, although I'm surprised how few tables there are inside. Guess that's why it's booked forever.
We also took some time to snap some pictures of the topiaries and signs.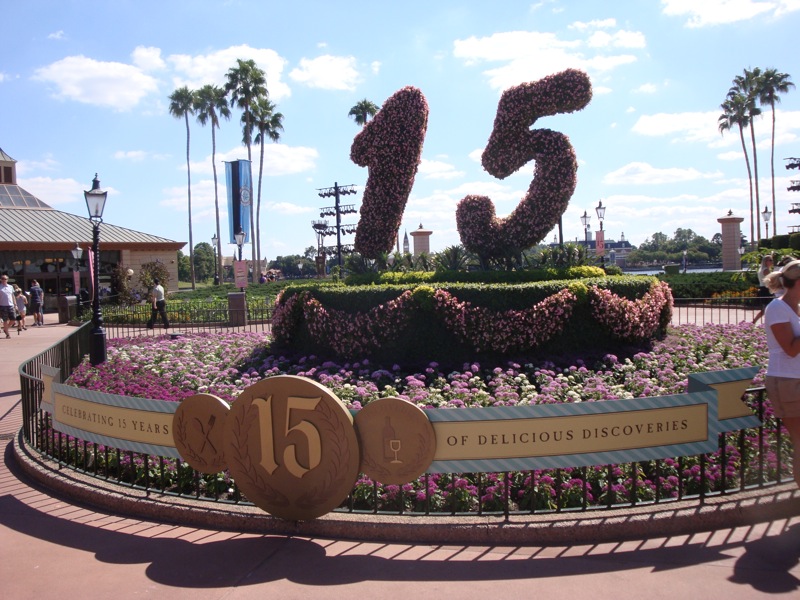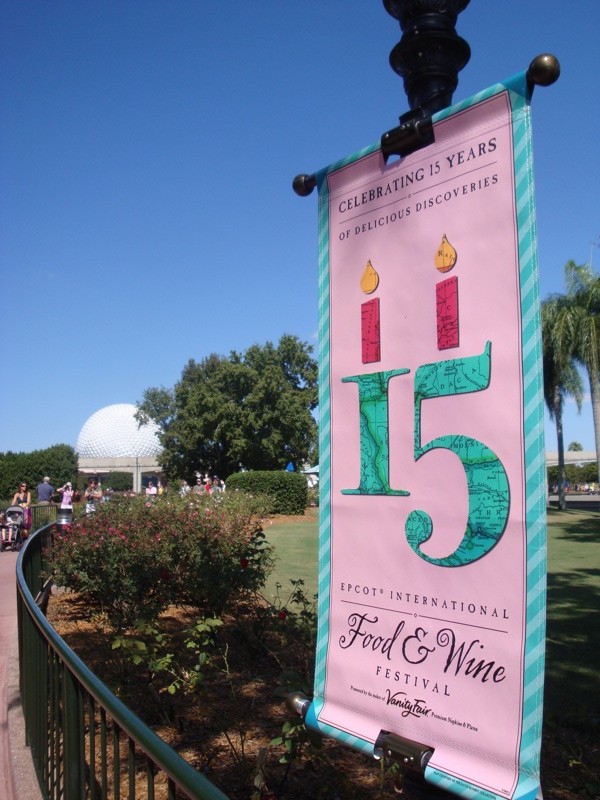 Before we knew it, it was time to head to the Off Kilter stage. As we waited, E. latched onto a group of "big kids," her new obsession. They were actually pretty cool toward her. I wouldn't say they went out of their way to play with her, but they certainly didn't shoo her away. And for her, just being next to the gang was as good as being part of the gang.
For some reason, they were all fixated on this drain hole with a little water in it, and they took turns tossing small acorns and sticks into it. These kids are at Epcot (you know, part of the Happiest Place on Earth compound), and this was the most fascinating part of their day. Kids. What do they know about fun?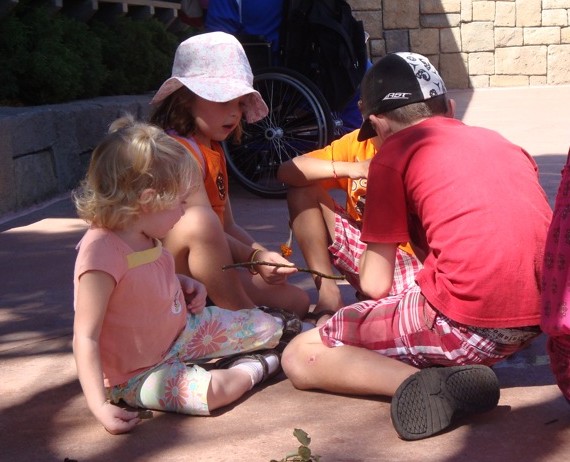 And before Off Kilter took the stage, I finally got my hands on the Holy Grail of F&W — the Lobster and Scallop Fisherman's Pie from Ireland. This item is ALWAYS the most popular pick of the festival. Review after review always lists it as the top item. So, I got myself a fisherman's pie and Guinness and I was ready to be wowed.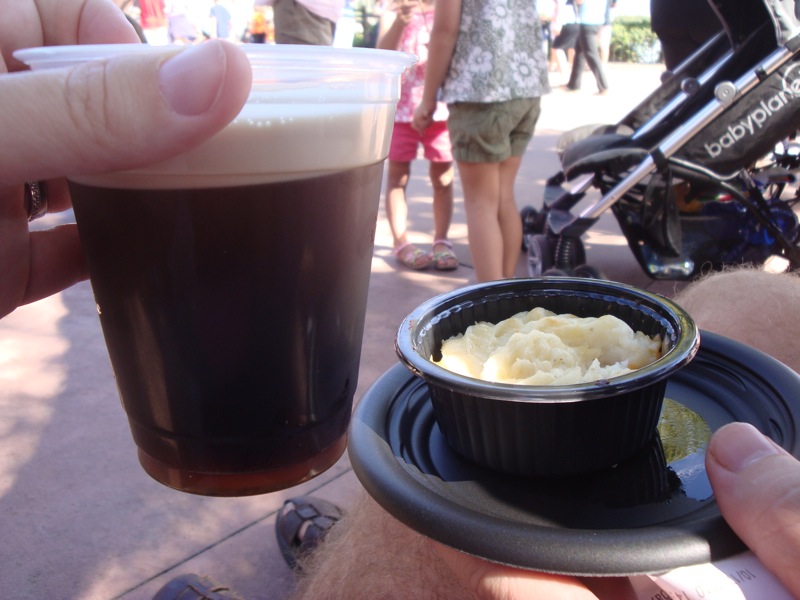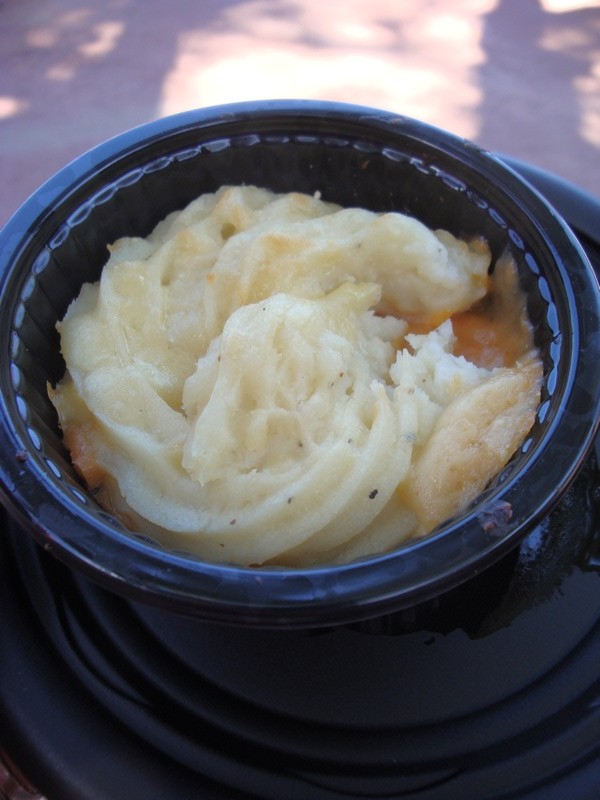 It was good. Very good. Just not great. Maybe it had been so hyped up that my expectations were too high and maybe I was just too dang full, but I was definitely underwhelmed. The mashed potatoes were good, with lots of good pepper flavoring, but they fell far short of France's mashed potatoes. The lobster and scallops at the bottom were very good with a nice, velvetly sherry sauce, but again, it was just OK. Sorry Fisherman pie super-fans, it just wasn't my favorite.
Know what was good? Off Kilter. Man, we love these guys. If you've never seen them, they're a Canadian rock band (yes, you read that right). They rock pretty hard with guitars, bagpipes and their twist on old drinking songs and '80s love ballads. LOVE them: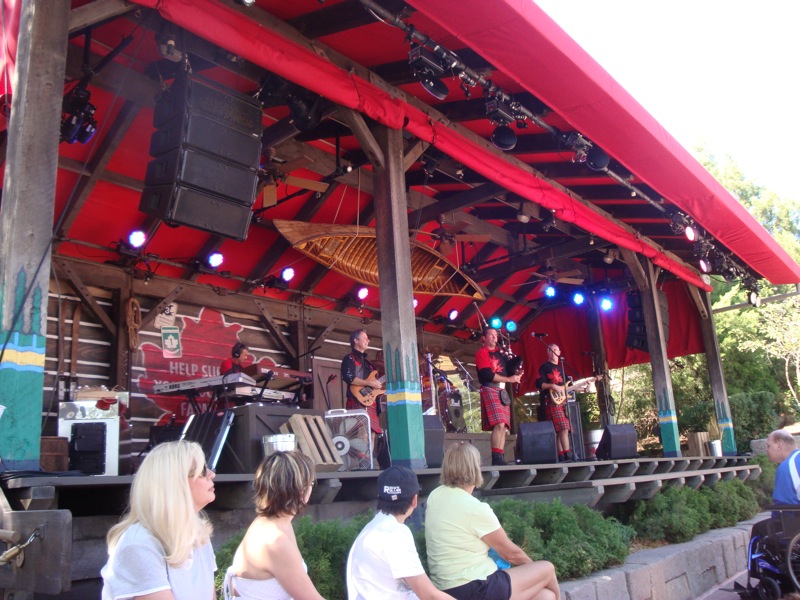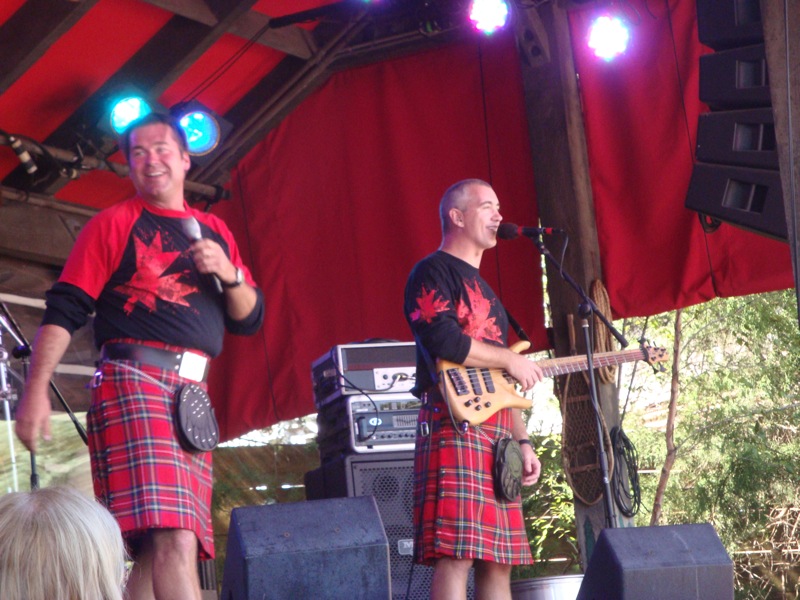 How cute are they?
I thought our day was over after the show, but DadJovi had one more stop in mind — Belgium. Those waffles were calling our name. And in our house, there's no such thing as too much of a good thing!
Have you been to Epcot's Food and Wine Festival? What was your favorite goodie?