Today is my father-in-law's 79th birthday. To celebrate, we all packed up our bikes and headed to the West Orange Bike Trail. It's one of our favorite places in Central Florida — 19 miles of paved paths with bathrooms and — most importantly to our girl — playgrounds about every 5 miles.
Today, the weather is AMAZING (it's about time you showed your face around here, fall), so we were excited to hit the trail. One of our favorite spots to start is the super-cute town of Winter Garden. It's a really bike and pedestrian-friendly town, with lots of bike and tri stores, restaurants and shops, and the bike trail runs right through the middle of the town.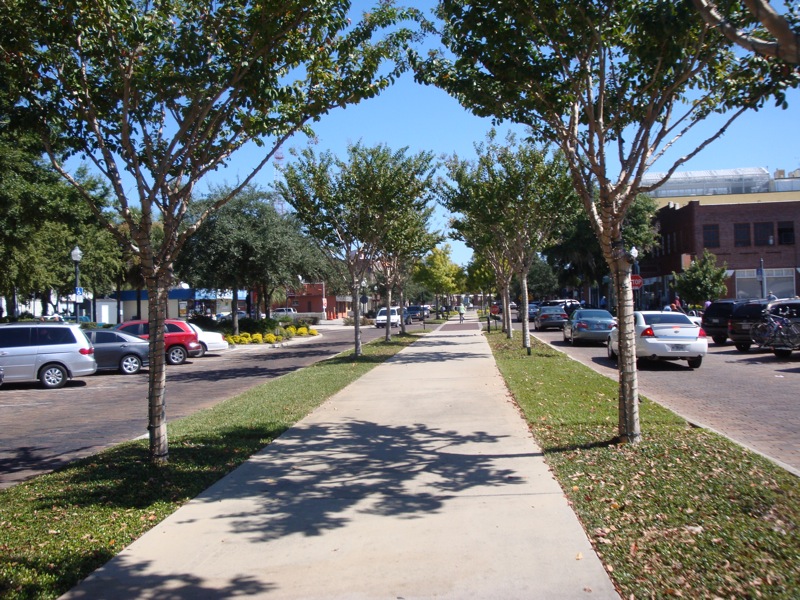 We headed west out of the town and it was like we rode into another world. The trail was done so well — nice, wide paths that are big enough to accommodate bikers (casual and serious alike), runners, roller-bladers, kids with training wheels and even a girl on a unicycle (I kid you not. If only I could have grabbed my camera fast enough). Most of it is shaded and it takes you behind new developments and old towns … some that I don't even think are on maps anymore.
But mostly, we just enjoyed being in the wild and wonderful Florida nature.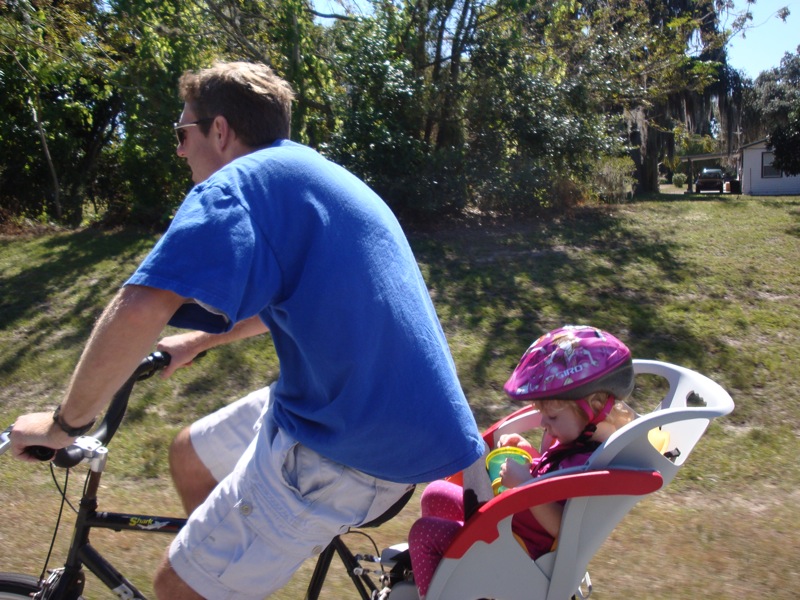 Some of us were just happy to have a comfortable place to eat Cheerios.
Along the way, we saw a man walking with a cockatoo on a his shoulder, an emu and a deer on a nature preserve and someone pulling their dog in a kids' bike cart. Sorry there are no pictures of these things, but I kept falling way behind to take pictures of things like water towers, bridges and signs.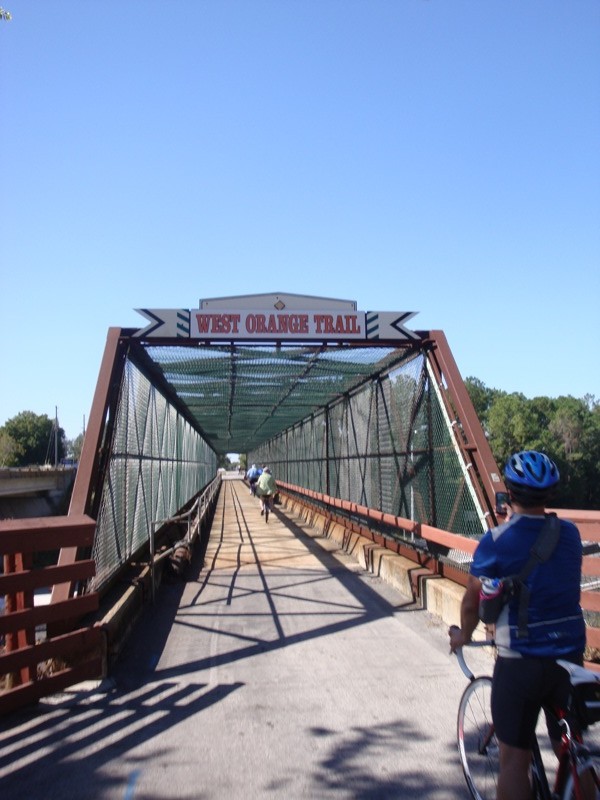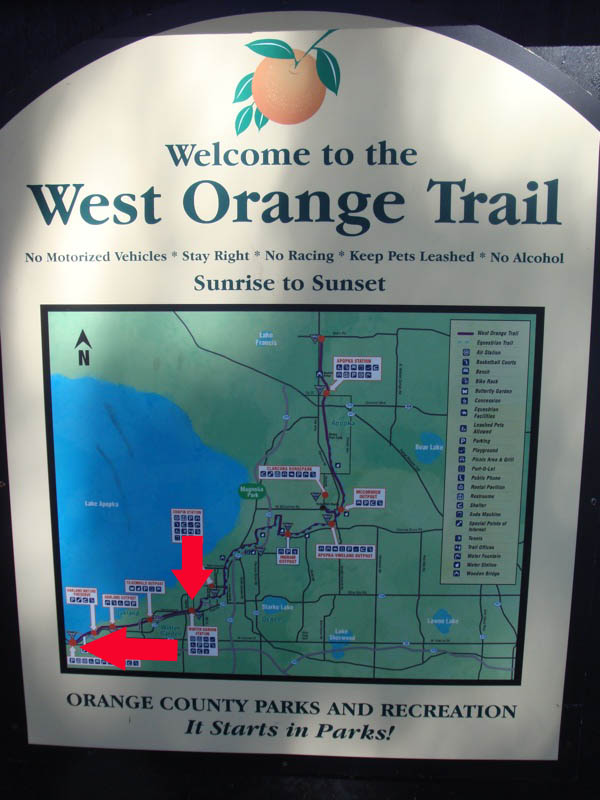 The parks along the way are definitely a big highlight for us. Today, we started in Winter Garden (arrow on the right, above) and rode 5 miles to the County Line station (left arrow). It was good to get off the bike, stretch our legs, hit the bathrooms and of course, spend some time on the playground.
You can even rent bikes, and apparently blades (are rollerblades still even something one would want to rent?).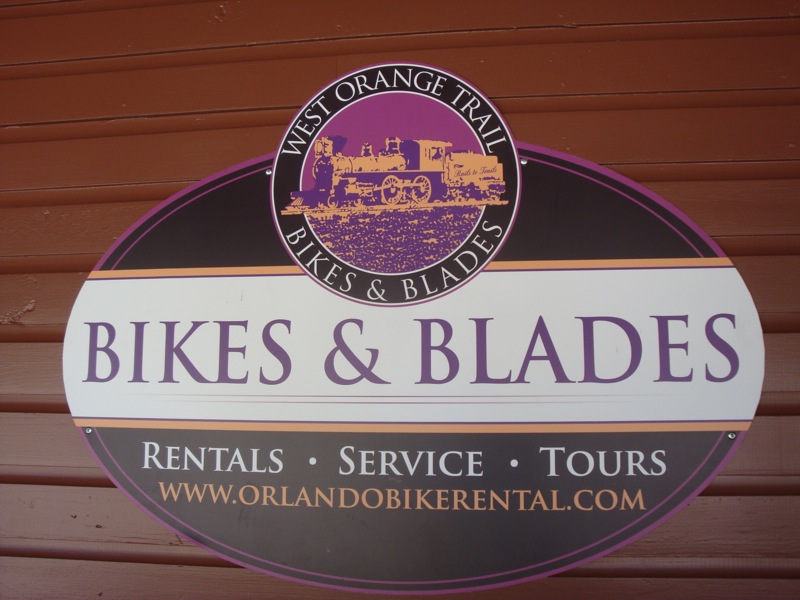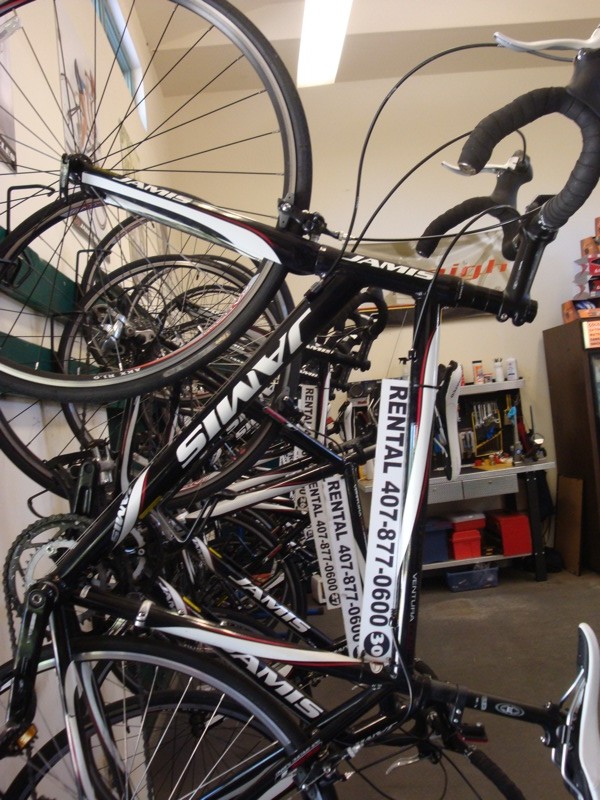 After a brief rest, we started back toward Winter Garden. Along the way, I made the birthday boy, his special lady friend Pat and DadJovi stop for a quick photo opp. Some people were already tired of posing for me, apparently (ahem, I'm talking to you, kid in the helmet)
It really was a fabulous day. And what better way to celebrate another year of health and wellness than with a 10-mile bike ride. My father-in-law is amazing. He's a prostate cancer survivor who continues to get healthier and healthier every year. I'm not kidding when I say that he SMOKED us today. He was like Lance Armstrong out there. I kept blaming being way behind the pack because of my picture taking, but in all honesty, he (and Pat, too, for that matter) were booking out there today. What an amazing example to aspire to — taking names and kicking butt as you approach 80!
DadJovi isn't so bad himself. Right before we left for the bike ride, he got home after running 16 miles this morning! Yikes. Well, I've been home for three days with a sick toddler. That totally counts as a work-out, right?
After our ride, the celebration kept going at the adorable Sweet Traditions French bakery and cafe in downtown Winter Garden. The baquette that my sandwich was on? Still thinking about that. I had a sandwich with thinly sliced ham, tons and tons of mushrooms and melted gruyere cheese. Jealous yet? OK, as I sat down to write this, DadJovi and I finally had our sweet treats that we got to go — a peach tart with huge slices of peaches and a chocolate napolean. There, that should do it. You can wipe the drool now. I would have shared pictures, but that just wouldn't have been nice.
The day wasn't completely perfect. As soon as we approached Sweet Traditions, E. got so excited and started begging for one of their "green cookies" (she, um, may have been bribed with them before). The green cookies are their pistachio leaf cookies. As we were leaving, we ordered 1 of each of their 5 kinds of cookies. When we got into the car, E. was so excited for her special "green cookie" — her reward for being really good on the bike and at lunch — but there was NO GREEN COOKIE! Thankfully she was slightly mollified with a red cookie, but she's still asking for one of those damn cookies. Sigh.
What's your favorite family outing? How do you celebrate birthdays in your family?