Lately, I've been thinking I should start picking up those parenting books that I tossed aside long ago. To be honest, I haven't even thought of browsing through one in about two years.
But lately, I'm stumped and I'm struggling to know the right thing to do.
At issue? E's relationships with her classmates and her non-stop questions about EVERYTHING.
For the most part, we have no issues at school. I don't think she's being bullied and I don't think she's a bully herself (Lord, I hope not). But sometimes kids are just kids and say some not-so-nice things. Over the past week, two things have really bummed her out.
Last week, she came home all upset one day because one of her friends told her she's not really a ballerina. Clearly her friend never saw this picture: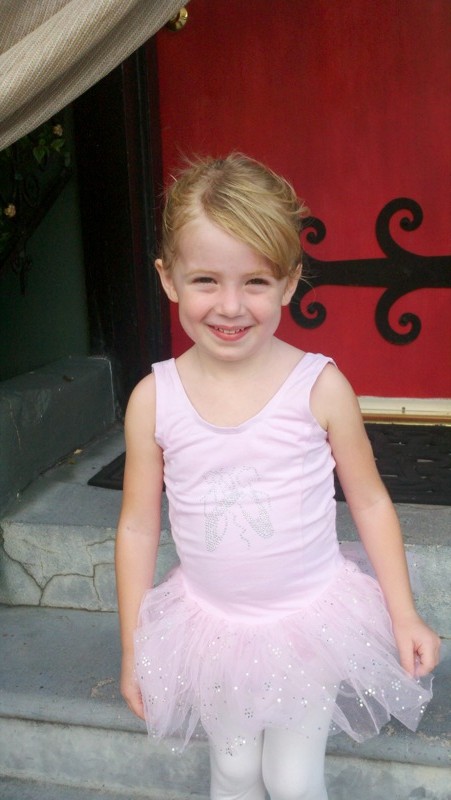 That one wasn't too tough to handle. I asked her where she goes every week ("ballet class") and what does she learn ("to dance like a ballerina"). She followed the logic and realized that yes, she is a ballerina. Crisis averted.
Lately, E's favorite song to hum is Darth Vader's theme from "Star Wars." She's eerily good at hitting all the right notes at the right time. Today, though, she came home and said, "Mommy, Sid said this isn't Darth Vader's song." Then, she started with her "dun, dun, dun, dun dundun dun dundun" rendition. Trust me, she sings it better than I type it.
I asked why he said that and she said she didn't know. I told her that she is right that it is Darth Vader's song and that she's singing it right. But she wouldn't let it go. "But why did he tell me it's not? What do I tell him?"
Finally, stumped, I just said, "Tell him, 'That's just your opinion, man.'"
Yes, I've reached a new low. I'm giving parenting advice based on quotes from "The Big Lebowski."
The thing is, none of my explanations seem to make a difference. Whether I try to keep it simple or, at her insistence, make it very detailed, the "whys" never seem to sink in.
That's why I find myself having the same two conversations with her almost every day — why do we have to go to sleep at night and why did our dogs die?
Neither conversation is fun and both usually end with her in tears because she either doesn't want to sleep or she misses her doggies (side note: I can't believe how strongly she remembers them. She was just over 2 when we put them to sleep yet she asks about them almost every day. The only solution is we're going to have to get another dog).
So, here's where I need help:
— What do I tell her when a kid is mean to her or says something mean to her? Are parents still using phrases like "turn the other cheek"? My instinct is tell her to kick them in the shins, but I have a nagging feeling that's probably bad advice.
— Someone PLEASE give me a good answer for why she has to go to bed. My explanations of restoring energy, brain growth and even "because Santa is watching" are just not cutting it.
— Any tips for the death and dying conversation? I've explained that the dogs were sick but now they are happy in heaven. Then, somehow I found myself in an existential conversation about souls and the bodies left behind. Clearly this is not a conversation I should be having with a 3-year-old but I swear, her questions were more pointed than I would have thought … and incessant!
Teach me how to talk to my kid!