Our Disney summer blackout period ended about a month ago, and somehow in that time period, I'd only been one time. Oh wait, that's because I've had something scheduled every darn day of the past month.
Earlier this week, I started looking ahead at my schedule and realized the next month was shaping up to be really busy, too. And since fall is pretty much my favorite time of the year at the parks, especially Magic Kingdom, I knew when I had an unscheduled Friday that I needed to get over there.
Besides, once I started seeing the tweets that they'd unveiled a part of the castle wall in the New Fantasyland, I couldn't think of anything else but getting over there to see how things are progressing.
I was planning on going anyway, but when my bible, Easy WDW, told me the crowd control number was a 2 on Friday, I was even more excited to get over there!
As soon as we arrived, E. and I made a a beeline for Fantasyland. And there is was … the castle wall!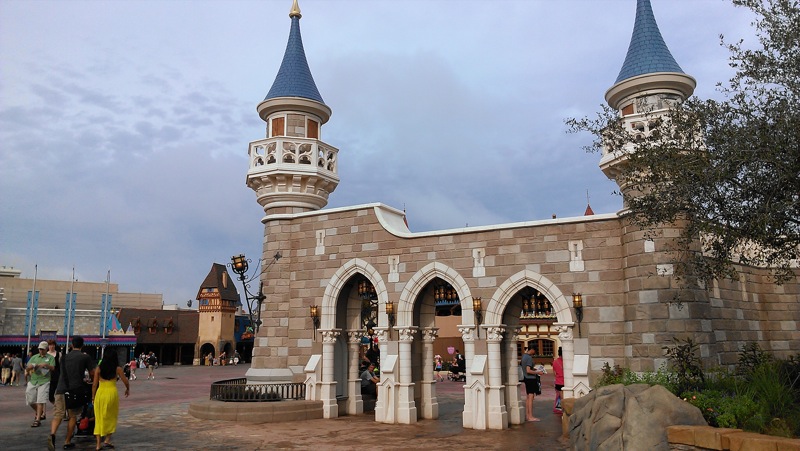 To help you get your bearings, that's Mickey's PhilharMagic and Peter Pan that you see in the background. Basically, it sits right next to the space that used to be Dumbo's home.
And look who was there signing autographs — Cinderella's wicked stepmother and step-sisters. I've had a soft spot for them ever since the time one of the sisters yelled to E. from the Main Street Electrical Light Parade, "I want your boots!" when E. was wearing her pink cowgirl boots.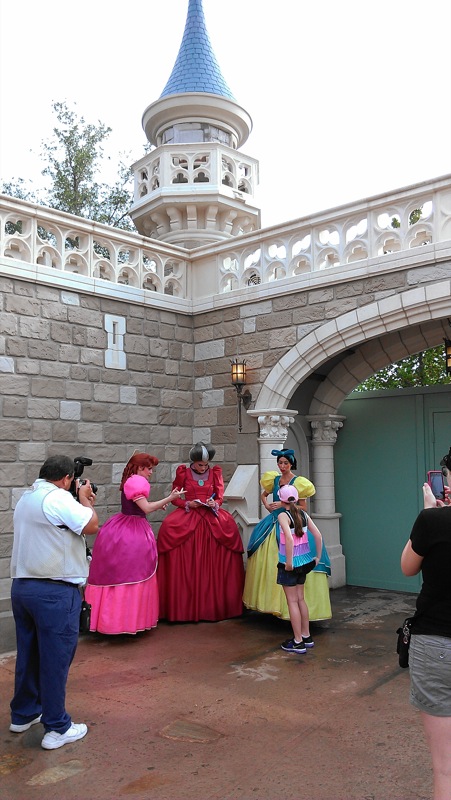 I asked E. if she wanted to wait to see them but my well-trained frequent-goer Disney child replied, "Nah, the line's too long." God bless her.
Before leaving, we looked down since I'd heard a rumor of wagon wheel tracks on the pavement leading towards Maurice's cottage. We found them, as well as some horseshoe prints.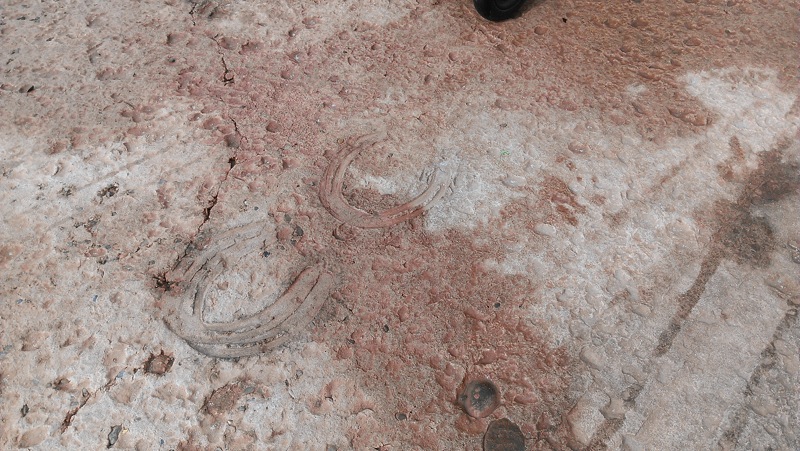 Sadly, my dreams of catching a soft opening performance of Enchanted Tales with Belle (in Maurice's cottage) did not come true. I'm going to be stalking Twitter in the coming weeks before the official grand opening of the New Fantasyland later this fall.
Our first stop was the new Dumbo, in the better-by-the-day Storybook Circus area.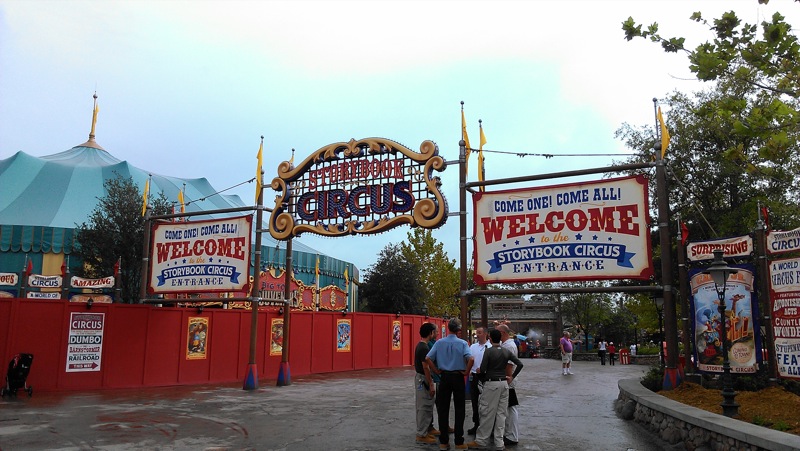 Check out the group of architects and planners discussing the expansion. It's pretty dang cool to watch the workers in action, creating this area. They were all hard at work building the new Snow White and Little Mermaid rides.
As we approached Dumbo, I mentally high-fived Easy WDW — there was only a 10-minute Stand By wait for the new and improved Dumbo. We'd been on Dumbo once since it moved to its new location, but the last time we were on it, only one of the spinners was open and the Big Top wasn't yet. This time, it was all open and it was glorious.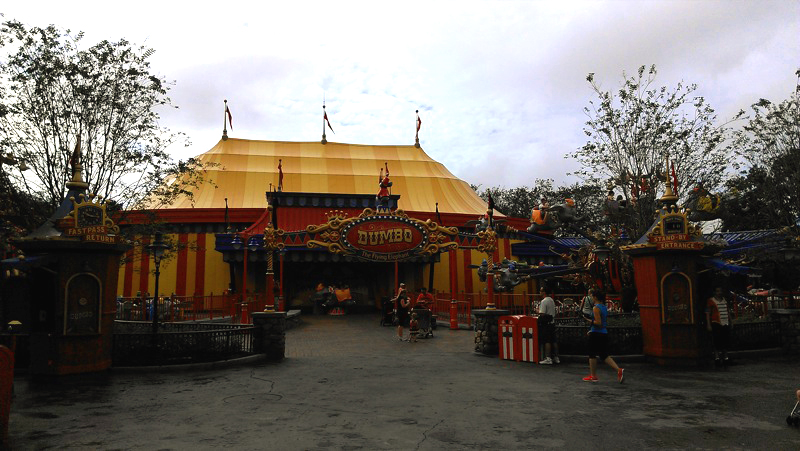 For both spinners, you enter by the ticket booth on the right and head right into the Big Top (well, on a day when there's no line, at least). As we approached the new indoor playground, we were greeted by this sign.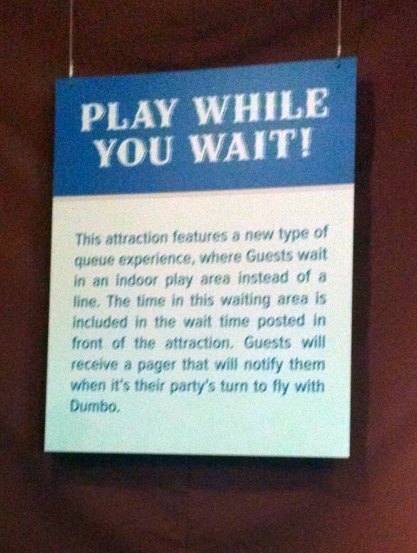 If you'll recall, just about the only thing I liked about Legoland was its play-while-you-wait areas for kids. But this takes it to a whole new level.
Here's how it works: As part of the line, you come to the new Dumbo playground. When you enter the play area, you're given a buzzer, just like the kind you get at a restaurant. Your entire party waits in the play area and that's counted toward your wait time. When it's time to head to one of the two spinners, your buzzer goes off and you gather your party. Pretty darn cool, huh?
In our case, since there was no line on Friday, we just played as long as we wanted to then handed in our buzzer when we were ready to head to the ride.
The play area left both of us speechless.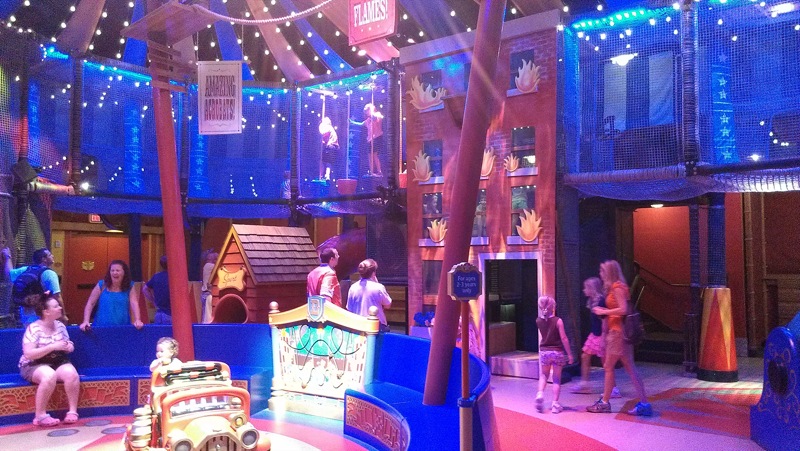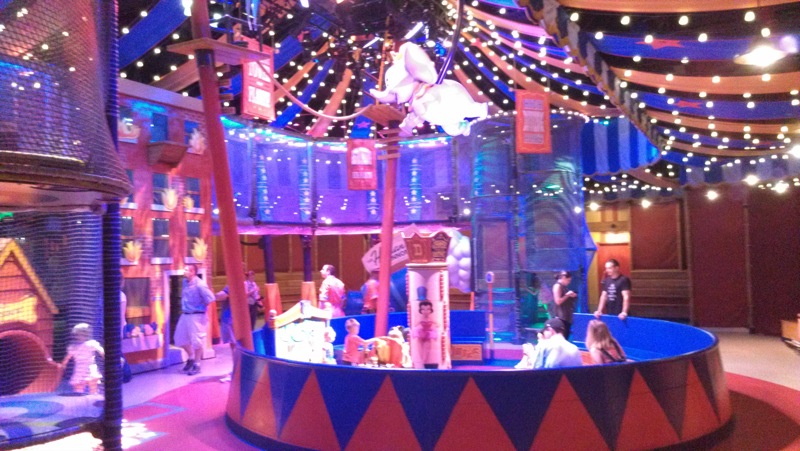 There are different sections for each age group, from 2-12.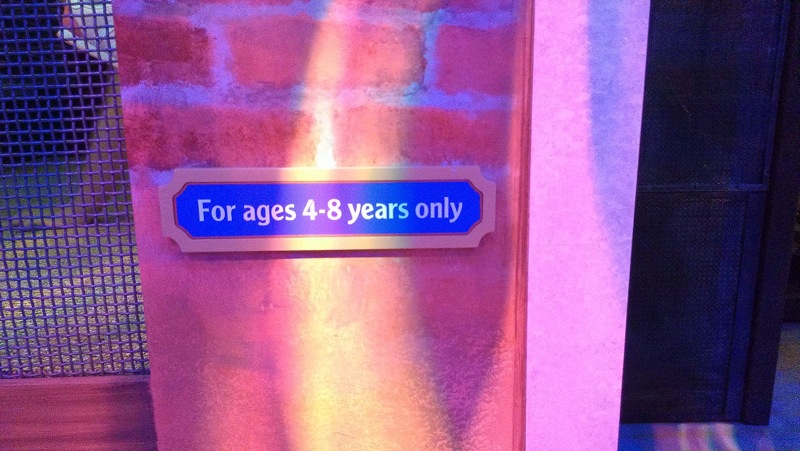 That Dumbo above circles overhead all the kiddies playing. All in all, it's pretty spectacular in there. E., my little thrill seeker who usually climbs as high as she can in jungle gyms, just walked around looking at everything. She was in awe. It probably doesn't hurt that Dumbo is one of her all-time favorite Disney movies (and she's obsessed with elephants since they also start with "E." Oh, preschoolers).
After we gawked for awhile, we handed over our ticket.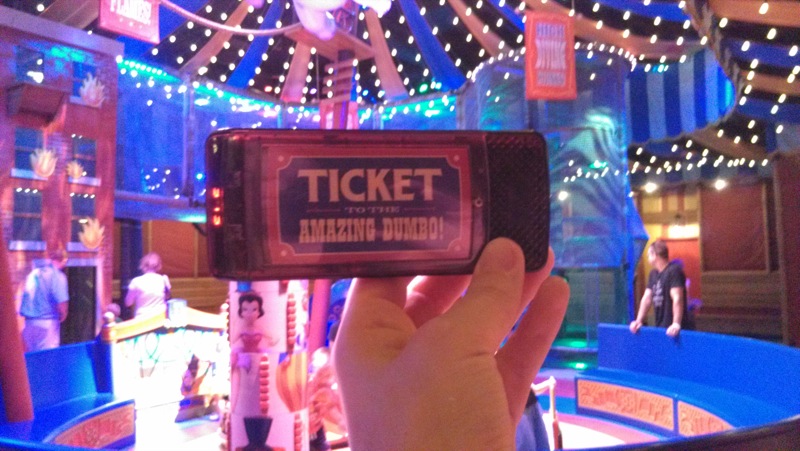 Although it's a lot prettier than it once was, including some nice water features, the ride is the same ride you remember and love.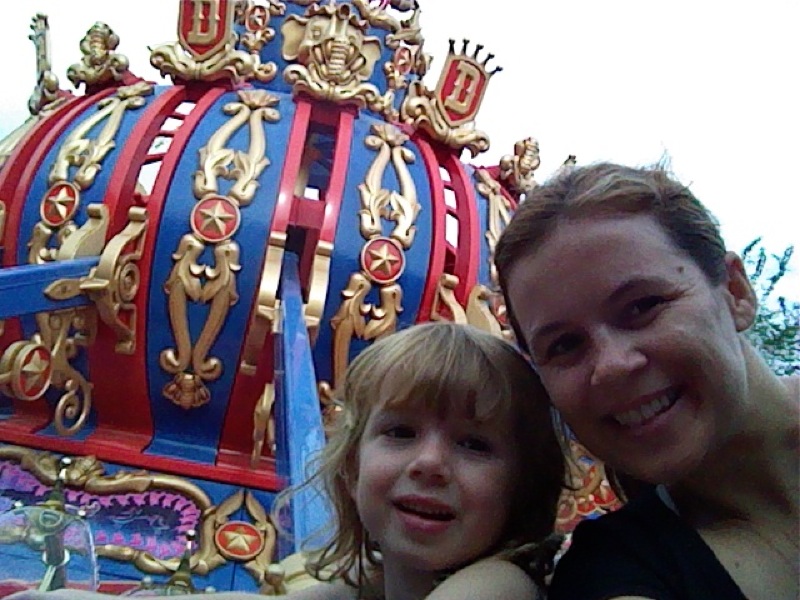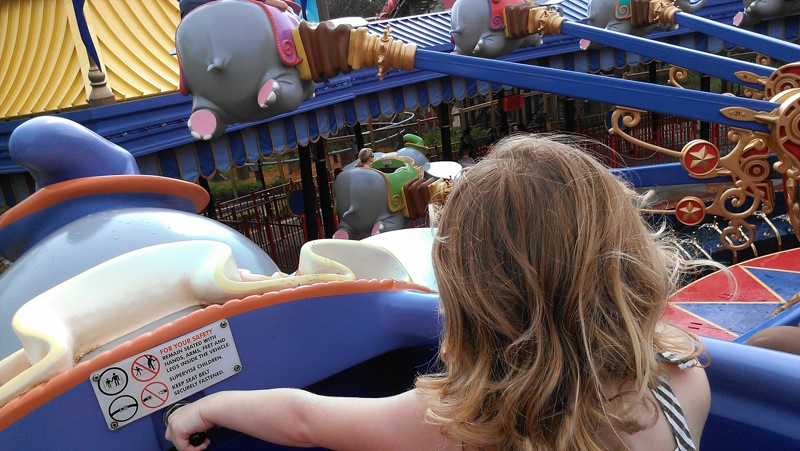 Oddly enough, the stork topper is E's favorite part because she thinks it's "soooo cute Mommy" to see baby Dumbo's ears sticking out. I guess she's right; it is cute.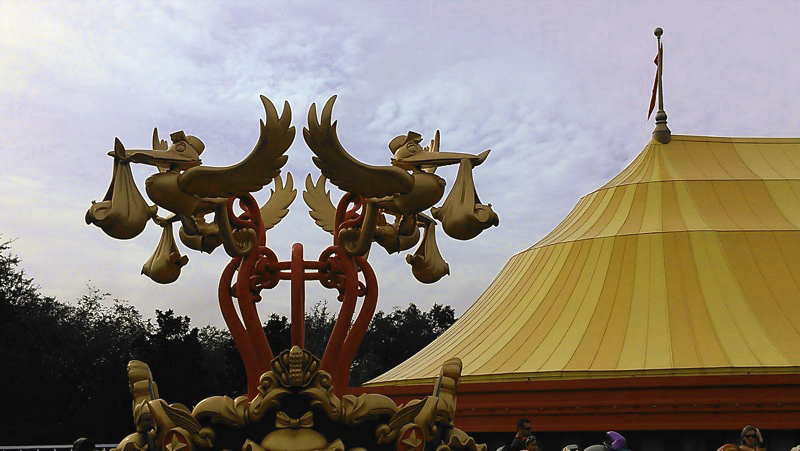 There's also a much improved photo opp area to catch a picture of your kids in a Dumbo. It was tough getting E. to leave it. Thankfully no one was waiting behind us.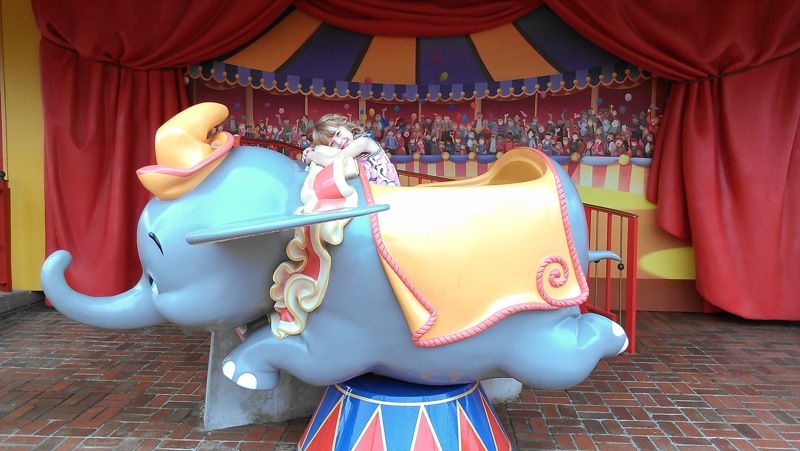 After I was finally able to tear her away from her beloved, we took a quick ride on Goofy's Barnstormer coaster (again, walked right on it!), then checked out the new Casey Jr. splash area. I know it's been open all summer but this was my first chance to check it out.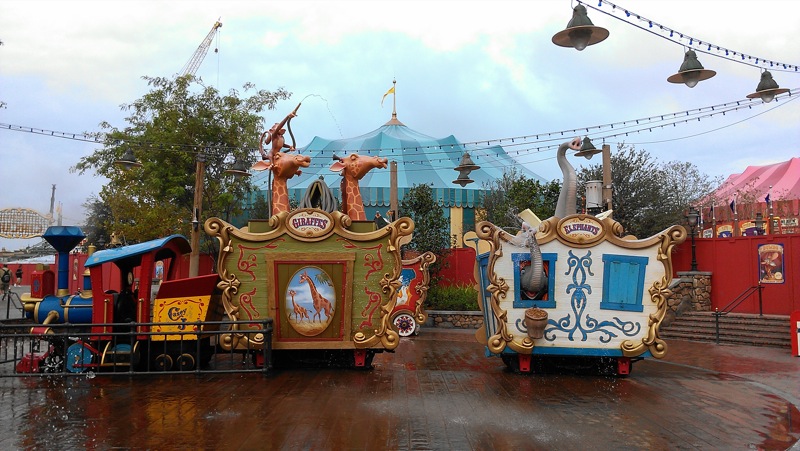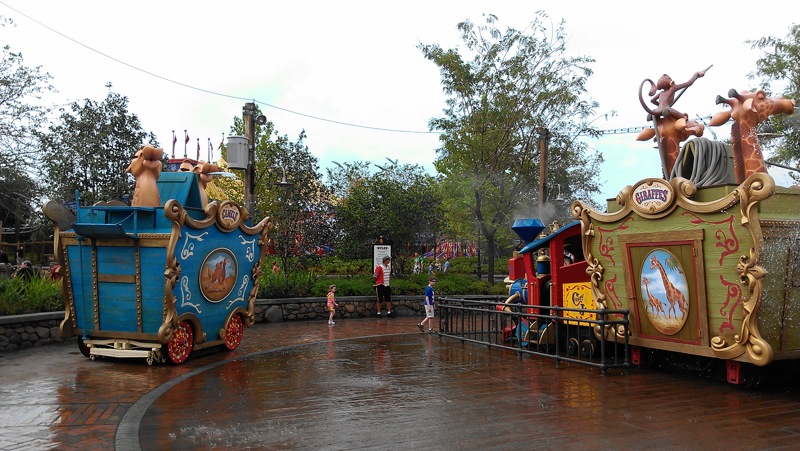 I can't wait to see what's going to be in those other big top tents still behind the work fences.
After exploring Storybook Circus, I let E. pick our touring plan. Since we didn't have to think strategically thanks to the low crowd, she was in charge. She chose Winnie the Pooh, then opted to skip the rest of Fantasyland. And then my heart broke a little bit because for the first time ever, she didn't want to go on her favorite ride, Peter Pan. SLOW DOWN TIME!
Instead, she wanted to hit the Haunted Mansion. Yup, my baby's not a baby anymore. Although I was selfishly happy that she still wanted me to hold her in the chamber with the stretching walls. After that part, she's good to go.
During this trip, I was able to point something new out to E. thanks to a tweet I saw earlier this week (I really wish I could remember who tweeted it so I could give him or her proper credit). But did you know there's a Hidden Donald on the ride? As you go through the section with the wallpaper with eyeballs, check out the armchair — you'll see Donald! Although, apparently this is a point of controversy amongst Disney philes. Is it or isn't it a Donald? You can see a picture of it here. For our family, at least, it's a Hidden Donald from now on.
Since E. was in charge, she picked Splash Mountain next, against my wishes. I hate getting wet on that ride but I really can't pass up the opportunity to just walk onto any ride at Magic Kingdom. This must be how celebrities feel when they visit the parks.
All was going great until we got to the Laughing Place, and our log suddenly stopped. No biggie. It happens from time to time. But then a couple minutes turned into several minutes. And I was starting to go a little crazy both from E. asking me when we were going to move and from the laughing rabbit right next to our log.
And we kept waiting. After a few minutes, at least the ride's soundtrack stopped. Then, I knew things were bad — the overhead lights came on and castmembers started scrambling by our log.
Have you ever been on a dark Disney ride when they turn all the lights on? It definitely kills a lot of the magic when you see the ductwork above. But it's pretty cool, too. It happened to us once on Pirates too and when the lights came on, you realized you're just in a bed room with drop ceilings. Trippy.
For the most part, E. handled the wait pretty good. Well, she was doing good until she suddenly told me, "Mommy, I have to poop RIGHT NOW!" I'm not going to lie — I freaked out a little. At that point, we'd already been stopped at least 15 minutes and I'd heard a castmember say over the loudspeaker system "Powering down system now" more than once. Who knew how long we'd be stuck there? Finally, after about 20 or 25 minutes sitting there, the ride got going again. Hooray! We dodged a bullet (and of course, as soon as we got off the ride, E. magically didn't have to go anymore).
But they did make it worth our while.
That is a magic Fast Pass (I'm sure it has a technical name). It's good for ANY attraction and good for nine days. Sweet! Armed with that, I told E. we could go on any ride the rest of the day that she chose.
Next, we headed for Big Thunder Mountain, which I hadn't been on since this year's renovations. But we didn't need the Fast Pass yet … you guessed it, we walked right on.
The queue area isn't necessarily more interesting but it's certainly nicer. I noticed some improvements along the ride itself, including the fact that, at least to me, it seemed faster than I remembered. But the biggest and best improvement to me was the thick padding on the side of the car — right where I'm normally trying to shield E's head from banging the side.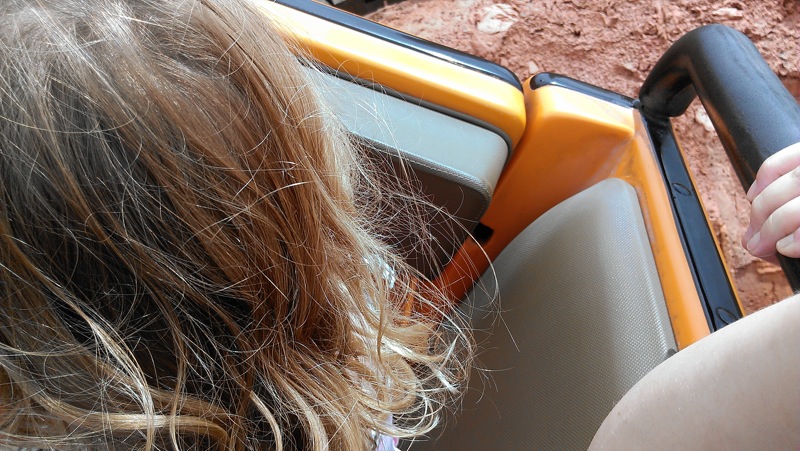 Bravo Imagineers! Ever since she's been tall enough, this has been one of E's favorite rides but it's always scared me a bit. Since I share a lap bar with her for it, it's always left her little body loose to flop around. It still flops and slips and slides, but now I know she's not going to knock her head on the hard side.
Since we still were armed with our magic Fast Passes, I told E. we had enough time to do one more thing before we had to go, so she could pick anything she wanted. In the most surprising call since Kristen Stewart decided to crush RPatz's heart, E. chose Buzz Lightyear's Space Ranger Spin. Don't get me wrong, it's a fun ride, but it was a random selection, especially since we were all the way over in Frontierland.
We started heading across the park (with a pit stop for a Mickey ice cream sandwich for E. and a Dole Whip for me. I wish the Fast Pass would have worked in that line; it was the longest we waited all day), and when we got to Buzz, which normally has a pretty long line, we discovered that once again, we didn't need our Fast Pass.
After the ride, I caved on something I swore I'd never, ever give in on — I agreed to buy E. a character autograph book. I don't know what came over but I'm blaming it on the perfect, easy breezy day at Magic Kingdom. Stupid pixie dust magic.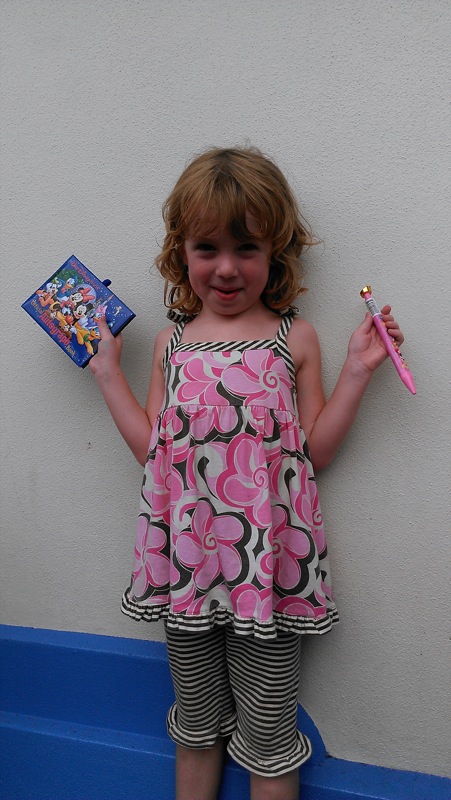 Thankfully, Buzz was right there, ready to christen the book.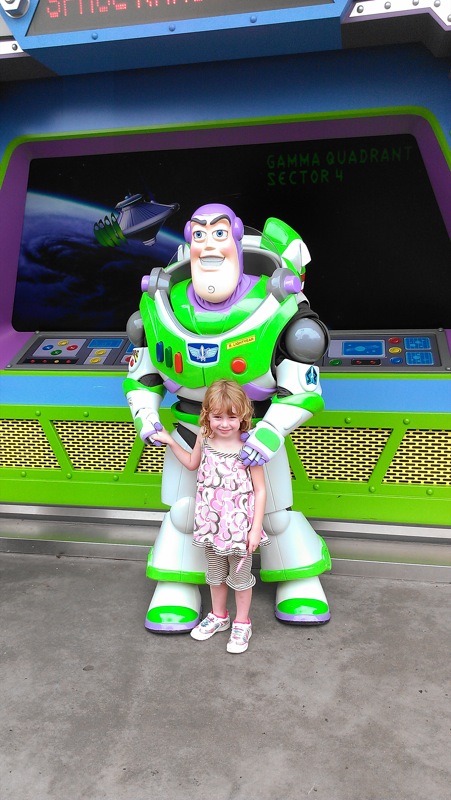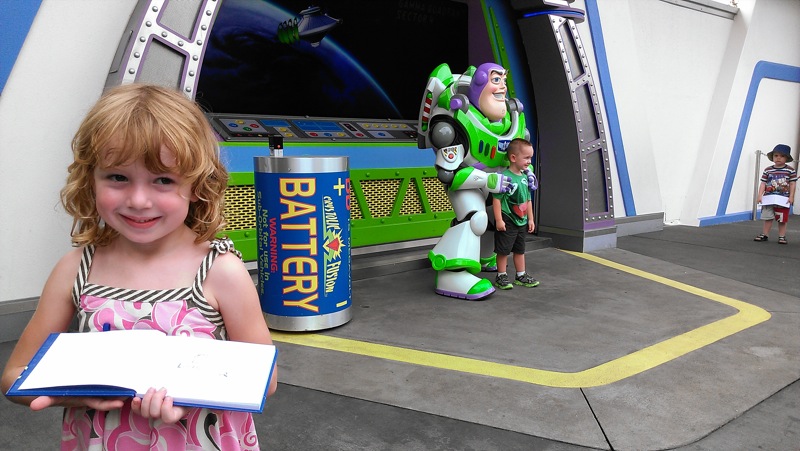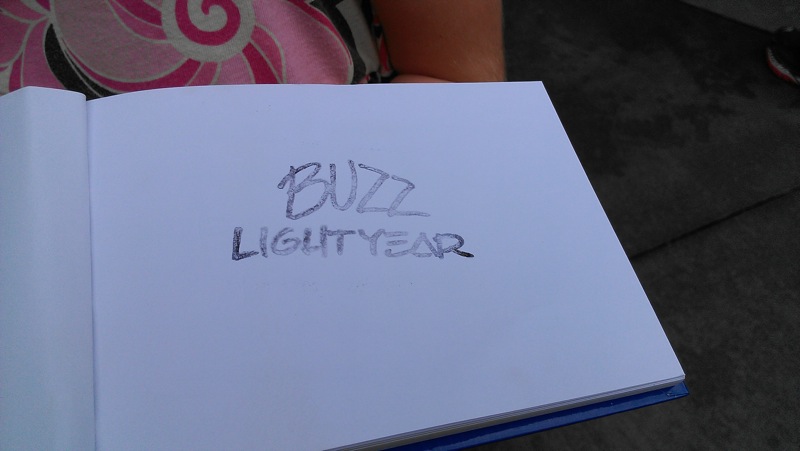 Since we had ballet lessons to get to, I told E. it was time to head out. I knew we had time for one more thing I had in mind if those Fast Passes would work, but I wasn't sure they would.
But they did. Instead of waiting 40 minutes, we waltzed right in and saw some of E's old friends.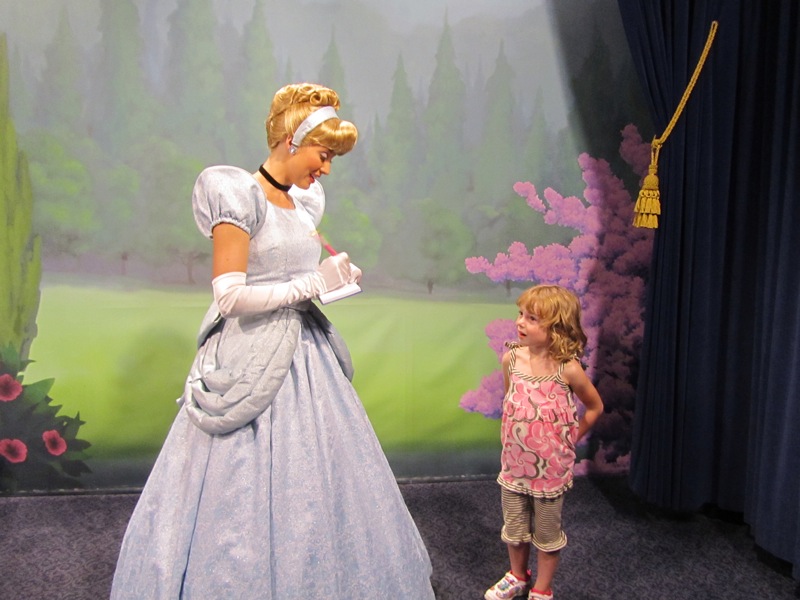 Chalk another one up for the autograph book. I love the next picture. You can see how nervous E. is because she's twisting her shirt all up in her hands.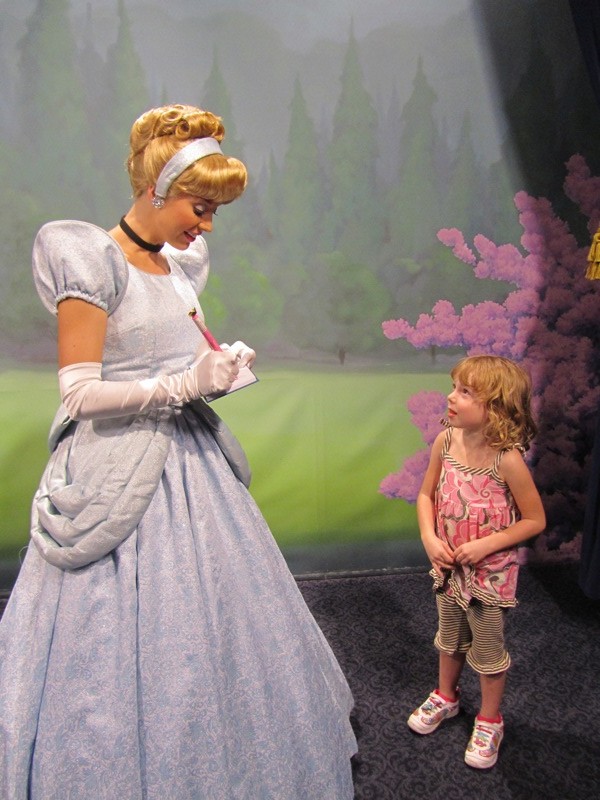 At that moment, E. is shyly telling Cinderella that one of her favorite songs is "Sing Sweet Nightingale." After hearing that, Cinderella knelt down to E's height and softly started singing the song to her.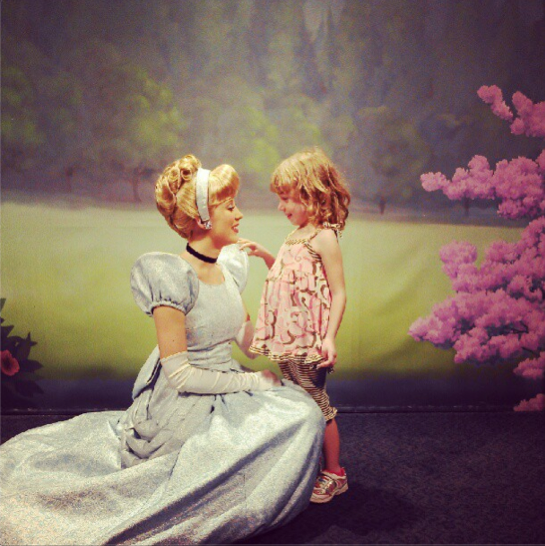 And then I cried. It was, perhaps, the sweetest thing I've ever seen at Disney. And you guys know me, I'm NOT a princess fan. But it really was so special. The fact that she not only acknowledged the song but also took the time to sing it and encourage E. to sing along with her is something I'll never forget.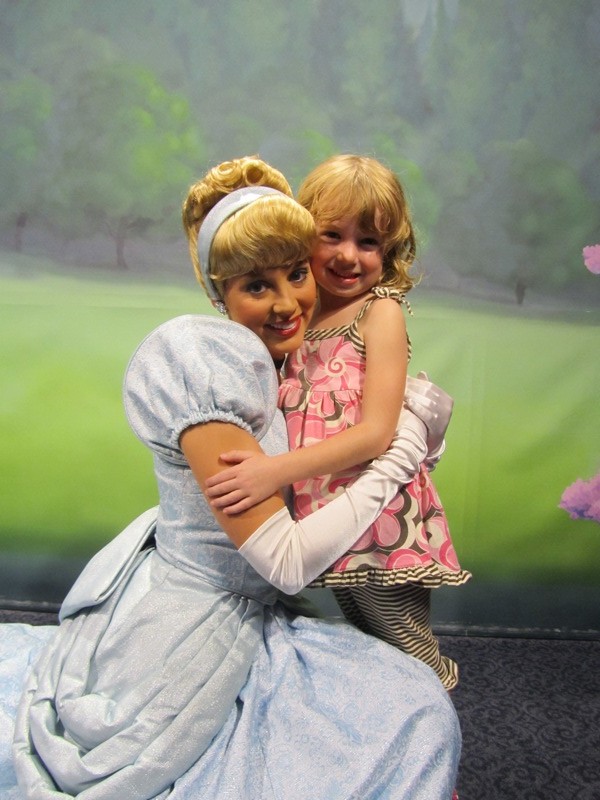 After I was finally able to tear her away from Cindy, we said hello to Belle.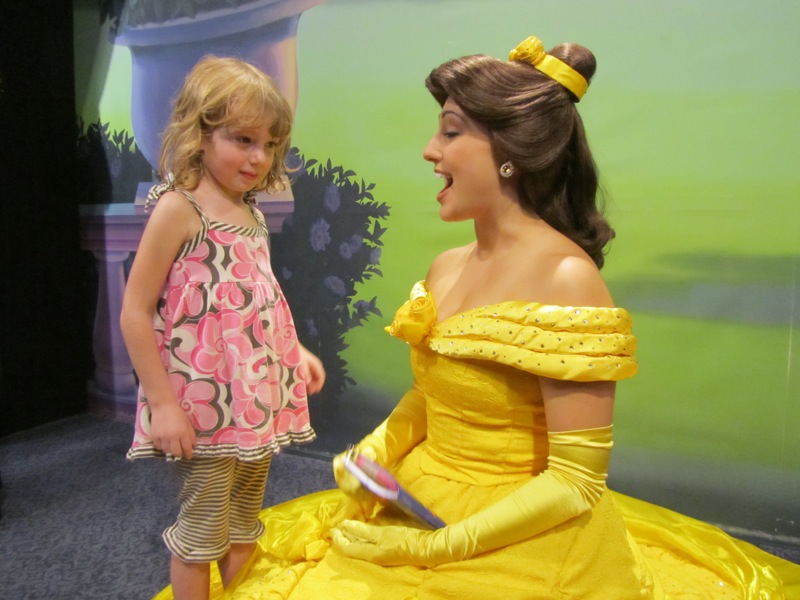 E looks like she's pulling her best McKayla and is not impressed. But she rallied to strike her pose.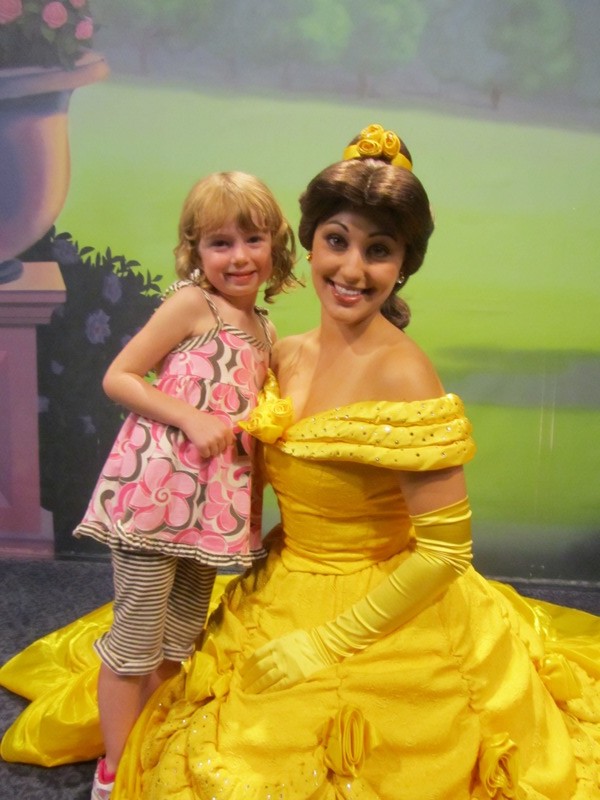 But in Belle's defense, Cinderella was a tough act to follow, and she suffered by being right before something new for E. — meeting Rapunzel.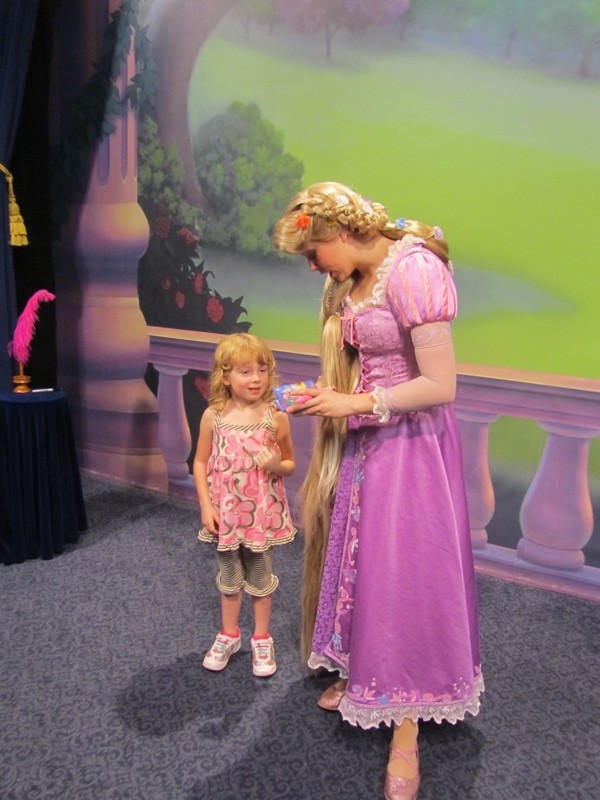 Poor E. (ha!). In all of our times to Disney over this past couple years, this was the first time she's ever met Rapunzel. We just never wanted to wait in that horribly long line where Rapunzel did meet-and-greets in the Fairytale Garden near Fantasyland.
And it was a memorable first meeting. Instead of complimenting E's outfit or beauty she instead asked E. what she likes to do. Well done, Rapunzel. E. told her that she likes going to ballet. In response, Rapunzel busted out a few dance moves of her own.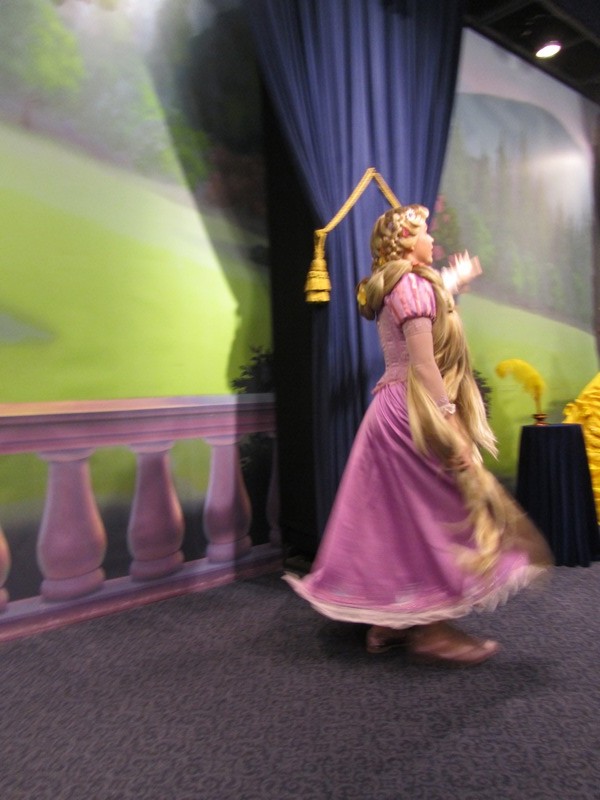 Then, they practiced some curtsies together and said cheese.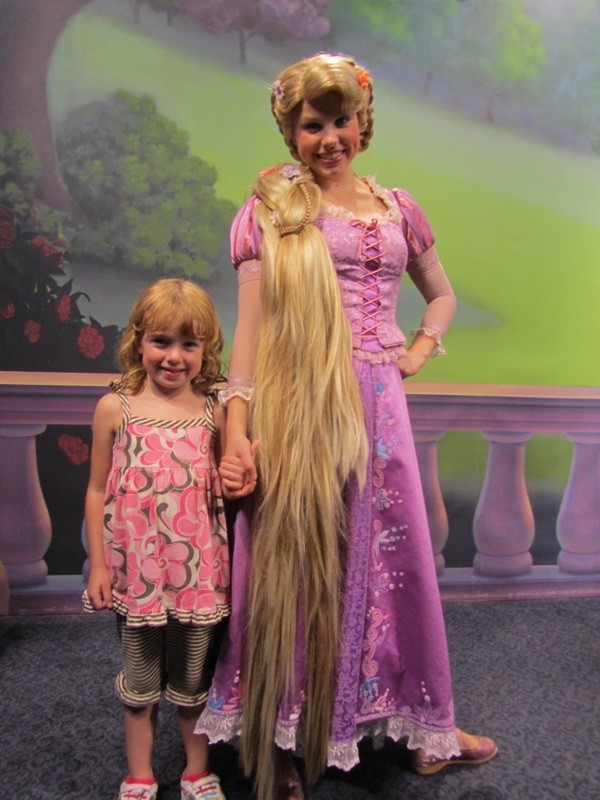 Still with me? Forgive the obnoxious "Look at how awesome my day was" post, but hot dog, it was a good one and I don't want to forget it. And remember, that's my primary reason for blogging — my inability to remember anything anymore.
Plus, I realized that my Fantasyland knowledge was vastly outdated so it was time to get some new pictures for the ole bloggy blog. I'll also be updating my Disney With a Toddler post with all the new information. Stay tuned!
What's the most memorable moment you've ever had at Disney? Have you ever been stuck on a ride at a theme park or amusement park?