Whenever friends come to Orlando, they always ask me where they should say. I never have any recommendations because we live here (duh) and have so rarely stayed in hotels near the theme parks.
But if one dinner and sneak peek of the future are any indication, I have a new place to recommend to friends.
I was recently invited to attend a special Floribbean Feast at the Wyndham Orlando on International Drive. The hotel's management team wanted to share some details about a major renovation project that's just under way.
Before the event I'd only been at the resort once before for a birthday party for our friends' child in one of the ballrooms. At the time, I was surprised by how large the complex was, but it turns out I had no idea.
As we were taken via shuttle from the main parking lot to the site of the dinner — the Gatorville Poolside Bar and Grille — we learned the Wyndham Orlando resort sits on 42 acres, right at the intersection of International Drive and Sand Lake Road. When we arrived at the Gatorville bar, it was as if we were miles and miles away. Gone was the hustle and bustle of I-Drive, and we were treated to a lovely event on the patio overlooking the two large pools (they told me there's yet another one on property, too).
They started the evening off with something called Swamp Juice.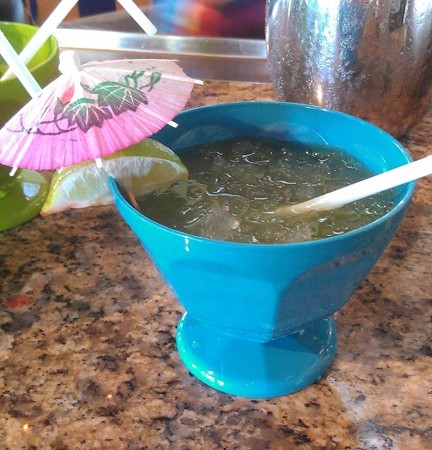 I don't know what was in, but it sure was tasty.
As we nibbled on appetizers, we got the chance to look at the blueprints for the renovation project. From what I saw with my untrained eye, it's going to be amazing. Did you know that the Wyndham Orlando was, until recently, owned by the Teachers Retirement System of the State of Illinois? During former Gov. Rod Blagojevich's corruption trial, the hotel was powerless to make any major renovations or upgrades, forcing the hotel to fall far behind the times in terms of hotel trends and styles.
After the case was finally settled, the hotel was sold to three prominent investors and that's when the renovation plans started moving full-steam ahead. Fascinating, huh?
The evening's event was hosted by several members of the Wyndham Orlando's management team, including General Manager Scott Marn, who has been with the company for more than 20 years. Scott was really passionate about the hotel, particularly its employees. He said the resort has the highest tenured staff of any resort in the area, and from the few people we met, it's clear they're all very invested in helping it succeed and grow.
He was also brutally honest about the hotel's struggles with Trip Advisor ratings and he conceded that the lengthy trial and previous owners made it very difficult for the hotel to keep up with the times. But they hope their renovation plans will dramatically change things.
Scott, along with one of the key designers of the project (who has traveled to hotels all across the world gathering inspiration for the project) shared some of the plans:
Currently, the resort has more than 1,100 rooms. When the project is complete, there will be just over 600 rooms — which will allow for bigger, more comfortable spaces for the tourists and conventioneers who stay there.
More than $1 million will be spent to rewire the resort, giving plugged-in guests the speed and convenience they need.
One of the new features they were most excited about is an 18-hour barista. In the morning and early afternoon, it will be a cool coffee place. Throughout the day, it will slowly transition so that by the time it's happy hour, it will be a high-end nightspot with tapas and wine.
And as an Orlando resident, one of the things I was most excited to learn is that we're getting our own version of the London Eye on I-Drive! Very cool!
But really, they had us there to show off their food. Head Chef Patrick Coombs prepared a FEAST for us! Please enjoy the photo dump of deliciousness.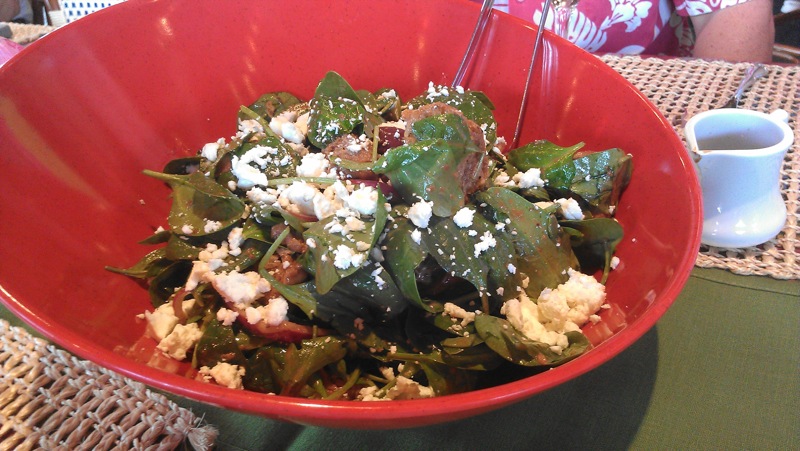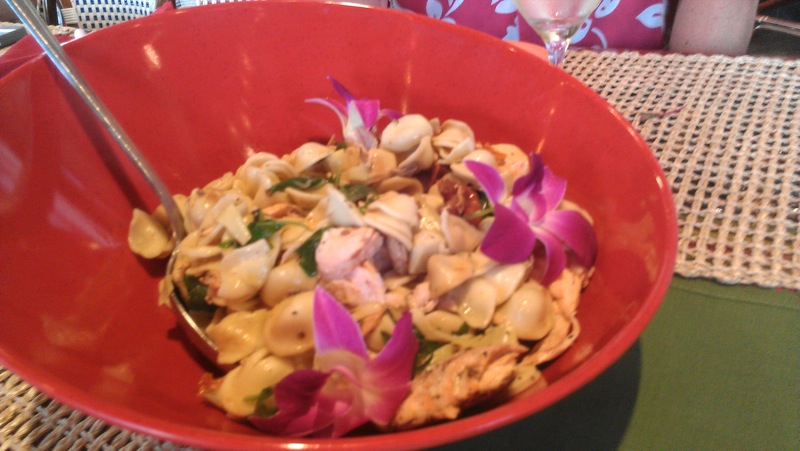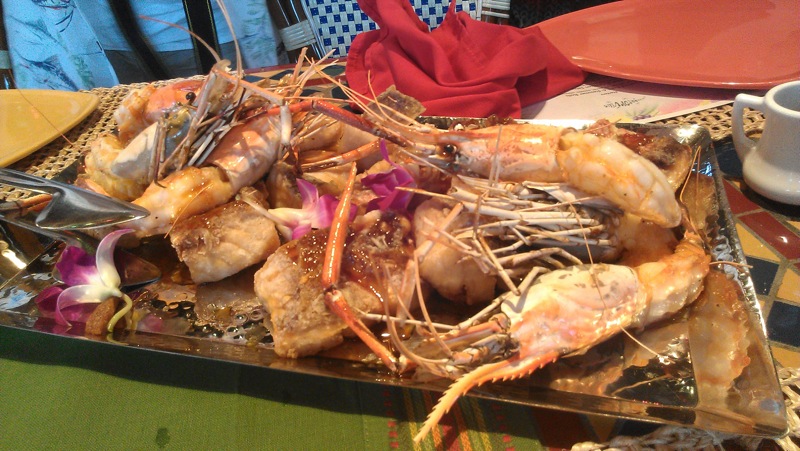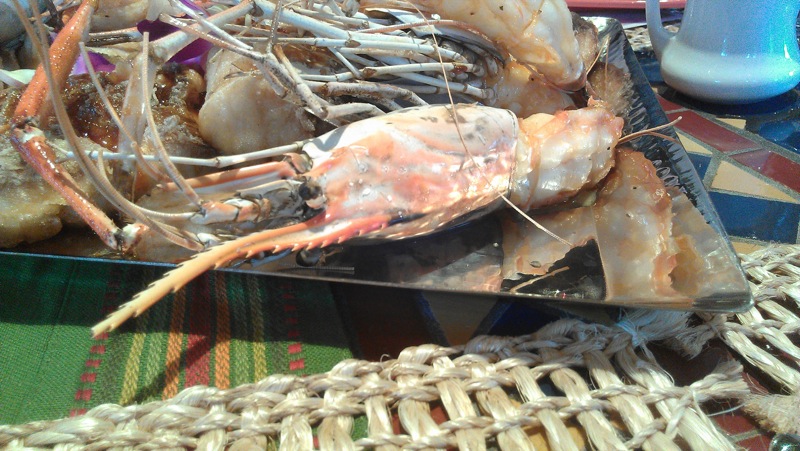 Um, have you ever seen a shrimp so large? They were crazy big and good.
We also had Kahlua infused pulled short ribs, garlic butter tostones and grilled vegetables. And then I went into a food coma.
It was all sooooo good. Obviously I'm not a food photographer, but the pasta salad that is third from the top was hands-downs my favorite. It was a pasta salad with salmon and it all was sorts of awesome. Chef Coombs told us we can email him if we want any specific recipes and I think I may be hitting him up for that one.
DadJovi had, and I kid you not, three servings of short ribs, so I'm guessing I should probably get that recipe too.
But wait, there's more!
They also set up a Bananas Foster "action station." Think made-to-order omelet bar but with flames!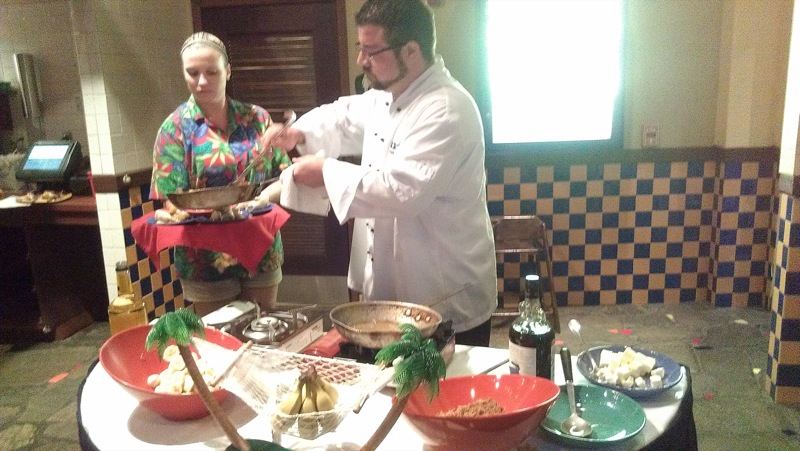 The chef in action.
And there is where I take a moment to praise the fabulous ladies who organized the evening, Lauren and Katie. Before the event, they emailed me asking if we had any food preferences, dislikes or allergies. I mentioned that I was allergic to bananas but figured they'd probably feature prominently into something called a "Floribbean Feast." I told her I was fine with just skipping whatever might include them.
I was in the restroom as they were passing out the desserts. I'm told the servers started passing around all the dessert plates and started to put one in my place. Before the server could leave it, Lauren stopped her saying, "No, we have a special one for Jackie. She's allergic to bananas." To which my husband of six years responded, "She is? Oh yeah."
Perhaps I should have married someone in PR?!?
Thanks to the attentive Lauren and Katie, I got my banana-free dessert. And of course I forgot to photograph it. Yup, I won't be applying to guest post on a food blog anytime soon.
After dinner, we got the chance to see one of the newly redesigned rooms.
I could be happy there. The best part? Outlets, outlets, outlets. Hotels are finally getting better but I'm still surprised by how many times I have to move nightstands or desks to find outlets for chargers when I travel. This prototype room had outlets everywhere and a great desk to use as a workspace.
The renovations are expected to be completed in the spring of 2013, so if you've got a trip planned to Orlando for either a convention or vacation, I'd check out how the renovations are going. You can't beat the location — it's right down the street from Universal and very close to SeaWorld and Disney.
From what I saw on the plans, I plan on crashing the pool stopping by to say hello to my new friends. Thanks for a wonderful evening, Wyndham Orlando!
Disclosure: I attended a complimentary dinner at Gatorville. I did not receive any additional compensation for this post. As the saying goes, all opinions are mine.