I don't have to tell you how crazy this time of year is. You blink and it's the week before Christmas. No matter how busy we are, there's one goal I try to keep every year — visit all four Disney parks to see their Christmas decorations. It can get a bit tricky with so many nights devoted to Mickey's Very Merry Christmas Party at Magic Kingdom (since we already have passes, I can't see paying that much money for one night) and our approaching blackout period. With our seasonal passes, we are blacked out for the second half of December, which given the expected HUGE crowds during those weeks, I'm just fine with not going.
Since I've been devoting all my spare time to battling fleas (ugh), it was tougher than usual this year to fit them all in, but finally this weekend, we knocked the final park off the list.
Here are a few of my favorite things about holidays at the parks.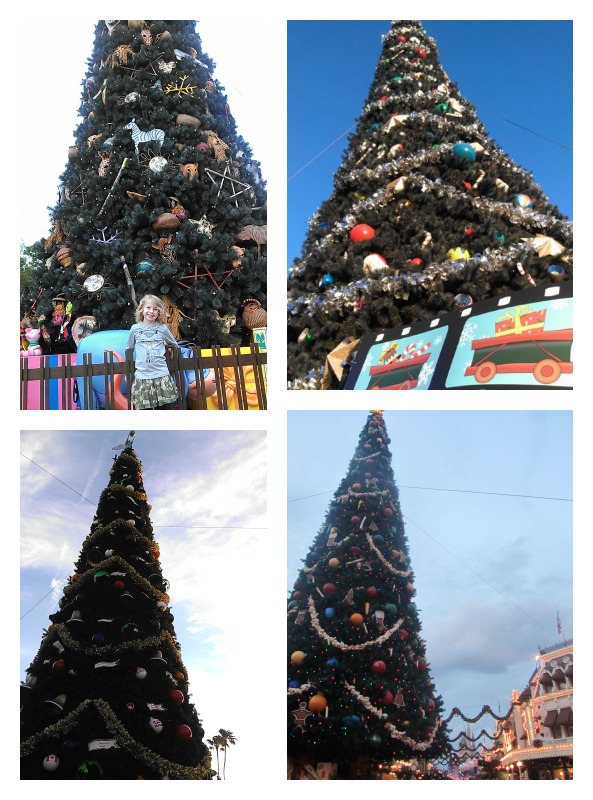 From top left, clockwise, these are the trees at Animal Kingdom, Hollywood Studios, Magic Kingdom and Epcot. 
Animal Kingdom
This year, Animal Kingdom was the first park we were able to hit. We went the Sunday before Thanksgiving and were treated to a pleasantly cool day and fairly light crowds.
The first thing that greets you has you approach the front gates is a huge tree covered in animal-themed ornaments.
After that, there aren't all that many decorations around the park, but some of the characters are decked out in their finest festive wear.
This was actually our first time checking out the new(ish) Mickey and Minnie meet-and-greet on Adventure Island, and we were really surprised to see them in their not-so-ugly Christmas sweaters. For a short time, this was even the leading Christmas card contender for us.
The real holiday star, though, is the Jingle Jungle parade in the afternoon.
The Animal Kingdom parade is one of my favorite parades in all the parks, second only to the Main Street Electrical Parade, and its holiday version is just as fun. One of our favorite parts was reading all the names on the Naughty and Nice list on Santa Goofy's float. Poor Donald ended up on both with a question mark after his name. Careful, E., Santa Goofy is always watching.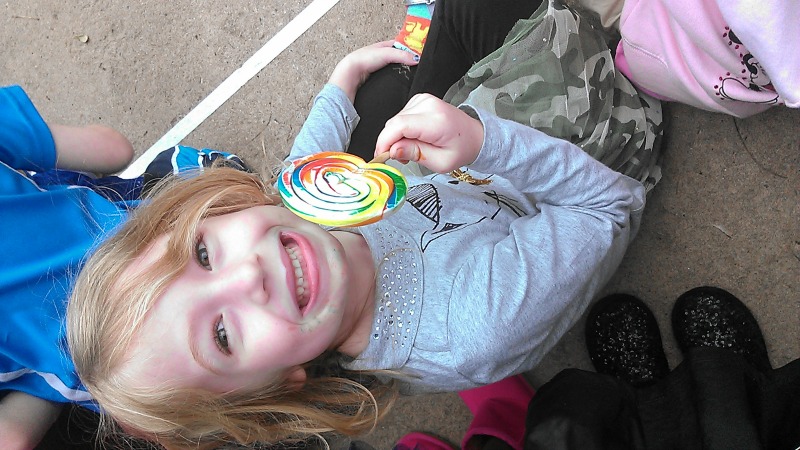 Hollywood Studios
As I shared in my Thanksmas post, heading to Hollywood Studios on Black Friday is a Jovi family tradition. The Osborne Spectacle of Dancing Lights is the perfect way to officially kick off the holiday season.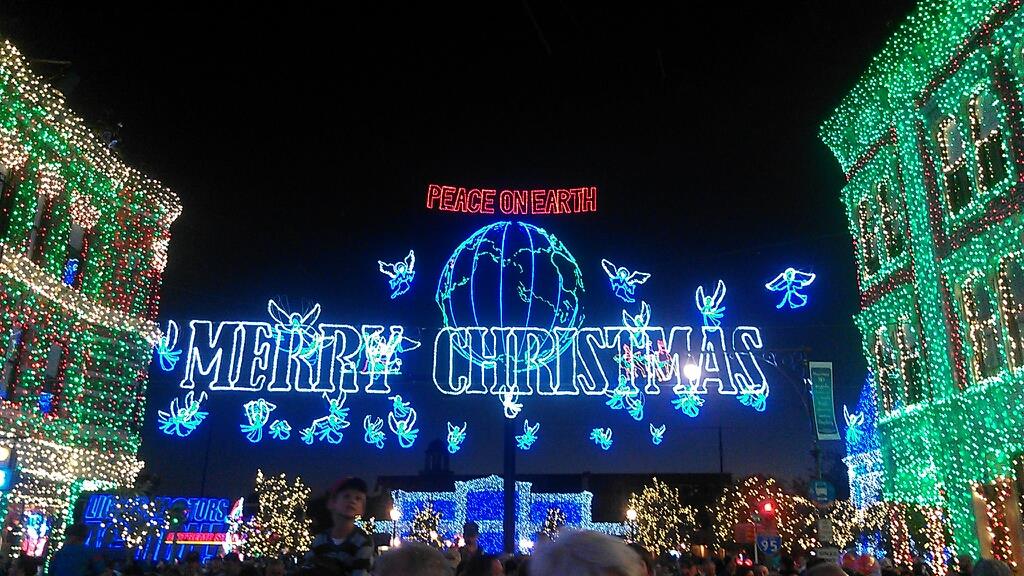 One of our favorite things to do is to hunt Hidden Mickeys. This year, we spotted about half of the 43 mouse ears scattered throughout the lights. But mostly we just all walk around with our mouths wide open, taking in all the sights.
When the "snow"is falling and the music is thumping, it's not hard to imagine you're starring in your own Hallmark holiday movie. Well, you and thousands of extras. If you only ever do one Disney holiday attraction, this should be at the top of your list.
Epcot
I realized this year that we hadn't done Epcot for the holidays in a few years. It was time to fix that!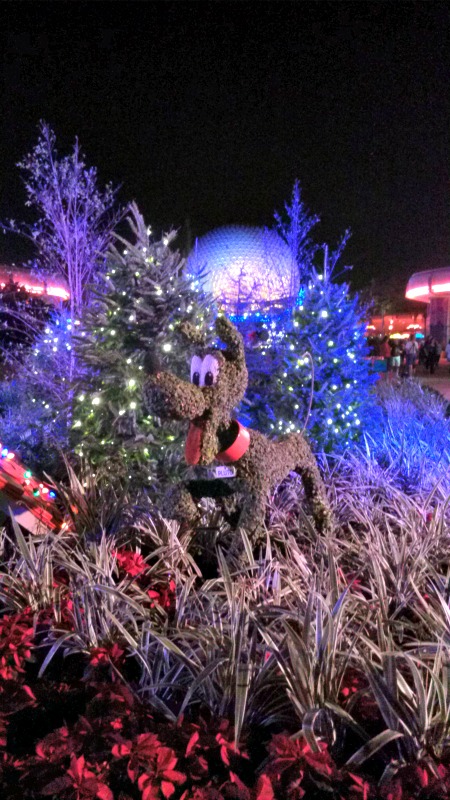 We started with one of the newest holiday attractions — a gingerbread village in the Land.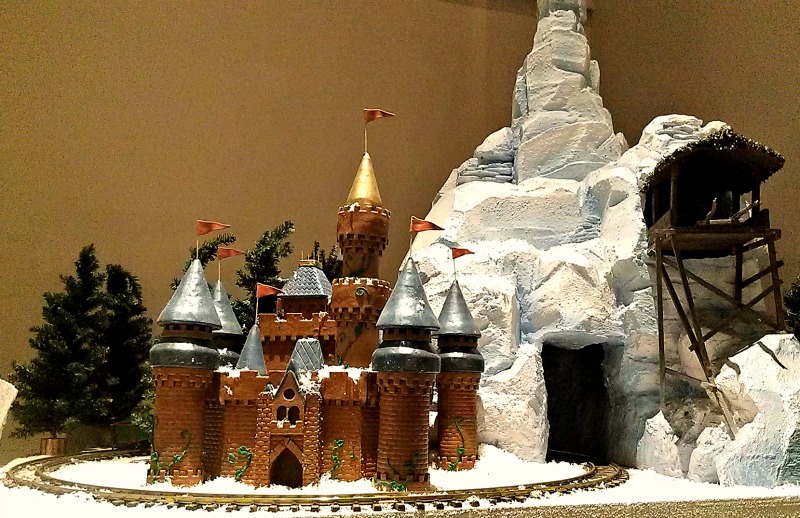 Cinderella's castle has never smelled so good. They also had gingerbread versions of a Disney cruise ship, Aulani, Spaceship Earth and the Eiffel Tower.
Then we made our way into the World Showcase to check out some of the country-specific events and food. In some of the countries, they had Food & Wine Festival-style kiosks set up with holiday foods and drinks. This year, you could even get a passport book and get it stamped, just as you do at F&W.
We weren't doing so great at timing ourselves to hit the scheduled activities in the first half of the World Showcase, but there was one we thought we really wanted to check out — Germany. Spending Christmas in Germany (the real one, shockingly, not Epcot) is near the top of my lifetime bucket list. For now, at least, I can pretend I'm Christmasing there.
A hot mug of Glühwein (spiced wine) helped get me in the mood. And our new friend Frau Helga had me humming Oh Tannenbaum.
In most of the countries, these performers get up on small stages to explain customs and traditions in their home countries. Helga told us all about Martin Luther cutting the first Christmas tree and about the tradition of nutcrackers.
E. was enthralled.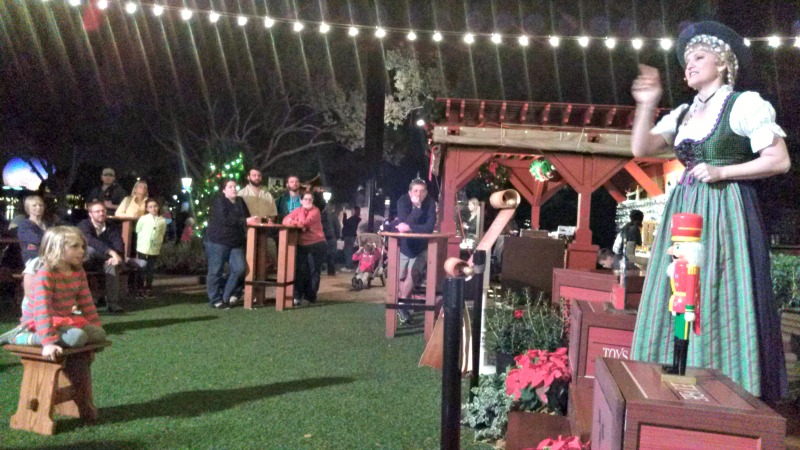 Then Helga had everyone close their eyes as she urged them to imagine a nutcracker come to life. And when they opened their eyes, a giant walking nutcracker had appeared. Guess who was first to line up for a picture?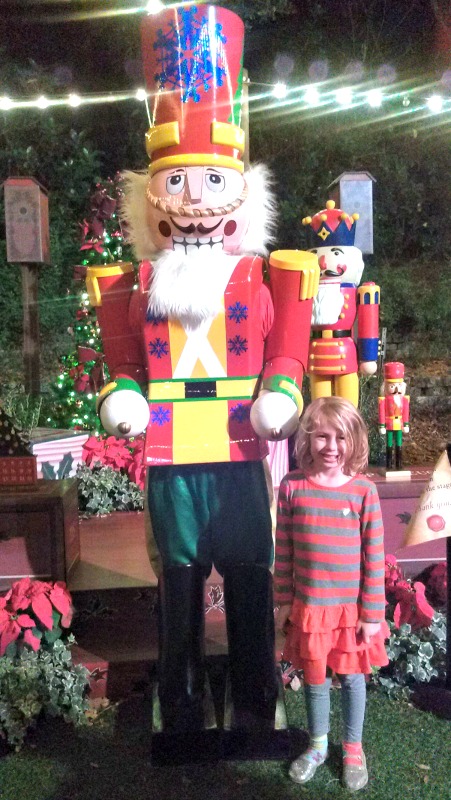 After Germany, we made our way over to the American pavilion to try and find a spot near the America Gardens Theater for the night's big attraction — the Candlelight Processional. There was no way we were getting seats (they sure are hard to come by these days, huh?) so we hung around the fountains in front as we waited for showtime. We found some yummy treats to keep us warm.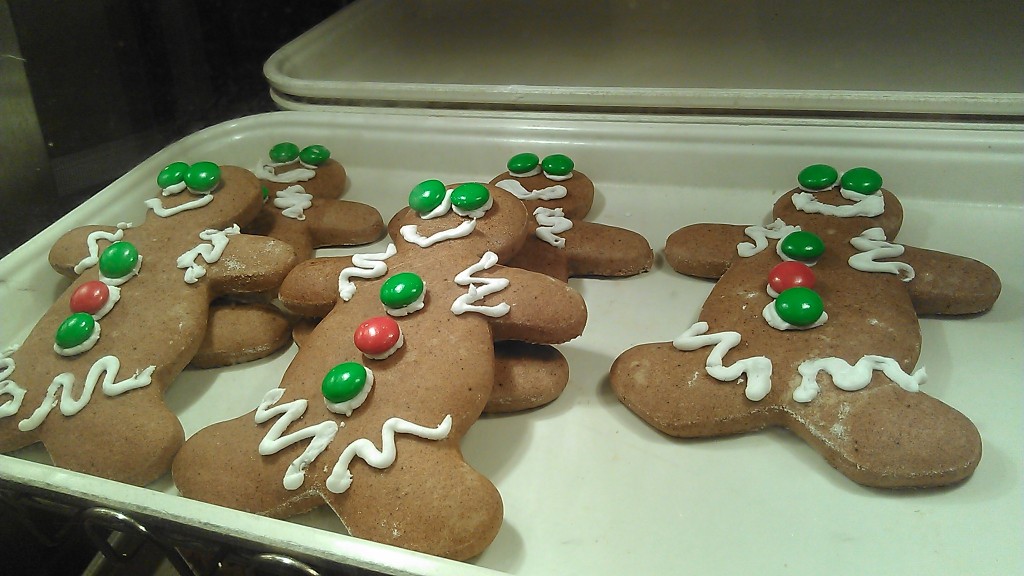 Both of these came from the Holidays Around the World kiosk in America. Let me tell you — the smell of those freshly braked gingerbread men was intoxicating. Once we smelled them, there was no way we weren't getting a couple. And I discovered my new favorite drink — a Cocoa Candy Cane. It was a hot chocolate with peppermint schnapps and gloriously fluffy whipped cream. New rule: peppermint schnapps goes in EVERYTHING between now and Christmas.
Finally, it was time for the main event. The celebrity narrator on the night we were there was Dennis Haysbert. Fun fact: the mention of his Allstate commercials got a MUCH bigger round of applause than his role of President David Palmer on "24."
He really does have a fantastic voice.
As usual, the orchestra and choir were fantastic. Next year, we have to be better prepared and reserve a dining package so we get seats. By the time it started, we were all tired and we weren't very comfortable standing way, way in the back, on the outside of the rope line, so we left about halfway through. I'm still glad we got to see some of it.
Magic Kingdom
After our late night at Epcot the night before, the last thing I wanted to do was brave the massive, massive crowds at Magic Kingdom on Saturday night, but it was the last chance we had to get our first look at Christmas decorations. And since the sparkly castle is pretty much my favorite thing Disney does, skipping it was out of the question.
DadJovi had plans so E. and I hit the park for a  girls night. As soon as we hit Main Street USA, I knew coming was the right call. It's just fabulous.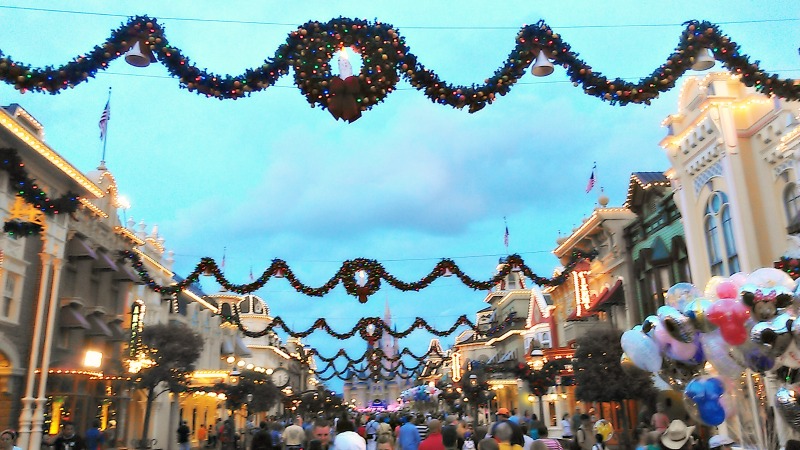 We got there around 5:30 p.m. and went straight to the Jungle Jingle Cruise for FastPasses. Then, following Easy WDW's advice, we made our way toward the stage in front of Cinderella's Castle. The Move It! Shake It! parade was going on (it started at 5:40) so the area right in front of the castle was pretty empty, as Easy WDW predicted.
We got front-row spots and we hung out until 6:15 for something we'd never experienced before — the lighting of the castle. First, Goofy, Donald, Mickey and Minnie came out on stage.
They were soon joined by the Fairy Godmother, who stood on a balcony on the castle, and a few minutes later by Cinderella herself and Prince Charming.
Then, it was time for them to make some magic. I taped it just for you. You have to watch until the end to see E's gaping mouth. My chatty sidekick was seriously speechless and awed.

It really takes your breath away.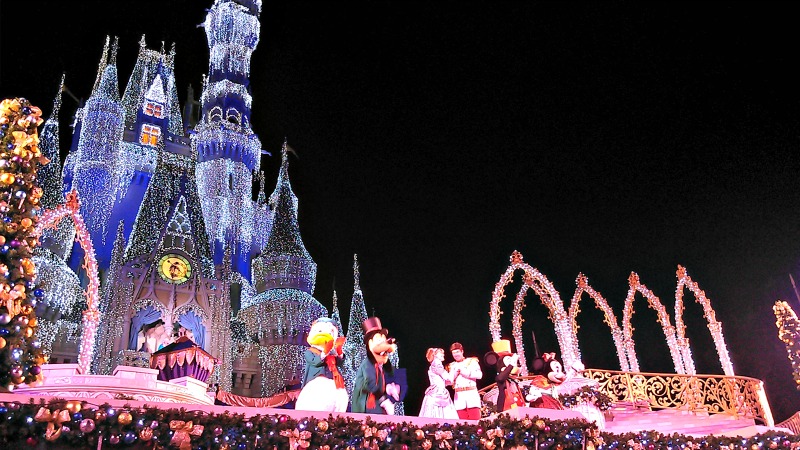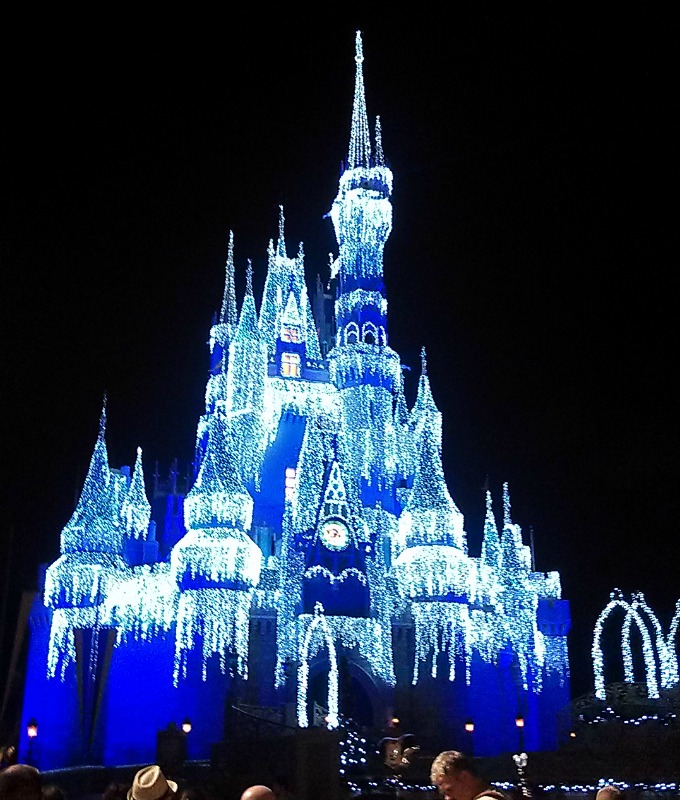 Since the lines were really (REALLY) long for every ride, we spent a lot of time circling around the castle to check it out from all angles.
I could have just stared at the castle for hours and hours.
After the castle lighting ceremony, we headed over to the holiday-themed Jingle Cruise.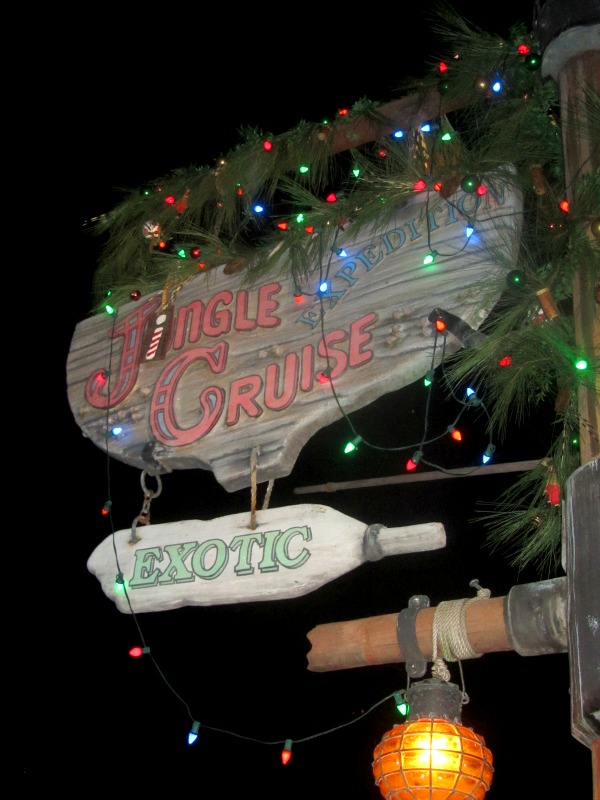 Most of the holiday embellishments are in the queue. It's cute but certainly not wait-in-a-huge-line good. The other big holiday change is the boat names.
On the ride itself, the skipper had a khaki Santa hat and a few holiday-themed jokes in his arsenal, but that was the extent of the Jingling compared to the regular Jungling. It was OK.
After the ride, we killed time until our other big reason for hitting Magic Kingdom, the Celebrate the Magic castle projection show.
Since, as I've mentioned, the lines were huge, we did some less popular attractions while waiting for 9:45 to arrive, including E's favorite new ride — the Carousel of Progress. No, I'm not kidding. She's obsessed with it. Random.
Finally, it was time to head to the hub. And we weren't alone. I've never been in a crowd like that at Disney. It was a little scary. I picked E. up to try and find a spot to watch the Main Street Electrical Parade and it was just insane. It was hard to even move, let alone find a spot within the taped off lines. As we made our way further and further away from the castle, one of us finally had sense. "Mommy, let's come back after the parade," E implored me. God bless that child.
So while everyone crammed uncomfortably onto Main Street, we walked right onto a few rides. Smart kid.
As the parade was exiting Main Street, we made our way back and since we were allowed back on the street, it was much easier to move around — for the time being. We got a good spot, and watched, again mostly speechless, as the castle was transformed over and over again. And my little Frozen fanatic was excited to see the castle turn into Elsa's ice palace.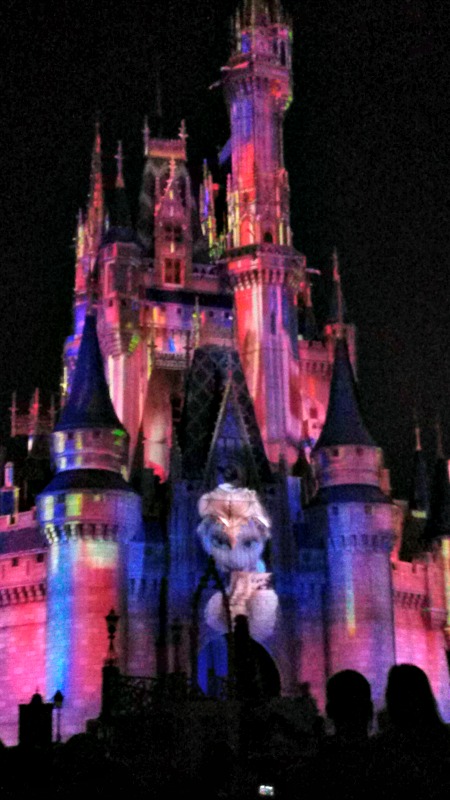 My one complaint? They dropped Merida to make way for Elsa and Anna. Not cool.
Thankfully the holiday castles helped melt my fury.
In quick succession, the castle went from gift wrapped to Christmas lights to candy canes to a giant gingerbread castle. So cool.
Know what wasn't cool? Trying to get out of there. We tried bolting as soon as Celebrate the Magic ended and before the fireworks began. It was mayhem. People were yelling at each other to move; others were stopped in the middle of walkways. Ah yes, it's the happiest place on Earth. Once again, I picked E. up and dodged and weaved our way through the crowd until I could make it to the first shop at the top of Main Street and walk the rest of the way out through the stores. Otherwise, we'd still be standing there.
Next year: we're doing Magic Kingdom first. It was just way, way too crowded, but I still wouldn't have missed it.
Until next year, shiny, sparkly castle.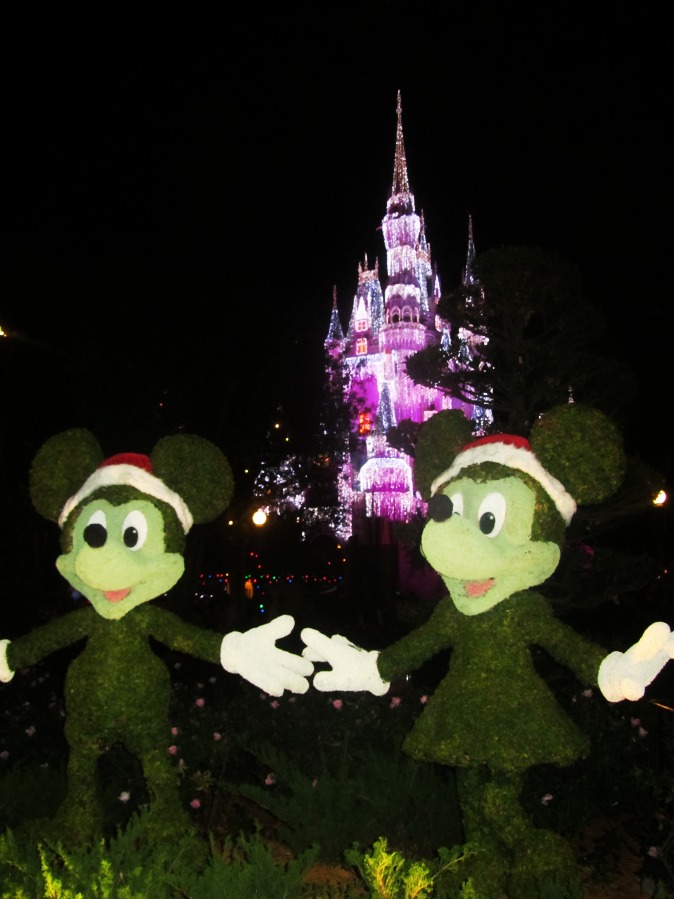 What's your favorite holiday attraction at Disney? And what other amazing holiday treats have I somehow been missing out on all these years? Why didn't any of you tell me how delicious peppermint schnapps would be??