A few weeks back, E. and I went to Magic Kingdom on a Thursday night. I thought I'd heard that the Christmas lights were already up. I thought wrong.
A few days later, we went to Magic Kingdom again, this time with Meghann. And this time, the decorations were up!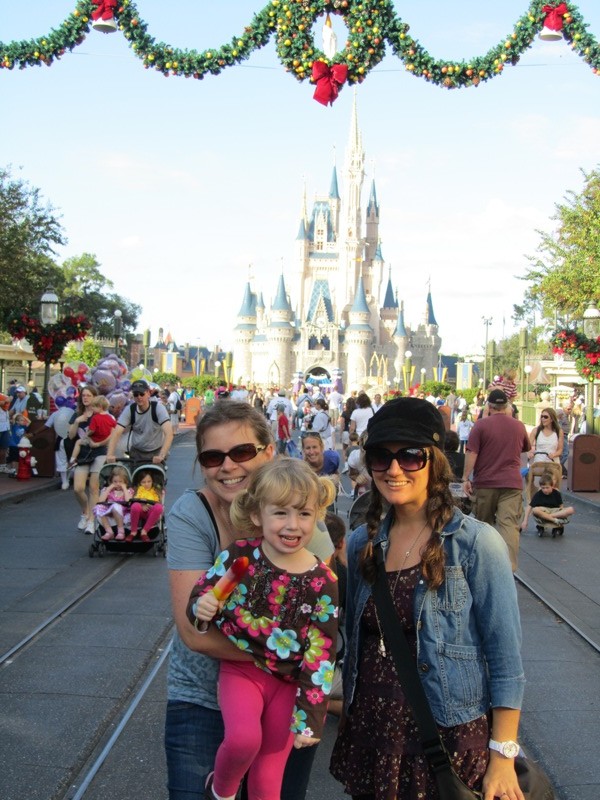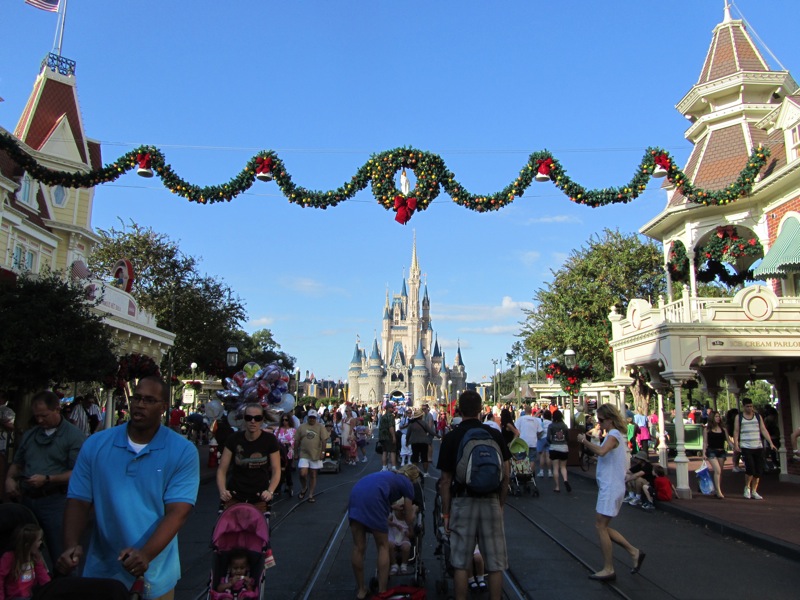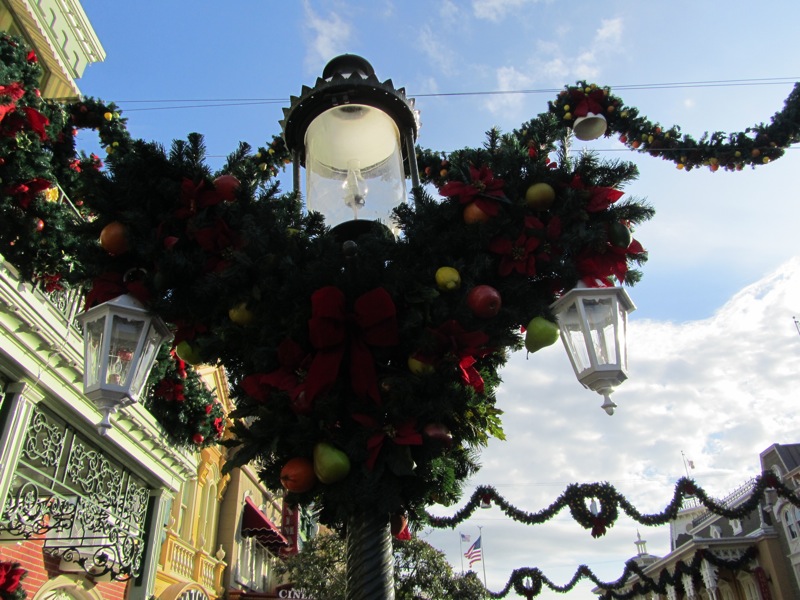 Meghann did a great recap of the day (filled with parade pics too!). Sadly, I still missed the nighttime effect because the park closed early that day for a Mickey's Very Merry Christmas Party night. One of these days we'll go.
I was starting to worry we weren't going to make it out this year at night. We were able to squeeze in a night at Hollywood Studios for the Osborne lights over Thanksgiving, but since our seasonal passes enter their blackout period next weekend, it wasn't looking likely we were going to make it back to MK.
After a packed Saturday yesterday, we made a game-time decision — we headed out to Magic Kingdom at 7:30 last night! We didn't want to go any earlier since they were taping the Christmas Day parade. I would have loved to have seen the Biebs but I didn't want to see the throngs of people that come along with the pint-sized pop star.
Before we even got to the park, we knew it was going to be packed based on the parking lots and my wait times app. And the ticket-taker confirmed it — he told me many more people were coming in than going out.
So I was surprised when we passed by the princesses meet and greet in Town Square that the wait time was only 15 minutes. Since we figured we wouldn't be able to do much else (we don't do lines), we got in line. E. was psyched to show the girls her new princesses wand (in fact, every kid in line loved it. Know where it came from? A yard sale!). Aurora spent quite a bit of time clicking through all the colors and options with E., thrilled I'm sure to find herself (these princesses are so vain).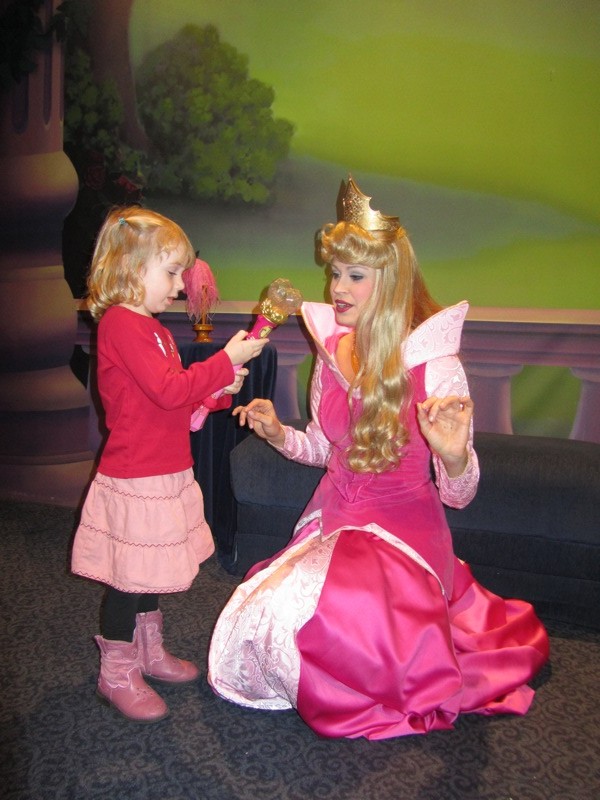 And then E. gave her new Popeye smile. Wonder if the princesses offer smiling clinics?
Things got a little awkward when we got to Cinderella — she's not on the wand.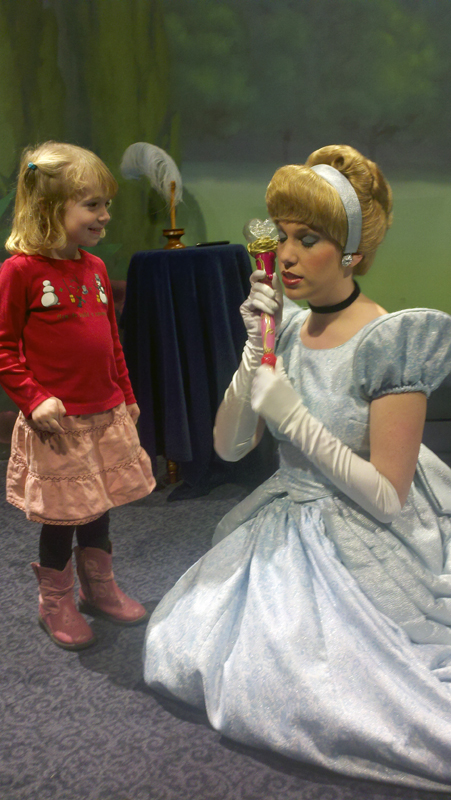 And no amount of wishing could make her appear. I told you, these princesses love to see themselves on any pink thing that will sit still.
After the princesses, we spent some time oohing and ahhing over the very thing that brought out us out to Magic Kingdom on such a packed night — the castle.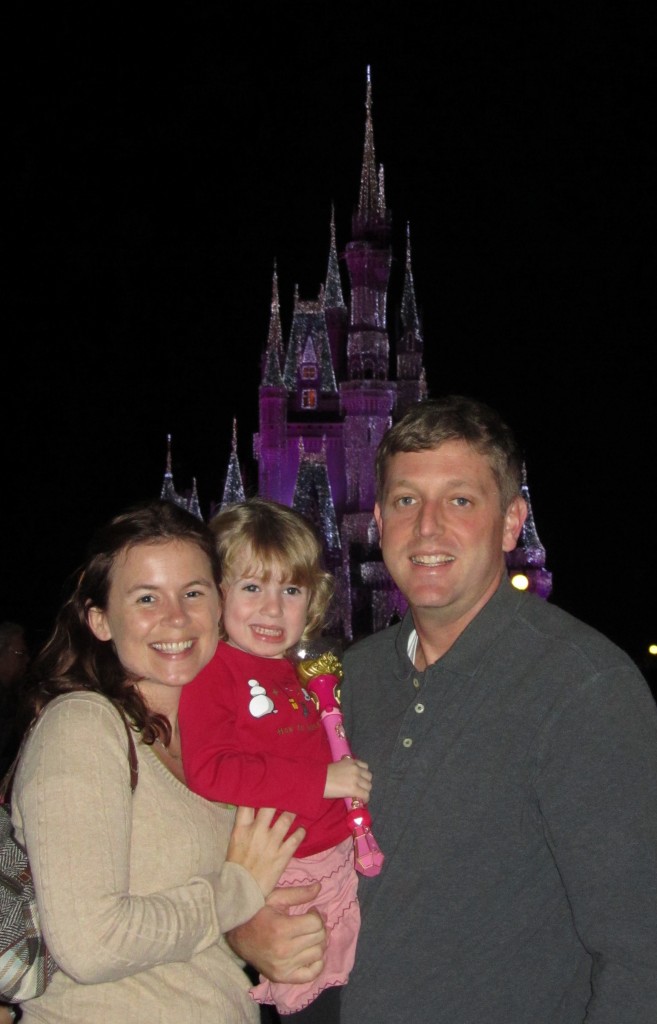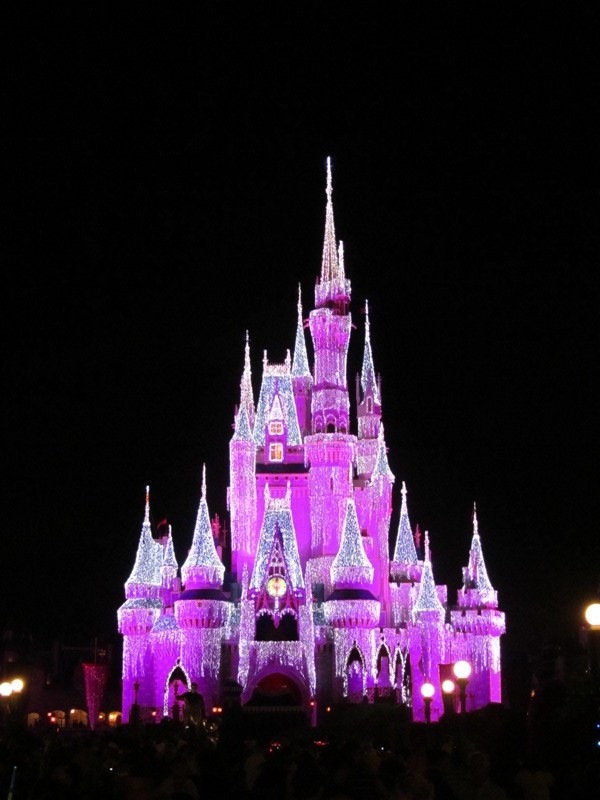 Breathtaking, huh? I've been dying to see the castle like this for years. Only at Christmas time, they make it drip with icicle lights.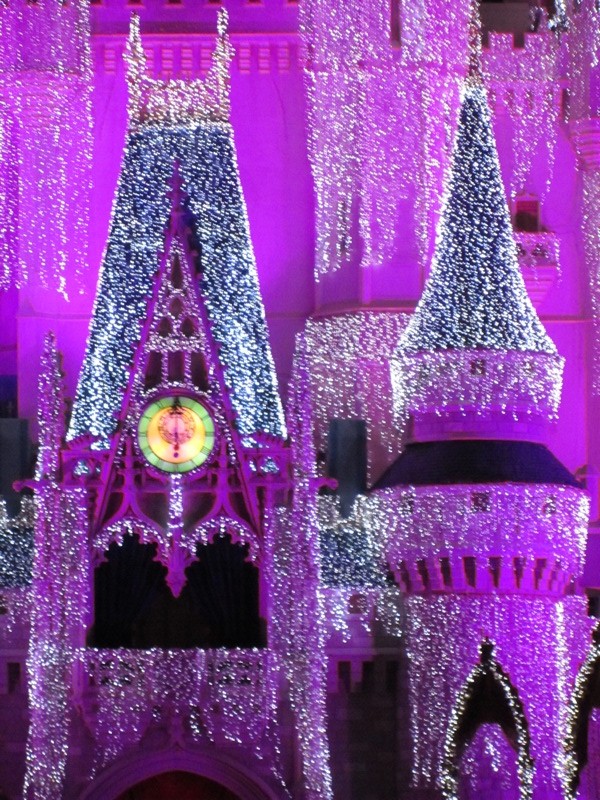 And the colors keep changing.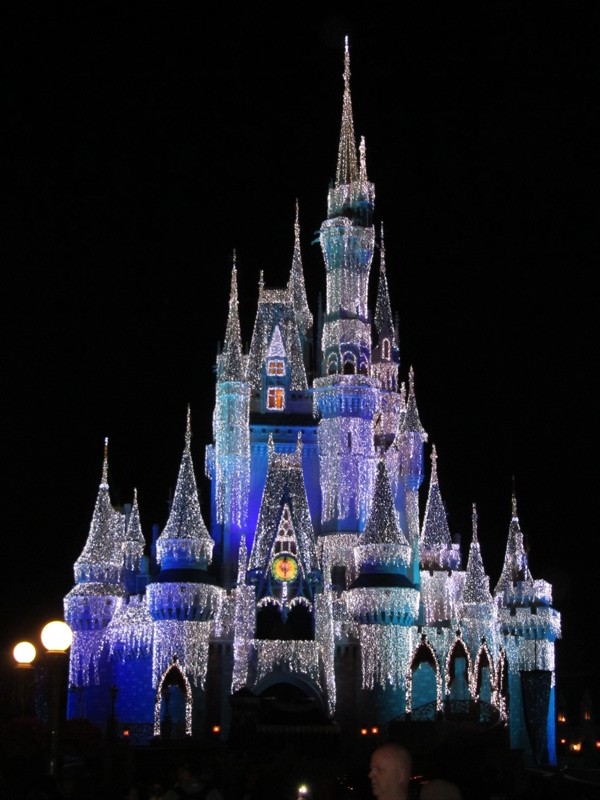 Ahhhh, it made me so happy. I just stood in the circle surrounding the castle gawking.
But for some reason, that wasn't enough for DadJovi and E. Silly them — they wanted to try and go on rides, too! We hook a left and headed into Adventureland (there was no way we were going near Fantasyland on a night like that).
Our first stop was the newly renovated and reopened Swiss Family Robinson. It was too dark to take any pictures but it has that fresh smell of new wood and  paint. Other than the entrance, I didn't see anything new but it all looked spiffed up and in much better shape. I can't believe I haven't bought that movie for E. yet. That was one of my absolute favorites as a kid, so it was fun to explain the story's plot to her as we climbed the treehouse.
Next, we hit Jungle Cruise — only a 10-minute wait. We had one of the best guides I've ever had on any Disney attraction. Her name was Adrienne (in case her managers somehow find this) and she was FABULOUS. Seriously, we were laughing the whole ride. And the Jungle Cruise is 1000 percent better at night than the day. The outdated animals actually are charming and have just the right amount of kitsch versus the way they look in broad daylight.
And our good luck continued — we walked right on Pirates (and met some of the cheerleaders from the parade. Sadly, even they didn't get to see the Biebs) and — shock of all shocks — we walked right on Splash Mountain! I think it had been closed down for some time (it always seems to be closed lately) and had just reopened. Since the lines are usually so long, we haven't been on it in ages. I think DadJovi forgot how big the drop at the end is:
How funny is that? I think he was actually shielding his face from the water but it's hilarious. I came thisclose to buying the picture since it's so dang funny.
We had just enough time to squeeze in a ride on Thunder Mountain before the parade started. Again, Thunder Mountain is also so much better at night. I don't know if it's because of the castle views or the added thrills of racing through the dark, but we had a blast. I did realize one serious design flaw of the ride, though. All three of us rode together, which means the lap bar only closed to DadJovi's size, since he's the biggest. That means E. and I were slipping around the ride the whole time. We were laughing so hard though because at every turn, I crushed E. into DadJovi. Guess you had to be there.
My camera was almost dead, so I didn't take many pictures of the Electrical Parade (you can see many more pictures in this post). But one thing struck me as odd. Notice anything missing in this picture?
Where's the peak? Look in my previous Electrical Light parade post above and you'll see that Big Ben normally has one. It didn't look like the lights were out — the whole top was just missing. Weird.
And because we hadn't had enough fun yet, there was one more thing to do before we left — watch the fireworks. Much to her father's chagrin, E. is still afraid of fireworks. But we finally found a solution — noise-blocking headphones!
As long as she doesn't have to hear or see the fireworks, she was happy to sit there enjoying her Mickey cookies and milk. And for the first time in a long time, DadJovi and I got to enjoy the show in the skies.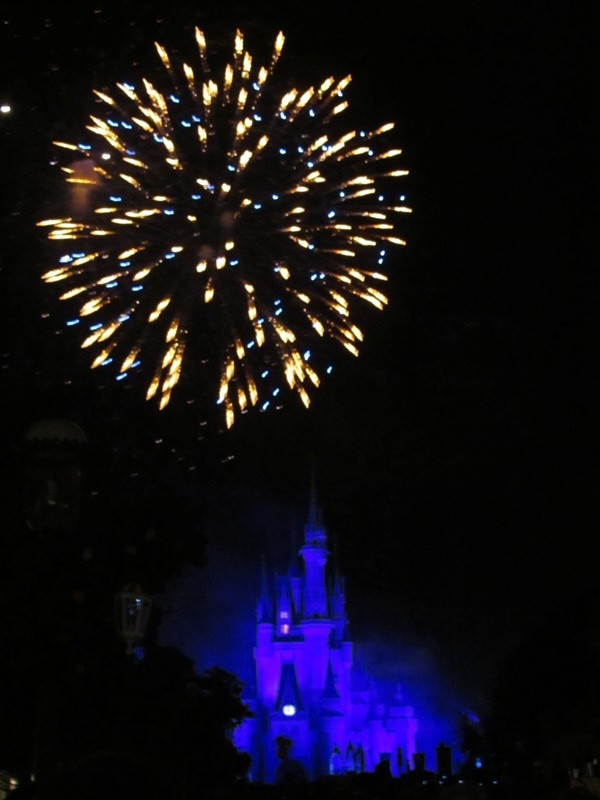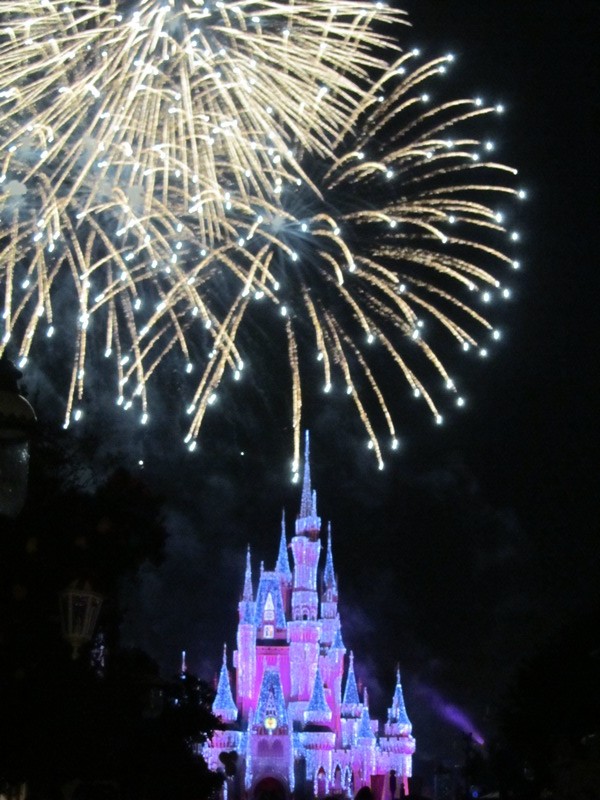 Awesome. And the fun wasn't over yet — even though it was after 10, we had one more goal on the list. On the way, we caught some of the boat parade in Lake Buena Vista.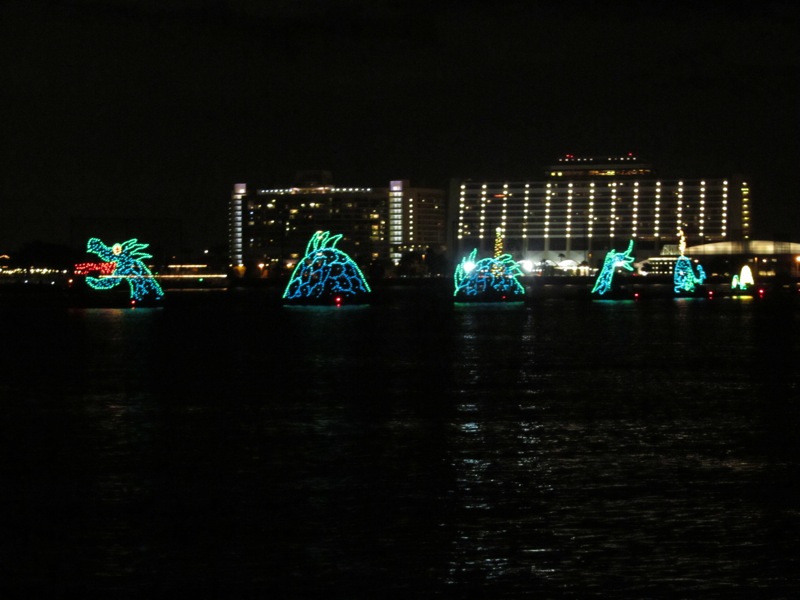 And then following our noses to the sweet, sweet smell of gingerbread, we found the giant Gingerbread House in the Grand Floridian lobby.
That's what you get when you mix 800 pounds of flour, 600 pounds of sugar, 1,050 pounds of honey and a lot of creativity!
OK, NOW my Disney Christmas is complete. See you in January, Mickey!
Have you ever been to Disney at Christmastime? What's your favorite spot?