As you all know, we go to Disney a lot. A lot. And here I thought there was nothing new for us to see. Boy, do I stand corrected.
Last week, E. and I enjoyed a special mother-daughter night at the Magic Kingdom. It was one of those glorious off-season nights where we walked right on almost every ride, and in a couple short hours hit all our favorite rides — Peter Pan, Winne the Pooh, Thunder Mountain, Small World, Jungle Cruise and Pirates. I'm telling you, no lines, people. No lines.
We got a great spot in Frontierland just before the Electric Light parade and settled in for my, hands-down, favorite thing at Magic Kingdom.
By the way, if you thought this was Big Ben, you'd be wrong. It's officially the Peter Pan clock, in case you're wondering.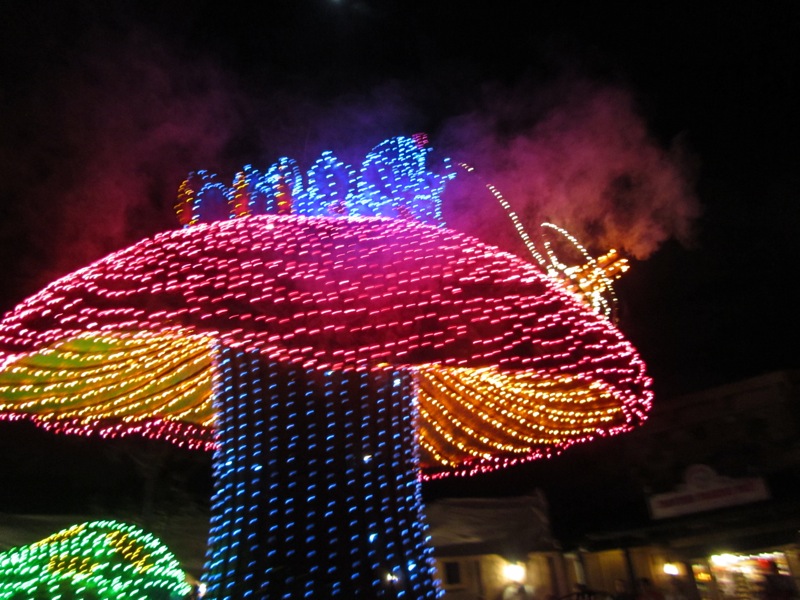 Opium-smoking caterpillar FTW!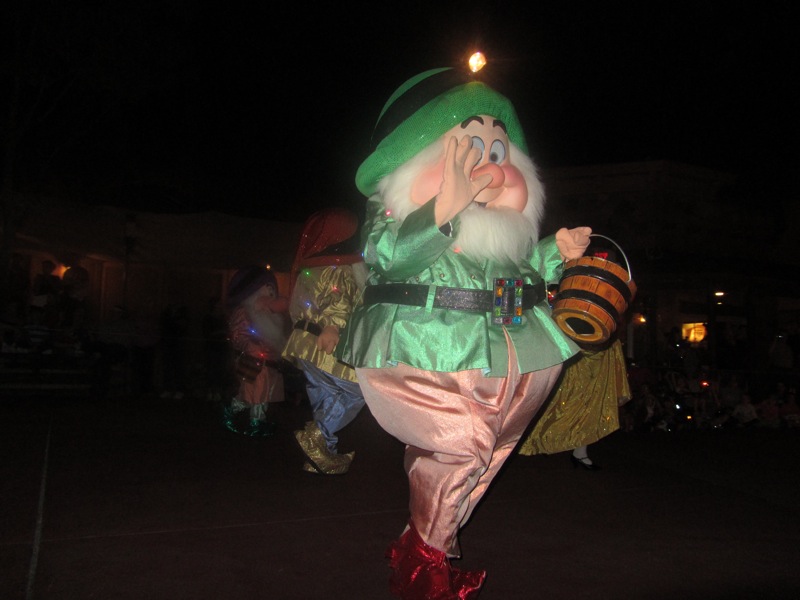 After the parade, we started making our way to Main Street for the fireworks (which E. still hates, but she'll at least stay now as long as she can cover her ears).
As we walked through Adventureland (and I tried to avoid the Dole Whip stand. That stuff is dangerous), I noticed there was a castmember standing outside of one entrance to a building and guests were coming out of another exit. It looked suspiciously like a meet-and-greet area that I'd never noticed before. Then it hit me — THIS must be where they moved Tink and friends to after they left Epcot. You know, I really should start picking up a park map now and again.
Since the park was about to close, I thought the line might be closed. But they ushered us in and said we still had time. Despite her obsession with all things Peter Pan and Tink, she has NEVER met Tink.
Suddenly, we were in Pixie Hollow.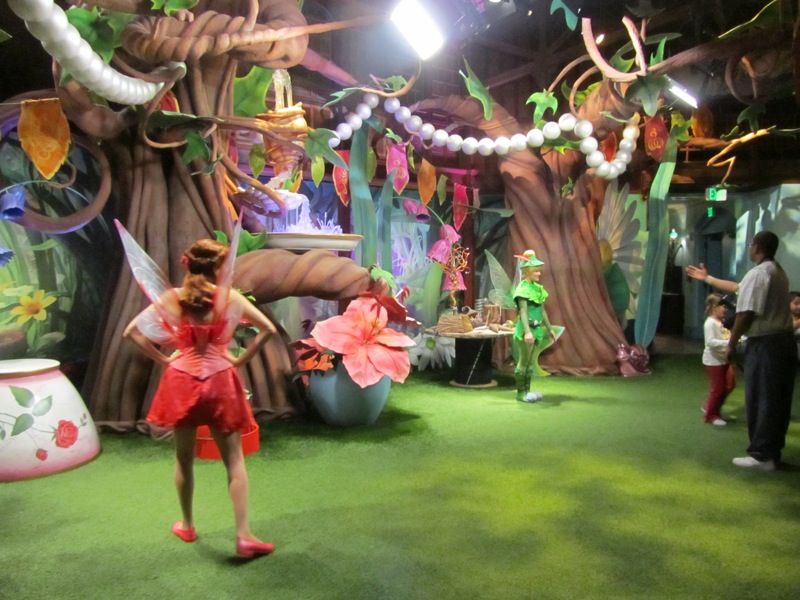 Up first, E. got to say hello to Rosetta.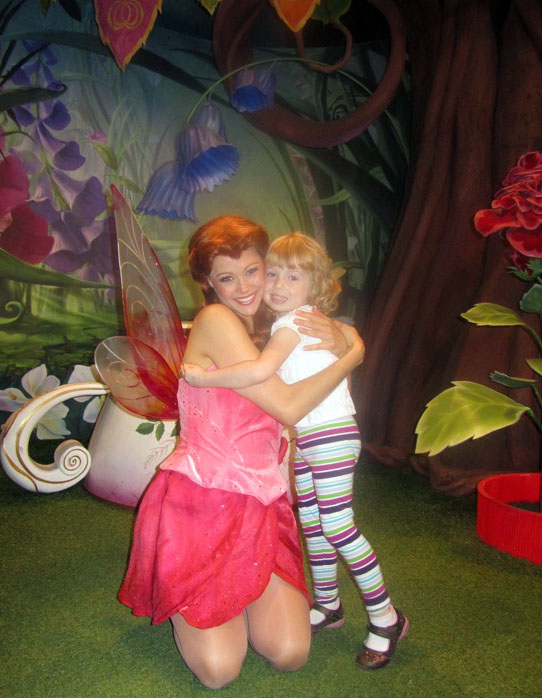 She was actually giddy with excitement as she waited to meet her main girl.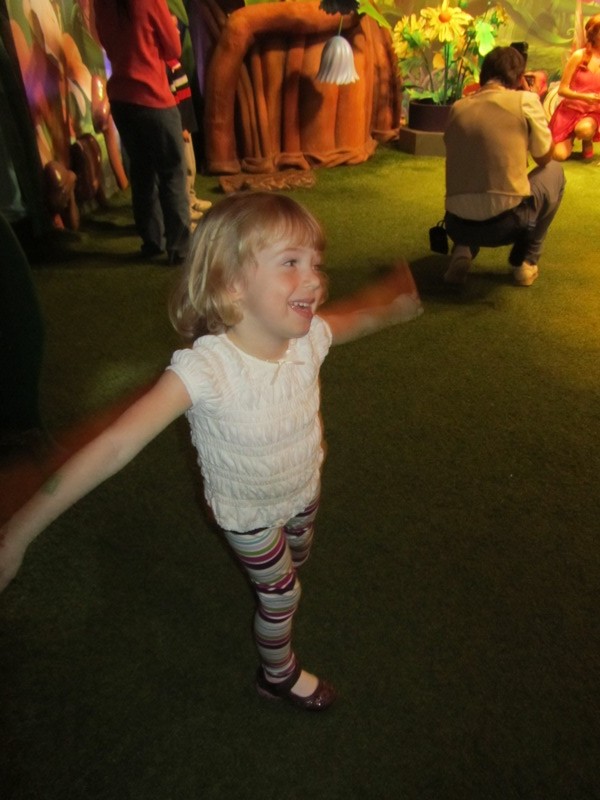 E. always has a great time at Disney (obviously. I mean, she is 3) but she's also been there, done that with every attraction, parade, show and character greeting spot (see my first paragraph). But as she stood there waiting to meet her beloved Tink, she was more excited than I can ever remember her being. And I suddenly felt a wee bit guilty that we hadn't done this yet.
Thankfully, Tink delivered. Just look at E's face in these pictures.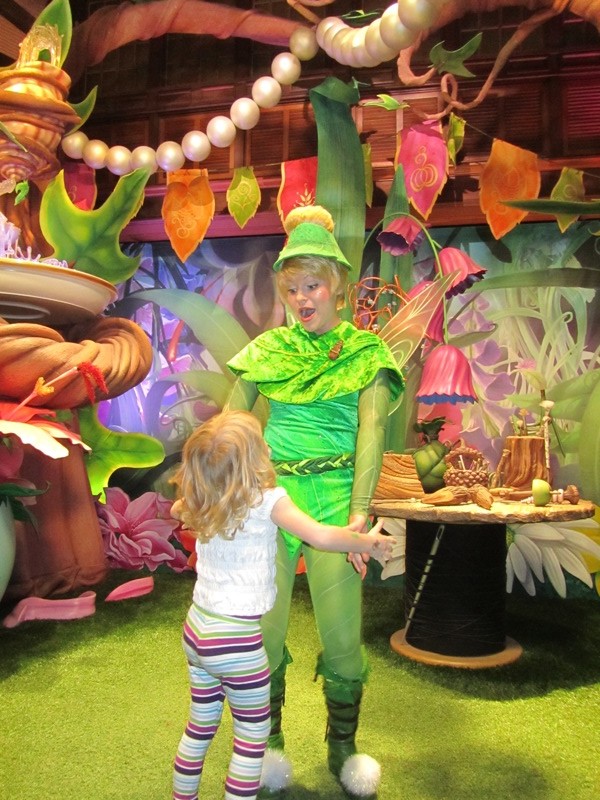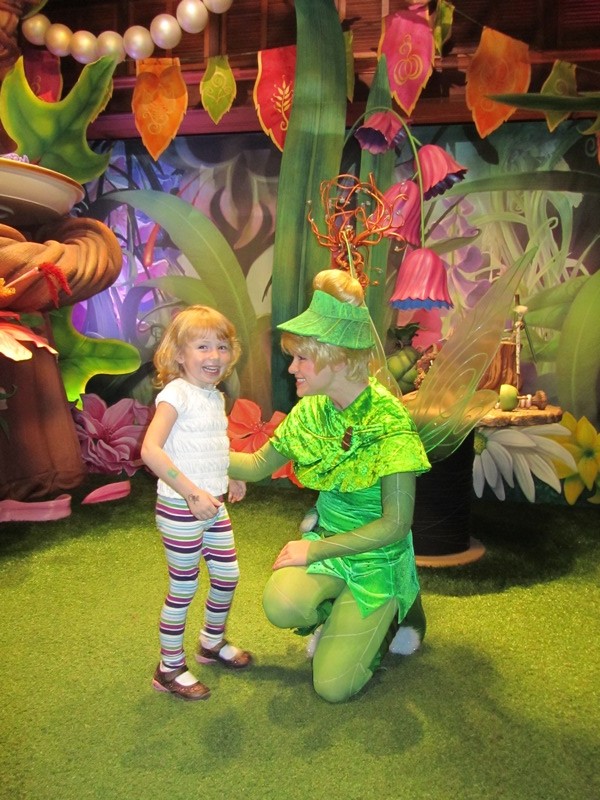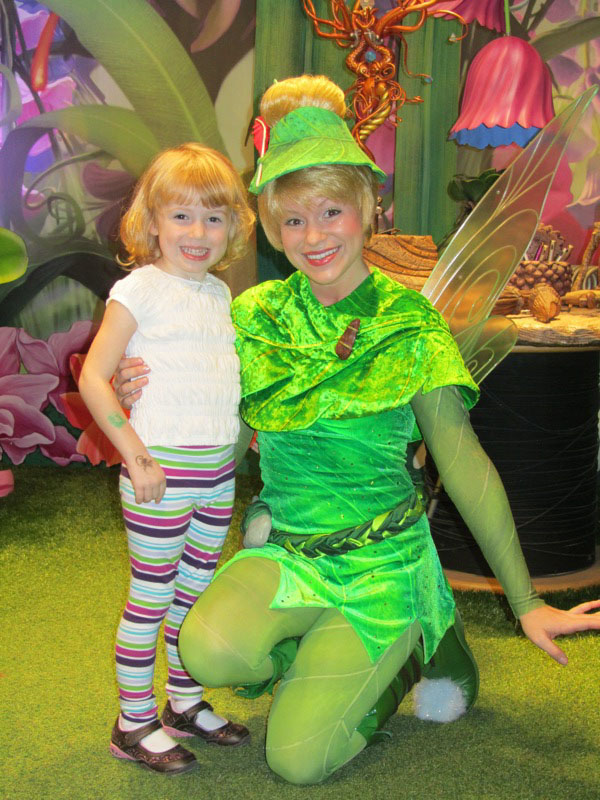 The real Tink spent so much time talking to my Tink. E. told her how she'd dressed up as Tink last Halloween and how she sleeps with a Tink blanket every night. Tink told her she was going to go back and tell Fairy Mary that she'd found another fairy with a talent. She started asking E. what she was good at and what she liked to do. She wasn't complimenting her clothes, her hair or telling her how pretty she was. She was complimenting her TALENTS. Yup, Tink is good people.
And how great is Tink's outfit? It's an outfit for a girl who has adventures to live and new things to explore. Tink (at least the modern Tink) is too busy being creative and inventive to worry about crowns and jewels. I'm so thrilled E. gets to see a strong, female character that's not in a ball gown! Amen!
Pixie dust truly is a magical thing.