This weekend, we got to check out one of the newest features to hit Disney: Talking Mickey!
He's just one of the many changes related to new Fastpass+ rollout. I'm still desperately patiently waiting to receive our annual passholder Magic Bands (apparently a stay at the resort is the only thing that's going to bring them to us any time soon), but at least with our new plastic, rather than paper, passes, we get into the parks a lot faster.
When I first started reading about the planned changes with the Fastpass+, the one that excited me/slightly freaked me out a bit was the future opportunities for personalized Disney experiences. In the not-so-distant future, based on the information embedded in the person's Magic Band, the characters will greet you with a, "Hello, Jackie!" Very Minority Report, huh?
I've been a little skeptical about it, and although I'm still not 100 percent sold, I'm more optimistic after our experience this weekend.
Because I'm only a semi-Disney dork (remember, there are much, MUCH bigger fans out there), I was taken a bit by surprise in the past couple weeks when I started seeing reports on Twitter that the Talking Mickey experience was now available. What would he sound like? Would it be weird? Would it be a pre-canned audio track or more spontaneous and personalized, i.e. the Monsters Inc. Laugh Floor characters.
So many questions, only one Mickey.
As soon as we entered the Magic Kingdom on Sunday, we headed right toward Mickey's home at the Town Square Theater to grab some FastPasses.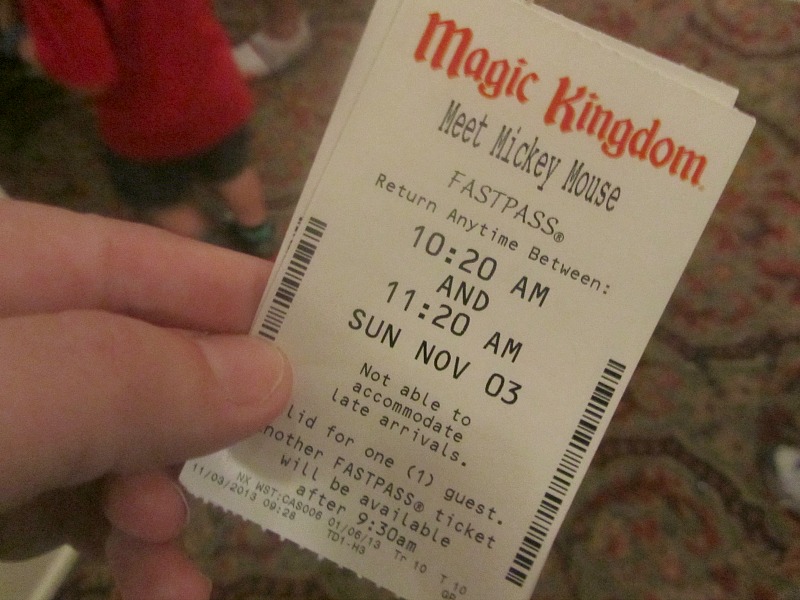 Because my brain doesn't properly function anymore, I can't remember if it was always this way, but I was pleasantly surprised to discover these Fastpasses don't preclude you from getting another set of FPs right away. As you can see, at the bottom it says "Another FastPass ticket will be available after 9:30 a.m." We got those FPs at 9:26, according to the timestamp, so yeah, that means essentially right away.
While waiting for our Mickey meeting time, we walked right on Space Mountain and hung out in Tomorrowland a bit looking at the Toy Story toys (E is obsessed with compiling her Christmas list these days. She's surprisingly picky and restrained when it comes to adding items).
When we arrived back at the Town Square Theater, we ended up being one of the only FPs there at the time, so we walked right in. I think E. could have used a moment to take it all in first. After five years of meeting a silent Mickey, I think a talking and interactive Mickey stunned her into silence.
I should have recorded the entire interaction on my phone instead of through Instagram, but you get the point. It's CRAZY. I mean, all of the sudden, Mickey talks! And tells jokes about Snow White! And is sarcastic! When E. didn't really respond to his joke, he quipped, "OK, I think we'll move on now."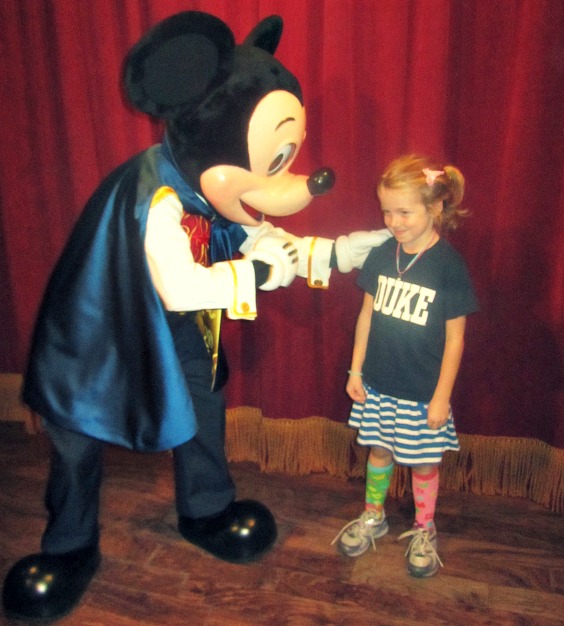 Seriously, the child who will chat the face characters' ears off was just speechless.
I can't imagine her reaction if he had welcomed her by name. I'm pretty sure her head would have exploded.
So, just when I thought I'd seen it all at Disney, they pull a new magic trick. I guess there's a reason Mickey is dressed as a magician.
My one teeny tiny complaint is that it appears Mickey and Minnie will no longer appear together (someone correct me if I'm wrong). We recently visited Minnie at her new(ish) location in the Storybook Circus area. Presenting Minnie Magnifique and her Pirouetting Parisian Poodles!
And who knew E and Minnie both knew the official blogger poser? Go figure.
Don't get me wrong, I like Minnie's sparkly and sassy pink circus getup, but I'm already nostalgic for the classic Mickey and Minnie shot. And my toddler E.
Maybe she'll be back by her guy's side soon.
In the meantime, I plan on going back real soon to have a proper conversation with the Big Cheese himself.
Which character would you most want to hear talk? And what's your favorite Disney joke? I have to keep Googling jokes because E. is obsessed and I know no jokes.