**Warning: this is going to be a picture heavy post! But at least the mini-model is cute, if I do say so myself.
When I heard Epcot would be celebrating the 25th anniversary of Pixar Films during the final weekend of the Flower and Garden Festival, I knew we HAD to go. E. is a Pixar nut. I can't tell you how many times we've seen the Toy Story movies, Finding Nemo, Up, Cars and Ratatouille.
And since it seems we only ever see Princesses, I was looking forward to getting some face time with some new friends.
Despite the stifling heat and humidity and long lines, Pixar Weekend was, in a word, awesome. We made sure to get there close to opening because I thought I could beat the crowds. But none of the greeting times started until 11, so getting there early didn't do us any good. So we killed time on the Nemo ride and in Bambi's Butterfly House, which is there for Flower and Garden.
Not a bad place to kill some time.
E. was OBSESSED with trying to get a butterfly to land on her finger (which we briefly accomplished on our last trip to Flower and Garden). This time we weren't so lucky, but it wasn't due to her lack of trying.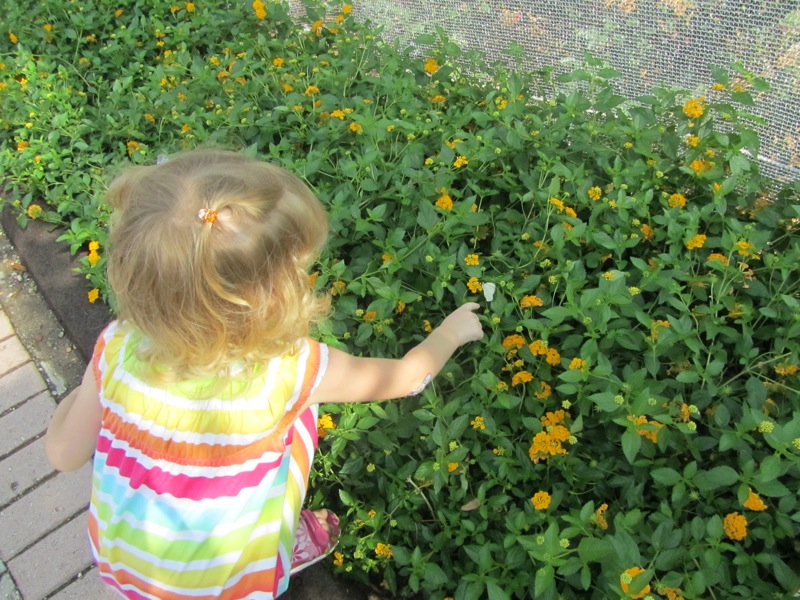 She had to settle for a snail. That poor, poor child.
At last, it was time to sprint proceed to the American pavilion in an orderly fashion when the ropes to the World Showcase were dropped at 11. The times guide said Woody and Friends would be there starting at 11. Instead, we got to do this for more than 30 minutes:
But then I was a hero, and once we learned Woody and company wouldn't be showing up til after 11:30, I moved our line into the shade. It's not easy being a hero, but I wear that title humbly. E. had no trouble making friends and killing time by running (did I mention it was already in the high 80s by this point?) and coloring a Duffy picture (you collect stamps in each country and there are coloring stations at each one). It's a shame my daughter is so shy, huh?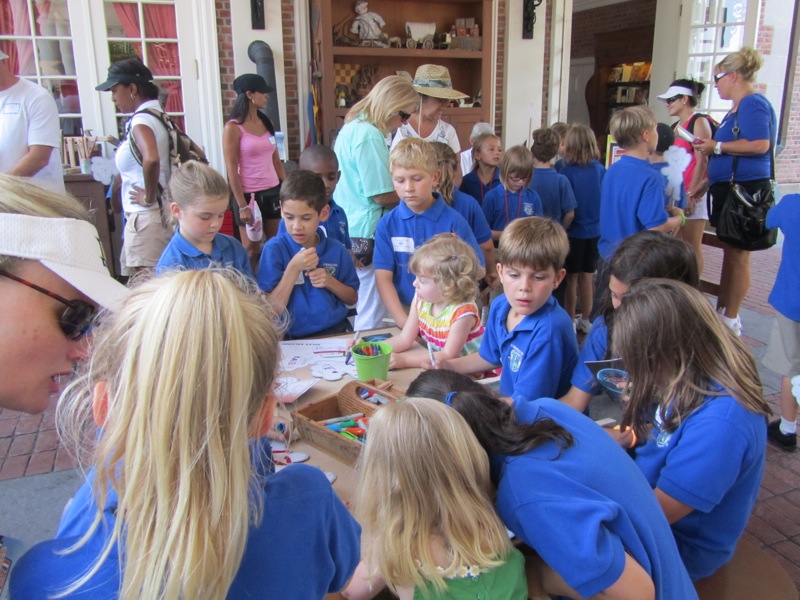 Finally, we spotted our favorite cowboy making his way to the line. You can't tell, but E. is actually jumping for joy here.
At long last, she got to meet two of her favorite characters ever — Woody and Jesse. It was love at first sight.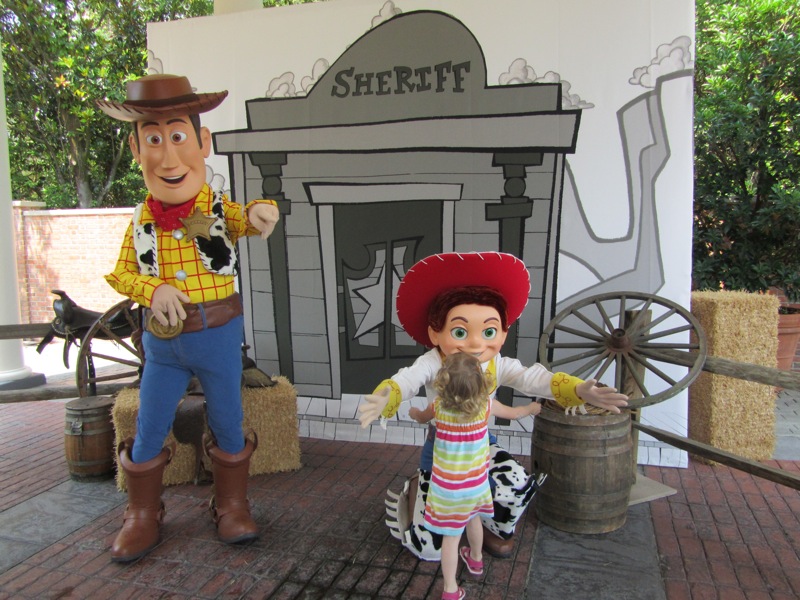 Mommy even got to pose for a picture, and for some reason, I felt the need to strike a pose. Because when you're posing with oversized cartoon characters, clearly your knee needs to be popped, right?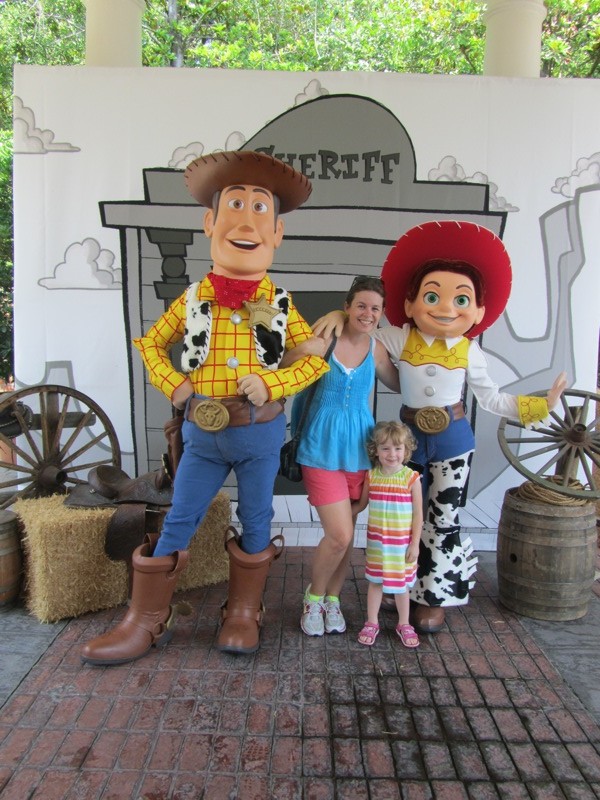 We were disappointed that Bullseye (Woody's horse) was not there, as promised. So we got out of line and were about to head to our next stop when the crowd suddenly started applauding (I kid you not). Bullseye was coming out! Luckily, we had made such good friends in line, so they let us pop right back to the front and get those shots. It made E's year. Yes, she is kissing the horse.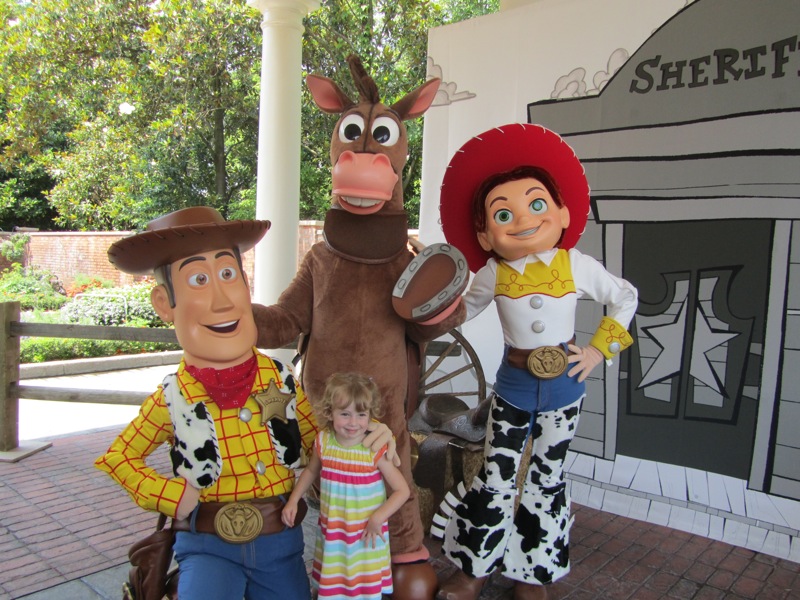 Apparently Bullseye meet and greets are very rare (according to cast members in the line with us). So this was kind of a big deal. Actually, that was the great thing about the entire day — meeting characters who you normally just see in parades or not at all. It's a BIG deal, friends.
After that, we headed around the World Showcase and stood in line for 20 minutes to meet some rats. For those of you without a Disney-phile at home, that's Remy and Emil from Rataouille. And as you can see, it doesn't matter if it's a rat, a cowgirl or, as you'll soon see, an evil bear, she barrels into their arms every time. I'd be so sad to have a kid afraid of the characters, like so many are (which is understable). Thankfully, we started her indoctrination early in life and now we get winning poses every time. (Remind me again why I don't do toddler pageants with her).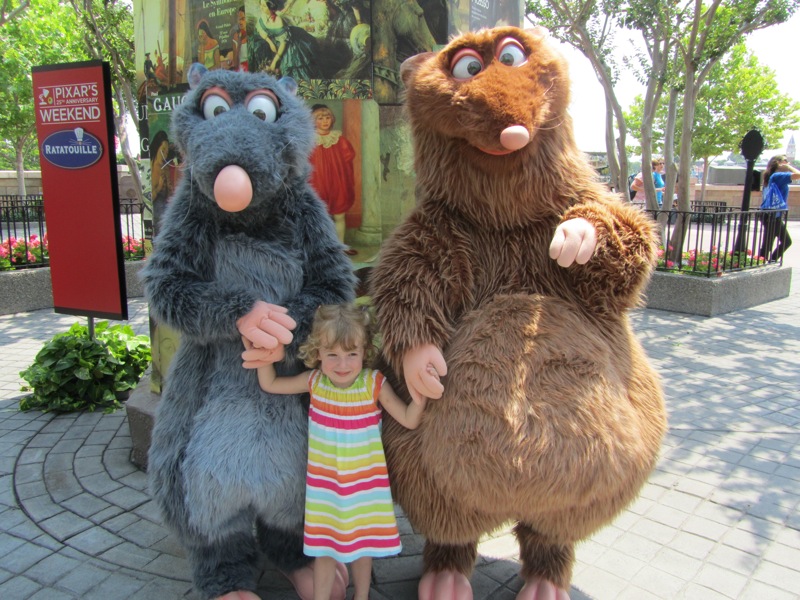 Then, it was over to the Ants line, where we discovered some oddly sexy bugs. That must be where I learned to pop my knee in pictures.
I'm pretty sure E. is trying to figure out how to make her legs do what that hot butterfly's legs are doing. And so it begins.
By this point, we were sweltering. After a quick lunch in Morocco (not to be confused with Mariah and Nick's baby), we headed to Pixar Central. In one building, they had separate lines to meet characters from Toy Story, Monsters Inc., The Incredibles, Up and Cars.
Did I mention it was air-conditioned? I'd just like to take a moment to personally thank the inventor of air-conditioning. If he or she didn't win a Nobel Prize, they were totally robbed. I can just speak for myself but it immediately makes me so much happier. If the whole world had access to it, I'm sure peace would come to the Middle East much quicker. Who can be mad anymore once you've been hot for so long and then you're suddenly immersed into the sweet, sweet coolness of A/C?
Anyway, the lines were long, but after Woody and friends, there were two characters I knew we had to see that day — Lotso and Potato Head. Considering how evil Lotso is in the movie, I can't believe how much she loved him and how excited she was to see him. I was disappointed he didn't smell like strawberries. She didn't seem to care.
Her first comment after this picture? "He's hard to hug!"
She could have stayed there all day, but the line behind us was long so we headed over to the Up line.While we were waiting Russell (the kid) was there with Carl (the old man). But just before we got there, Russell had to go off on a "Wilderness Adventure" and Dug came out. So much better! I may or may not have yelled "squirrel" to him more than once, and every single time, he bolted upright and froze (just like in the movie). E. loved it.
The E./Dug lovefest was getting uncomfortable. We all waited and waited for them to part.
Finally, I had to get into the picture just to get the show on the road! How cute is it that they even had the house there?
We skipped the Monsters Inc line because it was way too long and E. hasn't even seen the movie yet. The Incredibles line wasn't too long but again, E. has watched it again so she wasn't dying to get in another line. We had one more quick photo opp on the way out:
I blame it on the fact that she's a Florida native, but she loves that redneck truck Mater.
We only had one miss for the day. We rushed over to Mission: Space to see Buzz Lightyear, who was supposed to be there until 2:30. We got there at 2 and he was walking away. I'm sure he would have been back soon but by that point, we were both beat and did I mention how hot it was? Besides, Buzz is at Magic Kingdom regularly, so we'll catch up with him another time.
It was a great day, and I really hope they bring Pixar Weekend back next year or at least set up some regular greeting times with some of the characters. I know one little girl who got a lot of joy out of the day.
She lives a charmed life.