My daughter really does live a charmed life. Thankfully, I usually get to come along for the ride.
This weekend, I picked up some huge Cool Mom points when I not only snagged us some Disney on Ice tickets (in exchange for hosting a giveaway to the show on the blog earlier this summer) but I also made one of E.'s dreams come true — she got to meet her favorite Disney character ever, Merida from "Brave."
This was our third time attending a Disney on Ice event, and I've got to say, the new version, "Rockin' Ever After," was definitely my favorite.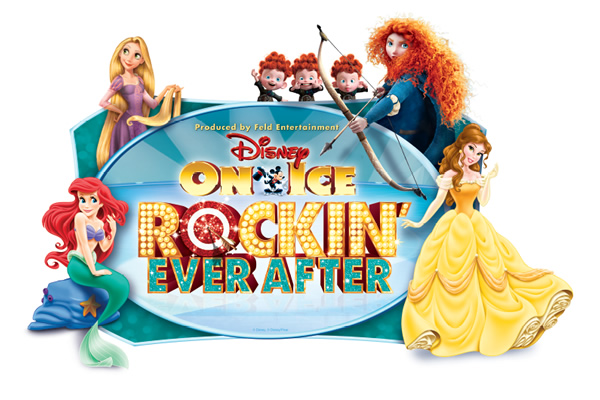 When I told E. that Merida would be in the show, she begged me to get her Halloween costume early (she decided the minute the movie was over that she wanted to be Merida this year) so she could wear it to the show. It seemed like a reasonable request.
Thankfully I convinced her to keep the giant, curly red wig at home.
We met Michelle and her 3-year-old L. out front of Amway Arena and we were whisked off for our VIP night. Friends, if you ever needed a reason to blog, this might be one. Not only was I given the tickets for free, we were treated to a pre-show reception, featuring food, swag (a guide to the show, coloring books and princess crowns), meeting some of the principles from the show (more on them in a moment) and one VIP — very important princess.
The girls were so excited. And Merida couldn't have been sweeter. She spent some time talking to each child and was quick to notice that E. was wearing "her" dress.
She didn't even mind when we double dipped and got back in line a second time because I was having some camera malfunctions the first time. After all, what kind of bloggers would Michelle and I be if we didn't photo bomb our daughters get our photo taken, too?
E.'s highlight may have been meeting Merida, but I loved hearing from Juliette Feld, the executive vice president of Feld Entertainment, producers of Disney on Ice, Ringling Brothers and Barnum and Bailey and Feld Motor Sports.
She introduced a short video that explained how the show developed from conception to reality, including a large-scale model that is used to produce the entire show. I don't see it yet on their YouTube channel but they have some other behind-the-scenes videos that help you see what a massive undertaking it is to produce a show like this.
While I may have found this portion fascinating, two little girls had better things to look at.
The book features a bunch of photos from the show, and E. has not stopped going through it since the show, reliving some of her favorite moments.
During the presentation, we also got to meet the show's director, choreographer and two of the skaters. Afterwards, they even visited all of the tables to answer our questions.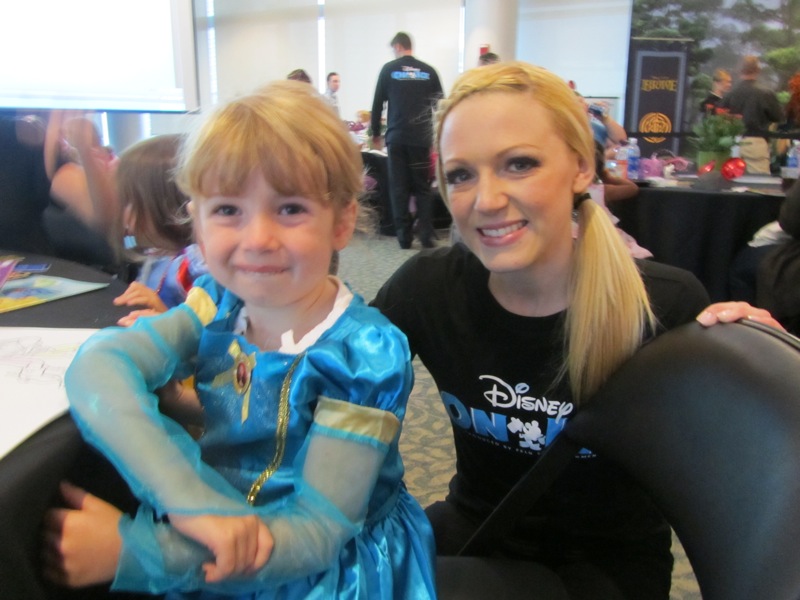 This lovely lady was part of the ensemble and told us which scenes we'd be able to see her in, including one of our favorites — Ariel's sisters. I'll show you them in a moment.
Before showtime, Michelle and I had one more tradition to continue from last year — find our girls a snowcone. As a flashback, here they are last year: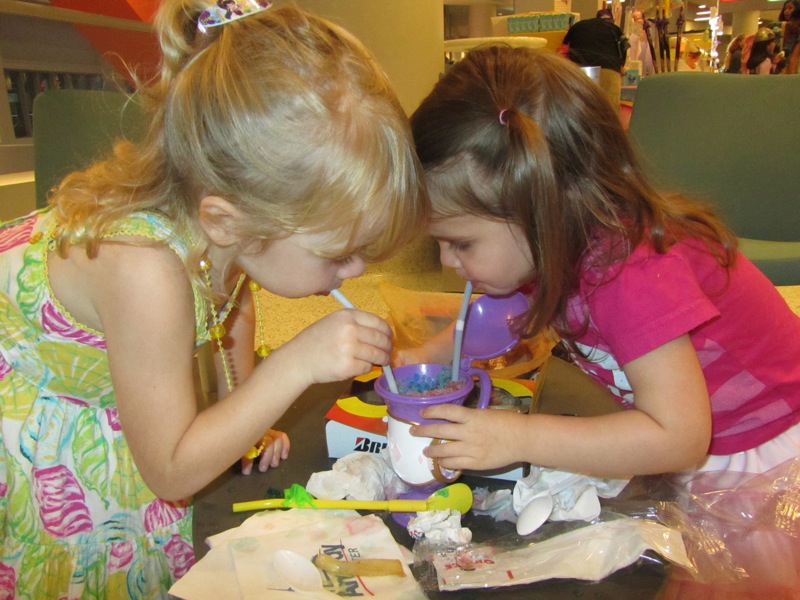 … and here they are this year.
Some things never change.
After watching the girls destroy the snowcone (and make a giant mess on that table — sorry Amway! But you should tell the vendors that they shouldn't shove so much ice into one cup), we made our way to our seats. The girls were too excited for words.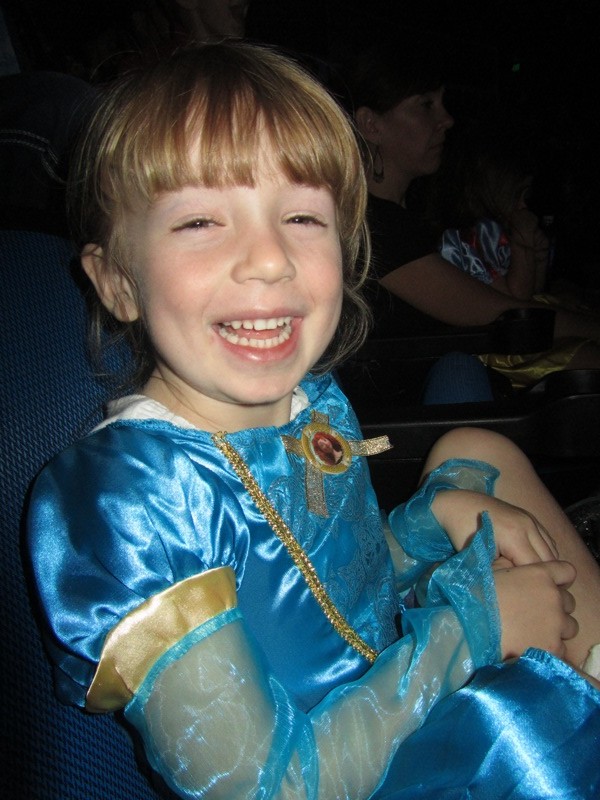 The show started off with our old friends, Mickey, Minnie, Donald and Goofy, and then one of E's favorite Disney characters made a surprise appearance — Pinocchio!
He was quickly followed by two of her other favorites, Cinderella's stepsisters. They even sang a song E. makes me sing to her all the time at bedtime, "Sing Sweet Nightingale." Sadly, I sound more like them than Cindy. There's a reason I'm not the actual BonJovi — I'm a rock star in my own mind only.
Finally, it was time for the main girls to take the ice — the princesses. Up first, we went under the sea.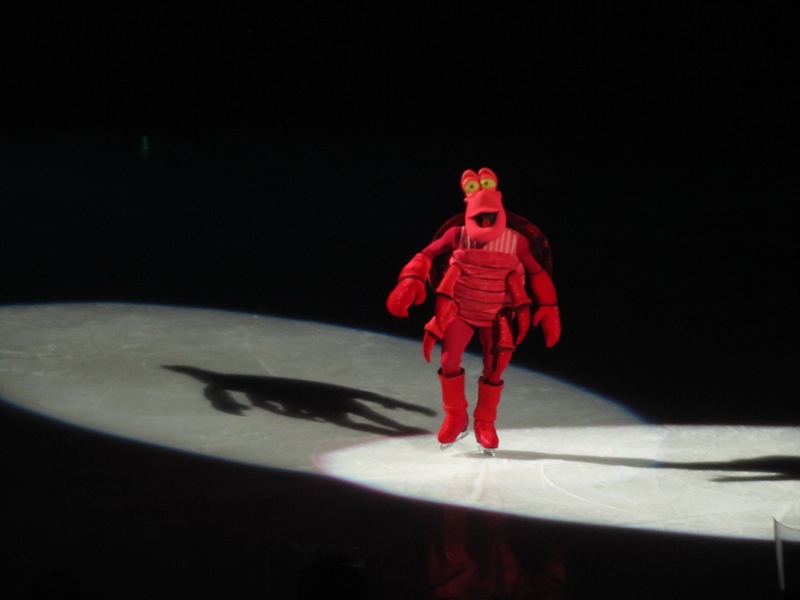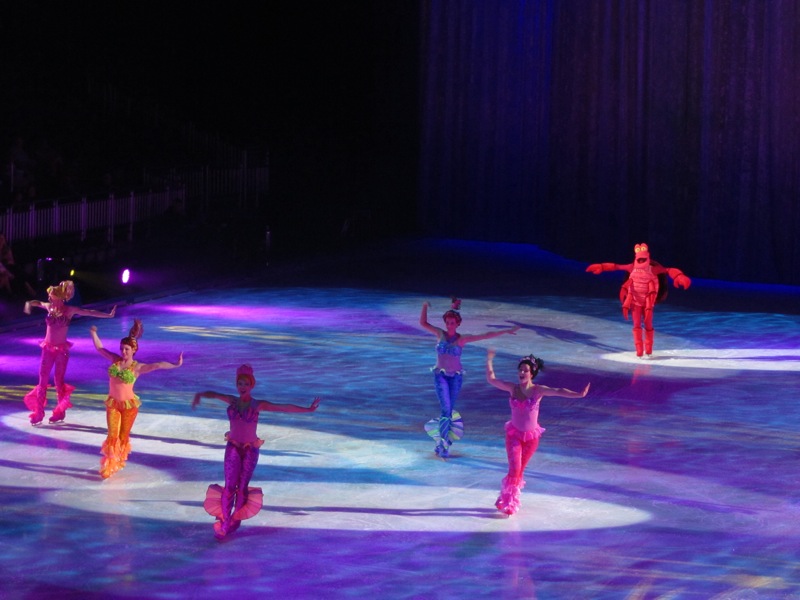 Those are Ariel's sisters (including our new friend!) Vogueing. I kid you not. They actually played "Vogue" and those mergirls struck a pose. Michelle and I started laughing out loud. It's nice when the producers throw the moms a bone. Their sequence of skating to pop songs may have been my favorite part. It was a lot of fun.
Finally, their bratty sister (you can read more on my love/hate relationship with Ariel here. See item No. 2) made an appearance. That girl actually got one of the coolest parts of the night, though. Ariel went aerial.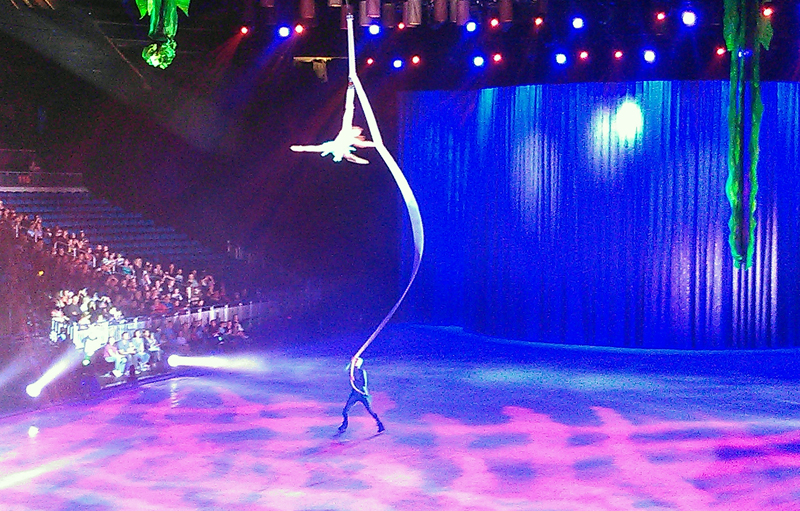 And E. loved the explosion of sea creatures during "Under the Sea."
Up next was my second-favorite princess, Rapunzel.
More importantly, she was joined by my cartoon-crush Flynn Rider and yes, the skating Maximus was back this year!
During the pre-show reception, I told Juliette that Maximus was hands-down E's favorite part of the show last year. I also told her that I get several searches to my site each month from people looking for more information on this skating wonder. In case you've ended up on this post because of a similar search, just know that the big cheese now knows how much we love this horse, and I have a suspicion he'll be sticking around for future productions. I tried to get her to spill some trade secrets (are both skaters standing? Does one have to bend over? Are they counting to get in synch in there?) but her lips were sealed. It's pretty impressive to see, though. Whoever you horse skaters are, I salute you!
I'm pretty sure they're all saluting him, too. He's THAT good. E. could not stop laughing with joy when he made his appearance on the ice again.
After a brief intermission, the moment E. had been waiting for finally arrived — it was Merida time!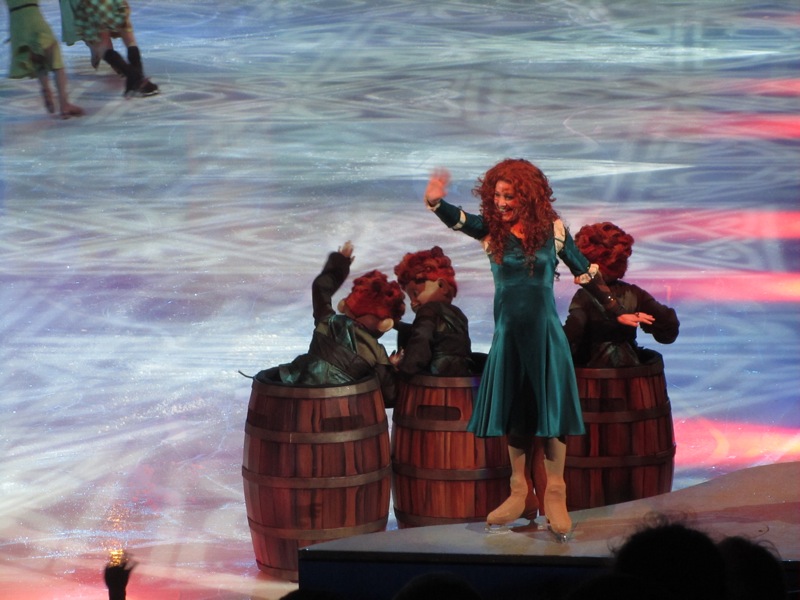 I was wondering how they'd handle the brothers and I thought they came up with a great idea by attaching cartoon-like figures to the tops of barrels. They zipped all across the ice and were nearly as funny as they were in the movie. The competition for Merida's hand was great.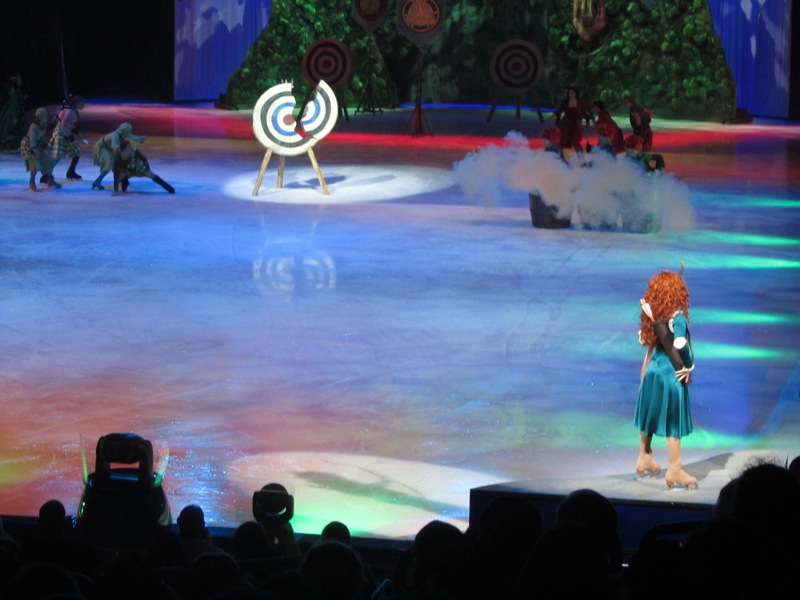 As you can see, our girl had the winning — and most dramatic — shot. But my favorite part? Instead of a finale number with the man of her dreams, Merida and her mother skated together. Be still my motherly heart. I adore "Brave" and this interpretation of it.
Speaking of mothers, clearly there's no more comfortable place in the world than a mother's lap. Just ask L., who was down for the count about halfway through Merida's story.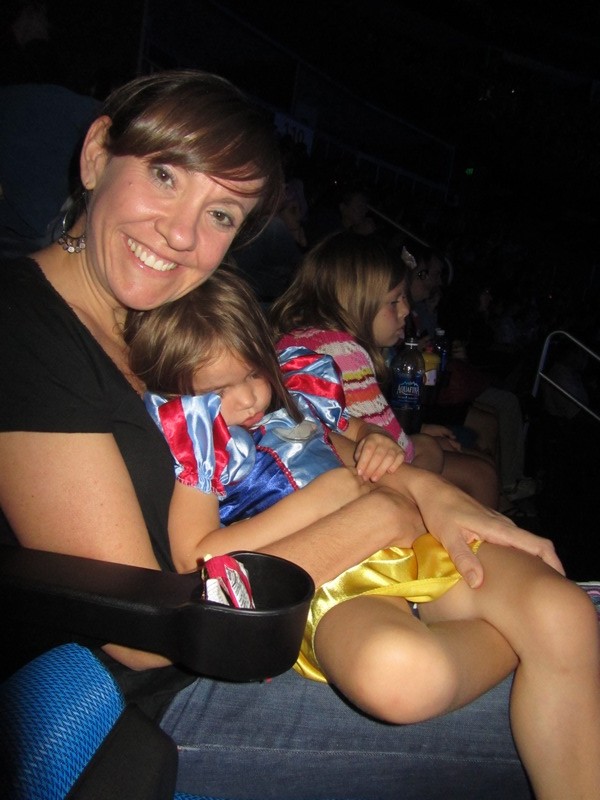 It was a late night for Snow White. How sweet is she though? I held her for a few minutes while Michelle ran to the bathroom, and thank goodness she loves Jackie Jovi too because she snuggled right in.
We had one more princess to go before we all went home to bed — Belle.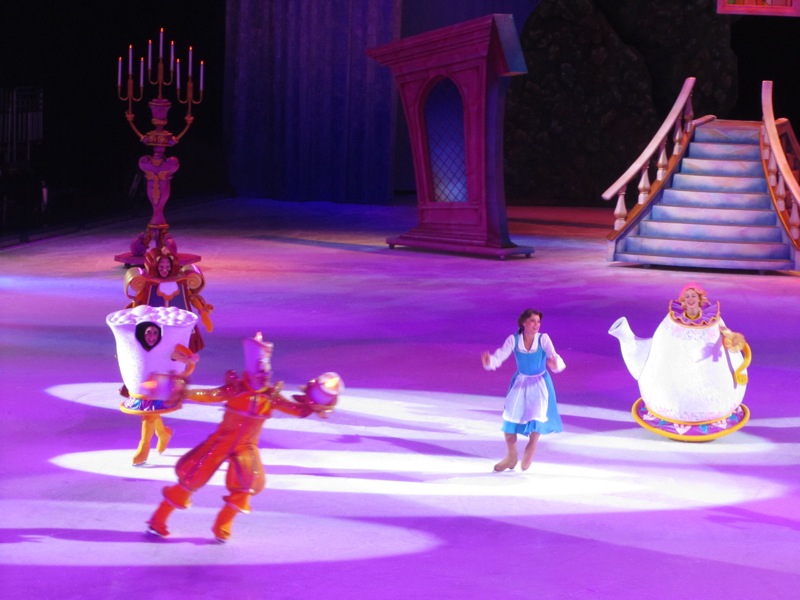 Other than the fact that I found it a bit creepy how aggressively the Beast chased her around the ice, this segment was also great. But that could also be because one of my other Disney favorites, Gaston, had a big role.
All too soon, it was time to bid our Disney on Ice friends good night.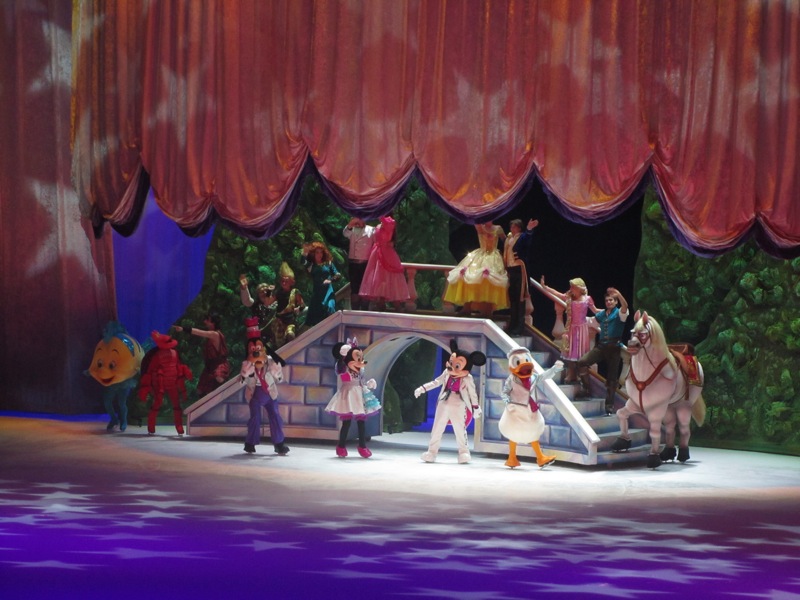 I have only two real complaints about the show: 1) I think Merida kind of got shafted. Her section was much shorter than the other three princesses' (perhaps because the movie is so new?). But I think a lot more could be done with her story. We never even saw a bear or, much to my husband's chagrin later, her father. And the fact that their family is one strong unit is a major reason our family loves the film — I think it's the first time in Disney history that a family is intact and one of the parents isn't dead or absent from the child's life. 2) Last year, we really loved when all of the princesses, even the ones not featured with their own vignettes, made a brief appearance at the end to welcome Rapunzel to the princess club. Why wasn't Merida welcomed? Is it because she did the right thing and didn't get hitched? I'd like to see that clique welcome her regardless.
But those are nitpicky things. We had a great night and even if we aren't lucky enough to get tickets for free in the future, I know we'll be back for the next production.
Besides, we'll need another cup to add to the snowcone cup collection.
DISCLOSURE: As I mentioned repeatedly but in case you skipped over big sections (I do tend to overwrite), I was given four free tickets to the opening night performance of "Disney on Ice: Rockin' Ever After" at Amway Arena. But, as the saying goes, all opinions are 100 percent my own.
Have you ever attended a Disney on Ice show? What's your favorite memory? And would you rather be the horse's head or rear? Sorry, couldn't resist asking.