This is the time of year we cram in as many trips to Disney as possible. The crowds tend to be anywhere from manageable to downright sparse (at least until Spring Break rolls around) and the weather is spectacular. We have seasonal passes, which means we're blacked out a week in April around Easter and all summer long. Besides, we would never go then due to the opposite of what it's like now: huge crowds and awful, stifling heat.
The point is — this is our favorite time of year to get our Disney on.
Yesterday we woke up early to get to Animal Kingdom at opening and spent the day exploring. Being there so early we saw something we'd never seen before: breakfast with the kangaroos!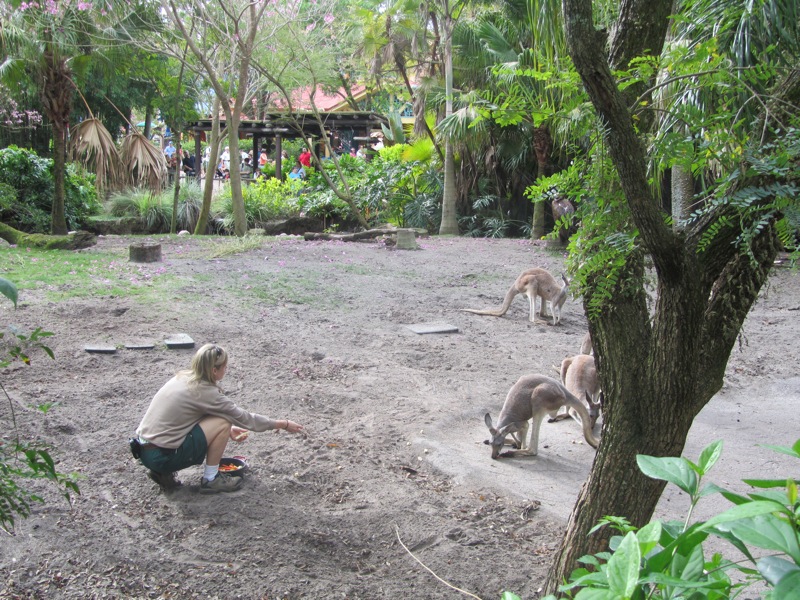 We had spotted the roos when we first came in, and since we were in no particular hurry, we wandered along the paths around the Tree of Life and found a spot overlooking the breakfasting marsupials. I don't know that I'd ever been so close to some roos or if I'd never paid much attention, but we were fascinated by them. They're such powerful, gorgeous creatures.
As I've mentioned before, DadJovi is a Duke grad and a Duke nut. Yesterday was the Duke/UNC game (in case you didn't hear, it didn't go so well for the Devils), but DadJovi wanted E to display Duke pride at Disney. So he dressed her: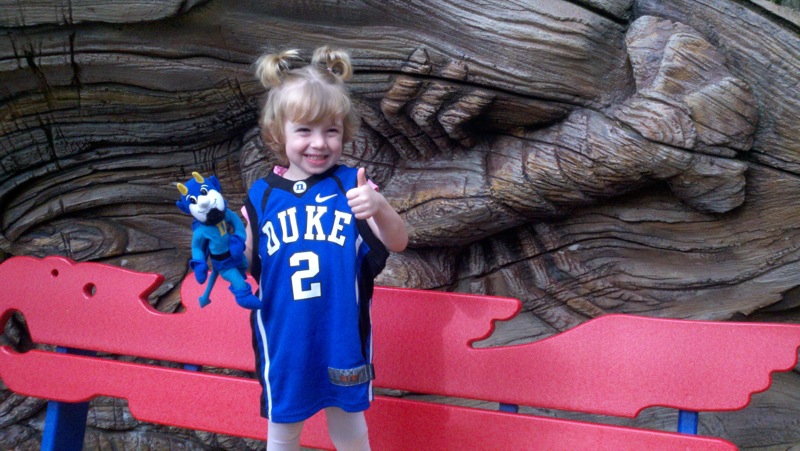 Just thought I should point it out to you in case you're wondering why a 3-year-old would possibly be wearing a Duke basketball jersey.
On with the day …
We made a beeline for the Kilimanjaro Safaris and snagged some Fast Passes. Luckily for us, they were good just 45 minutes later so we killed some time on the Pangani Forest Exploration Trail. Speaking of powerful animals, we spent some time watching the Mountain Gorillas.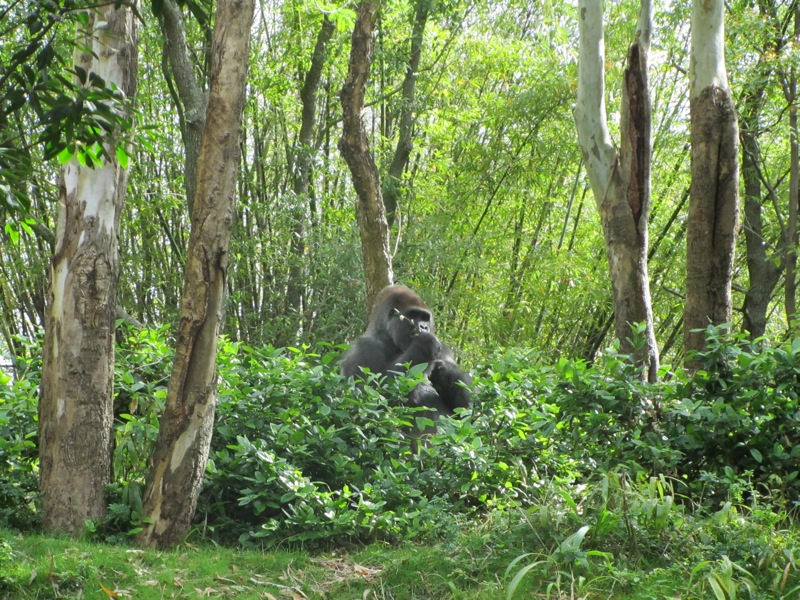 I'm fascinated by the gorillas but it always make me so sad to see them in captivity, even one as beautiful as Animal Kingdom's with its vast hillsides and waterfalls. They just seem so much like us that it feels wrong to see them penned in.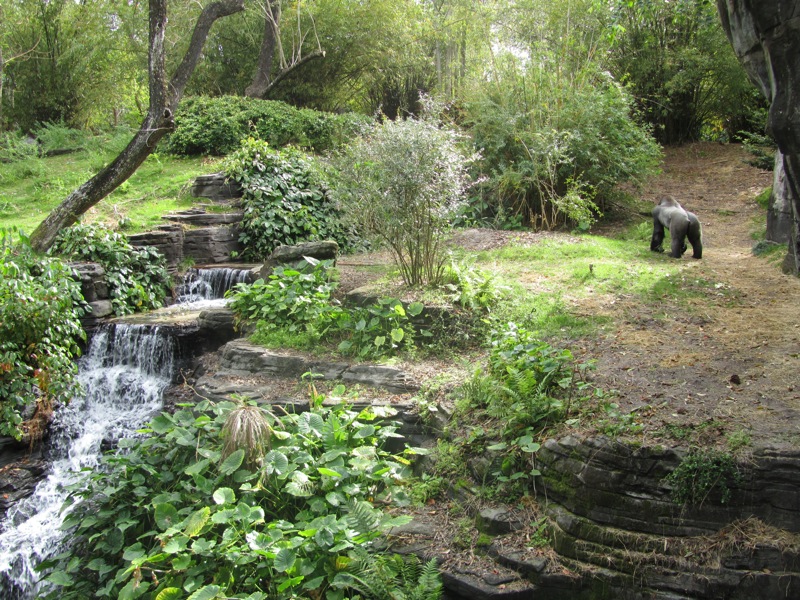 Luckily, E. is too small for such heavy issues and she cared more about skipping along the paths than hearing my thoughts on wild animals in captivity:
And she looked for animal tracks along the way: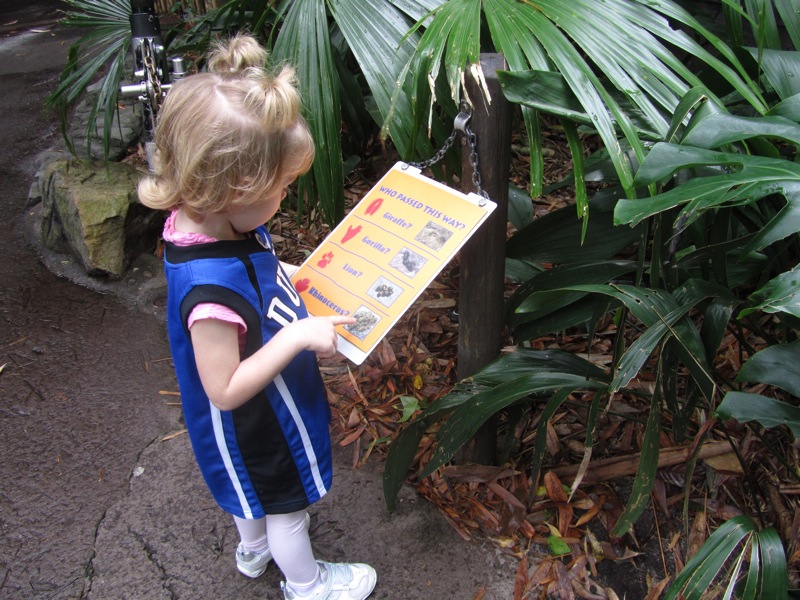 At last, it was our time to head into the wilds of Africa. I love the safari. Every time, it's a different ride. There have been times when giraffes have surrounded our truck. We've seen lions prowling. Hippos by the dozen, and so much more. This time, we saw two new things for us: three baby warthogs (or Pumbaas, as E. kept calling them). They were so cute! Sorry I missed snapping a pic.
And the rhinos were so much more active and entertaining than usual.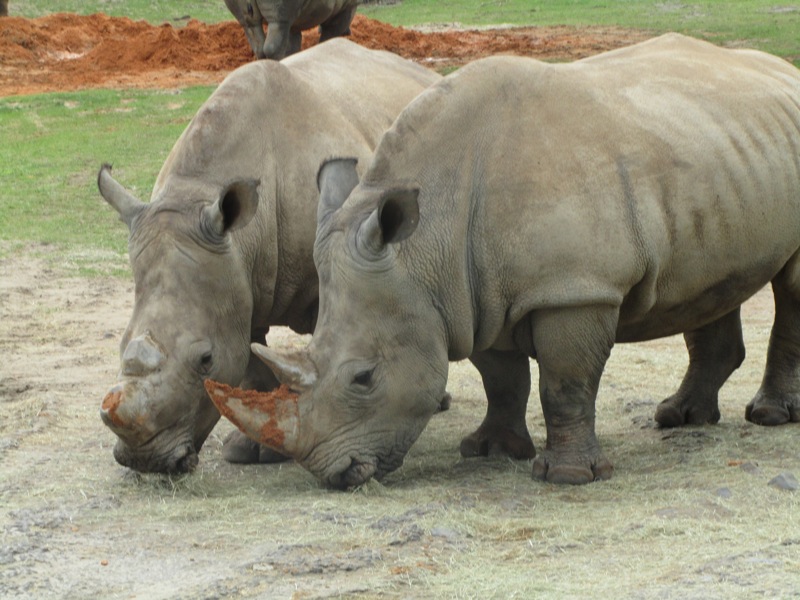 And more babies! The little rhino kept harassing this bigger one (mama, maybe?). It was cute. The baby eventually got the big one to lay down so it could really nag it. Hmmm, guess babies are the same everywhere.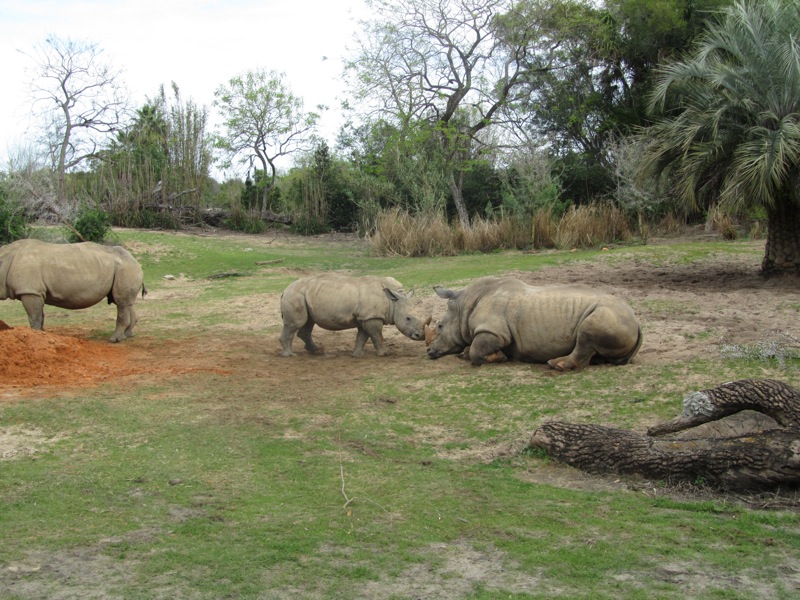 It was a really cool moment.
After the safari, we just spent some time hitting some of our favorite things — the Lion King show, lunch by the river, watching the street performers in Africa, etc.
In Asia, we discovered something new to play with — a water fountain!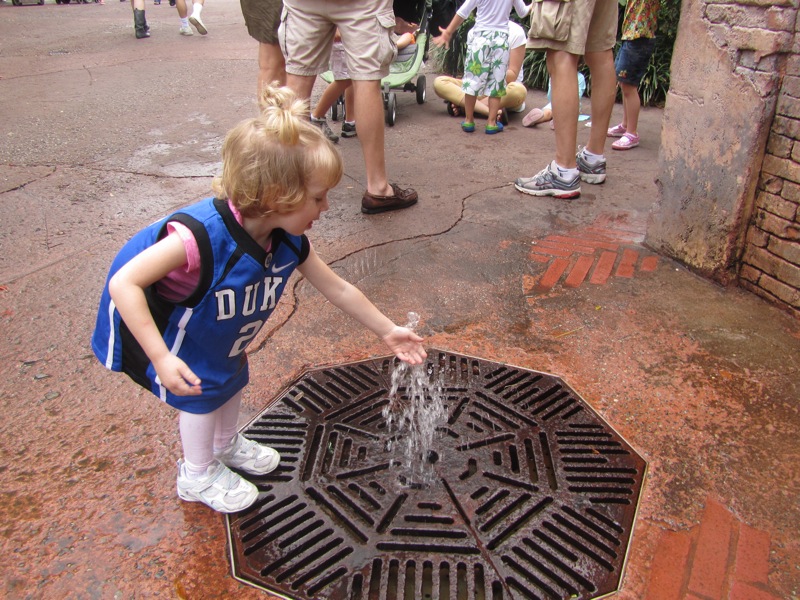 After that, it was time for another walk through the Jungle, this time looking for tigers, komodo dragons and giant fruit bats. E. had a different, more exciting discovery: bamboo. She quickly informed us that pandas eat bamboo (Wonder Pets knowledge?) and told us that she was a panda too. Hopefully a lot of other kids haven't tried this trick because I cringed at the germ factor but she was so happy:
Then, we headed to one our favorite spots to let her run off some energy: The Bonyeard in DinoLand. We haven't been since last year, and this was the first visit that she was really big enough to take advantage of all the rope climbs and bridges and big slides. She loved all the climbing and exploring:
And like 3-year-olds everywhere, the most random thing was her favorite part — jumping down the steps. We spent a lot of time watching our leaping lizard.
And don't forget the roaring (or whatever it is that dinos do) footsteps:
And because we were enjoying our off-the-beaten-path day, we decided to let E. play an midway-style game in DinoLand (it's highway robbery though — $4 for a single game!). Luckily, she has the arm of a Major League Baseball player. We played the game where you try to throw a wiffleball into a colored rim hole. On just her 2nd throw, she landed her ball in a blue hole, which meant she got a small stuffed animal. Thank God. If she would have landed in yellow — the giant prize hole — I would have traded it back in for the small one. No one needs a stuffed animal that big. But she was so proud of her win and we were so happy it only cost us one game!
Yes, there were some stops with characters along the way:
… but for the most part, we just took our time enjoying ourselves and letting our 3-year-old lead the way. I always feel sorta bad for the families who are here who've saved, planned and dreamed of this trip for years. It's a magical experience. It really is. But I know how much pressure it is to "do it all" and cram as much as possible into a couple short days.
In a way, I worry about E taking Disney for granted. She'll never really know how lucky she is that Disney is a part of our weekend routine. But, at the same time, selfishly, going so often really allows us to savor the smaller, hidden gems of the parks.
So I encourage you, even if you're here for just a few days, do yourself a favor and slow down! Let your kids lead the way. You may not hit every ride and attraction, but you'll get some memories that you never banked on.
Just tell people you're part of the slow park movement. If slow eating and slow parenting can be so hot, why not slow park going? A movement is born.