This weekend, we headed to the Magic Kingdom for a day we'd been eagerly awaiting for WEEKS. OK, I may have been the only one who was counting down the days, but that's just because we didn't tell E. until a couple days before.
And it was a day I fought hard to make happen.
A few weeks ago, Disney created a mess of a situation when it announced that passholders would be able to sign up for special preview events of the New Fantasyland. The first registration date was pushed back the morning of because of technical issues. On the second registration day, the system was so overwhelmed that it was nearly impossible to register and they pushed the time back … again, this time to later that night. I took a shot in the middle of the afternoon to register since I'd already invested so much time that day and miraculously not only got through but was able to register for our first choice (there were nine options for dates/times).
Our time slot was Saturday, 5-8:30 p.m. We couldn't do the earlier times in the day because of E's piano lessons. So, in the early afternoon, we headed out to the park, joined by our good friends. First, we spent a couple hours avoiding the surprisingly big November crowds and hit some of the less popular spots, such as Aladdin's carpet ride, Tom Sawyer's Island and the Railroad. E. and her best buddy K. didn't mind — they were just happy to be together.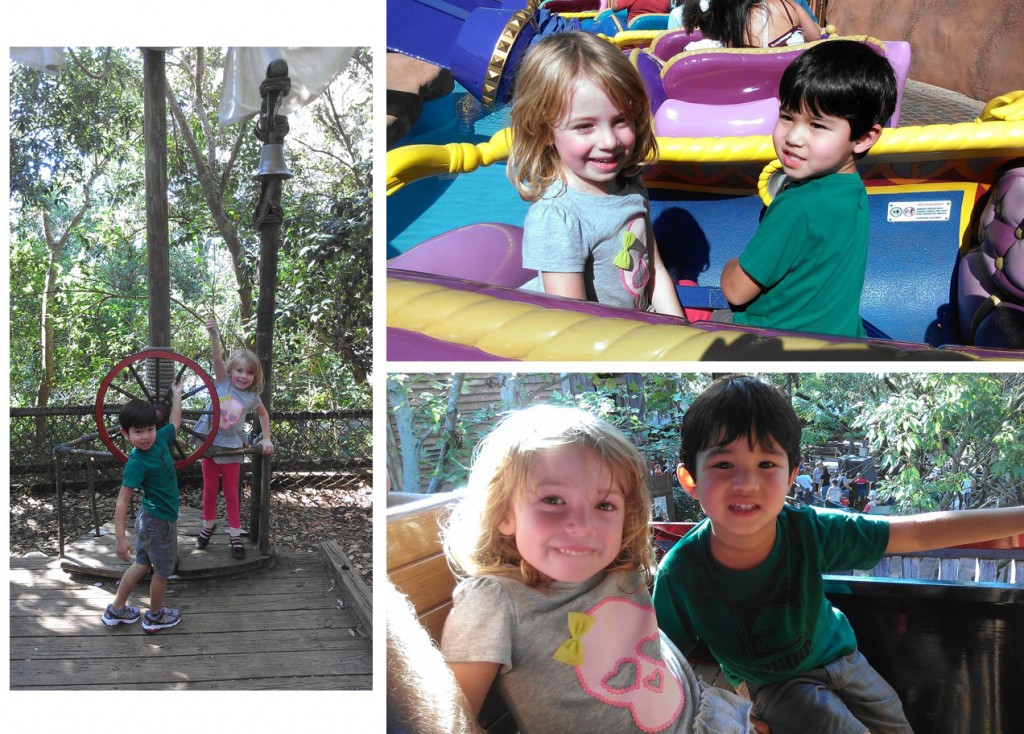 Finally, it was time for us to head into the New Fantasyland!
It was a little confusing at first. We had to show our printed confirmation sheets to a couple different people and get colored bracelets, based on the tour we'd chosen (we picked Enchanted Tales With Belle, Self-Guided Tour of the Be Our Guest restaurant and a ride on The Little Mermaid).
Confused Magic Kingdom guests kept trying to figure out how they could get in (sorry guys, not yet!) and they were holding up the line. But after a few minutes, we got it all sorted out and headed in!
Our first stop was Enchanted Tales With Belle because as we were walking in, DadJovi heard one of the castmembers say that they were just opening it up. Score!
The line winds you back and forth through a nicely landscaped area, bringing you to Belle's father's cottage. Our only line was just outside the front doors for a few moments, where E. found some props that just wouldn't move her way.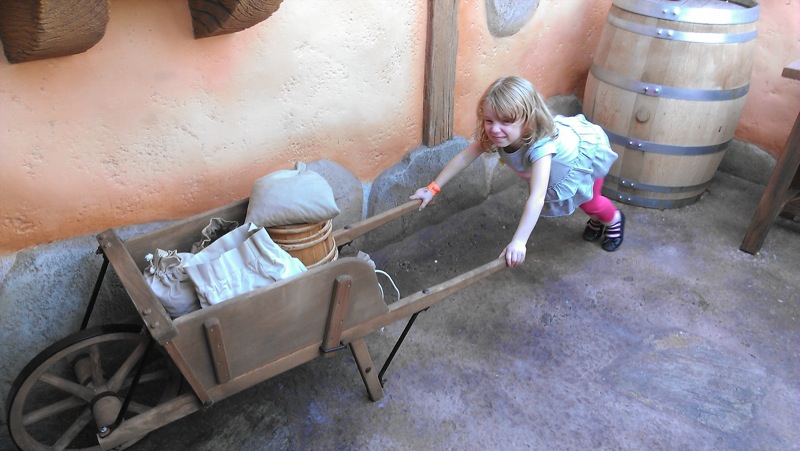 As we entered the cottage, we were immediately ushered into the first waiting room. I only had time to snap one picture on the way — a young Belle with her mom. (Seriously. What happened to her? Why must all Disney moms die?!?)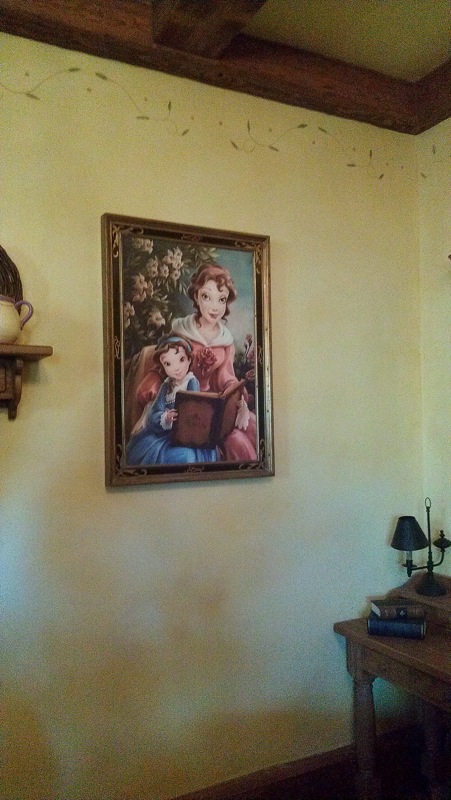 I can't wait to go back again and actually wait in this room. There was a lot to see.
But the next room was even cooler. The story begins with an Enchanted Mirror on the wall.
The next thing you know, you're walking through it and into the Beast's castle. It's a really cool effect.
In the next waiting area, we learned it was an interactive show.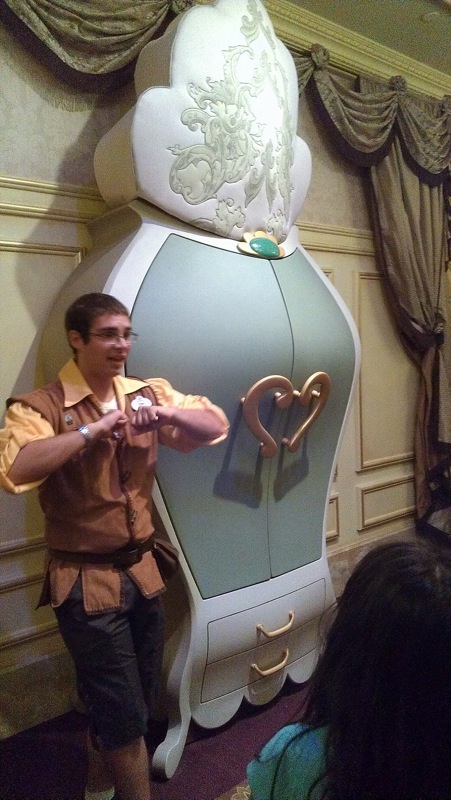 They had the children line up in the front and the grown-ups behind. Then, they started handing out cardboard cutouts and assigning roles in the show. And guess what? The entire Jovi family was cast in the show!
I won't give too much away but it was a ton of fun. I'm not sure who enjoyed hanging with Belle more, DadJovi …
… or E? OK, definitely E. And Belle and the castmembers were awesome with all the kids who were in the show.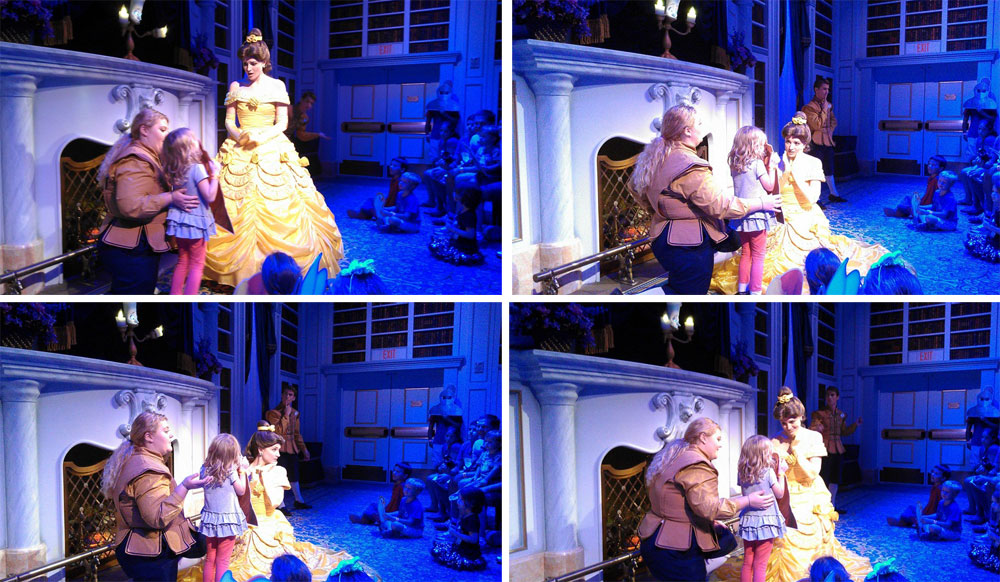 My advice? If you want your kid to participate, make sure they know to be vocal during the "casting" process. The castmember will say things like, "What does a horse say?" or "Who can march like a soldier?" to pick the parts. I nailed my false soprano singing to get cast as the Wardrobe. Thankfully, E. is still too young to be mortified. She loved it.
Each participating person gets a one-on-one picture with Belle at the end (not for free, of course. We haven't even looked on the PhotoPass site because I'm sure we wouldn't buy it but the option is there). You do get one thing for free though for participating in the show — a Belle bookmark. E. is actually pretty obsessed. That's princess marketing I can get on board with.
After Enchanted Tales With Belle, we set out to discover her village. Our first stop, of course, was to see the tribute to my favorite Disney character ever — Gaston.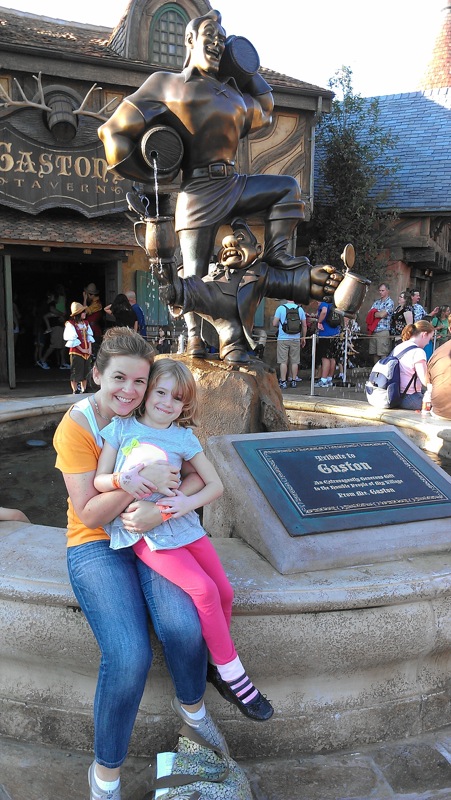 I love him. Well, er, his writers. You know what I mean. When will the inevitable Gaston meet-and-greets start? Because I can't wait!
Obviously, we had to check out Gaston's Tavern. And it was a glorious tribute to him.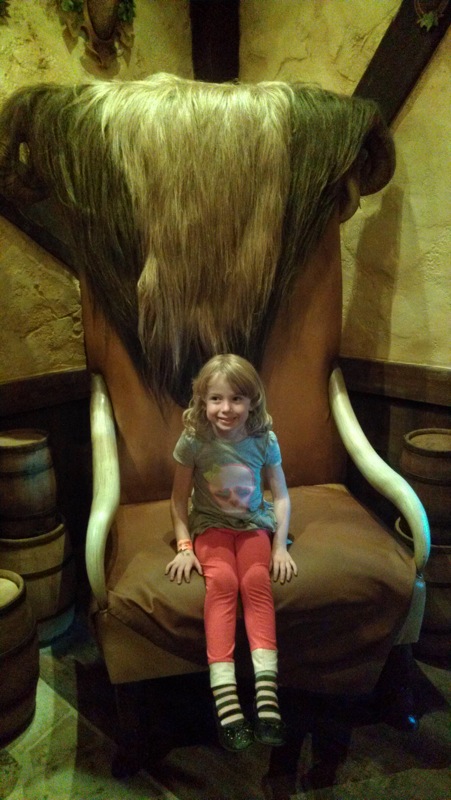 We also had to see for ourselves what all the fuss is about with the butterbeer LeFou's Brew.
In case you can't read the description, it says: "Frozen apple juice with a hint of Toasted Marshmallow and topped with All-Natural passionfruit-mango foam." Translation? Sickenly sweet (although, I actually thought it was much more drinkable than butterbeer at Wizarding World of Harry Potter).
E's review? "Mmmmm! You can have a sip Mommy BUT NOT TOO MUCH!"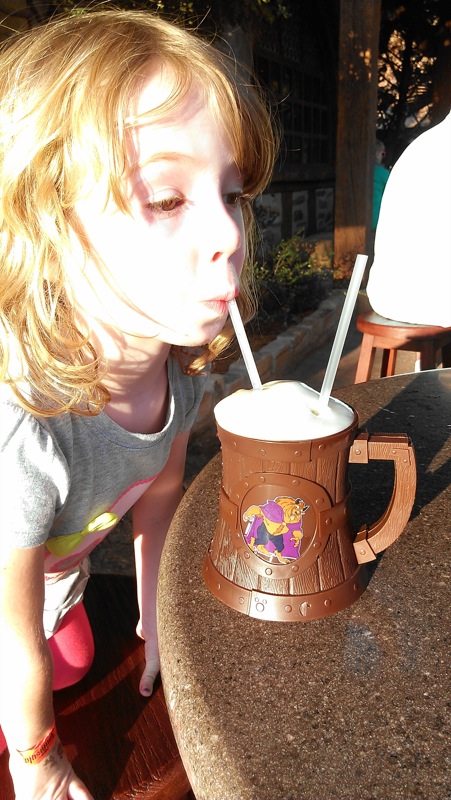 While E. enjoyed her frosted beverage, I explored the village a little bit.
Up next on our agenda was checking out the new Little Mermaid ride. The experience starts long before the ride itself. It's one of the most elaborate line queues I've ever seen.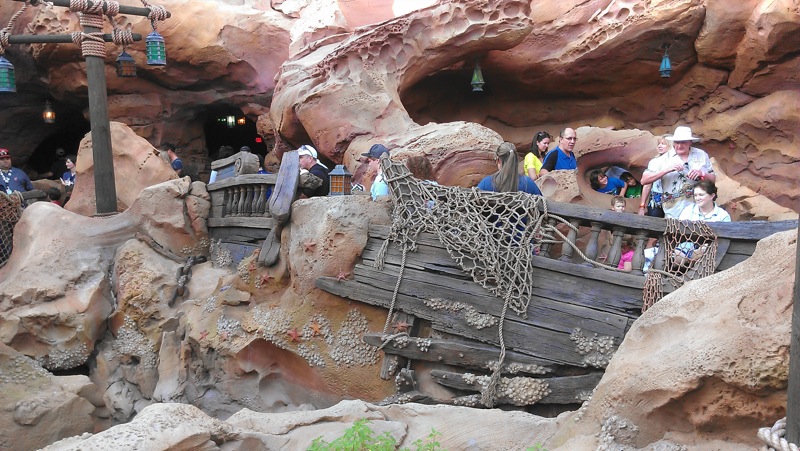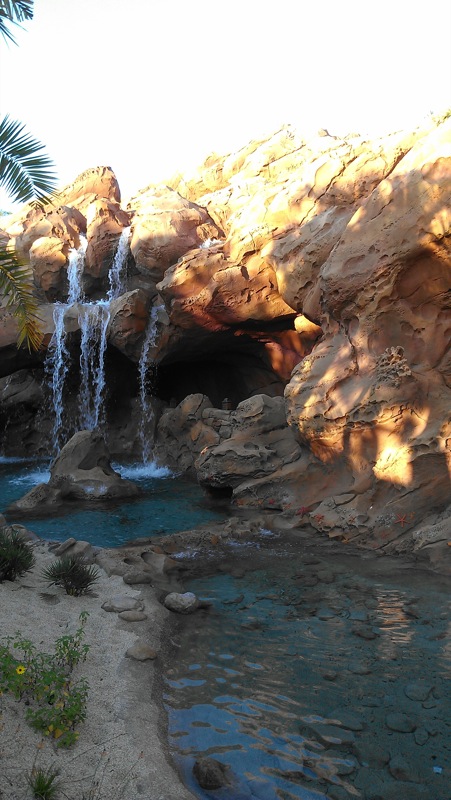 Pretty cool huh? There were seashells and starfish embedded in all the walls and walkways, which E. had a blast finding and pointing out. Before long, we were entering a cave area with one of the coolest interactive games at the parks.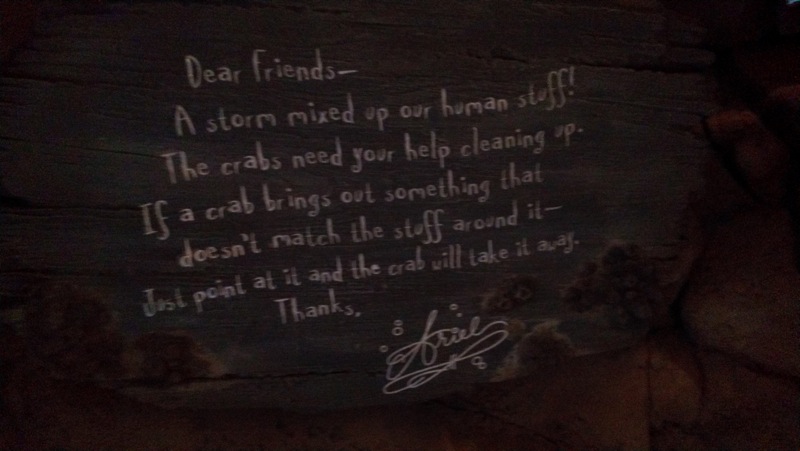 None of my pictures of it turned out very good, so you'll just have to go check out the virtual crabs for yourself (TWSS). But for those of us parents who cringe over all the germs your kids pick up by playing with the oozing honey screens in the Winnie the Pooh queue, you'll rejoice over this touch-free interactive game!
All too quickly, we were piling into our clamshell ride to go under the sea.
Late night, Ariel? I know the feeling.
The ride was certainly a HUGE improvement over the Little Mermaid stage show at Hollywood Studios. And they stripped the scariest parts out of it, so I'd say it's safe even for the youngest visitors. But both DadJovi and I were a little underwhelmed by it. The best scene was the big "Under the Sea" room, which sort of reminded me of the celebration scene in Splash Mountain.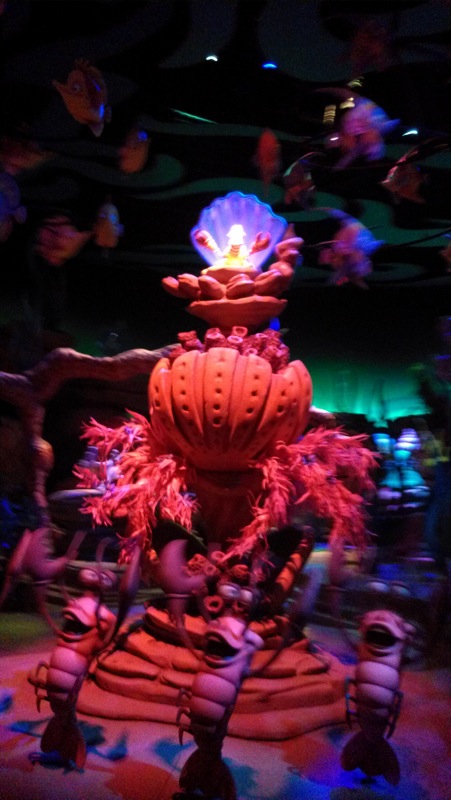 The most impressive part of the ride was Ursula.
The way her mouth (and neck jowels) moved as she spoke were super cool. Plus, you see that crystal ball in front of her? It was showing scenes from the movie. Pretty rad.
It doesn't matter what my husband or I thought, though. E. LOVED it. Besides, even though you all know Ariel is my least favorite princess (that sniveling, whining, bratty runaway), she was blessed to get the best Disney movie songs ever, so the soundtrack for the ride is great.
After the ride, I saw "Ariel's Grotto" and mistakenly thought it was a gift shop, which I wouldn't have minded just checking out. Before I could steer her away, though, E. realized it was a character meet-and-greet. At first I thought we wouldn't be able to do it because it wasn't part of the tour we'd signed up for. But the castmember told us to head on in. Gee, thanks.
Since E.'s autograph book had been burning a hole in her pocked all day with no other character encounters, I agreed, despite the advertised 25-minute wait. Too bad it was more like 45 minutes. Fun.
But they made it worth the wait. First, Ariel invited her to have a seat on her clamshell.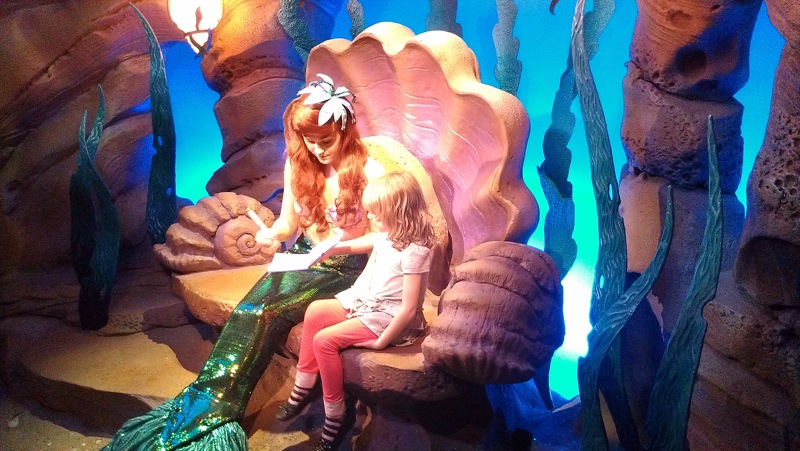 The space is really cool. They limit it to just your child and the one waiting behind you. Ariel spent several minutes chatting with E. And the ceiling above made it look like we were back Under the Sea with Ariel.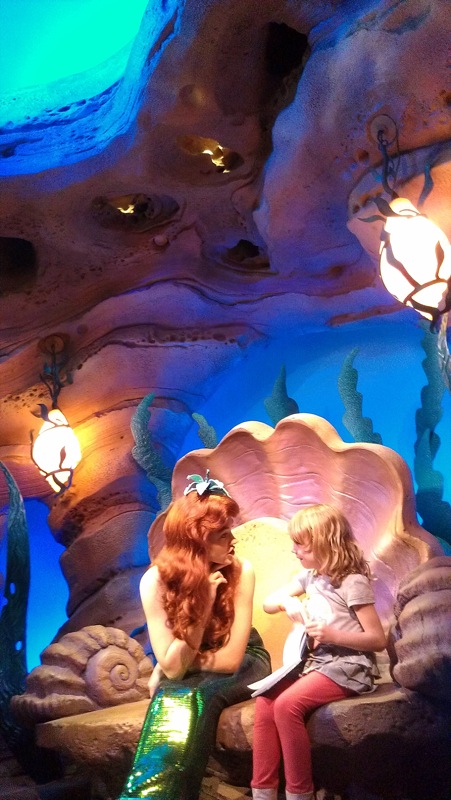 And poor Ariel. She can't exhale once the whole day. Of course, I couldn't stop staring at her bare stomach and thinking that that'd be my nightmare job. But she didn't seem to have a problem with it.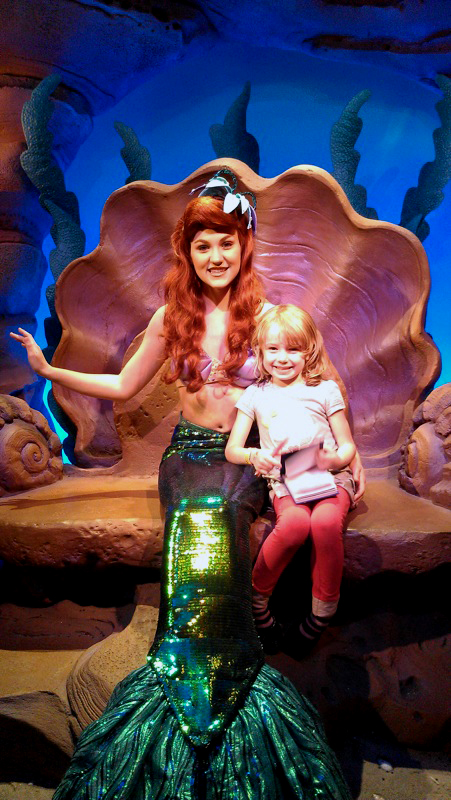 And I swear I know that Ariel. It's been bothering me ever since. Disney overload, perhaps?
By the time we came out, the sun was setting over Fantasyland.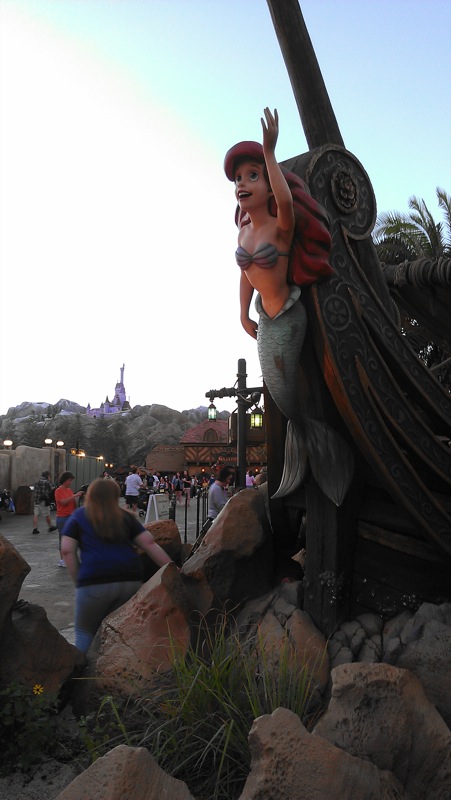 We had time for one quick spin through Be Our Guest. First, we crossed the bridge over to the Beast's castle, passing some gargoyles along the way.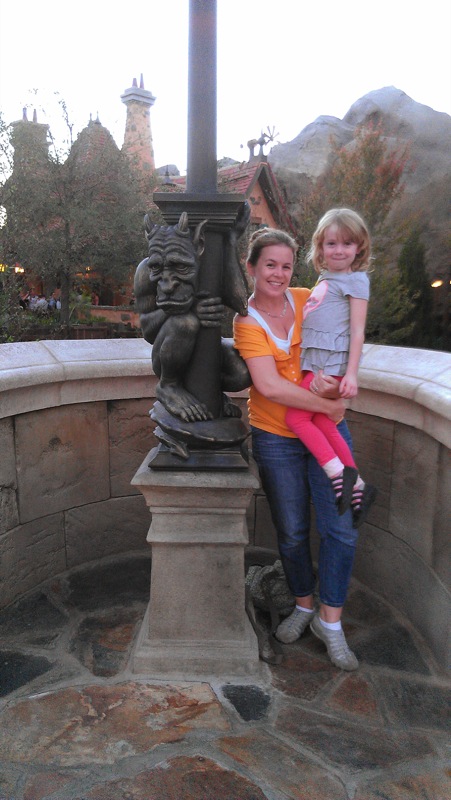 Yeah, I think she's officially too big to hold. Stupid time going too fast. I told her this weekend that she needs to start holding me.
We couldn't go through most of the restaurant because people were dining (although seeing as how we were all passholders previewing, I seriously doubt they would have minded all of us gawking over them and the falling snow coming down behind the giant picture windows). But we did get to check out a couple areas, and it's pretty dang cool.
So that's the New Fantasyland. I can't wait to get back and really explore it more thoroughly, although I have a feeling I'll be waiting a LONG time for the crowds to die down some.
What are you most excited to see in the New Fantasyland? Who is your favorite Disney "bad guy"?