I've said it once, and I'm sure I'll say it 1,000 more times — my daughter sure does live a charmed life. But perhaps one of the things she's most lucky to have in life is a grandmother who not only adores her, but would do ANYTHING for her. That anything includes giving up her own valuable vacation time to travel from Pennsylvania to Florida and watch E. during her school's Spring Break week. Yup, who knew? Preschoolers have Spring Break.
I suppose my mom was coming to help me out, too, but sadly I missed out on all their great adventures while I was at work.
Here's just a sampling of some of their good times.
Monday: Gatorland
The day started innocently enough with them feeding some cute birds.
But I knew what the big draw of the day was going to be for E. You guessed it … the snakes.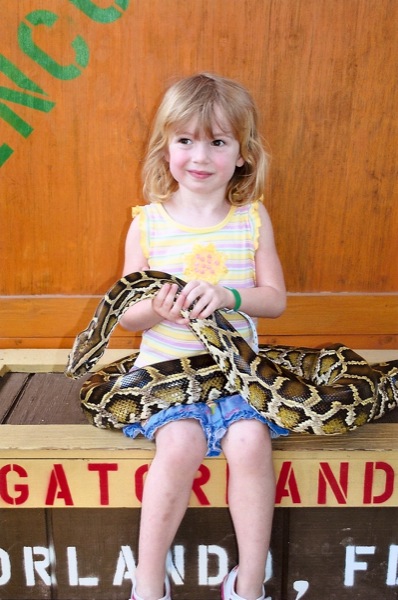 Do you see how that thing is wrapped around her? Ugh. Thankfully I didn't inherit my snake phobia from my mom, so she was all about E. getting the snake picture. And of course, they couldn't wait to show me my present — the photo above. Super. And don't let E's sideeye fool you; she was OBSESSED with that snake. My mom says E.'s hand was the first one to shoot up when they asked if anyone wanted to come see the snake and she raced to get in line. Seriously, how can she be my daughter?!?
Tuesday: Haircuts and flowers
On Tuesday, E. got a haircut and Gigi got her hair blown out. Twinsies!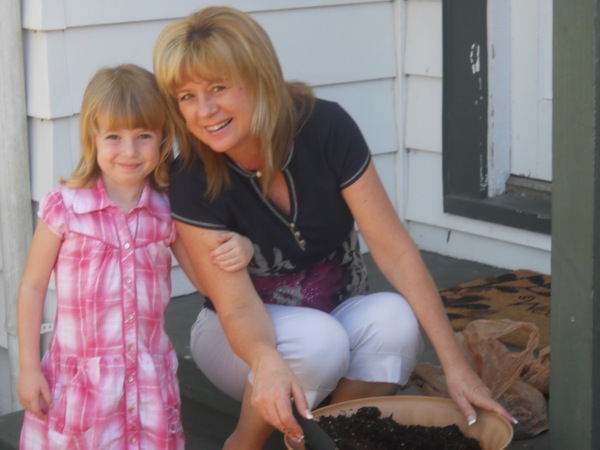 They also planted some of the Tinkerbell seeds that Disney sent us for being Passholders. Hopefully they sprout up in a couple weeks or E. may lose her faith in pixie dust.
Wednesday: The Lorax
On Wednesday, my mom took E. to see The Lorax (with a stop at Chik-fil-A and its playground on the way) because there was no power at our house. That's because my saint of a stepdad-to-be was busy replacing our rusted out, fire hazard, nightmare-waiting-to-happen of a electrical panel box. This is what we were living with.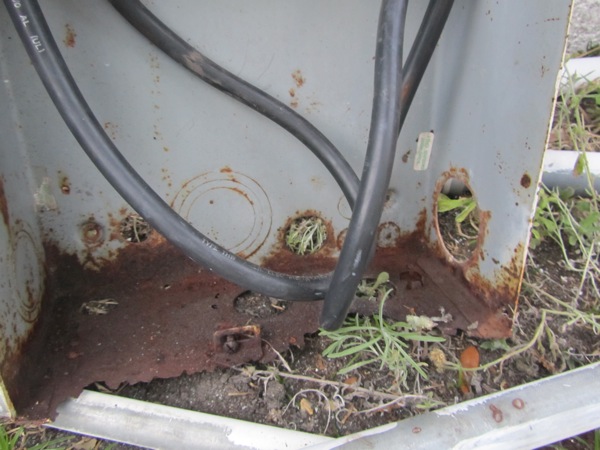 Looks safe, huh?
It pays to have an electrician in the family. Look at this beauty!
Poor Dee Dee, though. This ended up being a four-day project. By the end, DadJovi was his assistant, helping to rewire the whole thing. I'm not going to pretend that I understand what they did exactly, but I know it was A LOT of hard work and saved us thousands in electrician costs.
Seriously. He's a saint who has done so many projects for us over the years.
Thursday: Mini Golf and a puppet show
As Dee Dee kept plugging away at his project, Gigi and E. had to escape the powerless house. So they set out for a day of Congo River Mini Golf and a play at the Pinocchio Marionette Theater at the Altamonte Mall. E. and I saw their production of "Alice in Wonderland" last summer (and it was great), but my mom hit the E. jackpot — this week, they were performing "Peter Pan and Wendy." And "Peter Pan" is E's all-time favorite Disney movie, so it was perfect.
Shows are only about 30 minutes and $5. We tend to go more in the summer when it's too dang hot to do anything outside. And then there's the mall playground right outside the theater. I just pretend that it's germ-free and let E. enjoy herself (followed by a Purell bath).
Thursday night was also the night DadJovi and I took full advantage of having a live-in nanny help — we went out to dinner and the movies. First, it was dinner at Ravenous Pig. Oh, how I've missed you these many years Pig. It's not the kid-friendliest of places and it's so rare that we hire a babysitter for a night out like dinner and the movies. We tend to save those extravagances for concerts and parties. But a friend gave DadJovi a RP giftcard because he helped her with some legal help, so when we knew my mom was coming, we quickly made reservations! It did not disappoint.
And then, it was time for my second Hunger Games screening! Just as I predicted, I enjoyed it much more the second time around. I wasn't worried too much about what might happen and instead just enjoyed what was happening. DadJovi, who has not read the books, really liked it, too, but the first thing he said to me as we left the theater was, "I feel like I'm leaving with more questions than answers." He had a lot of storyline questions (why weren't there so many more kids at Reaping? Why was it so unusual for there to be an underdog? Aren't there Gonzaga-type Tributes every year?).
Friday: EPCOT
On Friday, to thank my mom for being our indentured servant all week and taking care of E. (and us), I took her to Epcot for the day to enjoy the Flower and Garden Festival. She's a great gardener, particularly container gardens, so I know she loved checking out Disney's over-the-top creations.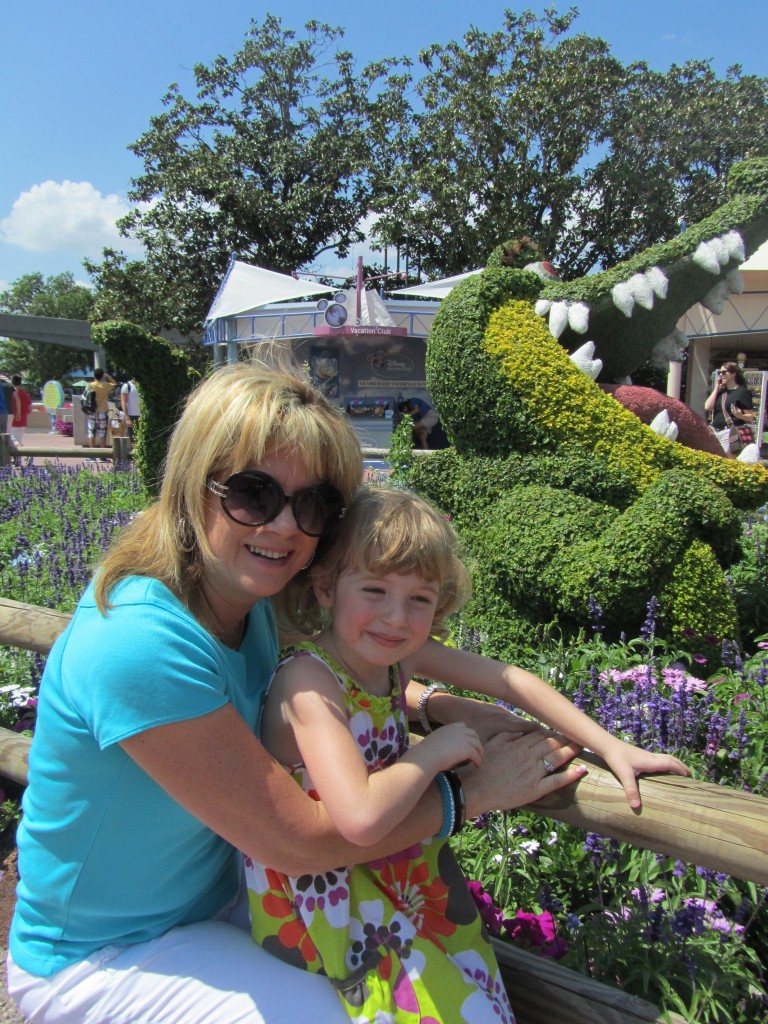 My grandparents (my mom's parents) came down from Palm Coast to spend the day there with us, too.
Epcot was as packed as I've ever seen it. E's favorite ride right now is Test Track, and by the time we got there at 11:30, our Fast Passes weren't good until 6:30. Even our standby "never any lines rides" had lines — we had to wait 10-15 minutes to get on The Three Caballeros boat ride in the Mexico pavilion (no one EVER rides this ride, which is a shame because it's really cute) and there was a 30-minute wait for the Maelstrom in Norway (we didn't wait).
Instead, we looked at flowers, spent a ton of time at the Flower and Garden-exclusive playgrounds (again, PLEASE heed my pleas Disney — keep those playgrounds up year-round!), E. colored Duffys in every country and we got her a cute red panda umbrella in China.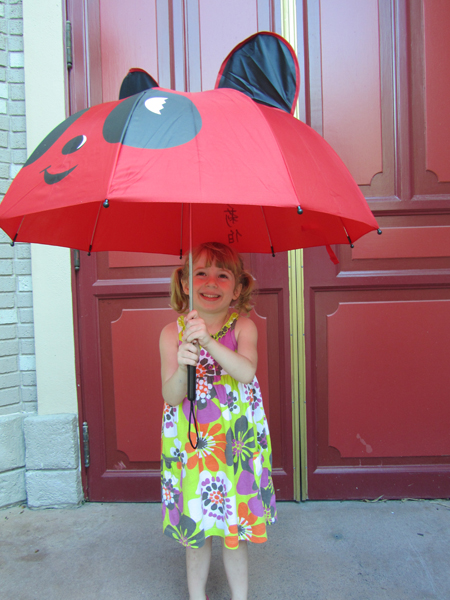 Not bad for $12, and they even wrote the Chinese characters for her name on it. It made a nice little sun shade for the day.
Then, we headed to the Hacienda de San Angel for dinner. Sangrias were clearly a must.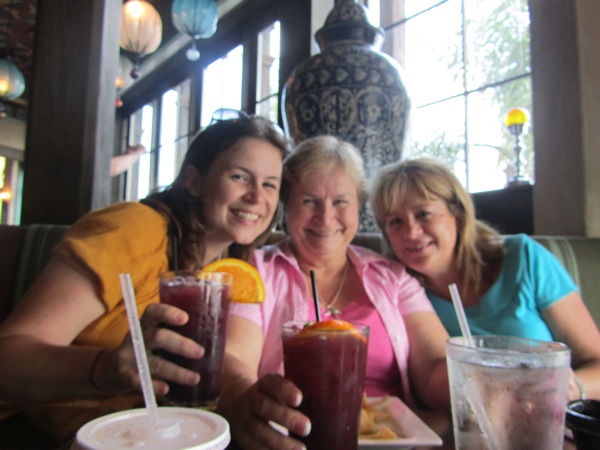 Portrait by E.
We had early reservations since everywhere else was packed (4:45), so we got a bunch of yummy appetizers and what was probably the best salad I've ever had. It was spinach with tomatoes, avocado, pine nuts, queso fresco, pomegranate seeds and a mustard vinaigrette. I WILL be recreating this at home.
After dinner, we parted ways with my grandparents.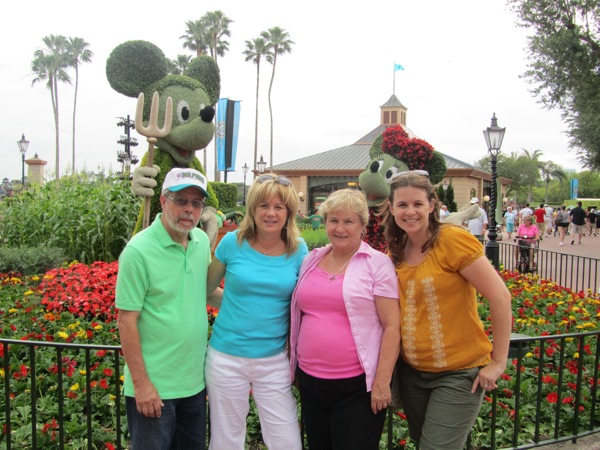 Apparently the heat was getting to someone: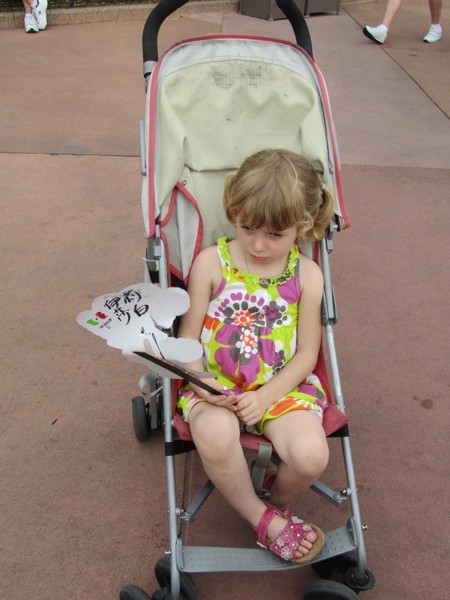 After we FINALLY got our turn our Test Test, we did one quick loop around the World Showcase. Obviously we made time for our favorite thing at Epcot — the British Revolution band in the England pavilion. We love the band; E. loves the maze. And it was even better than usual — we ran into one of E's best buddies from her class. Yes, in some parts of the country, you run into classmates at the park. Here, we run into them at Disney. So they danced their hearts out and chased each other around the maze for 30 minutes.
We finally tore E. away from there and I wanted to show my mom the backside of the World Showcase since she hasn't seen Italy since they redid it couple years ago. There may have been a Moroccan pit stop along the way.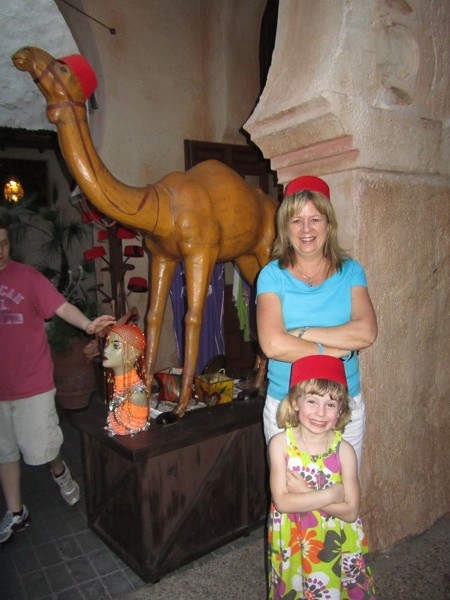 By this point, we were BEAT.
And the week wasn't even over yet. On Saturday, there were still piano lessons, E. painted a birdhouse with her great-grandmother …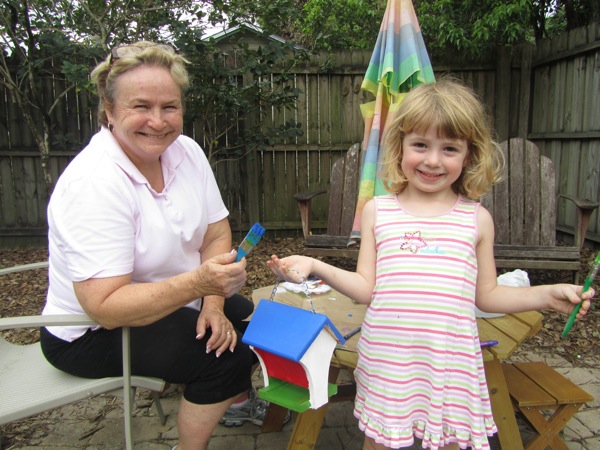 … and jam sessions with Dee Dee.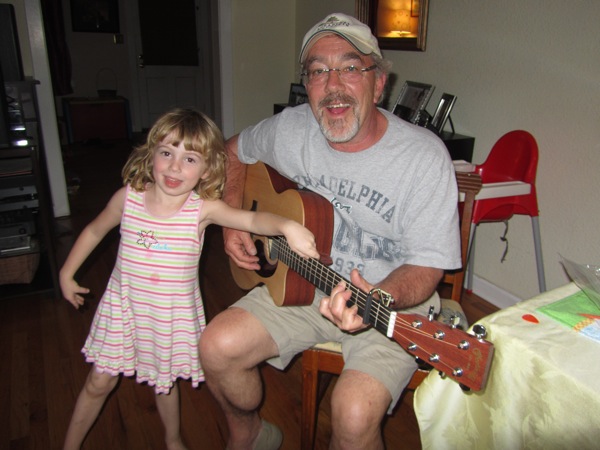 PHEW! No wonder we're all dragging. That's how you do a Spring Break!
Sadly, Gigi and Dee Dee had to fly back to Pennsylvania early Sunday morning. We all miss them already and can't wait for their next visit. Yup, E. and her mother are lucky girls to have such a kickass Gigi.
What do your kids/what did you call your grandparents? Did you spend school holidays with them, too?