Poor Dee Dee. In case you haven't yet memorized every person in my life, he is my mom's boyfriend/life partner/Harley co-pilot, and, almost as importantly, E's Dee Dee. She adores him (and her Gigi, too).
Poor Dee Dee gets dragged to Florida way more than he'd probably like since my mom is addicted to her only grandchild. We love when they come for many reasons, and most of those reasons are selfish. Very selfish. You see, Dee Dee is saddled with a double whammy — he's majorly ADD and supremely handy. That means, he doesn't like to sit around playing tea party or watching The Sound of Music for the 122nd time. So, he finds projects.
Over the years, he has:
— installed 3 ceiling fans
— installed light dimmers throughout our house
— moved a ceiling light from one location to another
— installed a new front-porch light
— fixed our master bath floor tiles after a major flooding incident
— and helped us entirely renovate our kitchen over Christmas (oops, I realized I've never finished the complete After Post. Coming soon, I promise!)
For this visit, we had 3 projects in mind (he starts asking weeks before he gets here what we want him to do. Tough problem to have, huh?). For years, he's been saying we need to redo our horrendous guest bath. It's the only room that has remained 100 percent untouched since we bought the house almost 8 years ago. In fact, I don't think it has been touched in three decades.
Think it looks bad from a distance? Let's take a closer look at that sink:
No, your eyes are not deceiving you. That is a goldy, glittery sink. I know, I know. It is pretty sweet. But now that it is primarily E's bathroom, I figured it was time it stopped looking like such a pimp den.
And then there was the floor. Oh the floor. The cracked, chipped and mysteriously blue-stained linoleum floor.
Apparently gold-flecked items were so hot once upon a time. Almost as hot as the metallic wallpaper we discovered when the vanity came out.
The first thing Dee Dee did was get started on the floors. We decided to keep things simple (of course, I'm saying that as the person who left for work one morning with this shitbox of a bathroom and returned 8 hours later to find a new one. So yeah, it was simple).
Since the only real probablem with the floor was its hideousness, we decided to just cover them up rather than ripping them out. Dee Dee told us about something he'd recently seen — linoleum that looks like floor tiles. I was skeptical at first, but there was something I really liked about the idea.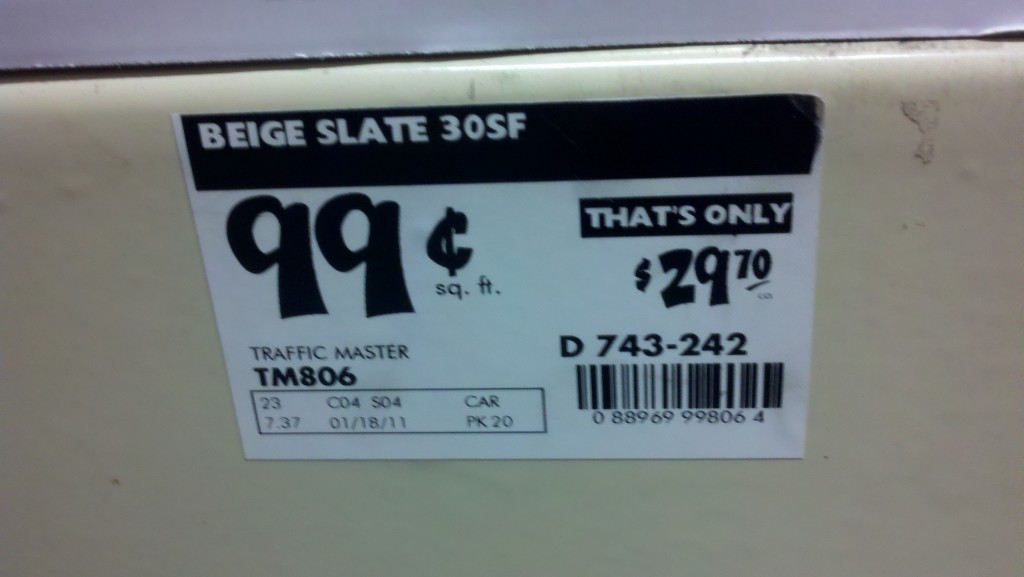 Since our bathroom is only 25 square feet, that means we were able to buy flooring for the entire room for under $30! And I gotta say, I was pretty impressed with how it looked going down. (Note: this is obviously not a how-to DIY guide. But if you're thinking of doing something similar, I know the old linoleum was first cleaned with some cleaning agent that has initials. STP is what's coming to my mind but I'm pretty sure I'm thinking of the '90s band. So check with the nice folks at Home Depot or Lowe's first).
And the labor was pretty affordable too.
We also picked out a new vanity and a new faucet. It was not an easy decision. It's such a small space that a pedestal sink makes the most sense, except for one fact — E. is a girl. And someday all too soon, she'll be a teenage girl. And girls need places to stash hair products, make-up and tampons. It's just a fact. DadJovi and I argued and argued over it, but finally I prevailed. And thankfully, we found a sink that we not only agreed on but that is also functional, stylish and compact.
And how pretty is the faucet?
Finally, a bathroom that isn't older than me!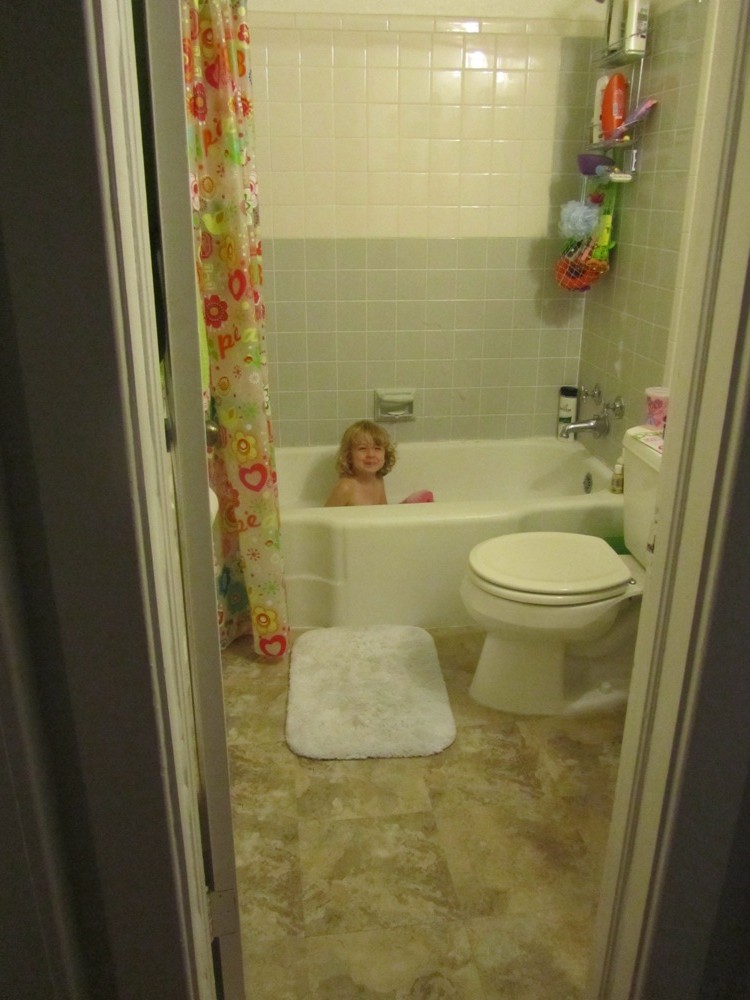 The project isn't complete yet. One thing we absolutely couldn't agree on was a new medicine cabinet. Here's what we have now, including the hideous fixture. I think that will be Dee Dee's Christmas project!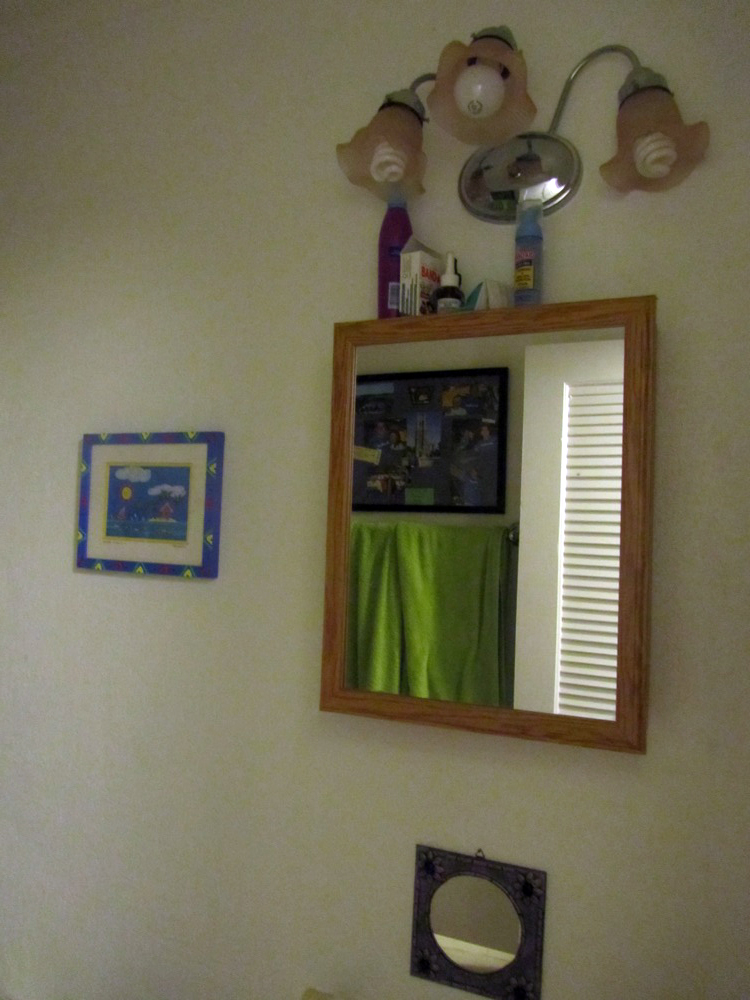 The smaller mirror is so E can see herself when she's brushing her teeth. After almost buying a new white cabinet, I realized that I can probably just paint the one we have. But now I'm stuck — what color should I paint it?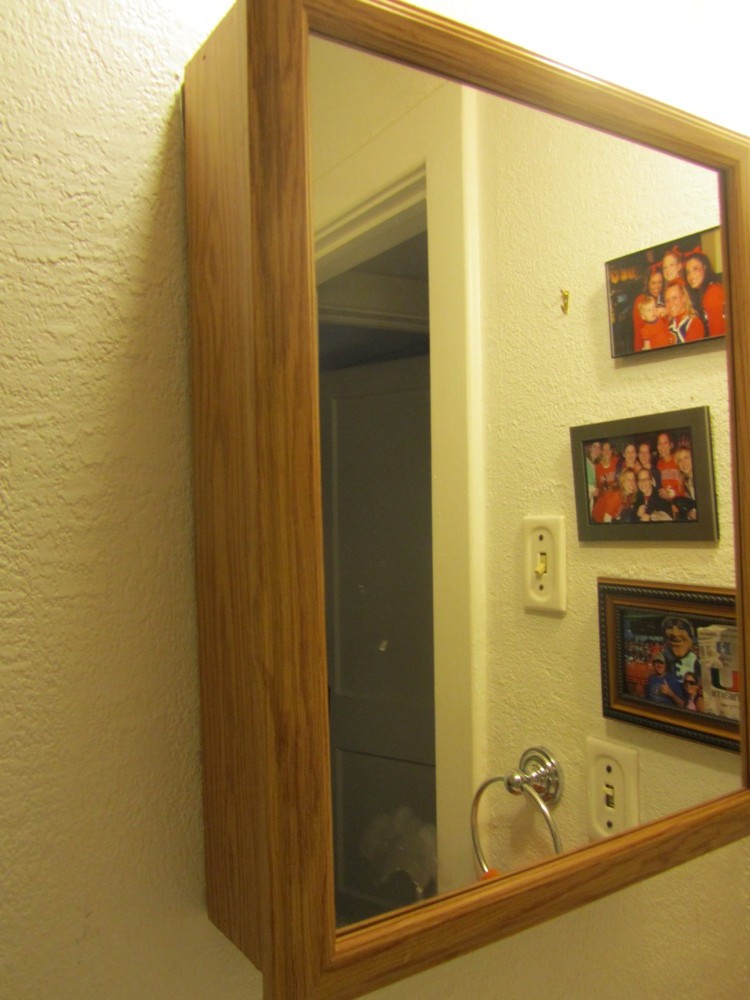 The walls are currently white, so I'm trying to decide if I want to paint the walls a different color and paint the cabinet white or still paint the walls some lighter color and paint the cabinet something wild and bright.
Here's our current shower curtain and towels.
So yeah, there are a lot of colors to choose from. I chose this shower curtain because a) it was time to throw away DadJovi's hideous, mildew-stained Duke shower curtain and b) the bathroom is already filled with Duke and Syracuse pictures and this curtain prominently features Duke blue and Syracuse orange. Yes, we have issues.
We also have this picture in the bathroom, which was a wedding gift at our Key West wedding. It could go if necessary but for now, it sort of fits in well with the shower curtain.
So, my current thought is to make the bathroom really wild and paint the cabinet something like cobalt blue, lime green or orange. I figure, even if it sucks, all I've lost is a can of paint and a cabinet we were thinking of chucking anyway. As for the walls, I have no idea. Light yellow? Light purple? A new white? Why isn't Young House Love available for personal consultations??
Before I move on, I have to mention that Dee Dee ALSO cut and installed new baseboards in the bathroom, fixed our long-broken pantry door in the kitchen and installed an electronic thermostat to replace the old-school dial one we still had.
Who said having houseguests is hard? Hard for them, maybe!