You guys, I realized today that I've yet to share my mega-accomplishment that occurred over the holidays. I mean, I know you need to know absolutely everything that happens to me, so I can't believe I forgot to share this story. Blame it on the eggnog.
As you may recall, E. and I went to Pennsylvania the week before Christmas. It was a whirlwind trip filled with lots of family time, a wee bit of snow …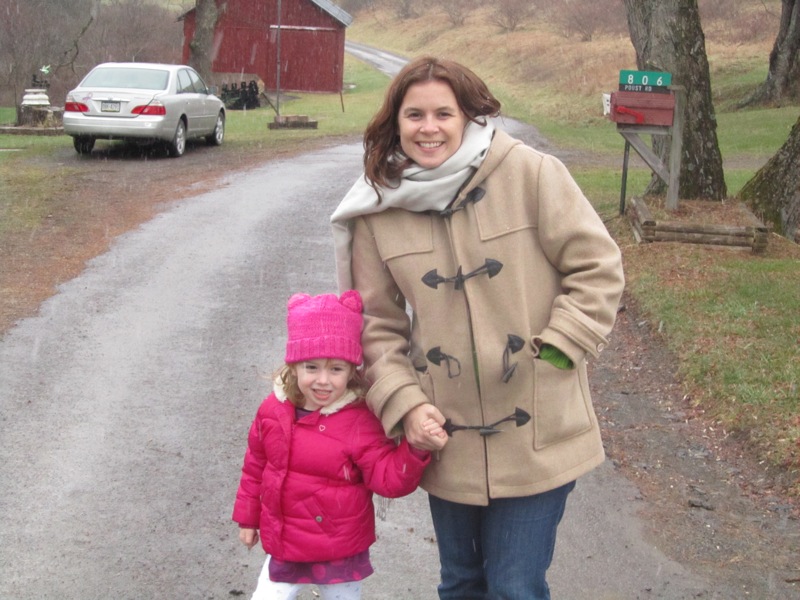 (no, that's not dust on my camera lens. It's snowflakes. I promise) … and snakes. Lots of snakes. Friends, if you've read my posts or tweets before, you may have picked up on one bit of trivia about me — I'm terrified of snakes. A nausea and panic-attack inducing, debilitating fear of snakes.
And it's all because of one place: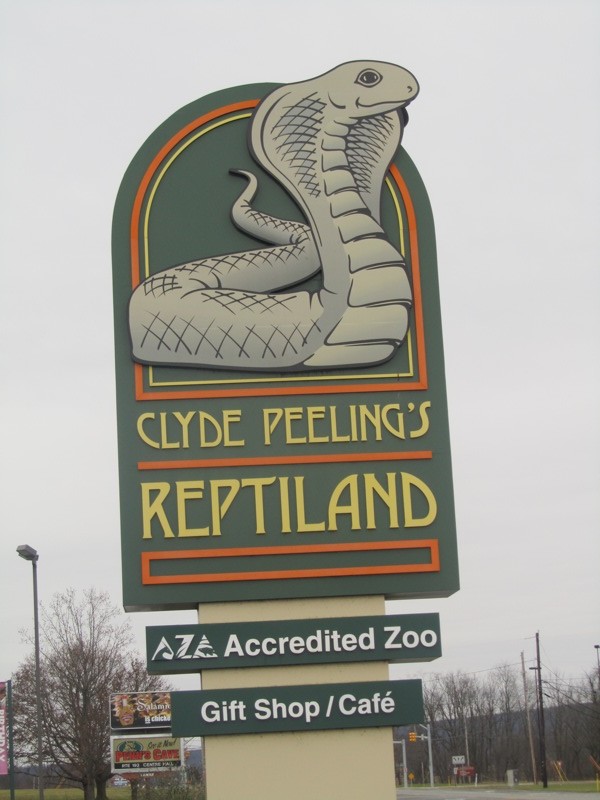 And here's why. My parents divorced when I was 4, so my dad and I would do really random things on his every-other-weekend custody weekends. In the early '80s (and especially in north-central Pennsylvania where I grew up), there were a lot less kid-centered entertainment options than there are today. So I give him credit for trying to come up with new ideas for us.
One summer weekend, we headed to Clyde Peeling's Reptiland. I'm not sure how old I was but if I had to guess, I'd say 7 or 8. One of the big draws was the alligator pit. I think (but I'm not 100 percent sure) that you could feed the gators. But one guy ended up doing exactly that. He was a jackass. Even at a young age, I knew that. He was showing off for his friends and dangling his arms over the edge of the wall (remember, this was the early '80s, in the pre-litigious world we currently live in. In other words — no high safety walls). One minute, this guy is taunting the gator, the next minute it's lunging up and CHOMPING OFF HIS FLIPPIN HAND. I kid you not. Ask my dad. We saw some dude get his hand (or maybe just fingers, but does it really matter at that point?) eaten by a gator.
I remember hearing lots of screams, seeing the blood and my dad saying, "Let's get out of here."
He ushered me to a big tent, just as an animal experience show was about to start. As we sat there on that hot summer day, we could still hear the crowd sounds outside but the show must go on!
We were in one of the first rows of bleachers and I can just remember sitting there staring at a baby gator on a table up front. I don't know that I was associating it with its bigger brother outside but clearly I was in a bit of a state of shock. Next time I remember, I felt my dad's hand on my sweaty knees.
I brushed it aside.
A moment later, I felt it again. Once again, I went to brush it away, only this time, I looked down. It wasn't my dad's hand. It was a snake head. A giant one. I'm guessing it was a boa. They were passing it around the crowd for people to pet, and someone (cough, cough, my dad, cough, cough) thought it would be funny to put the snake's head on my knee.
I SCREAMED. And then the crowd laughed. And I started to cry but I can clearly remember trying not to show it because I wanted my dad to think I was tough.
Ah, memories.
Years later, in a college psych class, we were talking about phobias and fears and somehow my professor got that story out of me (I hadn't really thought about all of the details since that day. My dad's not much of a talker, although he occasionally brings it up to joke about the gator bait. So I know the facts of it are all true and not just a confused kid's memory). On the spot, my professor diagnosed my snake phobia as a symptom of post-traumatic stress disorder, with everything from the divorce to the gator bite thrown in as contributing factors. Could be.
Or I could just hate snakes.
Whatever caused it, it's a pretty sick phobia. I've throw up before just from seeing them on TV, so it's no joke. Ever since E. was born, DadJovi has been warning me to not make her inherit my fears. So I've been a brave soldier. I've gone to Gatorland. I've taken her to see the snakes at Animal Kingdom. I even let her pet a snake at the farmer's market (although I kept my distance).
And what did it get me? A daughter who LOVES snakes. Figures.
So with a few cold days facing us, my dad came up with a genius idea — let's all go to Reptiland! Great.
E., however, was thrilled. Girlfriend had her face pressed against the glass at every snake cage (or whatever they're actually called. I know there's a name).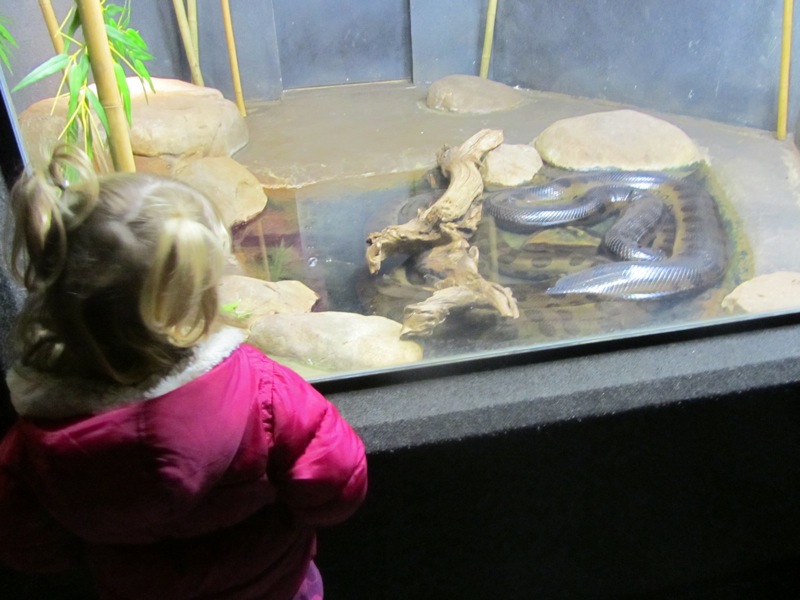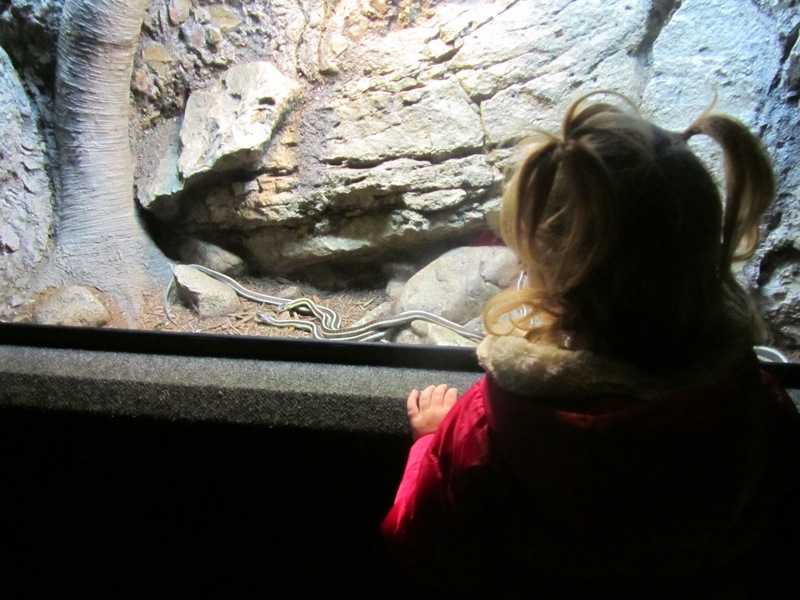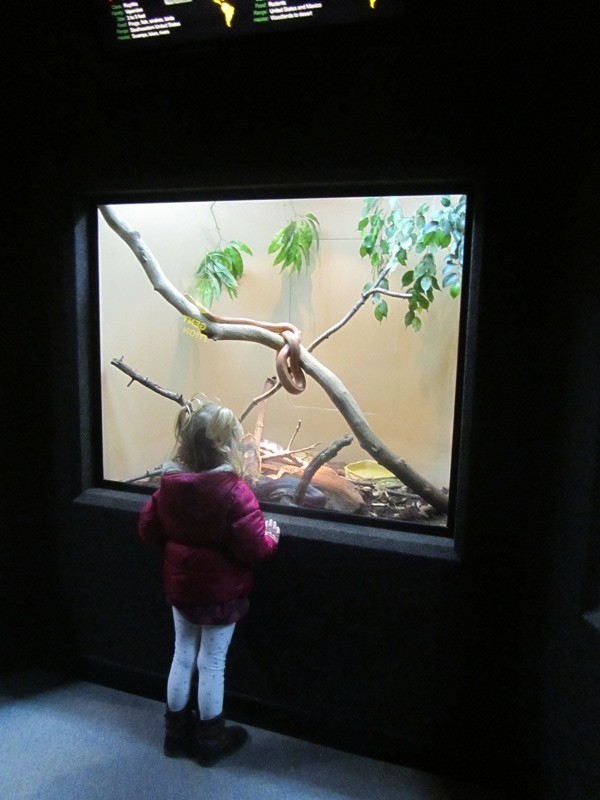 This green mambo was one aggressive mo-fo. He was all over E every time she went up to the glass. And the sign did confirm that yes, these guys are chasers. Super. Seriously, all I kept thinking the whole time was about the scene in Harry Potter when he makes the glass disappear and Dudley ends up in the cage with the snake.
Then the nausea started and my body was covered in chills, from head to toe (and it is right now just looking at the pictures again). But I soldiered on. The things we do for kids.
Then, things got worse. There was a show. It was deja vu all over again (that Yogi is a genius).
Thankfully, E's uncle volunteered to take the front row with her while I sat back a bit. Oh yeah, now that she's a snake lover I let her know Mommy's secret — I hate them. At this point, I'm hoping to scare her some because the requests for a pet snake have started. I told her it was her choice — she could live with Mommy or a pet snake. So far, I'm polling ahead of the snake … but barely.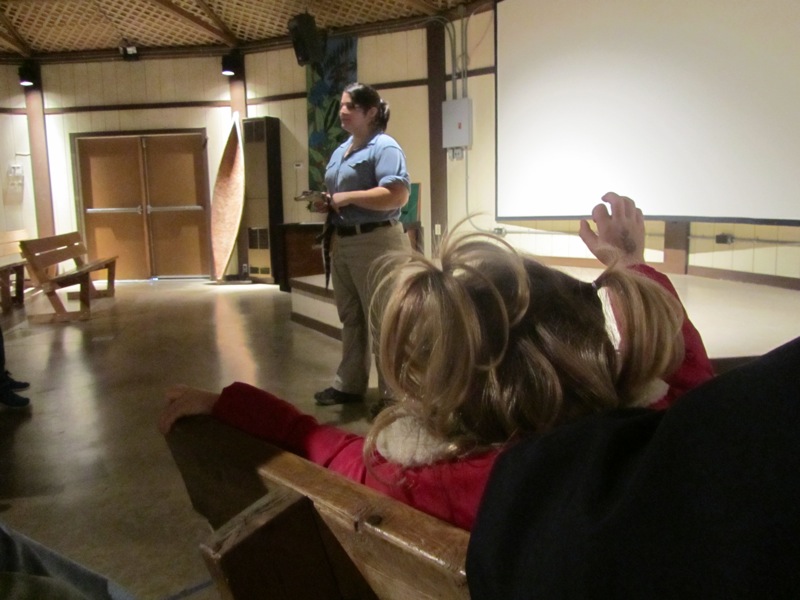 Apparently E. had a question. I did too — which way is the exit? After traveling all the way from Florida to Pa., E. got to spend some time with a fellow Cracker: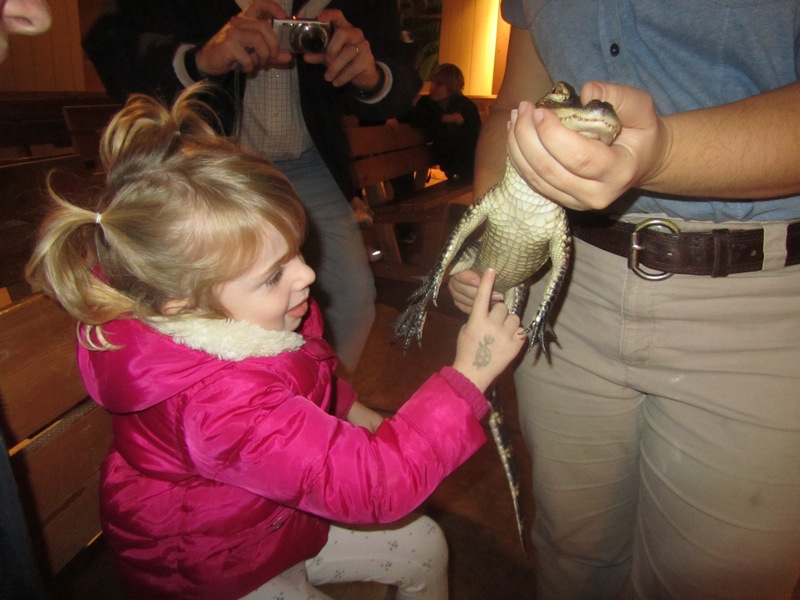 The baby gator was cute. But that's not what E. was there to see. At long last, she got her snake time.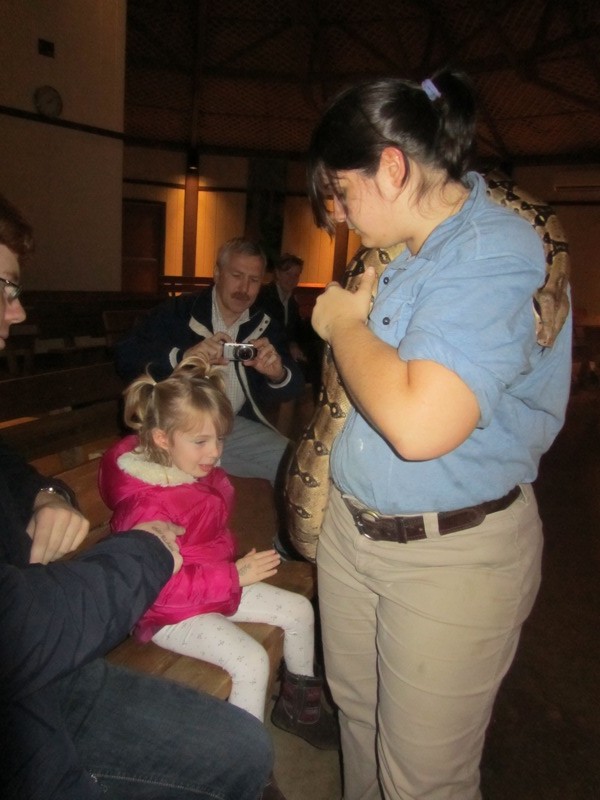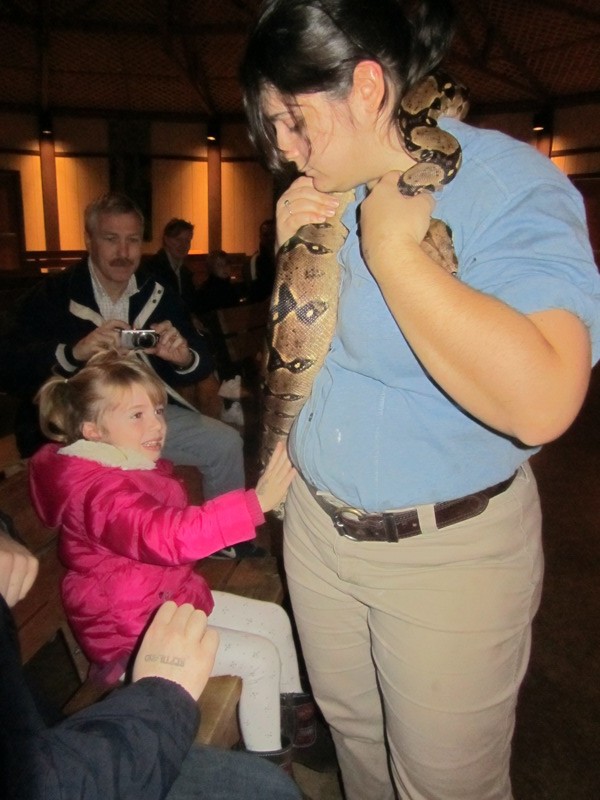 By the way, notice my dad is keeping his distance, too. I do think he brought me to Reptiland as a child to try and keep me from picking up on his dislike of snakes, too. And we all know how well that worked out.
Even after E's allotted time with the boa, she wanted more. She followed the woman around the auditorium. There was only two other families there, so it wasn't really a big deal. And I wasn't about to chase her. All I can say is thank God for zoom lenses on cameras.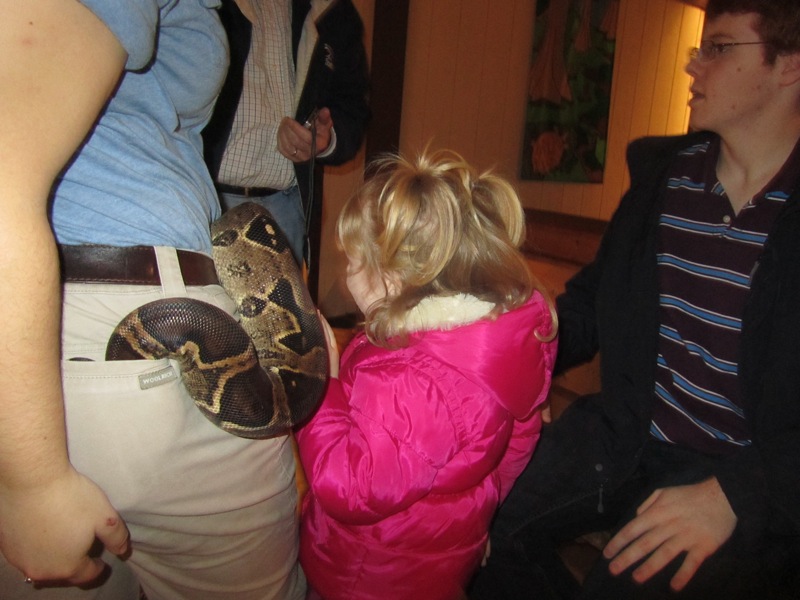 Ugh. But I did it! I made it through nearly two hours there without vomiting! And, more importantly, E. left Reptiland with nice memories of a fun afternoon with her Pappy.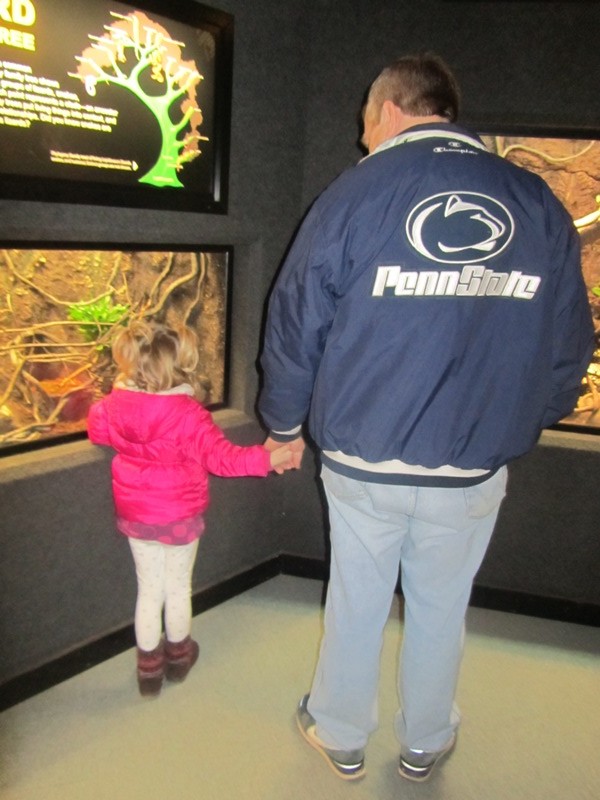 And these guys? They weren't hurting anyone that day. They're sleeping for the winter!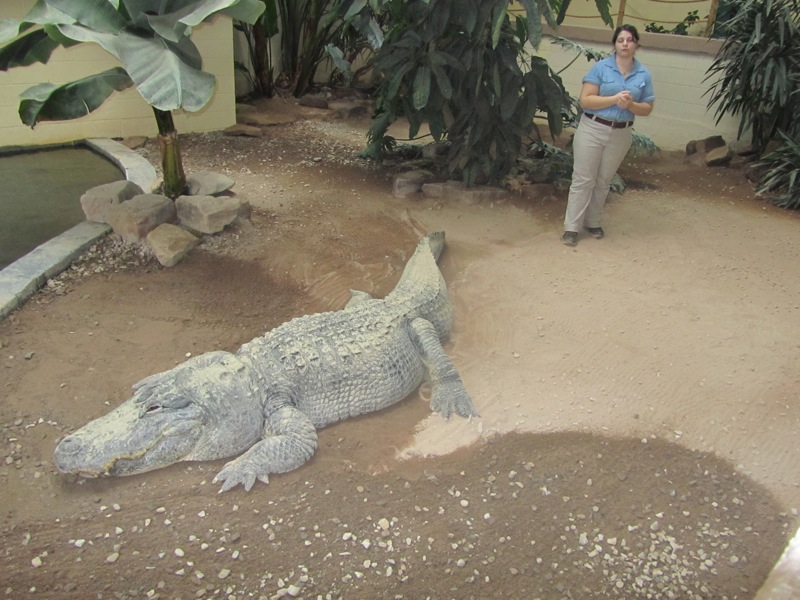 Hooray for hibernation. If only the snakes had been asleep.
What are you afraid of? Is there a reason behind your fear? And do you agree that Ireland must be a magical place since it's snake free? I need to figure out a way to move there.