Like the rest of America, I'm a HUGE fan of the Hunger Games series. I've read each of the books … twice. I'm actually surprised I haven't hit them a third time yet. I will.
For months and months, I've been following the making of the movie very closely. I follow entirely too many fan sites on Twitter, such as The Hob Org, Mockingjay.Net and Hunger Games: Down With the Capitol. Long before Jennifer Lawrence was cast as our beloved Katniss, I looked through pages and pages of fan art trying to picture how she'd look.
In many ways, I'm glad I read all three books before the movie was cast. Although, by the time I re-read them, I knew who the cast was, and it was really fun to picture certain actors as some of my favorite characters, particularly Haymitch, Cinna and of course, Effie.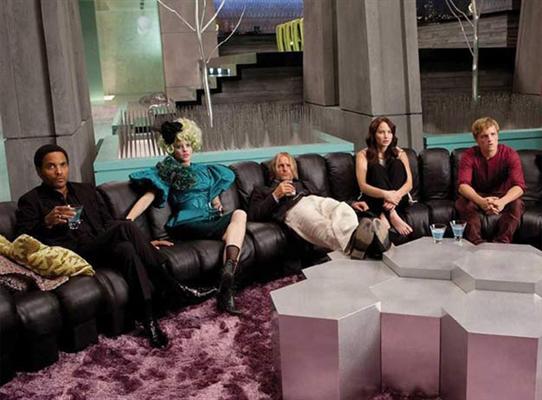 Despite the fact that DadJovi was out of town, there was no way I missing seeing "Hunger Games" on opening night. Even if I had to bring E. and blindfold her and earmuff her during the scary parts, I was going. I have issues.
Thankfully, my friend who has a daughter E's age (and is her current BFF) let me drop E. off for a few hours so that Katy and I could go see it. We lined up amongst the teeny boppers (and some surprisingly young moviegoers), ready to cheer on our girl Katniss.
OK, here's where things get spoilery. If you haven't read the books but plan to someday, stop reading. If you haven't seen the movie yet but plan to, stop reading … for now. Then, come back after the movie and weigh in with your thoughts!
Like any book-to-movie adaption, it's always equal parts thrilling and equal parts groan-worthy to see the world you pictured in your mind brought to the big screen. There are going to be script deviations. It's inevitable.
As much as I tell myself to "stop it, stop it right now," I have the hardest time during the movie avoiding comparisons. I do it with all the Harry Potters, Twilights and others, like The Help. It's an illness. I can't help myself.
And, of course, the "Hunger Games" was no different.
Before I even start with my dork-girl well-reasoned criticisms, let me just say from the get-go that I LOVED the movie. I truly, truly did and I will be seeing it at least one more time in theaters. It was gorgeous, the entire cast was amazing, and, for the most part, it was very true to the spirit and heart of the books. I started crying at the Reaping and didn't stop throughout a lot of the movie.
But if I'm going to nitpick (and you know I will), here were some of my biggest problems with the film:
— The Mockingjay Pin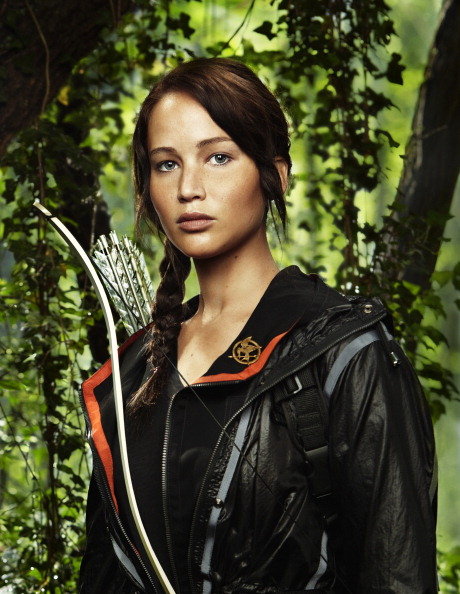 The Mockingjay is at the heart of EVERYTHING in the series. Everything. The movie makes it seem like some random coincidence. I understand having to cut some characters for timing. I do. But the very reason that the mayor's daughter gave the pin to Katniss is for what it represented. Even if Katniss didn't know what it represented, others throughout the Districts did. It was a signal of who she was and what she was capable of. The movie did a good job of making it a tangible link between Katniss and her reason for fighting — Prim. But I still think Katniss randomly picking it up out of a bin in the Hob deludes its true meaning.
— Haymitch.
Don't get me wrong, Woody Harrelson is brilliant in this role. The character was seemingly written for him. But, the whole time, I kept thinking that his portrayal was entirely too, what's the word — clear-headed? I think they missed a key moment for showing just how out-of-control Haymitch is by not showing him falling off the stage during the Reaping. And then he seems to get his act together entirely too quickly. Again, I know that the story has got to move. But this Haymitch is way too sober.
— Cato's death.
They let Cato get off way too easy in this movie. Now, I'm not saying I was actually WANTING to see his long, tortured death. But in the book, it's a slow, horrendous process. And I think that did so much mentally to getting Katniss and Peeta to their decision to eat the nightlock. They knew that a Capitol that would so mercilessly torture someone like Cato would do no favors to them.
And speaking of the nightlock, the movie gives the impression that Katniss knows exactly what she's doing. That she knows she's calling the Capitol's bluff. I admit it's been awhile since I read the books, but that's not the impression that I got from the book. I think she thought there was a chance they'd stop them, but her overriding feeling was that she was done. Done with everything. Done with the killing. Done with the Capitol. And she'd rather them both die than for the two of them to give the Capitol a Victor. Am I wrong?
**Edited after a very important Twitter conversation with Michelle:
a) what happened to Peeta's badly injured leg? Michelle reminded me that it was so badly injured that they had to amputate it after Peeta and Katniss were removed from the arena. And his bum leg becomes a big part of Catching Fire, when Peeta's trying to keep up during the Quarter Quell Games. Are they just going to forget about all that?
and b) Going back to the nightlock/Cato's death above. As I was watching the movie and Claudius made the announcement that there could, in fact, only be one winner, I was waiting for the moment when Katniss raised her bow and arrow to Peeta because she thought he might attack. And he threw his knife away. That was a HUGE moment in their relationship. Again, I hate to nitpick, but that speaks a lot to the nature of their relationship and how they each viewed the Games.
Man I'm a dork.
— The ending.
Oh the ending. Why does it end like this? How could they take such a perfect ending (a perfectly, expertly written cliffhanger of an ending that made me buy book 2 on my Kindle at 2 a.m. on a worknight!) and botch it so badly?
The movie's ending doesn't come close to illustrating the pain and heartbreak Peeta feels when he realizes that Katniss was just acting. And Katniss seemingly doesn't have the realization that she wasn't just acting but perhaps does have true (complicated, but true) feelings for Peeta. Instead, if you're relying soley on the movie, you think she doesn't have feelings for him and while he may not be OK with it, he knows that, too.
And wasn't there also some major drama involving Katniss, Peeta and Haymitch and finding out who was trying to keep whom alive? And who knew the "plan" and who didn't? Or am I thinking too much of book 2?
OK, before I talk myself out of LOVING this movie, let me point out a couple of things that the movie nailed.
— Ceaser Flickerman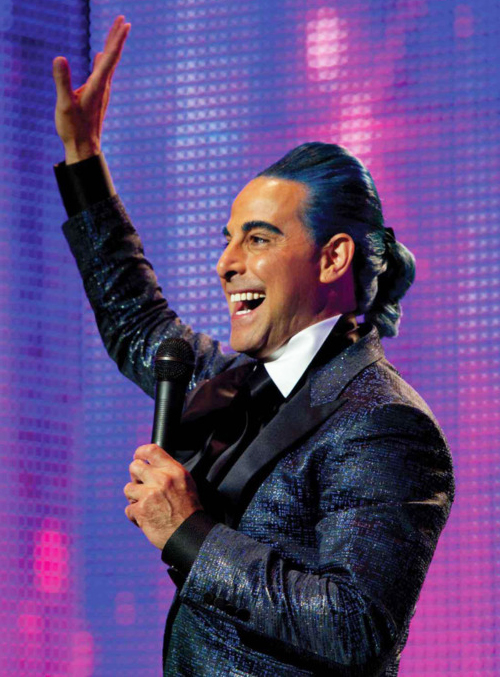 Hands down, he was my favorite character in the movie. He stole the show. From his Colbert-style video screens behind him showing every facial expression possible to the way he tried to Oprah the Tributes by getting to their emotional motivations, he was amazing. Plus, being able to hear him and Claudius Templesmith (with another scene-stealing performance from Toby Jones) provide color commentary of the Games was an excellent, unexpected bonus to the movie version.
— Seneca Crane and President Snow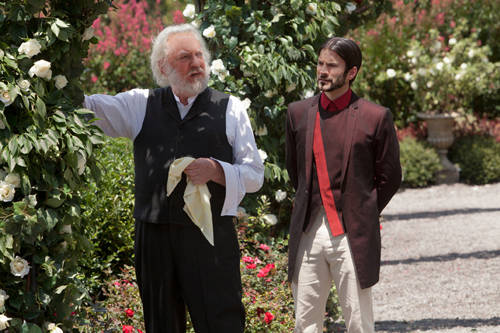 Oh, these two do evil and creepy very, very well. The movie jumped ahead a couple books to show us things we only learn about later (such as Seneca's death for failing to contain the Girl on Fire and President Snow's fear of everything she represents). I loved seeing them in action, particularly the Gamemakers' control room. From a technical standpoint, that may have been one of the best part of the movie. I had such high hopes for Katniss' and Peeta's fiery costumes. I only thought they were a so-so (although I loved her red dress and its on-demand flames). But the control room more than delivered with some very cool technologies.
— Random Disney cameo!
Speaking of the Control Room, I think I've officially hit my Disney tipping point. About halfway through the movie, I leaned over to Katy and said, "I recognize that Gamemaker. I think she's in the pre-ride video for Test Track at Epcot." Katy then told me I go to Disney too often.
I haven't been able to confirm it online yet, but I'd be willing to bet money I'm right.
OK, I'm done. I know it doesn't seem like it, but I promise, I LOVED the movie. I can't praise Jennifer Lawrence and Josh Hutcherson's performances enough. And I can't wait for the next two … although I'm already dreading the lack of Peeta in book 3. Perhaps it'll be like this movie version and we'll see a lot more of him in the Capitol than we did in the book.
And I'm dying to know who will play Finnick and Beetee!
Now it's your turn! What did you love and perhaps not love as much about the movie?