I'm still not sure how I feel about Disney re-releasing its classics in 3D form. I completely understand why they're doing it. And let's be honest — our family is already psyched about the re-release of the Star Wars movies starting this year, so who am I to complain?
When the "Lion King 3D" came out this summer, I never dreamed it would do as well as it did (I mean, it crushed the new releases, including Brad Pitt!). And we certainly didn't turn down the opportunity to attend a free Disney screening that it holds for local bloggers.
I guess my problem (which is probably too strong of a word) with the re-releases is that we're still in that phase at home. Movies like "Lion King," "Finding Nemo" (the next 3D release) and "Beauty and the Beast" are still in heavy rotation in our house. In other words, we haven't reached the nostalgic phase for them yet because we're still watching them so frequently!
But those geniuses as Disney have found a way to hook me with these re-releases — new shorts featuring new stories with some of our favorite characters. I ADORED the "Toy Story" Hawaiian vacation and Small Fry shorts before "Lion King" and "Muppets," respectively.
When I saw what the short was going to be before "Beauty and the Beast 3D," I knew Disney had done it again. They'd hooked me.
I love, love, love "Tangled," especially a certain crooked nose hero. I have an odd attraction to affection for Flynn Rider. I just think he's hilarious, and "Tangled Ever After" does not disappoint. E. and her little buddy howled with laughter at Maximus and Pascal's antics. Here's a small clip from it:
It's adorable, and it made me even more anxious for a "Tangled" sequel.
I learned today that I'm apparently the only one who's not chomping at the bit for the return of "Beauty and the Beast." I've been to maybe eight or nine of these Disney screenings now over the past year, and I kid you not — I've NEVER seen one this packed. It was nearly standing room only. Mark my words: "Beauty and the Beast 3D" is going to be HUGE.
We were there with plenty of time to spare (at least compared to previous screenings) and the only seats left were in the front two rows. Neck crane time!
I always get four tickets to these events, so we try to bring a different one of E's buddies every time. This time, we brought her friend who I know loves Belle just as much as E. does. These two were actually psyched that their mommies let them sit so close to the front for a change. Are these two excited 3-year-olds, or what?
OK, I'm not going to lie. The movie was great. There's just something so beautiful about the hand-drawn films, particularly on the big screen. What I love about the 3D treatment of these movies is that it's not that things are flying at you — it just makes every scene seem to have such depth. You're noticing details that you've never seen before. Then again, I'm always suspicious that the filmmakers have (George) Lucased the film and added new elements. So I spent so much time wondering, "Is this new? Was that deer always there? Oh, and did Lumiere just get an extra solo?"
Actually, after the movie, my friend and I realized that neither of us had sat down to watch the full "Beauty and the Beast" in a really long time. That's usually my time to scramble and get things done and clean up one mess before E. makes another one. So there could have been some new scenes added because I'm not 100 percent sure anymore!
My two favorite parts remain the opening number "Bonjour" (although I think it's technically called "Belle") and Gaston's song. Is there a better villain than Gaston? I don't even think it's fair to call him the villain. He's just so amazing. And with lines like "I'm especially good at expectorating," how can you not love him?
And as far as princesses go, I can mostly get on board with Belle. I mean, she exhibits the classic "smart girl" behavior — reading voraciously.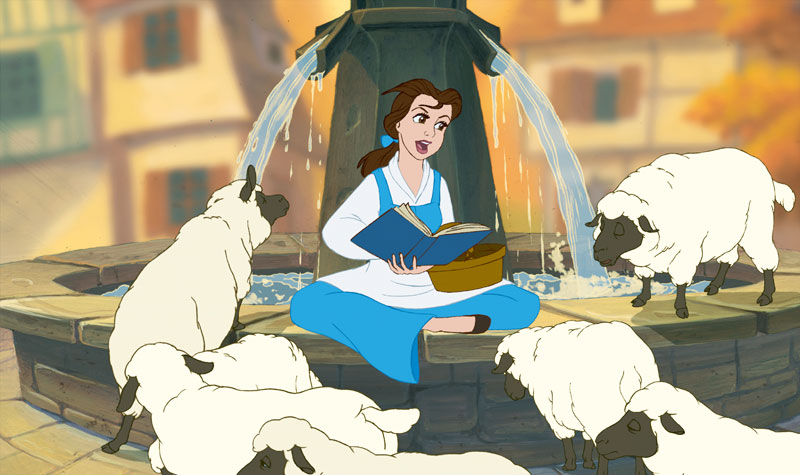 She's smart, head strong, outspoken and independent. I know some circles think she's a horrible role model because she takes quite a bit of verbal abuse from the Beast for awhile (not to mention being imprisoned by him). But I think she still holds her own ground pretty well. Actually, watching it closely today, I was surprised by how spunky that Belle really is when you're watching her with a critical eye. She's brave, even under attack, and stands her ground. Wait a minute, if E. tries to use those same lessons on me, I'm toast when she's a tween. Darn you Belle!
So even though I hate that the marketing machine refuses to merchandise in her anything but that yellow ballgown, I can still get  behind Team Belle. And despite his grumpy ways, E. has long been a devotee of the Beast. She's always been the only tiny tot who rushes to hug him at Epcot.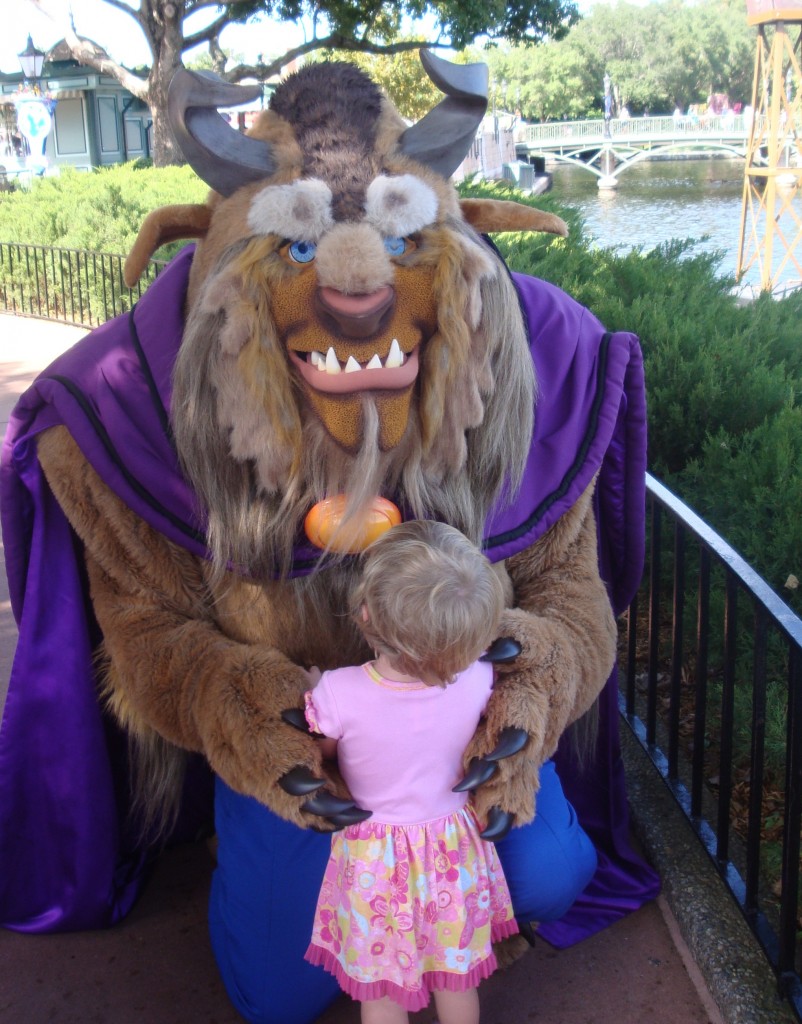 No, seriously, she DIGS Beast.
So, all in all, it was a nice little Saturday morning. It was a perfect girls' morning out, and I'm hoping this revives E's interest in Belle and kicks Sleeping Beauty to the backburner for awhile. That chick could learn a thing or two from Belle.
And it was more fun than I anticipated to see Belle and the Beast dancing under the stars as Mrs. Potts crooned "Beauty and the Beast." There's a rumor a tear or two may have escaped from my tear ducts, but I can neither confirm nor deny that information.
Disclosure: I received four free passes to attend a media screening of "Beauty and the Beast 3D." Those passes do not come with any strings attached, meaning I'm not required to blog about my experience in exchange for the tickets. So you know that all the opinions above are things I just felt like sharing with you. In other words, the preceding is 100 percent my own opinion.
What Disney classic would you like to see return to the big screen? And am I the only person who (slightly) crushes on animated dudes? Please tell me I'm not.