Well, I'm now 36. How did that happen? I understand so much better now the phrase that used to make me roll my eyes at older people, "But I don't feel that old!" It's true. I wouldn't say I feel 20, nor would I ever want to be 20 again. There was a lot that was great about it; but there was a lot that wasn't so great about that phase of life.
These are the good years; I'm sure of it. I just wish they wouldn't go so dang fast.
Speaking of fast, before I knew it, my birthday weekend has come and gone. I certainly got my fair share of enjoyment out of it, at least.
The fun started on Saturday night when we went to Ravenous Pig with our friends. It was a good excuse to get dressed up, and since Ty of the fashion blog Ty Style Me told me on Thursday night at our Lady Bloggers meetup that I should wear my new boots with dresses, too, I took her advice right away!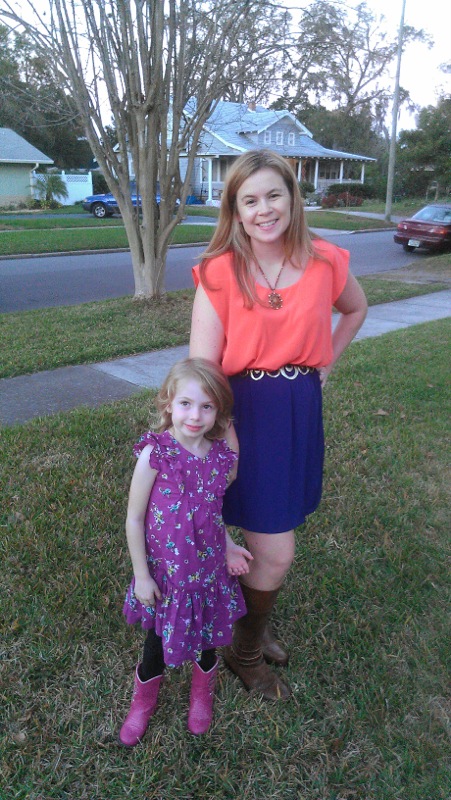 E was not impressed. Her first reaction was, "Oh, Mommy, you look fancy," followed a beat later by, "But that dress would look better with sleeves."
Rude.
At least I appear to be spot on with my color selection. My friend Jeannie and I both showed up wearing orange. Any time orange is a hot color is a good time for me (Go 'Cuse!).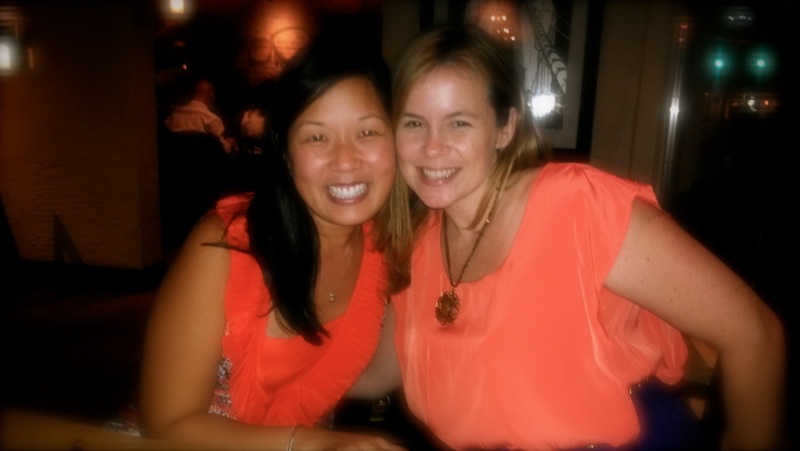 I took no pictures of my dinner, other than this beauty of the amazing gin and jam drink.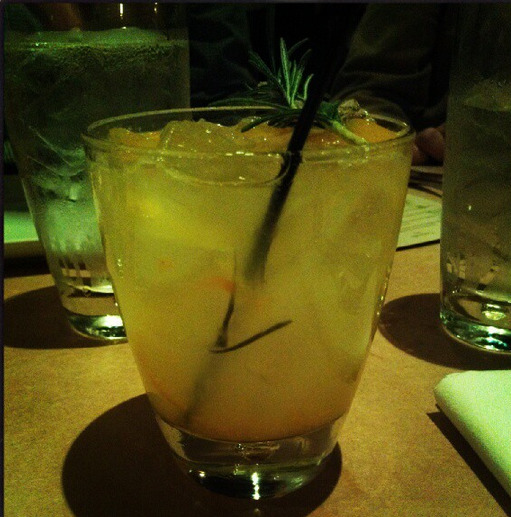 Just know that a lot of really amazing food was consumed, and I enjoyed every single bite.
When we got home from dinner, we discovered our two 4-year-olds had a fascinating way of enjoying storytime with their babysitter.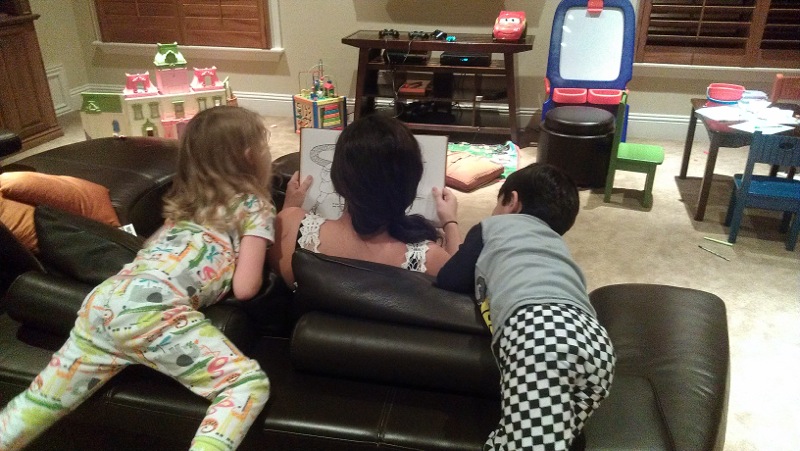 On Sunday, my actual birthday, we slept in a bit and E. woke me with a birthday card. Interestingly, she decided to give me money for my birthday.
Random, but sweet.
Somewhere, there's a Diet Dr. Pepper with my name on it.
Then, we decided to take advantage of my two favorite parts of January in Florida — PERFECT weather and no crowds at Disney!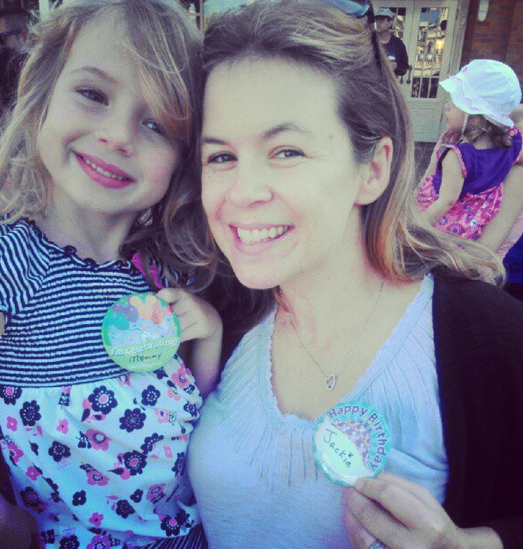 On your next birthday, I highly recommend walking around all day with a button on. I can't tell you how many times I heard throughout the day, "Happy birthday, Jackie!" That's just good old fun. Of course, E wanted in on the fun, too.
As soon as we walked in, we were greeted with the arrival of some unusual characters part of this year's Limited Time Magic Promotions. The week was dubbed Long Lost Friends Week and it highlighted some costumes from the '70s, such as the Three Little Pigs and the Big Bad Wolf; Scrooge McDuck; Ludwig Von Drake; the Robin Hood crew; Jiminy Cricket, Pinocchio and Geppetto and Clarabelle Cow and Horace Horsecollar.
I really wanted a picture with the Three Little Pigs. They just feel so quintessentially old school Disney, but their line was always way too long. We made due.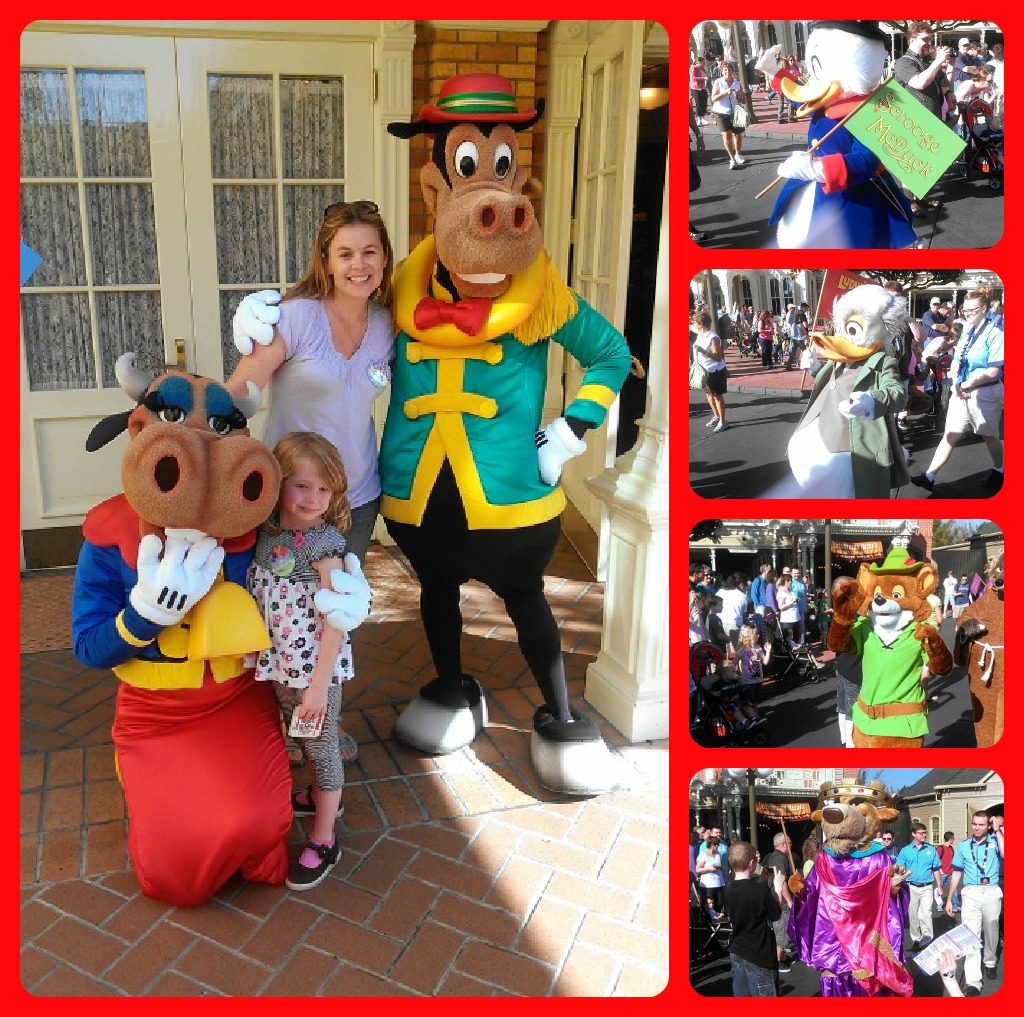 And since E. is such a character hugger, we had to keep waiting for her to make her rounds before we could take the pic.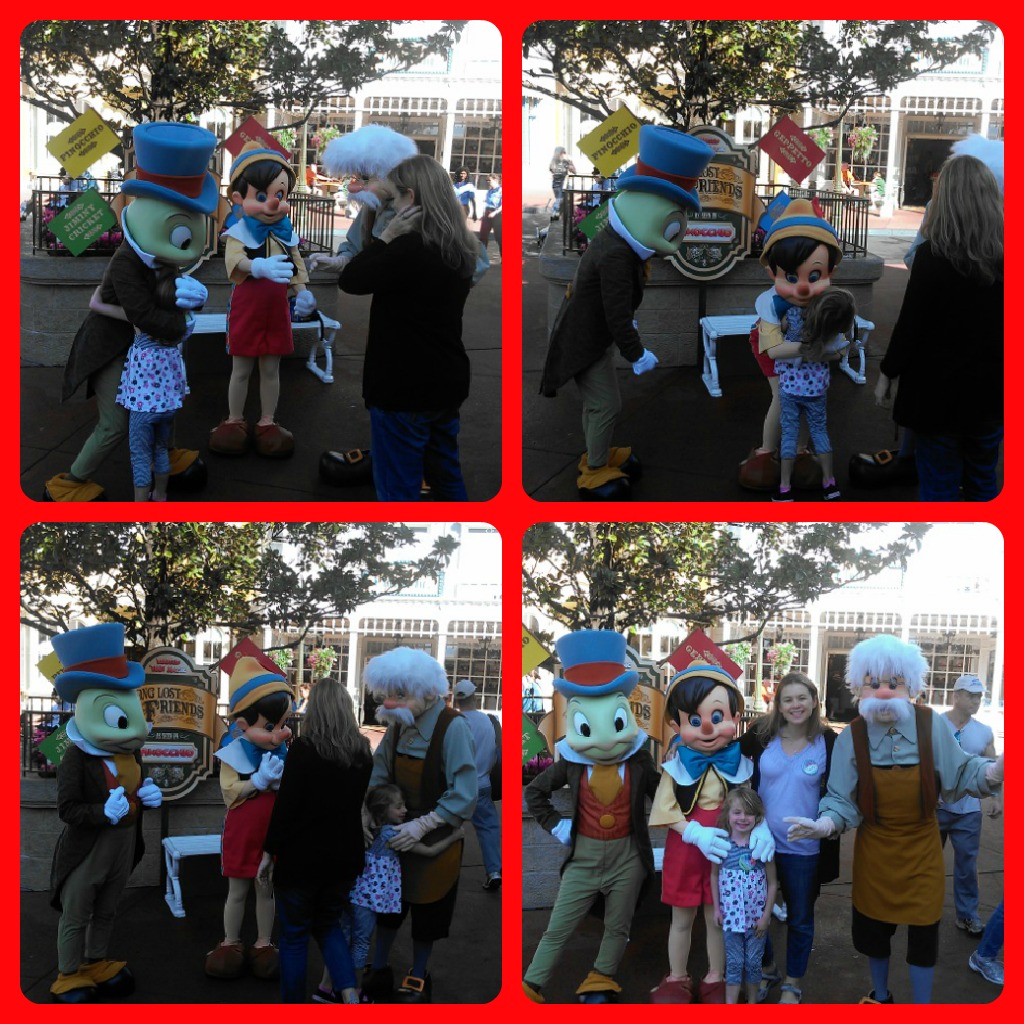 After we got that out of the way, we enjoyed our relatively crowd-free day at Magic Kingdom. One of our priorities was to FINALLY eat at the new Be Our Guest restaurant in the New Fantasyland.
There are definitely a lot of amazing design features, including snoring suits of armor; falling snow outside the windows in the main ballroom; a dark and gloomy Beast's West Wing, complete with the magic rose and mirror; a life-size dancing Belle and Beast and fun little touches everywhere.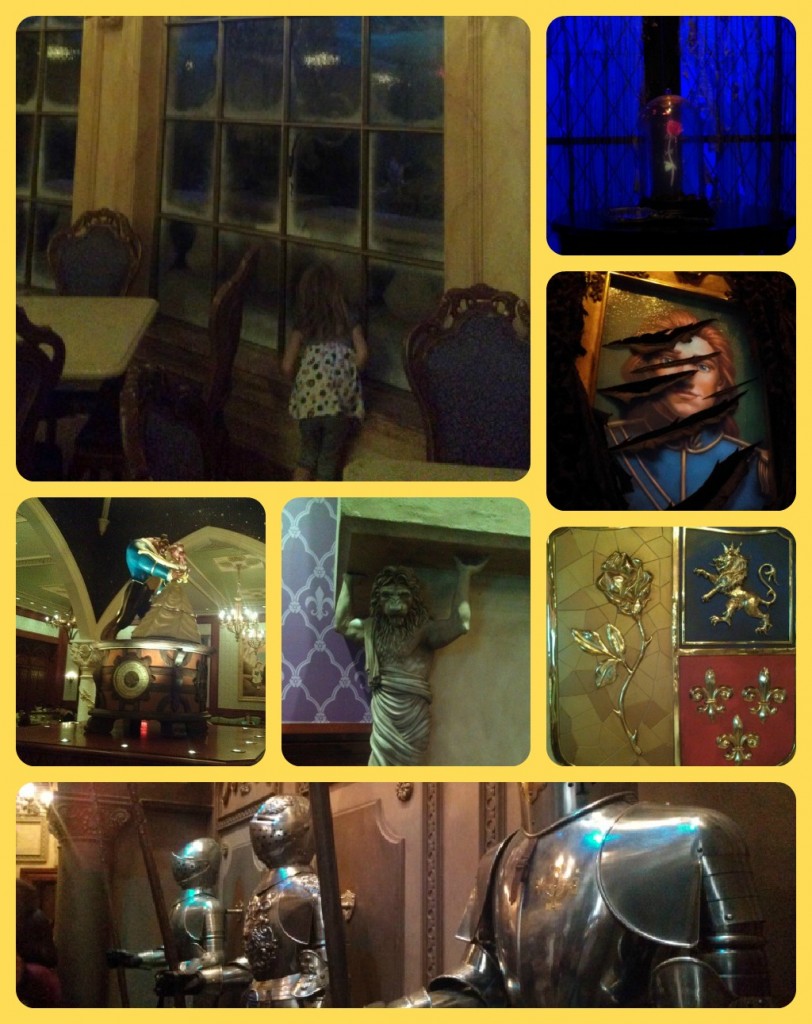 We arrived at about 10:30 and only had to wait about 10 or 15 minutes to place our order on the touch-screens. The way they track you via your magic rose to bring lunch to you, no matter which of the three rooms you choose, is pretty awesome. Our food arrived within a minute of us sitting down.
Since we'd had such a big meal the night before, DadJovi and I stuck with salads. He got the quinoa salad and I got the tuna nicoise salad, which had a perfectly poached egg on top and some delicious champagne vinaigrette. The roasted golden beets in DadJovi's quinoa salad were also pretty great.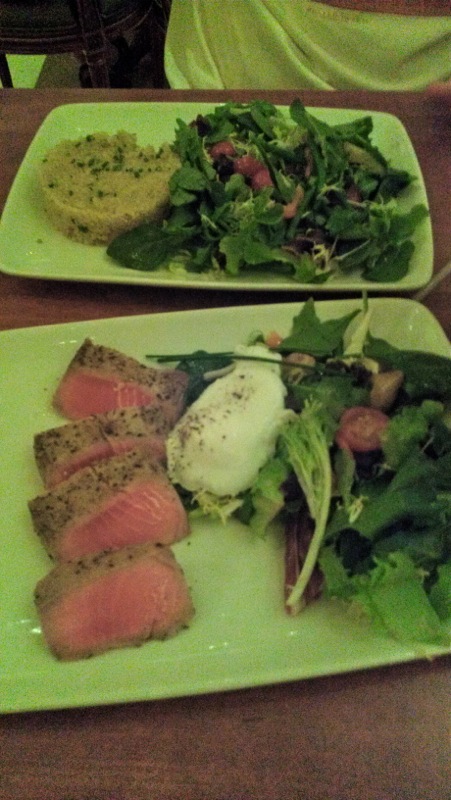 Clearly the lighting was terrible, but you get the idea. They were great.
After our early lunch, we leisurely walked around. We found some old friends.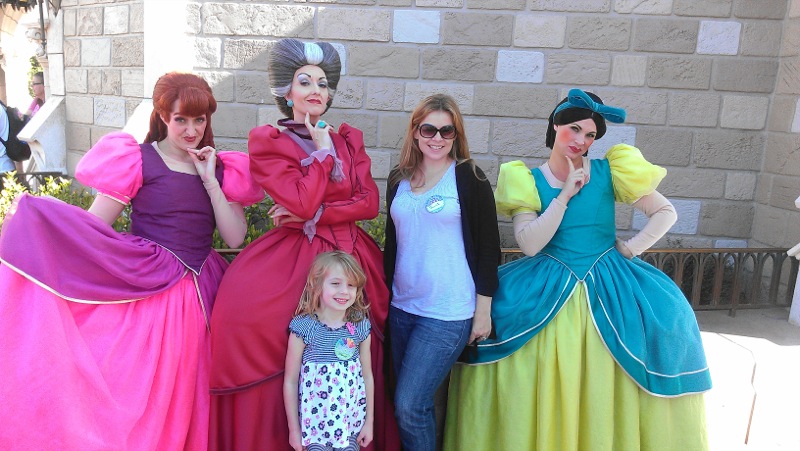 These lovely ladies are one of my favorite character meet-and-greets. For starters, they're so D-List that they don't even warrant their own official Disney photographer (at least not that I've ever seen). And secondly, they think I'm hilarious.
When we needed a break, we decided to hit the People Mover. DadJovi had an ulterior motive — he is DESPERATELY trying to bribe convince E. to ride Space Mountain now that she's tall enough. It's not working, but the People Mover came as close as we've come since it goes right through Space Mountain. We think one of her friends must have told her it's scary; it makes no sense that she won't go on it. She rides Thunder Mountain, the Haunted Mansion and Mission: Space, all three of which are faster and more intense than Space Mountain.
And for those of you who think E always smiles in photos, here's just a glimpse of what it sometimes takes to get a keeper.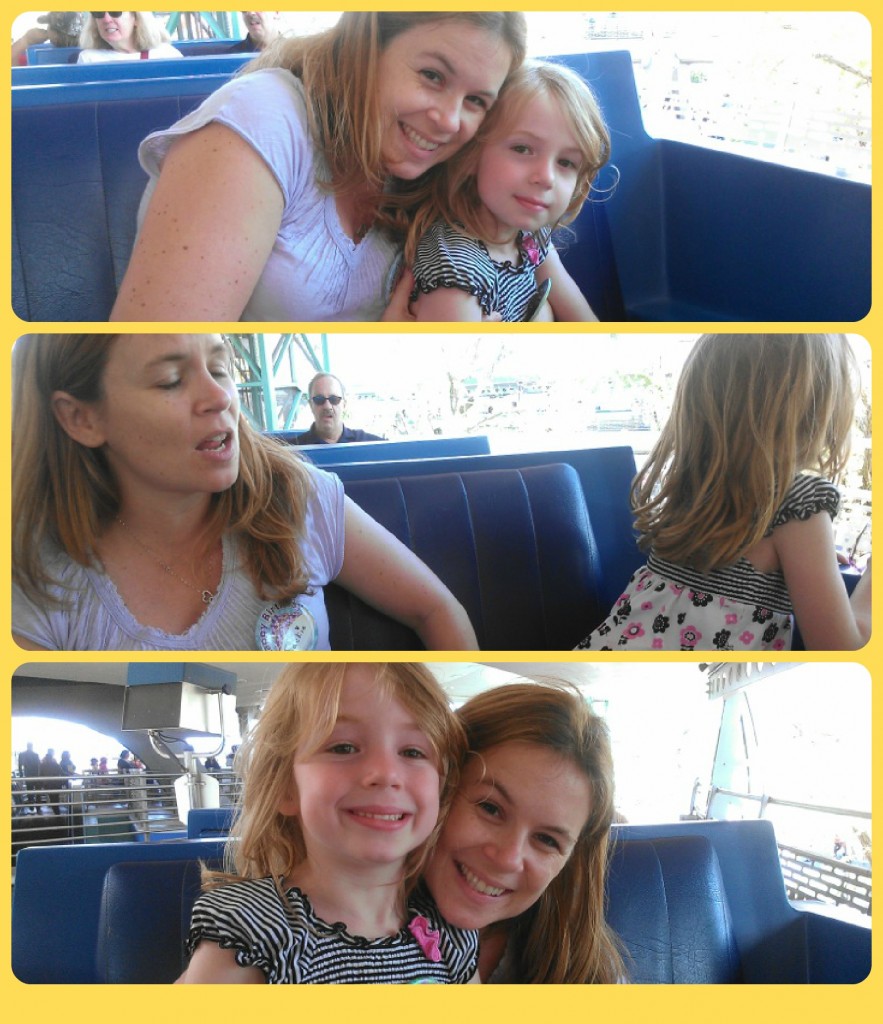 Given the light crowds, we even got into the line for one of E's favorite rides, the Jungle Cruise. 15 minute line FTW!
It's all due to her all-consuming obsession with elephants right now. She practically squealed when we got to the elephant bathing area, even though she's been on the ride about 50 times.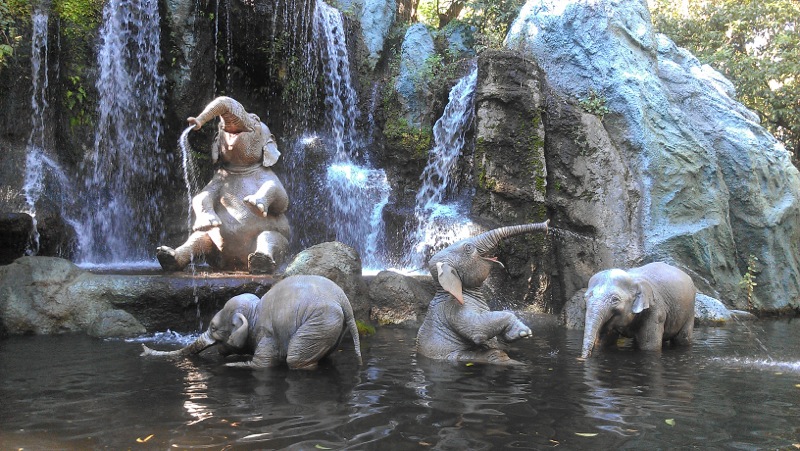 We left by mid-afternoon. But on our way out, there was time for a refueling stop at the Polynesian.
That, my friends, is my new poison. It's called a Skinny Coconut Mojito and it contains: Skinnygirl Coconut Vodka, coconut water, mint, fresh lime juice and agave nectar. MUST.RECREATE.AT.HOME.ASAP. So good and refreshing, without being so sickeningly sweet like most mojitos.
While I enjoyed my view, E. enjoyed frolicking in the sand and made new friends.
DadJovi told me his parents used to always stop there on their way out of Magic Kingdom for a drink before heading home and I now understand why. It's like an instant vacation, even if it only lasted for 20 minutes. I was so relaxed that I didn't even cringe when I heard E yell, "Look, Mommy, I'm making sand angels!"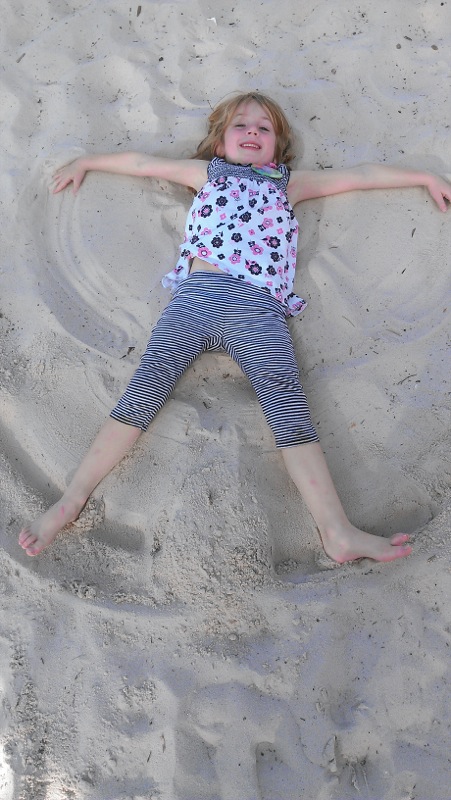 And just when I thought there couldn't be any more fun, DadJovi stopped at Whole Foods to get stuff to make for dinner and that night, my cousin-in-law Jen snuck onto our lawn and left me a birthday surprise — a front yard full of pinwheels!
That's worth getting up for the morning after your birthday.
And now, we have two weeks to prepare for E's 5th birthday. Seriously, time. SLOW DOWN!
Were you afraid of roller coasters as a kid? What are the most fun birthday surprise decorations you've ever received? I need some fun ideas for E's birthday!