I feel like I'm starting to give y'all the impression that I'm a Christmas nut. Don't get me wrong — I certainly love the holidays. But I'm also not one of those people who counts down for months until Christmas Day.
Although, I've got to say, since having E., I've been crazier and crazier every year for the holidays. There's just something so magical about experiencing it all through the eyes of a child for whom EVERYTHING is new and exciting. Then again, when you're married to a big kid like my husband, even at 36, he still finds everything new and exciting too, so the two of them tend to sweep me along with their excitement.
One of our favorite traditions is heading out to Hollywood Studios for the Osborne Family Spectacle of Dancing Lights. We like to go in November when possible since the crowds tend to get heavier and heavier the closer we get to Christmas. This past weekend, we started looking ahead on our calendars and realized we don't have many free weekends between now and Christmas. How did that happen already?!?
Since Hollywood Studios hung the lights earlier than usual, we figured we'd take advantage and get out there sooner rather than later.
We arrived after lunch and discovered the park was much more crowded than we'd anticipated. Blerg. We grabbed some Star Tours Fast Passes, then headed toward the Magic of Disney Animation because there was something new to see — the Wreck-It Ralph meet and greet!
So, here's a tip. We got into the area with the character meet-and-greets (Fantasia Mickey and the Incredibles are in there, too) around 2:15. The Wreck-It Ralph characters weren't due back until 2:40 and there was no line …. yet. Rather than leave and come back (and since everything else was crowded, too), we decided to hang out and let E. color with the animator/cast member who hands out coloring sheets. By about 2:25 or so, a few people got into line, so I joined them while E. kept coloring.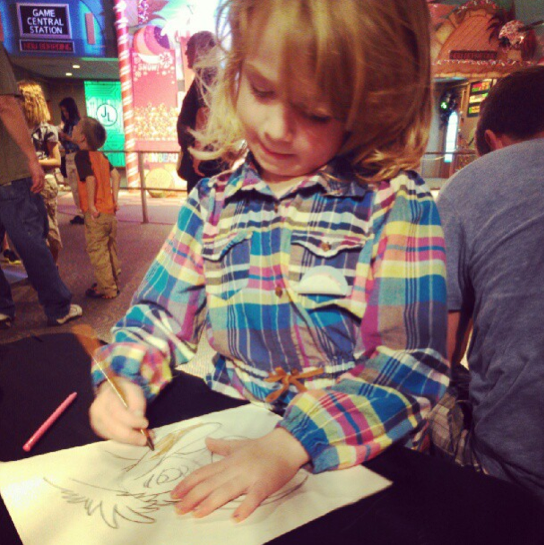 And I'm glad I did.
Before I knew it, we were in a super long line. Thankfully, we were toward the front and there was some cool things to check out. They have the whole queue area set up like Game Central Station.
Finally, it was time for E. to see her favorite two new people — Ralph and Vanellope.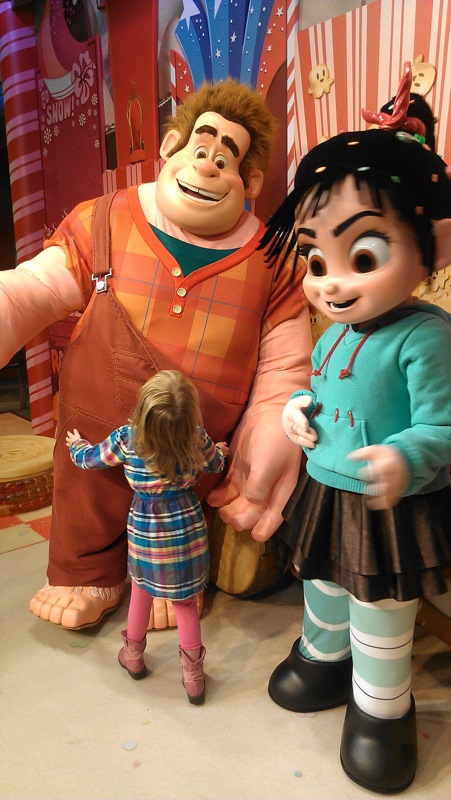 Yeah, they're both a little terrifying but E. LOVED them. It doesn't matter who the character is, she always barrels right into them for the hug. And since E. is obsessed with all things Wreck-It Ralph right now, including the movie and the game for phones, she was super, duper excited.
Vanellope even fist-bumped E., exactly the way she does in the movie. So, chances are if you see E. anytime soon, she's going to fist bump you.
After all that waiting, I was ready to really get into the holiday spirit(s).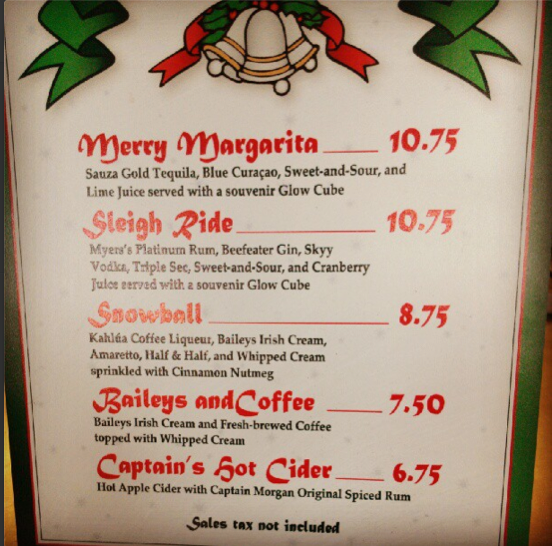 I really, really wanted the Snowball. But I figured I should probably avoid a 10,000 calorie drink. Instead, I went with the Captain's Hot Cider. It was the perfect holiday hot toddy.
At last, it was finally time to light the lights.
And as always, it was glorious.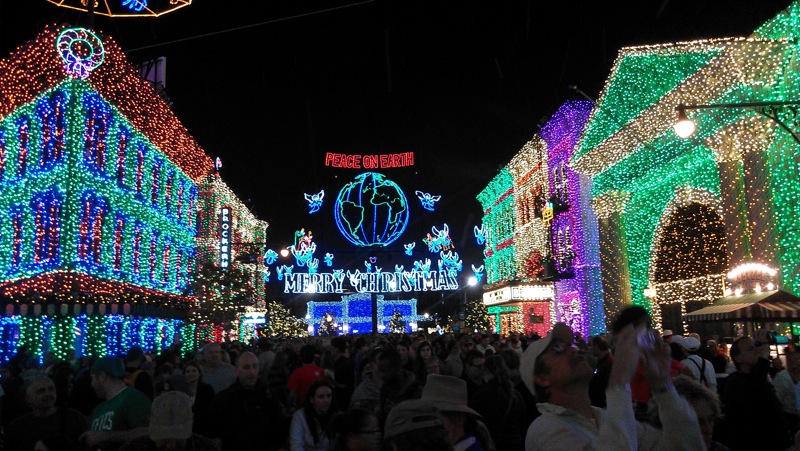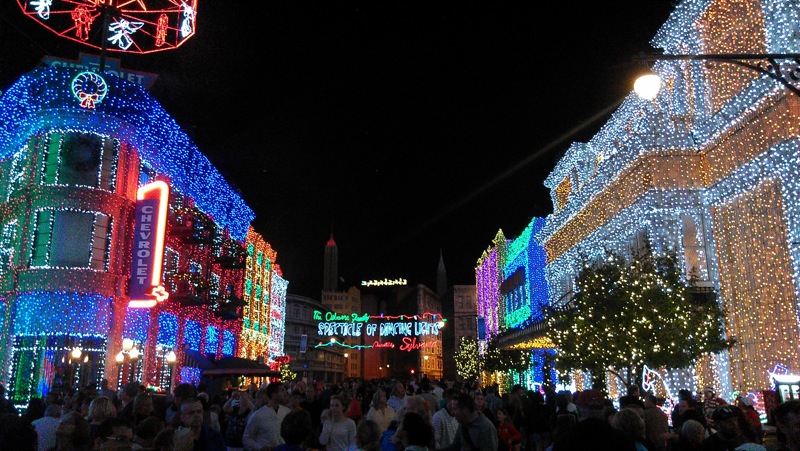 It's so wonderful. Despite the crowds, this was one of my favorite years because there was a slight chill in the air, so when the soapflake snow fell, it felt slightly more authentic than usual.
I won't bore you with all the fawning over the Osborne lights, especially since I've already written about them here, here and here.
But I will share something that almost ruined the experience for us. I'm a firm believer that if you don't photograph something, it didn't really happen. OK, that may be a slight exaggeration … but not by much. I still regret the fact that we didn't get a family shot in 2009.
The hard part about getting "the shot" is that you have to do it between songs, when the lights aren't dancing. This year, we tried three different times to get a good picture, much to E.'s and my husband's annoyance. Sadly, the best of the bunch is only meh.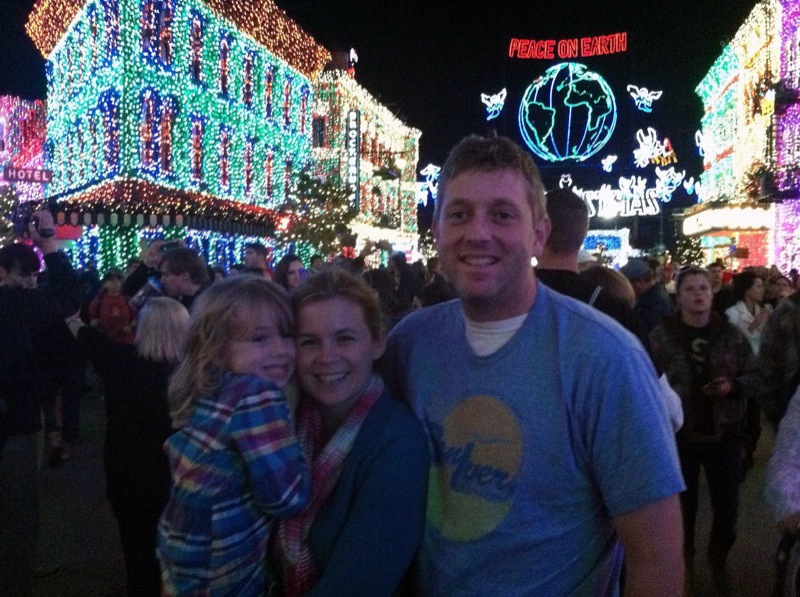 Oh well. At least there's proof it happened.
And in that end, isn't that the reason for the season?
Happy holidays!
What are some of your favorite holiday traditions? Anything that's on your must do list every year?