We may have reached our Disney tipping point this weekend.
While I recovered from my big night out on the town, DadJovi got up early on Sunday and took E. to Magic Kingdom. When we saw earlier in the week that Sunday was a 3 on the Easy WDW crowd control calendar (which is a scale of 1-10) combined with the Chamber of Commerce weather, we knew it'd be a crime to miss out going.
As soon as they entered the park, they saw E's new girl crush — Mary Poppins. It was her first time meeting her, and E. has been watching the movie on repeat lately. So you could say it was love at first sight.
The two of them then quickly hit some of their favorite rides — Peter Pan, the Haunted Mansion, Winnie the Pooh and the Swiss Family Robinson treehouse. Before leaving, they stopped by to say hello to the princesses. E. worked her way through the line, first visiting Aurora and Belle. Then, something unexpected — and a little bizarre — happened. As she approached Cinderella, she looked at E. and said, "I've seen you before!"
Yes, the Disney princesses now recognize my daughter. Yup, it's official. We go to Disney too much.
I'm wondering if it's actually E's wand they're remembering. My father-in-law found it at a yard sale this fall and it's clearly an out-of-production number. When you twist the faux crystal heart on top, it cycles through the princesses and changes color to match them (pink for Sleeping Beauty, blue for Cinderella, etc). I don't know if the "real-life" princesses are just so used to see the same products all the time, but for whatever reason, they all go gaga for it.
But, I'm going to just believe that my daughter is so enchanting that they can't help but remember her. I mean, look at this smile.
I mean, they wouldn't say that they remember a child to every child would they? What if it was a kid's first time visiting Walt Disney World? I mean, that would be confusing for a little prince or princess.
Or, did we just fall for magic? In any event, E. thought it was THE BEST THING EVER that Cinderella remembered her from her previous visits.
Because my husband and daughter both operate under the philosophy that it's never enough, they headed from Magic Kingdom over to Epcot for lunch. They had lunch in Mexico, rode the Three Caballeros ride, Test Track and some energy ride starring Ellen Degeneres (random), and even found some friends on the way out.
Tigger started doing what Tiggers do best — bouncing!
But wait, there's more! When E. tells her Daddy that she still wants to ride Star Wars, do you think he's going to say no? Know what that means? It's time to head to park number 3 — Hollywood Studios. Seriously, I'm so glad I stayed home. I was exhausted just getting texts about their day.
At Hollywood Studios, they went right to Star Wars, snapped the picture below and peaced out. Even E. looks exhausted in this picture.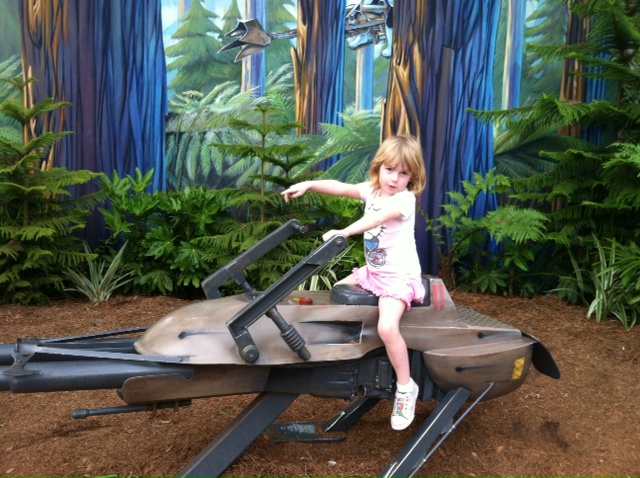 So, yeah, E. is now on a first-name basis with the princesses. Completely normal, right? Man, if only those chicks knew what I said about them behind their backs. But who am I to stand in the way of my 3-year-old's fairy tale dreams coming true?
Yup, she leads a charmed life.
Who is your favorite Disney princess? We've got an in so I might be able to arrange a private meet-and-greet.