This week, we lost another member of our family to cancer.
DadJovi's aunt Bobbie died on Monday at 82 of lung cancer. Six years ago, she was diagnosed with — and beat! — breast cancer. But a few months ago, she was diagnosed with lung cancer and she went quickly. Lung cancer doesn't eff around. It's brutal.
Bobbie was a fabulous woman and always made me feel so welcome in the family. I wish I had more than eight years' worth of memories with her, but I'm incredibly grateful for them. Her daughter lives just a couple streets away from us and is the person I'm closest to in DadJovi's family, so even when I didn't see Aunt Bobbie, I always knew what was going on with her via her daughter.
She was also so sweet to E. This was their first meeting:
It's so funny to look at that picture. E. in some ways looks so small but I also know how big she was — she was only about 5 weeks old in that picture. Oh, my giant baby.
Some of my best memories of Aunt Bobbie are from our wedding in Key West. She loved tooling around Duval Street in the golf cart they'd rented for the weekend.
I'm just so tired of losing loved ones to cancer. I know everyone has to die of something, but cancer not only cuts lives short, it just destroys your quality of life at the end. We recently had a doctor on our radio show, and although I'm not sure of all of his claims, I think there's a lot of truth to his contention that the medical machine doesn't WANT to cure cancer — it's a multi-billion dollar industry. Why would anyone with a vested interest want to lose that? (Here's the interview if you're interested in hearing more)
Of course, any time someone we know dies of cancer, it can't help but remind DadJovi and me of his mother, who died of ovarian cancer in 2007 (E is her namesake — she died when I was about 17 weeks pregnant). It was 18 months of pure hell, particularly on her body, and the type of situation that makes you question everything — our medical system, what doctors can and can't do, and of course, your faith.
The last several years have also been particularly tough on one person very special to me — my cousin Rachel. I've shared some of her blog posts via Twitter before and I promise, I've been meaning to dedicate a whole post to her awesomeness … so it's coming cuz! She was diagnosed with a rare form of cancer that originated in her appendix when she was just 29. Over the past 3+ years, she's been to hell and back many times over. She has two small children and through it all, has never lost her inner light (I'm sure she'd say that some days it burns a little less brightly than usual but trust me, it's always there).
For example, how many moms do you know who'd let their kids put a temporary tattoo on her newly bald head?
C'mon, how badass is she?
If there's anyone I've ever known who has what it takes to kick cancer's ass, it's Rachel. Here's another example. She grew so tired of all the inspirational BS "beat cancer" messages that are out there, that she came up with her own during a particularly rough patch. Well, it clearly deserved its own bracelet.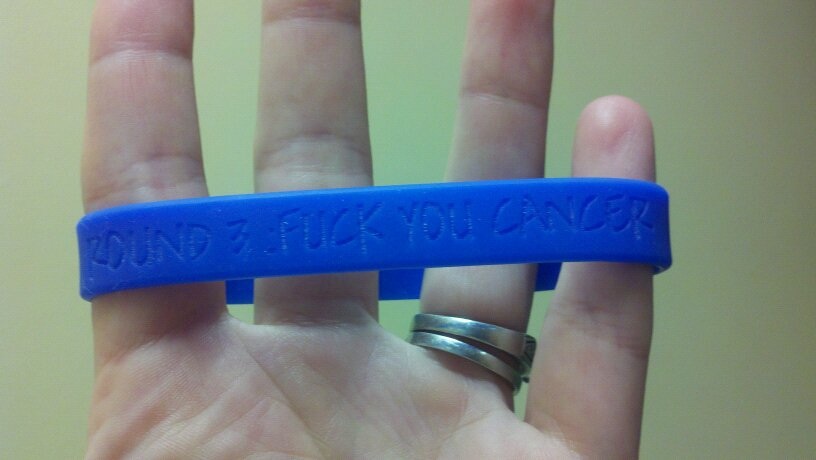 I think that says it nicely — fuck you cancer. Quit taking our loved ones before they're ready to go.
I'll be back in a few days. The whole family is in town for Aunt Bobbie's services on Friday. It actually sounds like it's going to be lovely. It'll be in a beautiful park along the river in Daytona Beach and we've been instructed to not wear black. We're also bringing E., so we had to have yet another talk with her about death and dying. I think she understands what's going on but I'm anticipating a lot more questions during the actual service on Friday. Thank God there's no casket, though — that's something I was not ready to tackle.
We all have lost someone too soon. If this post made you think of them, perhaps you'd like to share one small memory or tribute to your loved one. Or, if you don't want to share (which I completely get), try to remember something about them to yourself that makes you smile. It always helps me at times like this.