First of all, many thanks to everyone for your kind comments in my previous post. The family gave Aunt Bobbie a send-off she would have loved. It was a day filled with funny stories and tributes to her life. So, thank you again.
I ended up taking a longer-than-planned blogging hiatus because I've been buried in one of the best books I've read in a long time.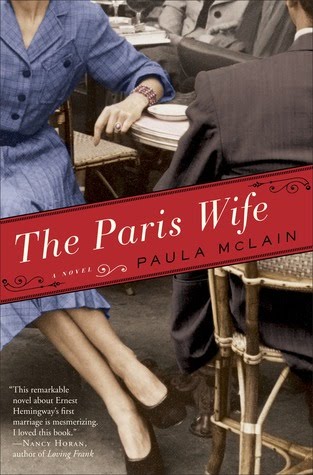 I've been consumed by "The Paris Wife" by Paula McLain. Even though we all know how it ends (the description itself says it's about Ernest Hemingway's first wife. Spoiler alert! When something says "first," it implies there will be more!), it's an engrossing look at Paris in the 1920s. My obsession reached such a fever peak over the weekend that I even rented a movie that focuses on the same period.
I am now obsessed with learning more and more about the Lost Generation. All of the characters I was reading about in "The Paris Wife" — Gertrude Stein, F. Scott and Zelda Fitzgerald, and, of course, Hemingway himself — come to life in "Midnight in Paris." I'm not a big Owen Wilson fan but he actually works in the movie. And Michael Sheen is brilliant.
But back to "The Paris Wife," I can't recommend this book enough. Even if you don't consider yourself a Hemingway fan, you'll be drawn into this story of first loves, the struggles of marriage and the things (women, alcohol, money, success, jealousy) that tear friendships and marriages apart. Plus, it's a pretty great history of one of the most creatively relevant times in modern history — Paris in the '20s.
This isn't my first foray into a Hemingway obsession. As you know, Key West is one of our favorite spots in the world and the stories and mythology surrounding Papa in the Conch Republic are numerous, to say the least. DadJovi and I are such Hemingway devotees that we even sent our bridal party copies of "To Have and Have Not" when we asked them to be in our wedding (he wrote it in Key West) and we included a reading from a Hemingway book during our wedding ceremony (which is interesting because I can't remember what book it's from and DadJovi is telling me as I'm writing this that he has no recollection of my brother even reading anything during the ceremony. Yup, that day is seared into our memories, huh? Do you see why I blog now? I have NO MEMORY of anything anymore. My brain is mush).
Also, years ago, on a particularly long road trip (Maine, maybe?) we listened to an audiobook of "Running With the Bulls," written by Hemingway's secretary and future daughter-in-law. Her husband (Hemingway's youngest son) eventually became a transgendered woman who underwent gender reassignment surgery. Just a little fun fact for you!
Moving along. Now that I've finished "The Paris Wife," I've taken the next logical step — spending hours on Wikipedia and other sites backing up what I read and going down the rabbit hole of the Hemingway family.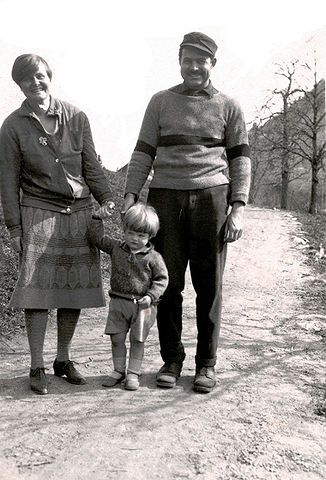 Hadley, Ernest and Bumby Hemingway, Austria, 1926. Hooray for Wikimedia Commons!
I'm also thrilled that our bookshelf includes most of Hemingway's books. "The Paris Wife" deals extensively with Hemingway writing "The Sun Also Rises," so I think that is next on my reading list, followed by "A Moveable Feast," Hemingway's autobiography about his and Hadley's (aka the Paris wife) time in Paris.
The book is technically historical fiction, but I know the author was very careful to follow the timeline of the Hemingways' life, including where they lived, the friends they spent time with, the highs and lows of Hemingway's career and more. The next time you want to be transported to another time and place, check out "The Paris Wife" and "Midnight in Paris." They really should release them as a companion set!
Do you go on streaks with your entertainment, too? Once we start watching a show or a topic that gets us excited, we tend to go on tears and consume entire series or everything related to it. And seriously, does anyone else find Owen Wilson's nose completely distracting? It's all I think about every time he's on camera.