Poor DadJovi was stuck at work all weekend long. So I had to channel his usual role — "the fun parent" — and come up with some plans on my own. As you saw, Saturday's event was a big success — Lyle the Crocodile at the Orlando Rep.
He didn't think he'd have to spend all day Sunday at work, so I told E. that the three of us would go to Disney since it's been (gasp!) almost a month since we've been. He thought wrong. Once we realized mid-morning that he'd be stuck there all day, I have to parent up and bite the bullet and take E. to Disney alone. It's been a long time since I've done that. DadJovi does it all the time; it's kind of their thing. When E's just with me, our things tend to be playdates or errands.
But I can totally be fun, too. So, off to Disney we went!
Up first, we hit the reason DadJovi has been avoiding Animal Kingdom — Festival of the Lion King.
DadJovi is so tired of this show that I think he's starting to cheer for Scar. E. and I love it, though. Seriously, when the Broadway production of "The Lion King" comes to town every year, I think, "Why would anyone with a Disney pass go see it?" The Animal Kingdom one is amazing (and yes, I've seen the Broadway version, too).
The flying birds, gracefully swinging through the air to "Can You Feel the Love Tonight?" is our favorite part of the show (yes, E. and I have the same favorite part).
One of these days I'll figure out how to take a non-blurry action photo inside. All of the flying ones were really crappy, so the moment before they take flight will have to do!
After escaping the post-show crowds outside the Lion King theater (my least favorite part of the show), we grabbed Fast Passes for the safari, then headed over to the Jungle Trek to see how the animals were reacting to the crisp weather.
We were treated to one of the coolest things we've ever experienced at Animal Kingdom — a feisty hippo!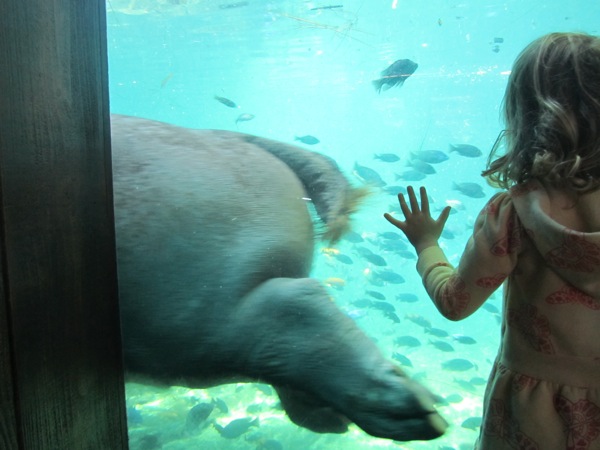 It was so cool. We watched him do three laps up against the glass before allowing some other kids have their face time with the hippo. That's one of the things I love best about Animal Kingdom — it's never the same visit twice. We've been there a ton of times and we've never seen a hippo come that close to the glass before. This guy was all over it. Too cool.
After saying hello to Timon …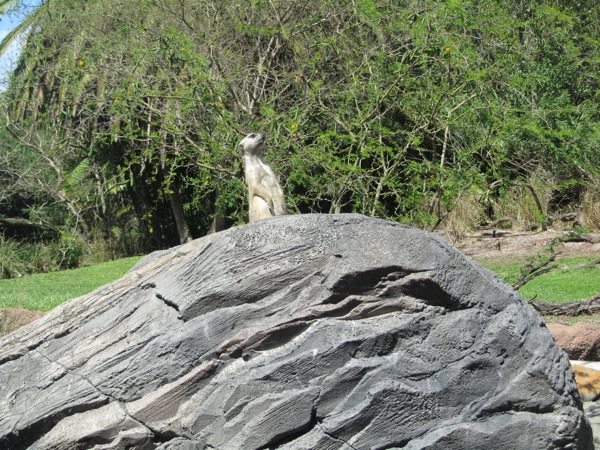 … we went to see our cousins.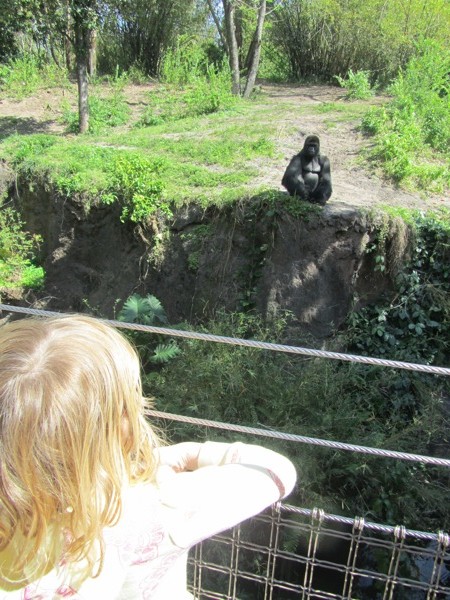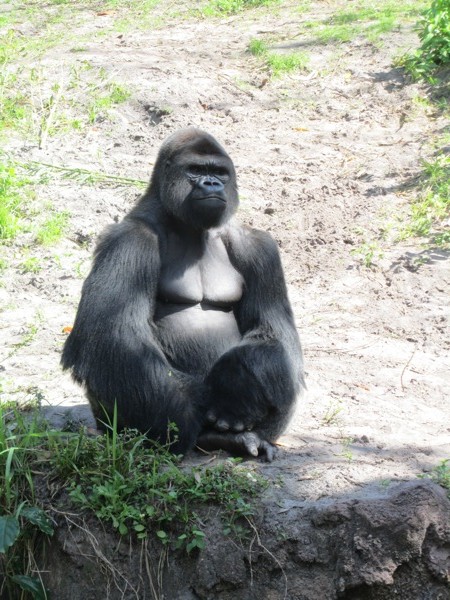 Yup, despite their gorgeous surroundings, I still have a hard time seeing these magnificent creatures in captivity. They really are so humanlike. Although, I have to admit, seeing this little gal was awfully fun.
That's Lily. She just turned 2 and she's so stinking adorable. See that piece of bamboo in her hands? She kept trying to climb it and it kept snapping back into place, sending her tumbling off it. So cute.
Then, it was time to hit the safari. Once again, we had a fun, unexpected animal encounter — giraffes by the Jeep.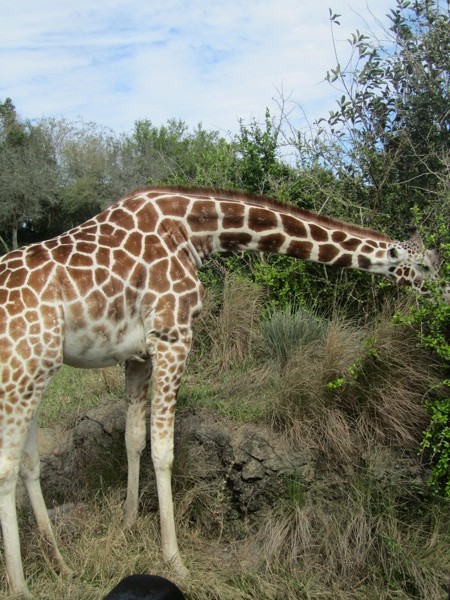 The group in front of us were castmembers (I'm guessing) because they were super safari fans and they knew our driver. One of the fringe benefits of eavesdropping sitting near them is I picked up this insider tip. Do you see what I see in the rocks? Look familiar?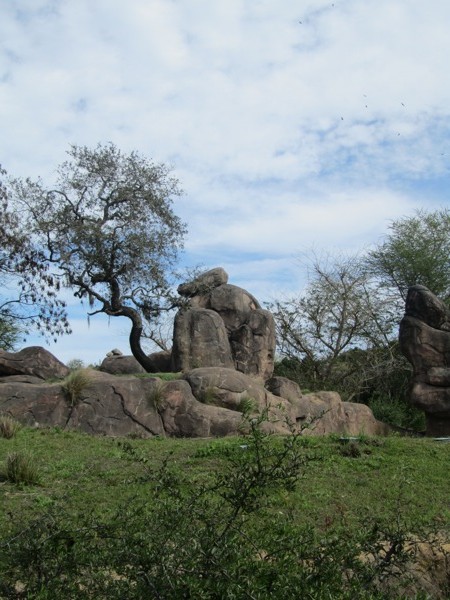 It's the rare Hidden Donald! Hidden Mickeys are for amateurs. Hidden Donalds are for true insiders. If you're having trouble seeing it, the top rock is his hat and the horizontal rock that heads toward the tree is his duckbill. Consider yourself Disneyfied.
After allowing E. to pick our seats at the "It's Tough to be a Bug" 4-D show (front row, obvs), we headed back to Asia to find our usual spots for the parade. We passed the time with Mickey Mouse ice cream and self portraits.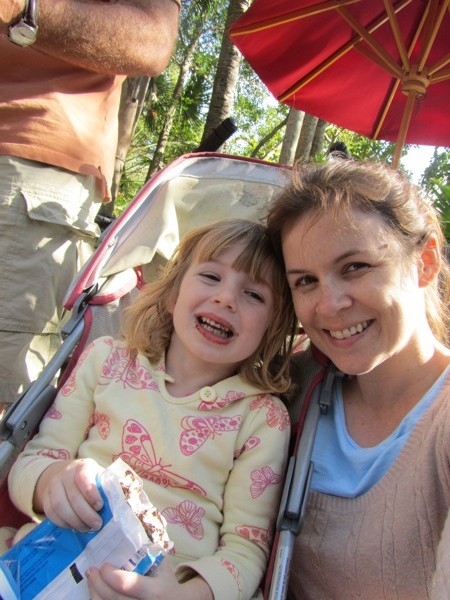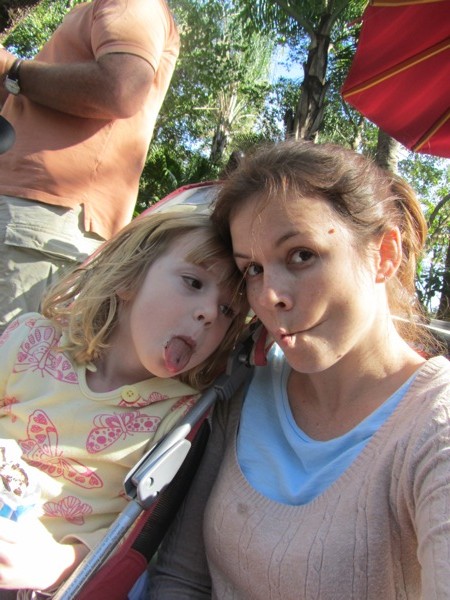 Finally, it was showtime!
And pretty quickly, E. had her first character encounter.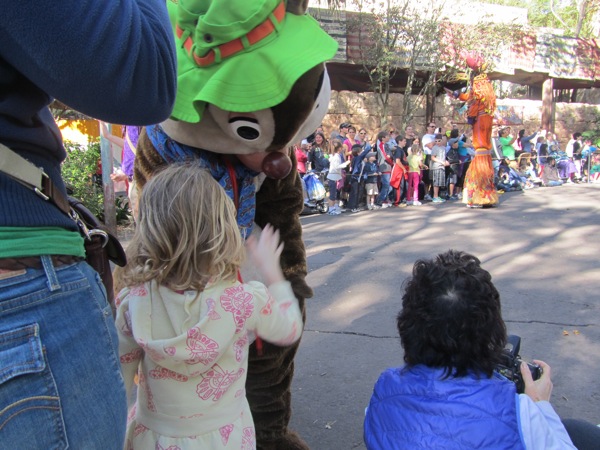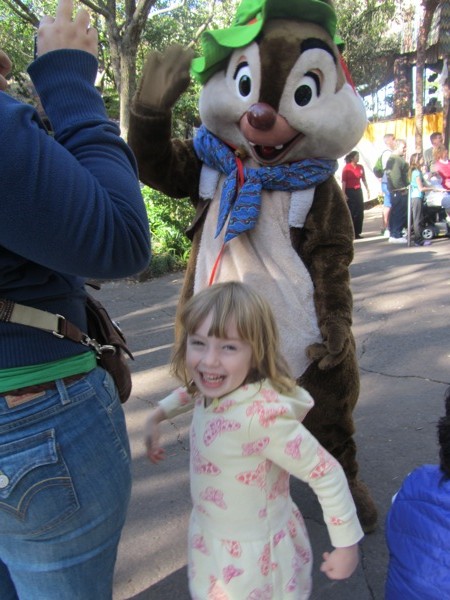 Think she was happy? That's nothing. Check her out when she caught sight of Donald rounding the corner.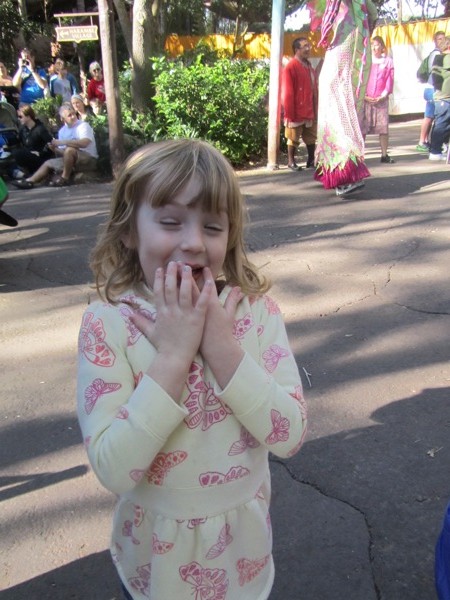 I'm not sure how she kept waving the whole parade, but she never let up.
Ah, no offense tourists, but this is the best time of the year. The parks are uncrowded. The weather is perfect. And it's just such a relaxing way to spend an afternoon (really, I swear!).
After the parade, I knew E. needed to run off all that sugar. So I set her free in the Dinosaur Boneyard.
This was the first time I've let her go into the massive structure alone. I knew she could handle it physically, but I was nervous she'd get disoriented or intimidated by some of the bigger kids. Of course, she was fine. I was the one who was a mess. It was so hard to keep track of her yellow sweatshirt bopping around the rope climbs. There's only one exit out of the area, so I wasn't too nervous about her leaving. But it was stressful always trying to figure out where she should be.
At one point, I saw her head toward the top of a slide and then I waited for her to get to the bottom. And I waited. And waited. At about 3 minutes, I was nervous but assumed there was a line. At 5 minutes, I was getting more anxious. By 7 minutes, I was nearly panicked. So I started asking other kids if they'd seen her (of course not), and then I flagged down a castmember.
Me: "Excuse me, but when the kids climb this ramp, the only place to go is down the slides, right?"
Him: "No, there's also a bridge they can cross to the fossil sandpit."
What? There's a whole other area? I sprinted up the ramp and frantically went searching for her. And this is what I found. Her calming digging for bones.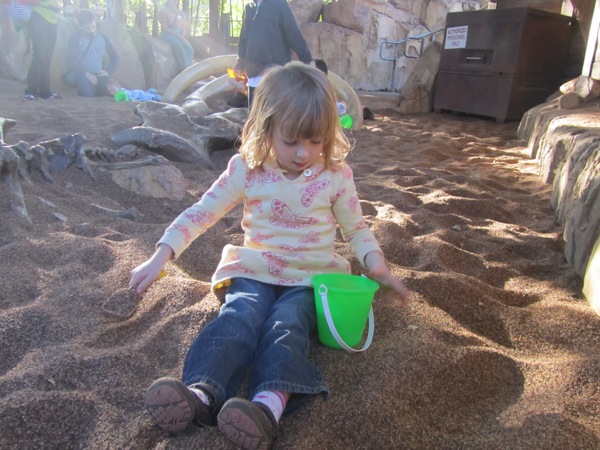 Oh, my brave, fearless, independent child. You're going to be the death of me.
After a very serious talk about straying too far from Mommy and never wandering off on your own, I knew we had to get out of there before I lost her again. So I bribed her with something she'd never done before — the Dinosaur ride.
Now that she's over 40 inches, it's fun to explore a whole new set of rides. I knew she might be a little scared, so I told her what she could expect — huge lifelife dinosaurs right next to our car. She assured me she wanted to do to it because "they're just pretend, Mommy."
First, we headed into the pre-ride holding room (hooray for no wait!). The best part of these hokey pre-ride videos is spotting random celebrities. This one featured Phylicia Rashad (aka Mrs. Huxtable) and this guy: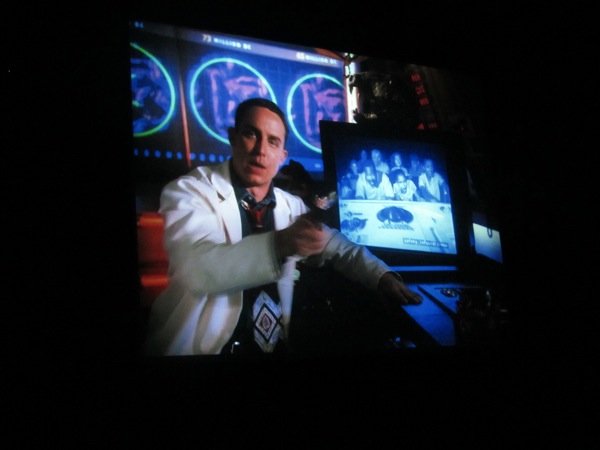 It drove me crazy the rest of the day trying to figure out who he was. Eventually, I cheated and turned to Wikipedia. Can you guess who he is or name one of his many roles?
I was right about the ride, though. E. was pretty scared. But, she never cried and I'm pretty sure she kept her eyes open the whole time (although she was holding onto my hand for dear life). She's on the fence about whether she wants to ride it again but I'm pretty sure she'll want to.
So, that was our day. I think we're finally starting to figure this whole 4-years-old thing out. She was downright pleasant the whole day. There were no tantrums and no major whining. She was hilarious at times (for example, worrying about the fire eater's safety and wondering whether the characters sleep in their costumes at night during Lion King and conspiratorially whispering to me during the safari that the driver actually did know which way to go, despite him saying he didn't) and so sweet at other times (there were a lot of "I love you, Mommy"s and "I'm having so much fun!" throughout the afternoon).
I'm starting to see the appeal of being the fun parent.
What is one of the coolest unexpected animal experiences you've had at Animal Kingdom or a zoo?