Sorry, Liz. It's been a good run. We've had some good laughs, mostly at your expense.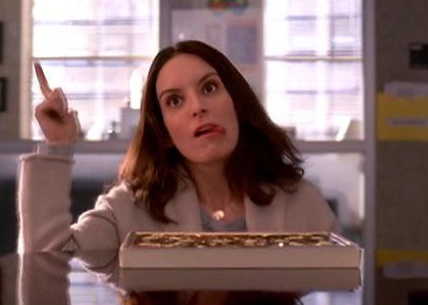 I've declared my love for you, and detailed all the things we (well, actually, your alter ego Tina) have in common.
Although you'll always have a big place in my heart, I've moved on. Don't worry. It's not you, it's me. Well, I take it back. It's not you, it's her.
I've fallen head over heels in love with Leslie Knope. Why have none of you DEMANDED that I sit down and start watching "Parks and Rec" these past couple years. I'm making up for lost time. Over the past couple weeks, we've spent every night watching episodes from Seasons 1 and 2 (and will finish Season 2 by the time you read this) on Netflix.
There are some episodes that we have to hit pause because we're laughing so hard. Real tears have fallen from my eyes people. Actual real tears.
This clip right here is just one of the 1,000 reasons I now pledge my undying love to Leslie:

She's my new feminist icon. Bitches be crazy
I tried finding one of my favorite moments so far online but couldn't find it. It's during the telethon and she's so tired from being up for nearly 48 hours that she starts naming her favorite "Friends" episodes ("There was a box? Did I mention there's a box? And Joey makes Chandler get in it. Were Phoebe and Ross there? I can't remember"). Again, tears streaming down my face.
I've tried explaining to DadJovi why I've shifted my loyalty to Leslie, but I can't quite find the right words.
I've always thought that Liz Lemon was the closest I'd come to finding someone like me on TV — she also works in TV, she has an unnatural affection for food and she's known to go slightly nuts when people don't listen to her. Yup, sounds about right.
But she's also crazy and acknowledges her crazy. I don't. I'm more like Leslie — I tend to think I'm normal and it's the rest of the world that's crazy. When, in actuality, I probably am just batshit crazy.
OK, let's get off the crazy train. I just also adore Leslie's devotion to all things politics and her girl crushes on female politicians. I hear you girlfriend. I hear you.
I know I don't really have to choose between Leslie and Liz (there's a sentence I never thought I'd be typing). It does make my heart soar that they're real-life BFFs. And Amy Poehler is married to Will Arnett. I mean, c'mon. That's just too much funny in one family.
I'm already stressed that only Season 3 is on Netflix. How quickly will Season 4 hit Netflix? I foresee a one-month subscription to Hulu Plus in my future to watch it over the summer.
So, you'll forgive my lack of blogging this week, but I just can't tear myself away from the Pawnee gang. This show is perfection.
Who is your favorite TV character? If you watch "Parks and Rec," don't ruin Seasons 3 and 4 for me, but tell me some of your favorite characters/quotes/episodes.