Yesterday morning, as he was scrambling to get out the door for work, DadJovi suddenly remembered that it was Ugly Tie Day at work (yes, he works in a professional office, not a high school in the midst of Spirit Week. Surprising given the day, no?).
He never wears a tie so not only doesn't he have many, he hasn't been collecting them long enough for any of them to really reach ugly status yet.
Suddenly, his eyes zeroed in on one. "This is perfect," he says.
"No, you're not taking that one. It's not ugly," I respond.
"Well, it's going to have to do."
What was this mystery tie? The tie he wore on the second most important day of our lives (the day E. was born being the first).
Let's take a closer look: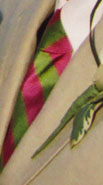 I mean, c'mon. It's a J. Crew silk striped tie. Luly Pulitizer-style green and pink combos may not be your thing, but ugly tie? I think not.
Here's another shot of it in action, this time from the front.
OK, fine, I only included that picture because I think it's a good one of me. Guilty as charged.
So I said to him, "Sure, take it in. You're not going to win."
Famous last words.
A few hours later, I get this email from him:
I won the ugly tie contest. Someone asked me if I got married at a circus.
How rude!
Perhaps they needed to see the full wedding party to put the tie in context.
Crap, could those dresses win an ugly bridesmaid's dress contest, too? Care to weigh in Missy and Jules? I swear, they turned out MUCH pinker than I thought they would when I ordered them for the girls. I had a dream that I would actually be the one wedding where the girls could get additional wear out of the dresses. Guess not.
I'm still waiting for the group shot to see what the Ugly Tie competition looked like. But it's taking a suspiciously long time for DadJovi to produce the shot. Perhaps he knows I'm going to rip all the other ties and he just doesn't want to hear it.
I'm still calling bullshit. There's no way his tie was the ugliest. Or am I just delusional? Tell me the truth. I can take it — is it an ugly tie?
So much for the timeless elegance of my tropical wedding. Whatevs. I still wouldn't change a thing.
What are some of your regrettable fashion choices? Any big-time embarrassments from a major event like a prom or wedding?