I'm back with another recap of something that happened days and days ago. Some bloggers seem like they live blog events; I'm more of a historian. Just call me Doris Kearns Jovi.
In this week's edition of yesterday's news, I'm finally getting around to telling you guys about reuniting with my beloved Jon Bon Jovi last week. Well, me, Jon and nearly 19,000 other people. But I'm sure, across the masses, he and I had a moment. I'm sure of it.
It was a moment that almost didn't happen.
The concert was scheduled for 7:30 in Tampa. I live in Orlando. A mere 80 miles separate us, but those 80 miles can be fraught with trouble.
We didn't leave until about 5:30 because it was a once-in-a-blue-moon event — parental observation day at E's ballet school. Parents are only allowed to watch classes once per session (once in the fall and once in the spring). And considering I don't shop anymore to pay for this school, I was going to get my money's worth dammit.
Besides, my ballerina was so happy to finally show off for me.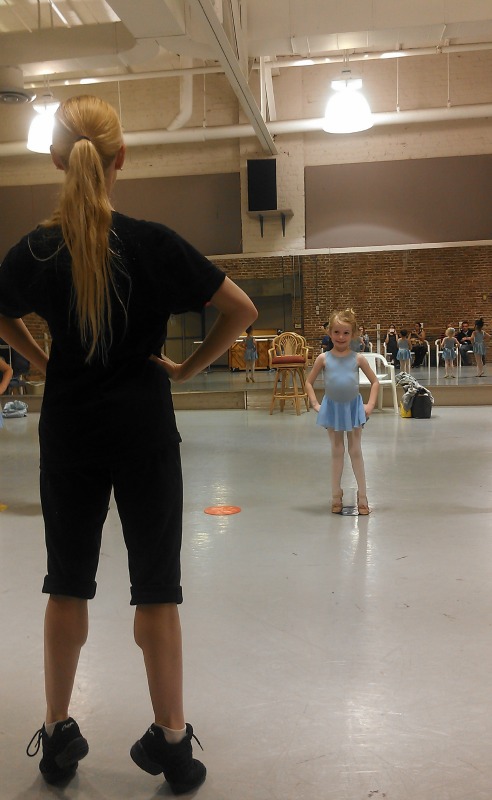 And I never took my eyes off her for the entire hour. Well, other than when I wasn't obsessively staring at her teacher's calves. I mean, come on with those things. Have you ever seen calves like that? Wowza! I'll have some of what she's having.
After ballet, I met Katy at my house and we were off! Sort of.
Ugh, why must I-4 always be a nightmare?
It took us forever to get there. The tickets were a Christmas gift from DadJovi, and the gift included a hotel room. Woot! Now, the benefit of having a hotel room is the ability to party at the show.
Well, thanks to a combination of I-4 and Tampa's God-awful traffic management, that didn't happen. We got off the highway at 7:15 and debated going to the hotel first (it was within a mile of the arena) but we made the (incorrect) call to drive on and just get to the show. Normally, I wouldn't be so worried about being at a show at the start, but they'd been warning all week to be there on time because they were livestreaming the first 30 minutes of show on BonJovi.com.
So we headed directly toward the Tampa Bay Times Forum, hoping we wouldn't be that late. Ha! We then spent a nerve-wracking, extraordinarily frustrating 40 minutes trying to get to a parking spot. Every garage they directed us toward was suddenly not available. We ended up doing a full circuit around Channelside Drive before FINALLY being directed to head north a few blocks. When all was said and done, we were basically back to the hotel anyway.
I was so flipping pissed. It was a nightmare. Tampa, you're better than this. Get your shit together for live events. This is part of the reason I now avoid concerts at the Ford, er, sorry, 1-800-ASK-GARY Amphitheater. After a Coldplay concert, we once got stuck in the parking lot for TWO HOURS waiting to get out.
Tampa, there's a lot to love about you, but your crowd management skills are not near the top of the list.
We pulled into the parking garage and I flashed all the cars around us as I quickly changed. I'd been smart enough to bring a twist-off lid bottle of wine, so Katy and I each downed a quick red Solo cup of wine during our walk to the arena. Klassy.
After making a much-needed pit stop in the restrooms, we rushed to find our seats and, and I don't use this word lightly, LITERALLY, as we found our seats, the lights went down and "SHOT THROUGH THE HEART AND YOU'RE TO BLAME" rang out through the arena.
Thank you, Jon, for waiting for me.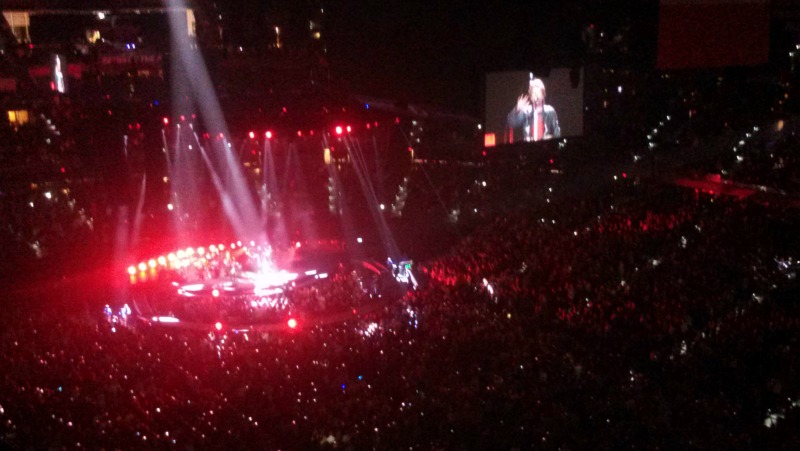 What? You can't see him. Yeah, me neither. I actually could see it better than it appears in these photos. I won't tell you how many 28 pictures I took trying to get ONE where the screen showed Jon as clearly as I could see him. Unfortunately, in our rush to get inside, I left my real camera in the car and my Droid apparently hates to take pictures of screens.
I hope Bon Jovi will forgive me, but here's an awesome shot from the band's website from another show on the tour that gives you a better idea of how great my boy looked.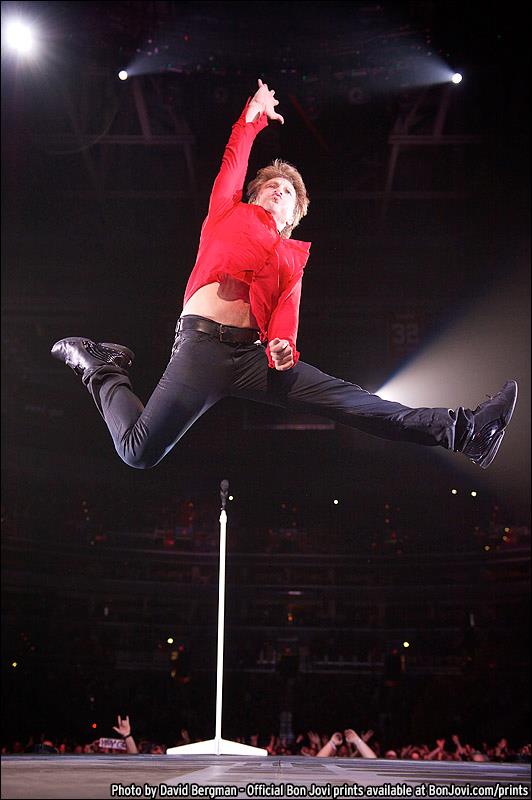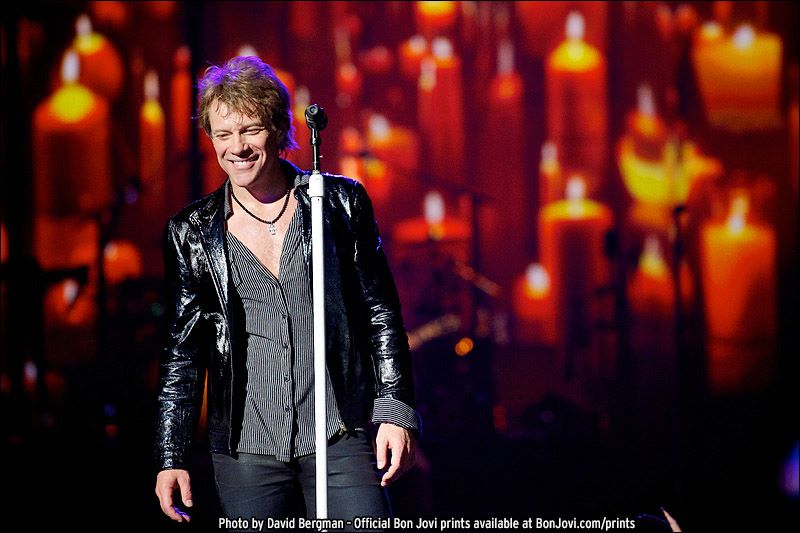 So freaking hot.
And in the hopes that Jon will forgive me for sharing these pictures here, let me stress that these photos were taken by David Bergman, and prints area available for purchase at BonJovi.com/prints. You know, in case you were considering getting me a present sometime.
Right from the start, though, Jon and the boys were on fire. About two songs in, he welcomed us all and promised a three-hour show. He was, of course, adorable. And rocked so very hard.
After a couple songs (read: the first new song they played) we decided to go find some booze. After all, this was Momma Katy's first big night out since pushing a kid out a few months ago. That's grounds for partying!
We kept seeing people pass us with real drinks, not giant, bloat-inducing cups of beer. Finally, we stopped someone and asked, "Where did you get that magical concoction?"
He pointed us toward a black curtain.
Say what? It looked like it was some fancy, private VIP area. But the person standing outside just waved us in. We're big time like that. OK, fine, technically anyone could go in. Are you happy now that you burst my bubble.
But when we got in there, it was as magical as you would imagine. There was no line at the bar and when we looked up, we were right next to a big screen. Sweet. But then, I walked closer to the railing and looked over it. Holy crapballs. We were RIGHT behind the stage.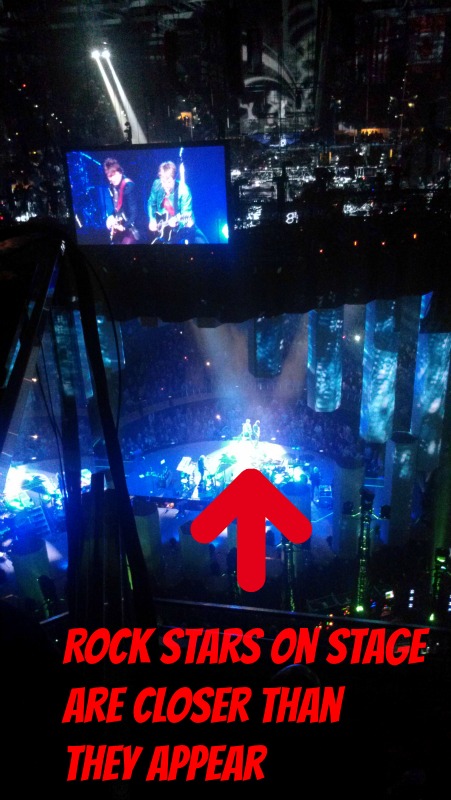 It was awesome. Plus, we were there when he played one of my favorites, "It's My Life." So much awesome … until they decided to raise these giant video columns up and down. Eventually they stayed up, blocking the view of the stage. Sucks for the people in the back, so we headed back to our nosebleed seats.
Our seats were the only sour note of the night. Somehow, we were surrounded by curmudgeons on either side of us. They were NOT happy with our dancing and singing. Whatever, bitches. I didn't come this far and wait this long to NOT sing my heart out to "Dead or Alive," particularly the greatest line in rock history: "I've seen a million faces, and I've ROCKED them all." If that doesn't get you out of your seats, you're dead inside. And yes, that's an actual scientific fact.
As Jon promised, they played long and hard (TWSS) and played all the classics (well, everything except "Blaze of Glory," which I know was technically just a JBJ song, not Bon Jovi, but I'm still bitter). They played on a circular stage, so at some points, Jon and Richie would could out into the audience to perform a few songs. There weren't a lot of frills in the show (there were some videos from time to time, including a creepy sexy silhouette of a woman during "Bad Medicine" that sort of looked like a stripper going through one of the airport security screeners. I can't explain it but it was equal parts odd and hot).
And I learned something about Katy — apparently she's the world's biggest Richie Sambora fan. Strike that, the world's SECOND biggest Richie Sambora fan.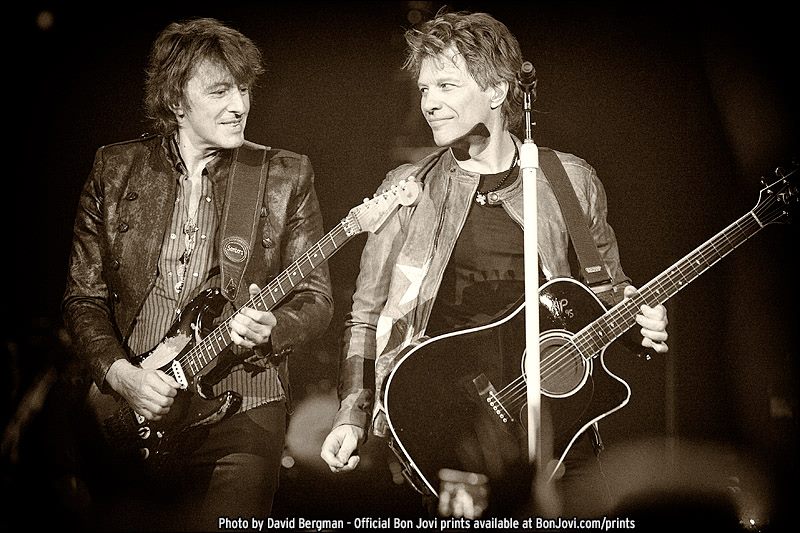 I swear, Katy and Jon love him so much. I don't get it. He drives me crazy, although I do appreciate that his voice has deteriorated so much that he can no longer take the high notes on "I'll Be There For You." You know who can, though? Jon. That man doesn't age.
Technically he does. It turns out, his 51st birthday was the day after the show. We joined in with the ladies in front of us to yell "HAPPY BIRTHDAY JON" every once in a while. For some reason, he never heard us.
Speaking of ladies, there were some awesome ones at the show. Note to self: next Bon Jovi concert, any of the following outfits will more closely follow the dress code:
a) Head to toe sequins
b) A leather bustier, preferably without another shirt under it
c) An '80s style prom dress.
The third option is one I can really get on board with. Have I ever showed you my prom dress from 1994? I think it'd totally work in this instance.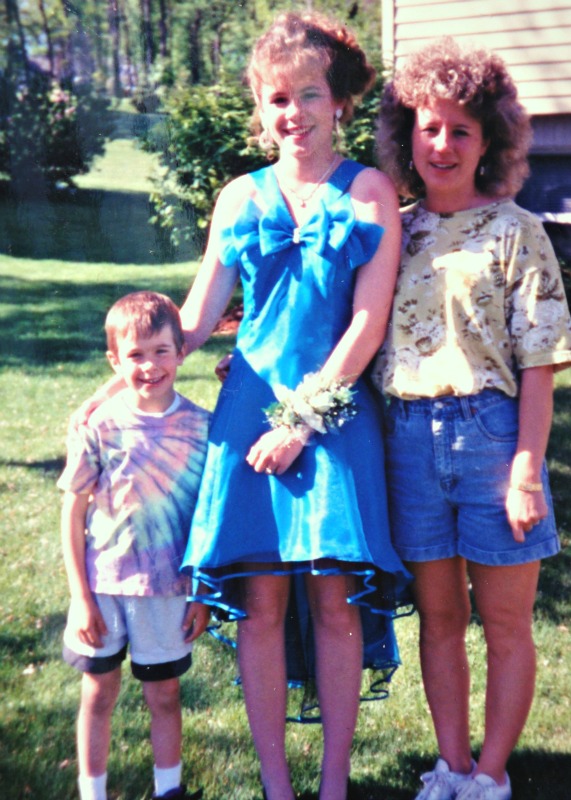 Actually, you know what the scariest part of that picture is? My mom is the exact same age in it as I am now. Thank Gooooood E is closer to BroJovi's age (in this pic) and not mine. I'm so not ready to think about a 16-year-old daughter hoping to live out the situation Jon describes in "Bed of Roses" at her prom. Wait, what were we talking about?
Back to the Forum.
As usual, Jon and the boys did not disappoint. There was one new thing I learned about my boyfriend — he loves the duck face. I blame Snookie. Apparently she's infecting the entire state (insert your own joke here).
(PHOTO CREDIT: Eve Edelheit, Tampa Bay Times)
I'm sure I've said this before (probably in my last Bon Jovi show review. Read that here if you missed it), but it bears repeating. If anyone can make this happen, I'd like an acoustic version of "Livin' on a Prayer" to be playing as I arrive at heaven, please.
It's Jon's will. Why else would he make this happen?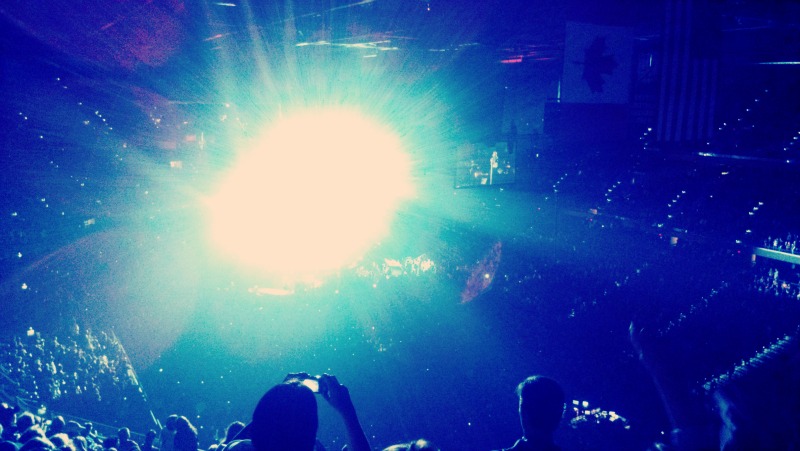 Because he's a rock God, that's why.
Thank you Bon Jovi for three full hours of flat-out rocking good fun. Madonna, I still havent' forgiven you for the time I saw you in 2000 and you only played TWO classic songs and one of them was La Isla Bonita. You could learn a lot from the boys from Jersey. A night full of the hits, with a few new ones thrown in for good measure, is what the fans want.
Jon, I will always love you. These five words I swear to you.
Have you ever been to a Bon Jovi concert? Just lie to me and say you want to if you haven't. Have you ever missed a concert because of traffic?