When it comes to workout gear, I'm not exactly fashionable. Well, unless you call wearing old race tech tees, t-shirts and some cotton capris I grabbed at TJ Maxx fashionable. If so, I'm nailing that trend, then.
But I had sort of a lightbulb moment recently when I stocked up on Old Navy gear during that Active line sale. Ohhhhh, so THAT'S what it feels like to run 3 miles on a treadmill without having to wring your pants out afterwards. Mind.blown.
Since I'm in the process of finally weeding out all my old cotton running pants, I was thrilled when a new activewear company reached out to me to see if I'd be interested in giving some of their clothes a try. (**NOTE: please see my full disclosure at the bottom of this post)
I had one response: how quickly can they be here?
The company is called Ellie.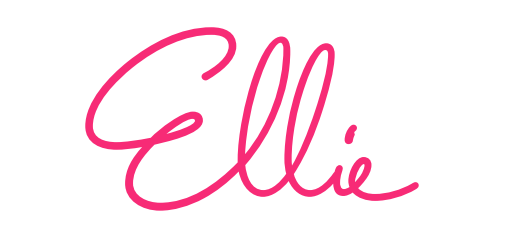 I'm sure you've heard of them if you read any healthy living blogs (the real scam is that I'm involved now!) and if you Google them, you'll also find they're getting a ton of press. Here's a Forbes article that points out one of the biggest stories about Ellie — it's taking on the L word. You know, that company that sells outrageously priced workout clothes that I will probably never be able to afford. I know, I know, I hear it all the time from L. devotees — the quality is amazing.
Well, from what I've learned so far, that's where Ellie comes in. Ellie clothes are L. quality at not-so-L prices. All of the clothing is preshrunk, washer and dryer friendly, moisture wicking and made of a combination of Lycra and Spandex. Some of the pieces are even antimicrobial and have UV protection. There are also a lot of other tech specs I don't fully understand but it is nice that every piece is made in the USA.
And from the literature they sent me, there's this gem:
We spare no cost for each stitch; we believe that quality activewear no longer has to be a stylish soiree that only an elitist few get an invite to. With Ellie, everybody's invited to the party.
POWER TO THE PEOPLE!
Here's how it works: For $49.95 a month, you can sign up for the Fit Fashionista Club. Members then receive two new pieces each month. It's up to you to decide if you want a top and bottoms, two tops or two bottoms. Each month, Ellie releases a new 24-piece collection of clothes, so the pieces are always changing.
When you first visit the Ellie website, you're encouraged to take a style quiz to see which pieces best suit your interests and needs. If you don't want to choose your pieces each month, the Ellie team will hand select two pieces for you, based on your preferences.
It's like having a personal shopper!
If you don't want to sign up for the FFC, you can still purchase individual pieces at retail (I'll have more details below, including an exclusive discount for my MomJovi peeps!).
Now, that you have the backstory, you're probably dying to see the clothes, huh?
I was able to pick my first outfit from the February collection. I chose the Catch Me If You Can top (retail $39.95) and the Love Struck Leggings (retail $69.95).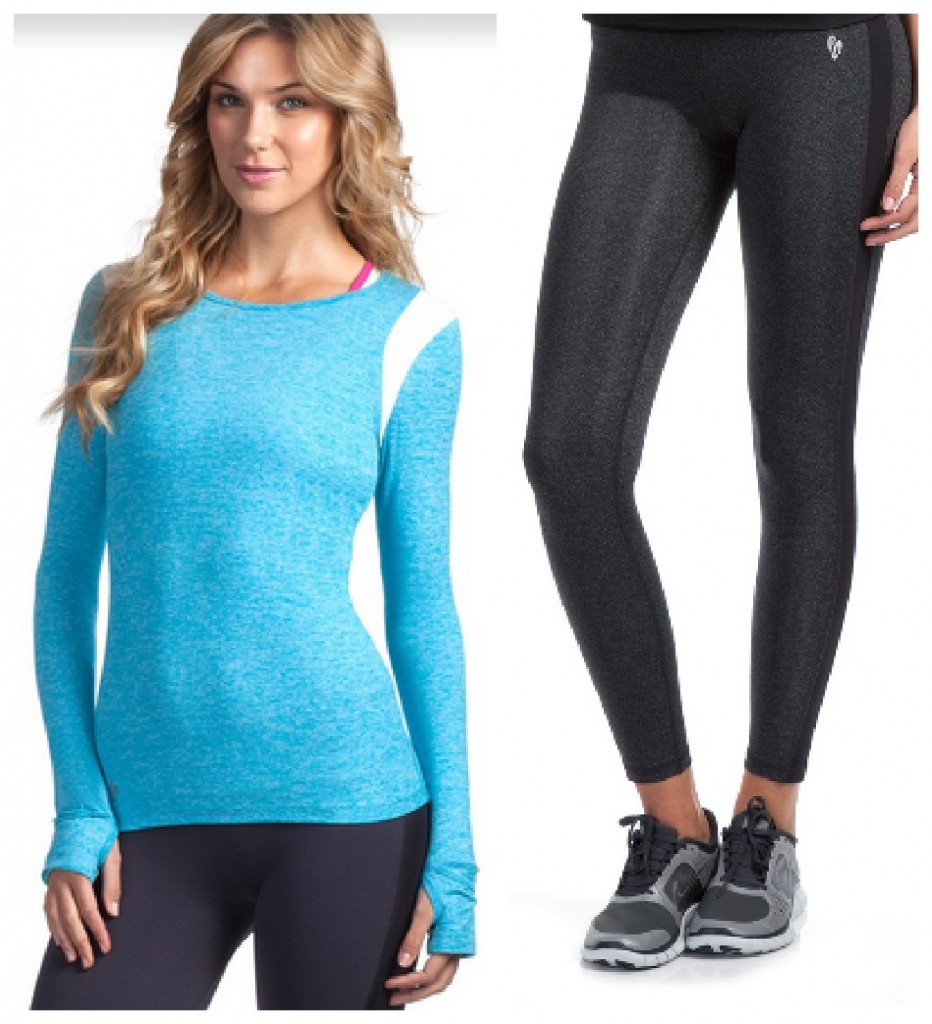 Spoiler alert: I'm going to look EXACTLY like her in my outfit.
When the pieces arrived, I actually loved them even more in person. For starters, they are so luxuriously soft, especially the top. Remember the Seinfeld where George said he would drape himself in velvet if it were socially acceptable? That's how I feel about this top. I want yards and yards of it and I want to exclusively wrap myself in it — sheets, blankets, towels, jackets, shirts, you name it. It's THAT soft and yummy.
The pants looked great and felt nice too. I didn't understand the $70 price tag, but remember, I'm coming from a place where I've never paid more than $20 for workout pants.
I figured a good time to test them out would be on my girls trip to Tampa with Katy for the Bon Jovi show. The morning after the show, it was cold and drizzly and we wanted to squeeze in a quick run along the river.
I told you. It's as if the model and I are twins. So weird!
The two pieces were the perfect weight for a slightly cool day.
Within the first five minutes out the door, though, I already noticed a problem with the pants — they would not stay up in the back. I'd love to believe it's because I've magically lost 10 pounds, but I don't think that's it.
I probably should have paid better attention to the description of the pants:
Enjoy these flawless fit leggings whether you are off to spin your heart out, stretch your way through a yoga class or are running around town. These low-rise leggings are designed with micro-mesh panels down the sides to keep you well ventilated and stylish. The heather fabric has a subtle sheen that is sure to turn heads.
Low rise plus a healthy bootie does not equal a good mix.
Other than the fact that I had to keep hiking them up, they felt great on the rest of my legs.
You're welcome. I knew after I mentioned my butt that you weren't going to be able to stop thinking about it til you saw it.
I will say that the more I ran and the more I started to work up a sweat, the better the pants stayed up. They just needed a bit of glue, I guess. And they are super comfortable. You know, other the fact that if I'm not careful, I do a mean impersonation of a plumber (just ask Katy. She got to see more than she bargained for when I was testing the pants out).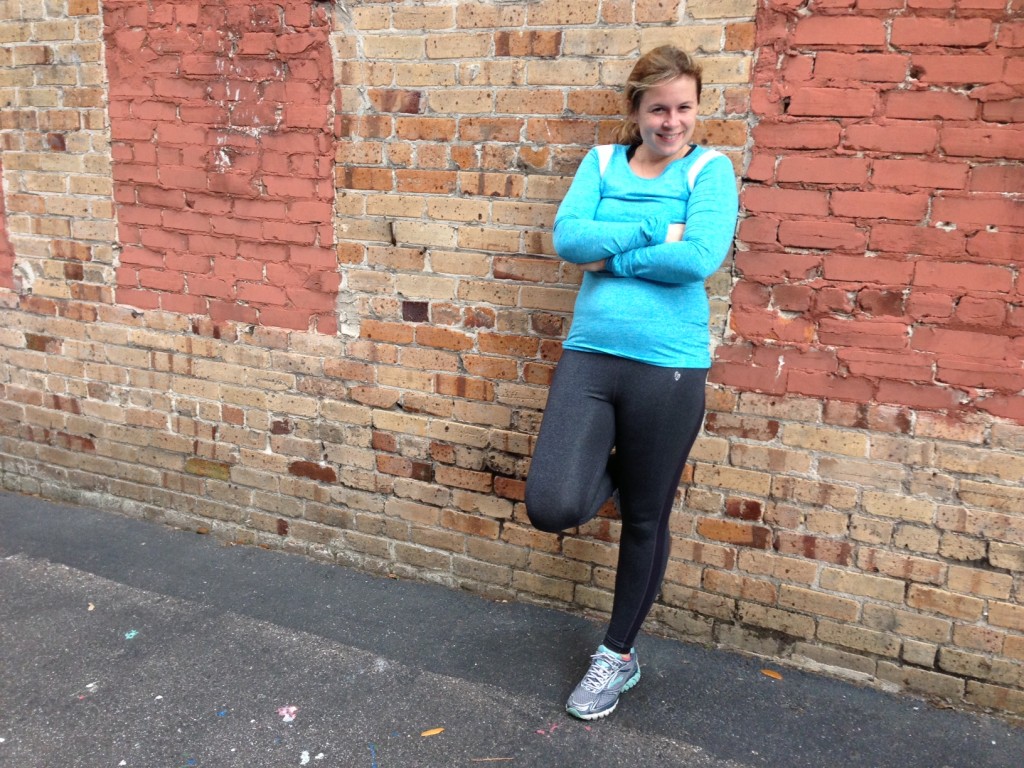 BTW, how awesome is that wall? Katy and I ran by it and I was immediately obsessed, hence the cheesy pseudo-model shoot. I seriously want to go back there with E., DadJovi and a photographer and get some family pictures taken.
I wore the pants another day to do a few errands and didn't have as many problems with them falling down. It seems the movement of me running is what pushed them down. Perhaps it wouldn't be a problem for something like yoga or strength training?
As for the shirt, I do love it, but I just wish it wasn't so clingy around the mid-section. I ordered a large for both the top and pants. For reference, here is the Ellie size chart:
A large in the top should have left me some more breathing room (I mean, we all know I'm not a 38″ bust). I guess it's just a good incentive to keep going with those plank-a-days!
Also, I hate that I'm a sucker for the thumbhole trend, but I am. I'm addicted now that I have my first thumbhole shirt.
FYI, I've already picked a pair of pants to replace those; for experiment's sake, I'm going to try a medium pair (even though I don't think I've been a medium in a decade) just to see if that makes a difference. I'll keep you posted.
So, Ellie, I've got a few suggestions so far:
1) Perhaps a drawstring option for pants? I'm the classic pear shape — a little more narrow in my waist than my hips and butt. A drawstring would help me keep those drawers up!
2) If you're going to make the tops form-fitting, perhaps offer an XL option. Until I lose the remnants of my C-section, there's going to be a bulge there. I'd like to hide it rather than accentuate it when possible until I whittle it away.
3) I'd love to see a little key pocket in the pants. I usually like to take a house key me with me when I run and I love when pants have a nice little spot to stash it.
4) On the website, I'd love a more thorough description of the items in each collection. For example, are the pants high- or low-waisted? I'd love to see pictures of the tops of the pants. Typically, they're hidden under the tops. Plus, are the tops tight or loose-fitting? You can sometimes tell from the photo, but not always.
One of the great things about Ellie, though, is that FFC members always get free shipping, both on initial orders and on exchanges (free shipping each way). It's sort of like having an Amazon Prime membership — shipping is always free.
I've heard some mixed reactions to the processing and turnaround times for shipping. I can't honestly speak to that since I received my outfits via the ambassador program. Perhaps because I work for a start-up company myself, I tend to be very forgiving of growing pains. Even with their fulfillment issues, the Ellie representatives have been very transparent in all of their communications with me via email and on their social media channels (particularly their Facebook page) with customers who have voiced complaints, so I'm willing to give them the benefit of the doubt that things will sort themselves out before long.
Here are some other things to consider. As a FFC member, you get:
— An exclusive first look at the collection. Ellie promises each month's new 24-piece collection will include 16 tops and 8 bottoms. FFC members get to preorder their pieces 10 days before anyone else sees them to ensure they're in stock. (*Note: this is a big benefit. Since I'm trying to exchange my too big leggings, I'm having to pick a different style now because the ones I initially wanted are sold out. So getting first dibs is a HUGE benefit).
— If you don't want to choose your pieces, the Ellie stylists will hand select them for you, based on your style profile, which you can update at any time. For writing this review, I get to place one more complimentary order from the March collection, so I'm considering letting the experts pick for me this time.
— Fashion Fix of the Week. If you purchase an additional item after week one, the Ellie team throws in a surprise gift with your order!
Ellie also says you can stop your membership or skip a month at any time. Again, I do not have personal experience with this so I can't honestly say how smoothly this process runs.
And remember, you don't have to commit yet to a full membership. You can also purchase pieces individually to see how you like the line.
OK, have I sufficiently piqued your interest? If you'd like to give it a shot, just click on the image below to get started. And, you'll get 20 percent off your first order, whether you buy an individual piece or a monthly subscription!
I'll let you know what I think about my next order, and I'd love to hear from you if you give Ellie a shot!
Where do you normally buy workout clothes? 
DISCLOSURE: I received one free outfit from Ellie for review purposes, and if anyone signs up through the links in this post, I will receive a referral fee. In exchange for this post, I will also be receiving one additional outfit. I did NOT receive a Fit Fashionista Club membership, although I am strongly considering signing up for it on my own dime. As the saying goes, all opinions are 100 percent mine … and my plumber crack's.