Traditions have to start somewhere, right? Sort of on a whim, we started one of our own last week with the first ever Family Movie Night.
We all got into our pajamas (well, E. and I did at least. I keep trying to talk DadJovi into a pair of Don Draper style pajamas but so far, he's sticking with boxers and a t-shirt), turned off all the lights and searched Netflix streaming for a movie. Given how little thought we put into the entire event, this is the movie we came up with:
Neither DadJovi nor I had ever seen it. I thought I remembered that it might be slightly scary but it was rated PG and we thought, "Hey, Robin Williams is in it. It can't be that scary."
Um, we thought wrong. The first 30 minutes were terrifying. With its haunting drumbeats and its premise that the two main kids' parents had just died in a car crash, DadJovi and I kept giving each other the side eye and having one of those Marshall and Lily (HIMYM) kind of mental conversations.
DadJovi: I can't believe you picked this movie. She'll never sleep again.
Me: You're the one that watches "Revenge of the Sith" with her. This is nothing compared to that.
DadJovi: Did you not just see the kid get sucked into the board game? Or maybe you missed it because the girl was being chased by bats.
Me: Should we turn it off?
Me (finally speaking out loud): E., what if we find a different movie?
E.: No, Mommy, I LOVE this movie.
Thankfully, even though it still had its scary moments (such as a man chasing Robin Williams around with a gun trying to shoot and kill him. And oh yeah, that guy was actually his dad PLUS he was Bruce Ismay from "Titanic," so it was all sorts of strange), there was a lot more comic relief, particularly from some crazy monkeys, a slowpoke rhino and David Allen Grier as the cop trying to figure out what the heck is going on.
By halfway through the movie, we were all spitting out our popcorn from laughing and relieved that we hadn't ruined Family Movie Night on our first shot.
Ever since last Friday, E. has been anxiously awaiting the next Family Movie Night. She told all her teachers and friends about it and kept asking all week what we were watching.
This week, we had to slightly rename the night though because DadJovi wasn't home for it (how dare he ignore the sanctity of this long-standing tradition?!?). Since it was Girls Movie Night, that meant the logical next step was to replace the popcorn with ice cream. Obvs.
This Publix ice cream was no joke. I want to make a romantic comedy about all the hijinks that would ensue as I pursue this delicious treat wherever it tries to go to escape me. Let me just tell you a little about my new love. It's black cherry ice cream, filled with slices of black cherries, a gorgeous ribbon of chocolate fudge and the pièce de résistance — candy hearts filled with liquid cherry. There's no need to wait for that movie version of "50 Shades" — this is all the loving you'll ever need.
After I composed myself, I finally found a more family-appropriate movie for Girls Movie Night.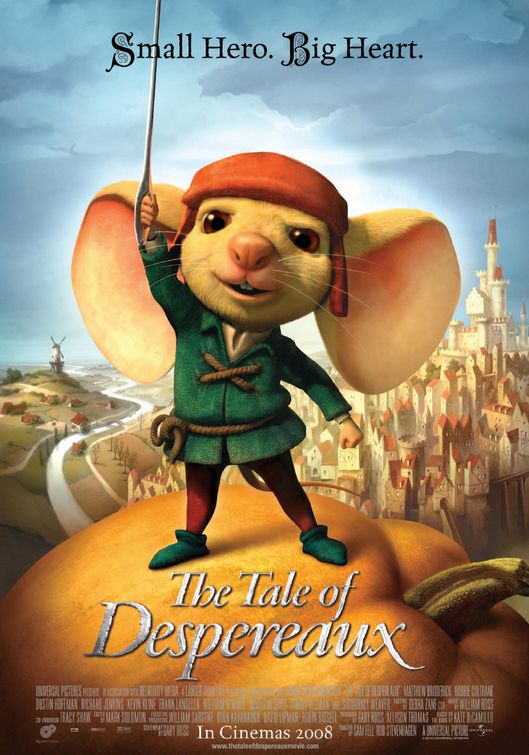 E. and I both LOVED this movie. It was so sweet … and yes, Rated G. I'm also an easy audience — a children's movie has to be pretty awful for me to not like it. Since having E., I've become one of the sappiest people on the face of the Earth, so who wouldn't love Hermione Granger as a princess and Ferris Bueller as the mouse in love with her?
The funny thing about watching movies with E. now, though, is that she has SO.MANY.QUESTIONS. During "The Tale of Despereaux," her questions included: How can someone die from being scared? What's a quest? Why do they have to follow rules? Who makes the rules? Why does that girl want to be a princess, too? Why isn't she happy with her life? I'm happy being a kid; she should be happy too.
I mean, I was not prepared for the onslaught of existential questions. I'm pretty sure I'm going to need to get a degree in philosophy (or at least dust off my old books from PHI 107) to survive motherhood.
Is there a movie about Voltaire that would work for Family Movie Night?
OK, what should we watch next? I'm pretty annoyed with the lack of good options on Netflix streaming. We also have HBO and Showtime On Demand but this week's choices were "Hop" and "Puss in Boots." Um, no thanks.
I really wish the old Disney movies like "Chitty Chitty Bang Bang" or "The Parent Trap" (not the awful Lindsey Lohan version) were on Netflix. We obviously have watched nearly the entire library of Disney animated movies, so we're all set there.
I'm excited to eventually watch "Goonies," "The Karate Kid," and "Space Camp," but I don't think we're ready for those yet. What else should we watch? If it's an animated movie that's come out in the past two years, chances are we've seen it. In a couple months, there will be lots of fun options with "Home Alone" or "The Santa Clause" (right? That's not too old/gives away too much about Christmas, right?).
Any other suggestions?