What a weekend!
My college BFF Missy, who you may recall from posts like this or this and of course, our recent return to Syracuse, came down for a long weekend.
And she didn't come alone. She brought along her 4-year-old daughter A, who also happens to be one of my best friends. Seriously, just ask her. We're very tight.
I've been lucky enough to meet her at their house in Boston several times but this was the first time she came to Florida and the first time she met E. It was silly love at first sight.
It was amazing how quickly they bonded. We (or maybe just me) expected some typical preschooler spats over the weekend. You know, fighting over toys. Wanting to play different games at the same time. Arguing over who's the best princess. But there was none of that. It was amazing.
And we ran poor A ragged. She had no idea what a "vacation" in the Jovi household is like.
On Friday, we headed out the door by a little after 9, Magic Kingdom-bound. Um, do you think they were excited?
I'm going to do a full post on our day at Disney because I think I've got some good tips if you only have one day to do Magic Kingdom with a first-timer, but here are a few sneak peeks at our day.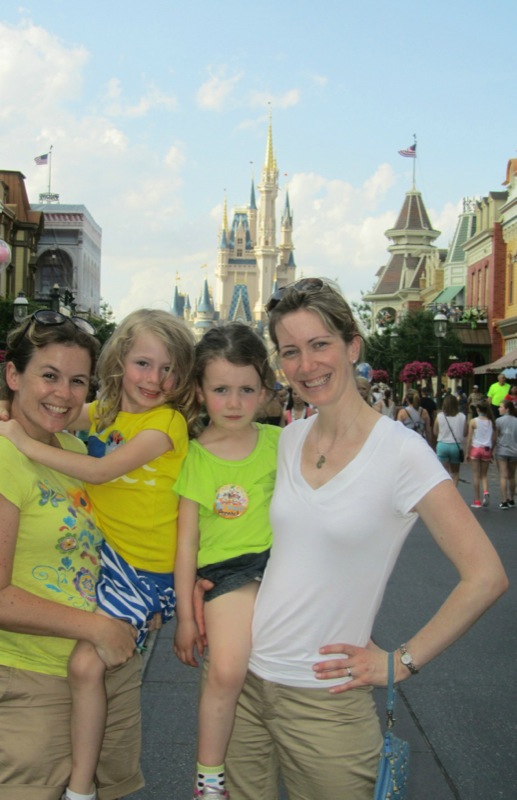 Such a fun day. It was a little crowded but not bad. The longest lines were usually 35-45 minutes, except for some of the biggies like Splash Mountain and Space Mountain. So we skipped both. A. was coming in with no expectations and no desires, other than to see some princesses. Check!
We were there from about 10 until 6 and hit two character meet-and-greets (including the triple-teaming princesses), saw two parades, watched one stage show, went on six rides and saw three shows/movies (Country Bears, Monsters Inc. and Mickey's PhilharMagic). Not bad for one day, huh?
And that night, the girls slept soundly in their new matching Disney princess nightgowns.
P.S. What's it going to take for Merida to start cracking these items? Her official coronation next month? It's time for them to get on that.
The next morning, we all slept in a bit and relaxed. After E got back from her piano lessons, we headed out the door again, this time for the beach.
It was seriously THE best beach day ever. The weather was absolutely glorious and perfect. It was in the low to mid-80s, no humidity and a nice breeze. The water is already 72 degrees and the beach was relatively empty. It was just spectacular.
DadJovi is definitely a good sport.
After we'd spent a couple hours on the beach, we took Missy to our favorite spot in Daytona Beach for an early dinner — the Ocean Deck. We cooled off with some John Daly's (spiked Arnold Palmers) and had some great fish sandwiches.
Where else can the kids get coloring sheets, food served on frisbees among shirtless throngs of people? We even had some excitement. Someone ran out on their check and the valet guys ran him down on foot and held him until the cops got there. I may have been singing "Bad boys, bad boys" under my breath during the entire incident.
That night, after we got all the sand hosed off the kids and got them to bed, we settled in for our new favorite movie.
I'd been hearing the hype for months but had never gotten around to watching Pitch Perfect. What the hell was I waiting on? It's aca-arrassing it took me so long to see it. We loved it. Even a skeptical DadJovi loved it, particularly every one of Lilly's mumbled lines. So hilarious.
We also watched as one of Missy's best tweets ever got RTed across the Interwebs.
[blackbirdpie url="https://twitter.com/MelissaMangs/status/328348640898850817″]
By Sunday, we figured we'd run the kids ragged enough so we just hung around the 'hood all day. We walked to breakfast, hit the park, then played in the yard with sidewalk chalk and bubbles. Perfect.
And I was able to capture on video what will probably be one of my most enduring memories of the weekend — our girls singing the Doc McStuffins theme song over and over again.
How cute is that? Every time I watch it, I die laughing at them RUNNING for the "dance floor."
All too quickly it was time for our friends to leave, and I think I sent them back from "vacation" more exhausted than when they arrived. That's what friends are for.
It was such a great weekend full of so many fun, sweet new memories. I hope it's the first of many, many years of the next generation forming a friendship that lasts for years and years. Think it's too early to sign them up to be college roommates, too?
Are you still friends with your college roommate? If you took someone to Disney for the first time, what would be on your must-do list?