This post is way overdue. One of my oldest and dearest friends came to visit a couple weekends ago, but thanks to my ongoing computer issues and E's stomach bug, my ode to her keeps getting pushed back.
So instead, I'll just show you in pictures how much her friendship means to me.
I met my pal Missy on our very first day of freshman year. August 1999. Lawrinson 11. Four doors apart. Syracuse, N.Y. That's when I knew destiny and fate were in fact very real things. It took us maybe three or four days to realize just how alike we were, but once we realized it, well, to quote Forest, we were like peas and carrots.
That must have been a few weeks in. I'm well on my way to my Freshman Forty there. But one of my favorite things about Missy when I first met her was that she confirmed that smart girls can not only be just as obsessed with sports as the boys, a lot of times we knew a lot more than them. Plus, just because we could watch hours and hours of 90210 (original, bitches), General Hospital, and Real World (the only reality show around then. I shudder to think how much more TV we would have watched with Real Housewives and DVRs), didn't mean that we couldn't pull 3.8 GPAs. We were wicked smaht … and pimps too.
For the next four years, we rarely spent a night apart. We went from separate dorm rooms, to a suite to a house with eight others (yes, there were 10 of us. It was insane). We studied abroad in London together and became part of a bigger crew: The Taj.
The six of traveled all over Europe, spent Easter at Westminster Abbey, got wasted in Amsterdam, Rome, Galway and everywhere in between. Somehow six girls not only got along great, we became each others' families for life.
Then it was time to say good-bye.
Missy returned to Boston and I moved to DC. But we never let our friendship falter. Yearly trips to Maine, Fessenden Fall Bashes at our house in DC, bachelorette parties, wedding showers, weddings, baby showers and more. I even made her wear "florescent pink" for my wedding:
So now that you have a bit of the backstory, you can see just how much our friendship means to me. That's why I was so excited when she decided to get away for the weekend from her very busy life. She's a vice president of her PR company in Boston, has a GORGEOUS 2-year-old daughter, is an amazing wife and cook and just generally kicks ass.
Even DadJovi said it after observing us for an hour: we pick up exactly where we left off. You'd never know that we don't still live together or see each other more than once a year. It's a seamless transition back into the things we love best. We drank wine and laughed until we couldn't talk: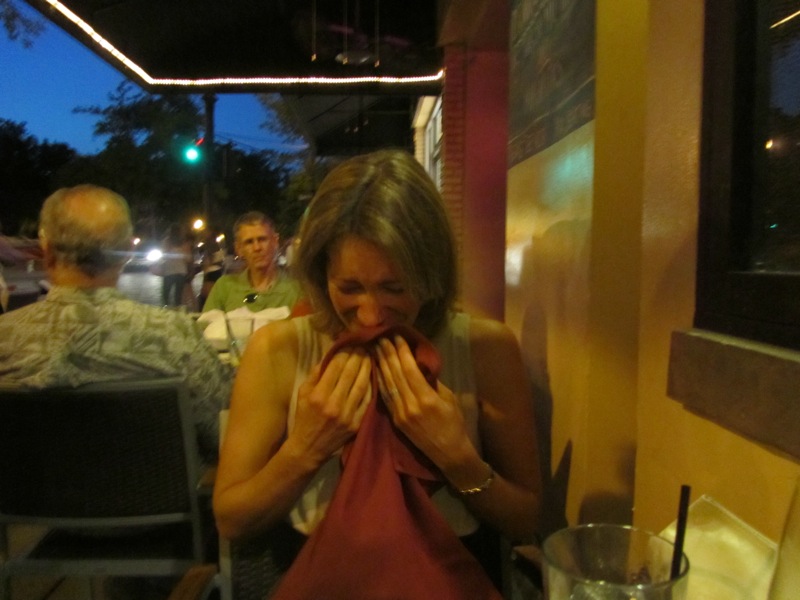 We fended off creepy old guys in bars long enough to get a shot of us:
We hit some legendary yard sales and Miss made the score of the year: a Missoni top for $5!
Of course she immediately tweeted her find: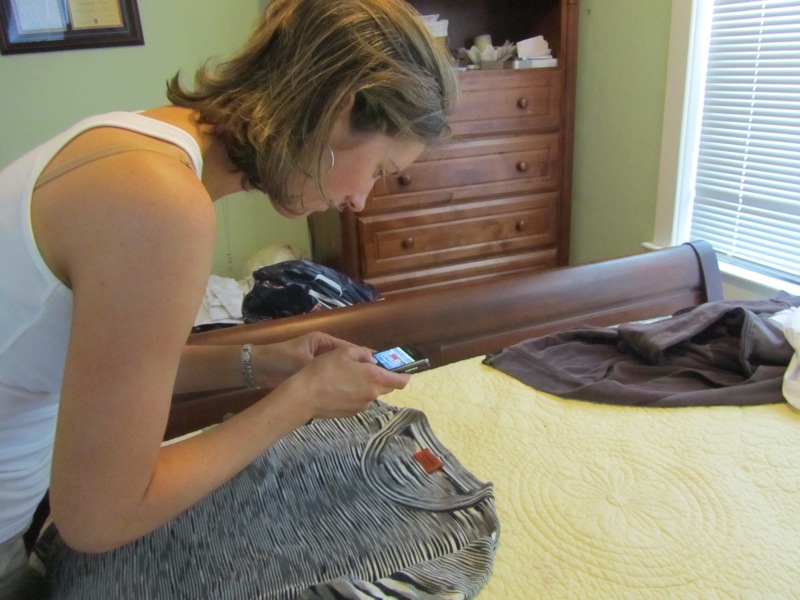 And then we did what we do best: watched hours of TV. We caught up on Real Housewives of NY, were disappointed by Tori and Dean's awful new wedding show and I introduced Missy to Jerseylicious. All in all, a great afternoon. E. kept herself entertained by covering Missy's legs in stickers.
We wrapped up the weekend with a long bike ride around my hood. Missy had to soak in all this sunshine and humidity before heading north again.
All too soon, it was time for her to head home again. I'm not going to lie and pretend that it doesn't hurt to live so far away from some of my dearest friends. But I guess it just makes our reunions all the more sweeter and meaningful.
Pimp posse forever.