I know you all thought I'd gone native and decided to just stay permanently in Martha's Vineyard. Well, don't think that I didn't consider it. But then I checked my bank account and realized that I'd already overstayed my welcome. You'd think the fact that I'm named after Jackie Kennedy would bring me some Kennedy dollars. Turns out, it doesn't. Lesson learned.
OK, I promise to keep this as brief and readable as possible, but let's be honest, it's me here. I can write 1,000 words on how much I hate the sand that E. brings home in her shoes from school every day without batting an eyelash. But I will strive for brevity, with some pretty pictures along the way.
I flew up to Boston on Thursday because I had a 9-week-old baby to hold.
How sweet is that face? Just when I started getting painfully aching ovaries, I got to hear her crying in the predawn hours. Ahhh, rolling over and going back to sleep, knowing she was someone else's baby to feed/change/hush was a beautiful thing, too. But I think I'd give up some sleepless nights for such a sweetie.
And Mommy and big sister are pretty awesome, too.
In case you haven't memorized your MomJovi history, Missy and I met first day of freshman year at Syracuse and spent the next four years having more fun and adventures than you can imagine. As Forrest might say, we were like peas and carrots, and 17 years later, our friendship is stronger and more necessary to each of us than ever. It's hard work being mommas! You need those friends who know that when you're whining about being tired, frazzled and desperate for some alone time that it doesn't take away from your joy in being a mom. Sometimes you just need to keep it realz, yo.
We spent all afternoon and evening Thursday catching up, swapping momma stories, watching that week's GH (neither of us can quite quit it yet) and doing our nails. You know, chick stuff. We went to bed early because we knew it was going to be a busy weekend!
On Friday, we were up early to pick up our other BFF Colie at the airport. A couple hours later, we had Missy's two girls settled at her mom's house (and her mother-in-law lives right down the street, so they were double-teaming for the weekend. I'm so jealous of her family support system nearby), and we were off for our adventure!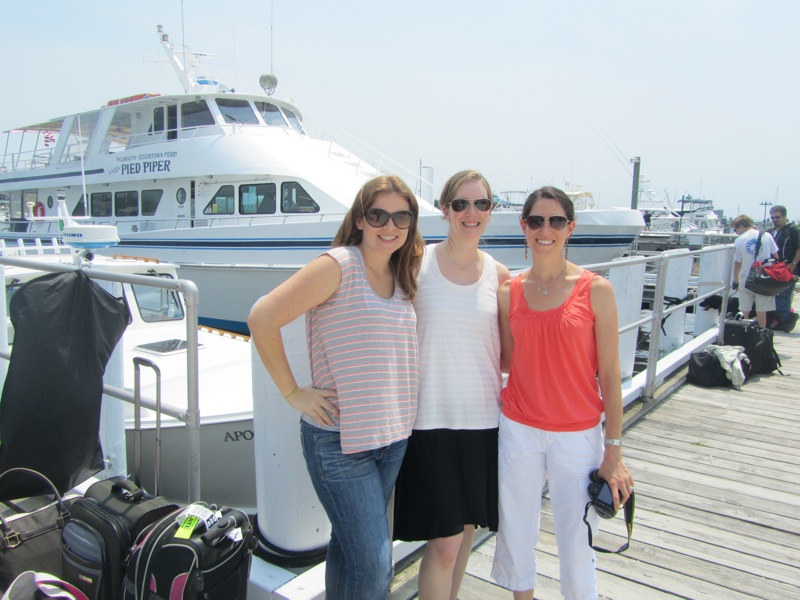 The ferry took us from Falmouth, Massachusetts to Edgartown on Martha's Vineyard in just over an hour. We were just so happy the day's earlier rain showers had moved on. But mostly, we were just so happy to be together. It becomes a little loud and frantic when it happens as we all try to squeeze in months' worth of stories that we somehow never get to tell with toddlers tugging on our legs as we quickly catch up on the phone.
Before we knew it, we saw the Edgartown lighthouse welcoming us to the island.
As soon as we got to the island, we dropped our bags at our hotels and headed straight for lunch at the Seafood Shanty rooftop deck overlooking the harbor.
Since it was already mid-afternoon and we had early dinner reservations, we tried to eat light. Tried being the operative word. I ordered a big bowl of New England Clam Chowder (anyone else think of "Ace Ventura" every time they order it?) and Missy and I shared an order of calamari. Plus, I had my first of many of my new favorite beer — Wachusett Blueberry Ale. Holy crap, this beer is awesome. At some places, they even popped a few frozen blueberries into the glass. It's not sweet like some other fruit beers; there's just a hint of blueberry flavor. Must.find.locally.
After lunch, I went and checked out my hotel.
It was, er, quaint. Listen, if you're going to Martha's Vineyard, here's what you need to know — you're paying Four Seasons Hotel prices for B&B rooms. But really, you're paying for the experience of staying in the extraordinarily charming Edgartown. No, seriously, charm oozes out of every inch of this town. The room was fine, the innkeepers were all very lovely. And it's always fun to stay in a place where historic figures stayed.
Speaking of which, I was staying in the Sumner room, as in Charles Sumner. You remember him — he was the Massachusetts senator who was nearly beaten to death on the floor of the U.S. Senate for his "Crime Against Kansas" antislavery speech. Man, they don't make politicians like they used to.
Funny story, though. For the first 24 hours there, I thought I was staying in the Summer room and for the life of me, I couldn't figure out why there was a massive Sumner bio on my nightstand. And then I noticed all the Charles Sumner photos on the walls, and had an "ooooohhhh" moment. Since I was alone, I share this with you now because no one else was there to say "no duh, Jackie."
I can be forgiven though because I was too busy tearing into the amazing welcome bag that my friend the bride left. It was filled with all sorts of candy and snacks plus the most detailed and fascinating wedding weekend brochure that's ever been created.
Before dinner, we also spent some time exploring Edgartown a bit.
Here's a tip: if you're ever considering a trip to Martha's Vineyard, do it near the Fourth of July. The whole town was bedecked in Old Glory and it was just a joyfully patriotic feeling. I only wish I could have stayed through the Fourth for fireworks over the harbor. Besides, I have a feeling that would have been good celebrity spotting. I only saw one celebrity while there — retired NBC Sports president Dick Ebersol. But our cab driver told us on Sunday that he was going to dinner with Ed Norton that night (only in MV).
And I was pretty obsessed with two things in particular: the gorgeous hydrangeas that were blooming in every shade of blue, purple and pink everywhere you looked and ice cream from Mad Martha's. There's a reason this place is famous. Let's just say there were several trips to this ice cream parlor over the weekend. What? I had choosing issues. Hands down, though, the blueberry could be the greatest ice cream I've ever had.
On Friday night, a group of us had dinner at a pub in town before the welcome party. Remember that whole "eating light" plan at lunch? Well, it backfired. I was not hungry at all at dinner and forced down some of a crab and artichoke appetizer (FORESHADOWING ALERT!).
After dinner, we made our way up Main Street to Atria, a lovely bistro and restaurant where the bridal party first had the rehearsal dinner, then hosted a dessert and drinks party.
And of course the bride was stunning in Grecian goddess white dress.
It was so fun catching up with friends, the bride's family who I haven't seen in years (we were roommates our sophomore year of college, plus when we lived abroad our junior year in London) and toasting the happy couple.
And did I mention the photo booth?!?
Every place in the world should have this. It was an iPad with a Photobooth app. You took as many photos as you wanted (for free!) then either emailed, Facebooked or tweeted it to yourself. Let's just say I received a lot of emails from the Photobooth over the weekend (there was one at the reception, too).
So as you might have gathered, you'll see that after my what-to-wear angsty post, I went with the pants and shirt. And it was a mistake. Big mistake. I was the only one not in a dress, which is fine. The bigger issue is that it was an unusual 100 degrees and I was so hot in the pants. And the wine flowed down entirely too easy. It was hot, the wine was ice cold and tasty and I knew I didn't have a toddler to tend to in the morning.
This is that part where the no dinner comes back into play. After the party, Colie and I were the last two standing (her husband wasn't coming in until the next day, so I may have had something to do with keeping her out).
And then this happened.
Sooooo not necessary, especially considering that we clearly didn't need any more booze and my beer was $8 and Colie's champagne was more than twice that (told you MV ain't cheap).
God I miss that girl, though. We lived together for many, many years and sometimes I forget that we don't live together anymore. Why can't we all have sister wives, by the way? That would be so fun!
Thankfully, we stopped at one drink, but by then, the damage was done. I won't share all the gory details but let's just say that I saw the bottom of a toilet from an angle I haven't visited in many, many, many years. I'm blaming the dip. That's my story and I'm sticking to it.
The next morning, all my big plans for exploring the island or even doing the Jaws walking tour just weren't possible. Until the last possible second before I had to start getting ready for the wedding, this is where I spent all my time, trying to feel human again.
At least it was a hangover with a view.
Eventually, I manned up and made myself presentable again. And it was off to the church we went!
We cleaned up pretty good, huh?
Look how sweet these wedding favors are.
At last, here came the bride!
I won't torture you with any more of my awful ceremony pictures. One of these days I'll figure out my camera's low-lighting indoor settings. But take my word for it, it was gorgeous and lovely.
After we cheered the new Mr. and Mrs., it was time for our chariots to whisk us away to Oak Bluffs for the reception.
The reception was at a new restaurant called Hooked. The cocktail hour was outside, complete with musicians, croquet, bocce ball and a ping pong table. And the appetizers. Oh the appetizers. Since I hadn't been able to eat anything all day, I was ravenous by the time the food started coming out. Frankly, I'm glad I was so hungry. The food was just so dang good. There was a full raw bar, calamari, mini cheeseburgers, mango and avocado wraps, figs stuffed with goat cheese and the pièce de résistance — mini lobster rolls.
There's a rumor that this one could have been my fourth or fifth one, but who's counting?
And yes, shockingly that is a cocktail in my hand. I was hoping a little hair of the dog would get me over the hump but it never really did, so I probably had three, maybe four, drinks throughout the entire night. And I loved every second of being the sober one. Weddings are HILARIOUS when you're sober. No, seriously.
Then, it was time to welcome the happy couple to the party.
How gorgeous is she? And that dress. Oh, that dress.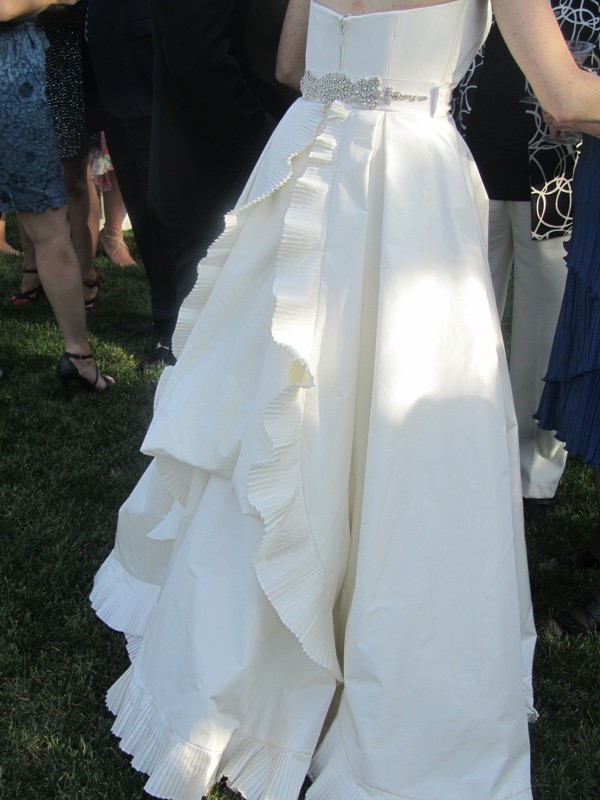 The Syracuse girls are in the house (oh my God, oh my God. My 'Cuse friends will remember that).
Let's talk about my dress for a moment. a) I really need to stop wearing black to weddings. What was I thinking? b) I really need to wear shorter dresses, especially for partially outdoor events in the summer. Again, I have no brain. But everyone else knocked it out of the park at least.
Then it was time for us to head inside for one of the most elegant, chic and just downright gorgeous wedding receptions I've ever seen.
So beautiful. The food was delicious, we were all together at one table and, as I mentioned, since I was 100 percent sober, I remember every single fun second of the night!
After dinner, toasts and desserts (which included salted caramel milkshakes. I mean, c'mon!), we headed to the restaurant's bar area for some dancing to a great band.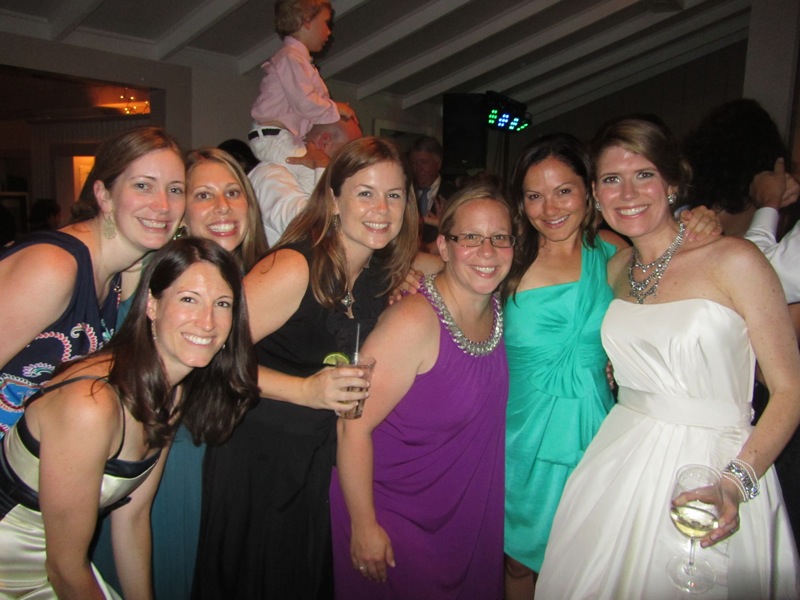 Ah, so much fun. And yes, there was another photo booth.
We even dragged the bride in for some pictures. And no, we're not holding up Ls for loser. They're for the bride's (sniff, sniff) maiden name. She has a legendary last name that we use as her first name. Somehow, I don't think that's going to change.
Somehow I made it until the 12:45 a.m. bus, and then, finally then, I got the sound, peaceful sleep I'd been fantasizing about since I booked my solo trip. Ahhhhh, sleep, glorious, sleep.
The next day, Colie and I both had a few hours before our ferries back to the mainland, so her husband had the awesome idea to take a boat ride on the harbor. For just $10 each, our driver took us all over the harbor, pointing out celebrity homes and sharing fun stories about the island.
By the way, this house used to belong to Michael Flatley, Lord of the Dance. That house must have cost a lot of Irish jigs.
On the way to my ferry in Oak Bluffs, I crossed over the bridge made famous in Jaws, then checked out the country's oldest carousel.
Apparently carousels made in the 1870s were built inside and built to last. I can guarantee that carousels made in the 1970s were long ago sent out to pasture. But not the Flying Horses; it's still going strong, brass rings and all. Too cool.
I had just enough time to take in one more stunning scene.
OK, that's it. I promise it's finally over. In retrospect, I probably should have broken this up into separate posts, but I figured if you don't care about Martha's Vineyard for one post, you sure as heck won't care about it for multiple posts. And I know there's at least one loyal reader who has read it from start to finish. So thanks for the hospitality Missy!
Have you ever been to Martha's Vineyard? What was the setting of the prettiest wedding you ever attended?