Later this month, I'm going to Martha's Vineyard to watch one of my best friends from college get married. I'm really bummed DadJovi can't come — it was too far and expensive for a weekend away for two since we don't have any family close by who could take E. for the whole weekend. It just was easier for me to go alone. Although, there is one silver lining — I am SO looking forward to sleeping alone in a bed (and getting to sleep ALL.NIGHT.LONG) for the first time in forever. I'm fantasizing about the sleep already.
Despite my excitement for the trip, there's one thing that's been stressing me out — my clothes. A big part of it has to do with how unhappy I am with the state of my body lately. Stupid old-person metabolism.
I just feel like nothing fits right anymore. I actually already have a nice, somewhat flattering formal dress to wear to the wedding, so I'm good there (well, other than needing a new extra-Spanxy pair of Spanx. Maybe I should go Adele and wear three pairs?). I do still need to pick up a new pair of shoes, but thankfully, I haven't developed fat feet yet so those are still fun to shop for.
But I'm currently in a frenzy trying to figure out what I want to wear on Friday night. I know everyone is going out on the Vineyard and I believe there may be some sort of official gathering somewhere.
So what to wear? How do I find the right outfit that says, "Hey, I'm not a redneck from Florida" without looking like I tried too hard? Effortless chic is the look I'm going for. Oh yeah, and something that doesn't make me look 21 weeks pregnant.
Who knew that something effortless could be such a big flipping effort?
For Christmas, my mom got me a $100 gift card to Gap that I've been hoarding over the past several months (thanks again, Mom!). I thought, "Surely I can easily find an outfit there and maybe even have money to spare for some fun accessories."
Surely I was wrong.
What the hell happened to Gap? Have basic, staple items always been so expensive there or have I just spent too much time clothes shopping at Target and Costco over the past 4 years? After trying on a gazillion things, I finally settled on a pair of white khakis (the jeans were ridiculously tight. Skinny jeans can go away any day now. Annnny day) and a loose-fitting, non-maternity looking linen tank top.
OK, fine, that wasn't so hard. This could work.
And then I looked at the price tag. That cami. That simple summer shirt is selling for $49,95. You've GOT to be kidding me. Like for real? There are certainly clothing items I will spend that much (and much more) on, but a stupid tank top? No way in hell.
In desperation, I left with the white khakis, even though they were also $50. I still may return them, but frankly, they'd also be a great pair of pants to have for work and other events this summer.
So, I've got the pants. Finding a shirt can't be that hard, right?
I know I should have just sucked it up and headed to the mall or the outlets. But I despise both places. I figured that I could find one simple, semi-flattering shirt in Colonial Plaza, which houses an Old Navy (where my gift certificate would also work), a Marshall's and a Ross.
When I tell you that I tried on at least 48 articles of clothing at those three places combined, I wish I was exaggerating. But I'm not. Things were too small. Too big (rarely on bottom, frequently on top. Damn small chest). Too short. Too frumpy. Too cheap. Too casual. Too dressy. Too "looks like two pigs fighting under a blanket." (name that movie).
Listen, I'm not a size 6. I accept that. But I'm also not a size 16. It really shouldn't be THIS hard to find one simple outfit for a reasonable amount of money.
Four hours later, I'd spent $80 at Marshall's and come home with two options.
Here's option 1.
I really should try them on for you, but I'm not emotionally ready to go down that path again.
It's a cute red dress with little birds all over it. It didn't come with a belt, so I bought the hot pink one, too. That works, right? I really should have begged the fabulous J to come with me.
Here's a close-up.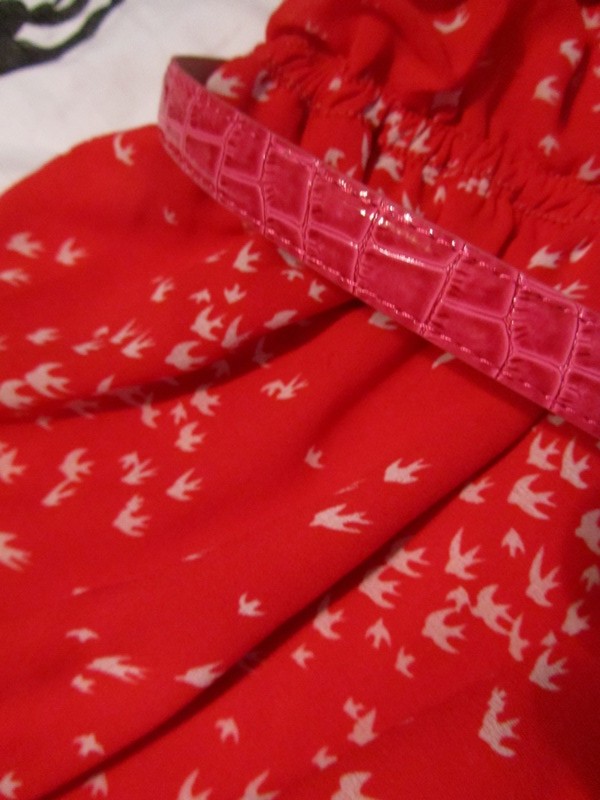 Those colors work together, right? What would work better?
The dress itself fits pretty good. There is one issue — I can't sit in it. Well I can, but it gets really tight around my thighs when I sit down and sort of rides up. Seriously, why must every dress be so short? But who needs to sit anyway? It's highly overrated.
Here's Option 2: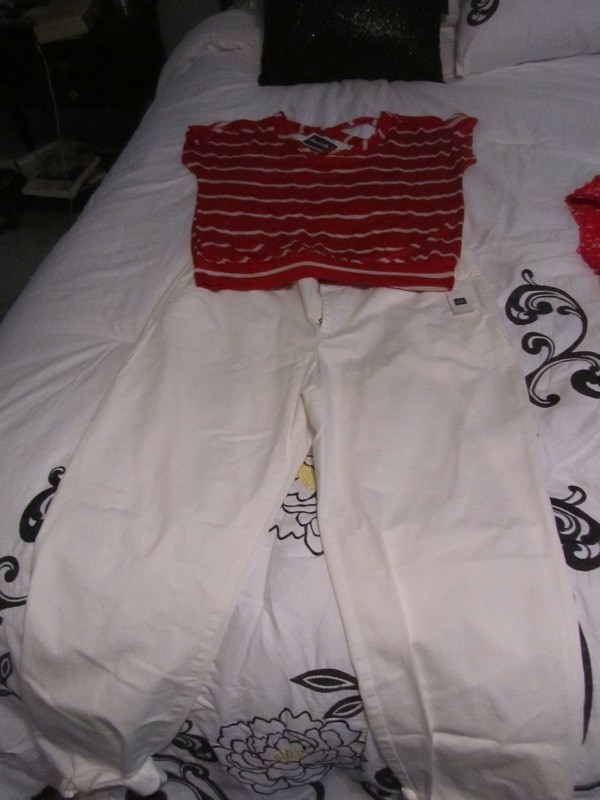 Those are the aforementioned khakis and a shirt I picked up at Marshall's. Again, it's not too tight around the belly but also not too loose. The best part is the cutouts with criss-crossed straps on the back.
But is it just too casual? I think I'd feel much more comfortable, bodywise, in this outfit. And I think with nice sandals and jewelry, I could dress it up some. Plus, I am afraid that my thin Florida blood is going to leave me freezing all weekend long anyway, especially at night.
UGH.
I am not someone who cares this much about fashion, obviously. I just can't believe how frustrating this shopping experience has been. I know the biggest reason is how unhappy I am with my body right now. But I also think I've reached a very startling realization — it's time for me to age up in terms of the stores I shop in. Hell, this morning I saw a commercial for Chicos — yes, CHICOS — and thought, "Hmmm, those white jeans looks like they could work."
Shoot me now.
And don't even suggest shopping online. It's never worked for me. Never.
After such a frustrating day, this is pretty much how I was feeling.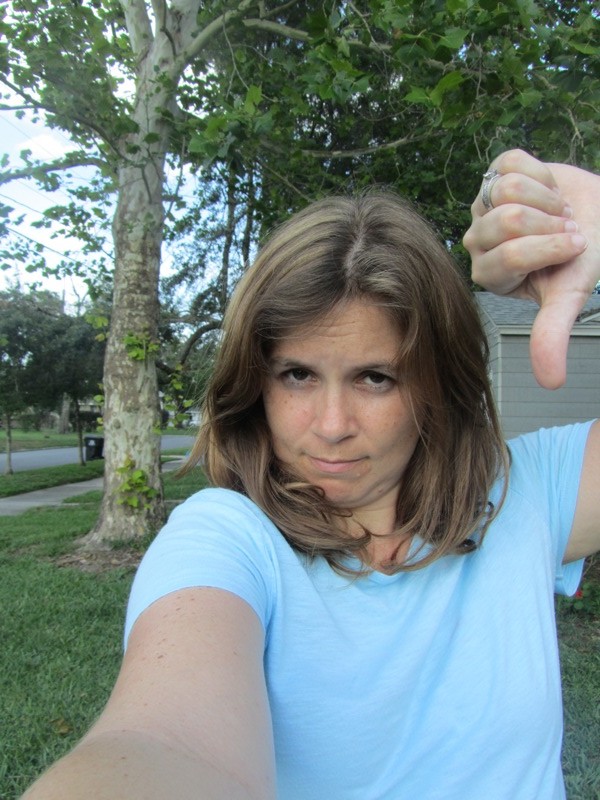 If I can't change my body by the end of the month, I can change one thing … my hair!
This was my first time ever doing a box at home. Clearly, I had no idea what I was doing. After I put all the dye in my hair, I looked nothing like the girl on the box. How do you get all that hair to stay on top your head? It kept falling down, staining my shirt and one time swinging into my eyes, which felt awesome.
And when I was done? You could barely tell I'd done a thing.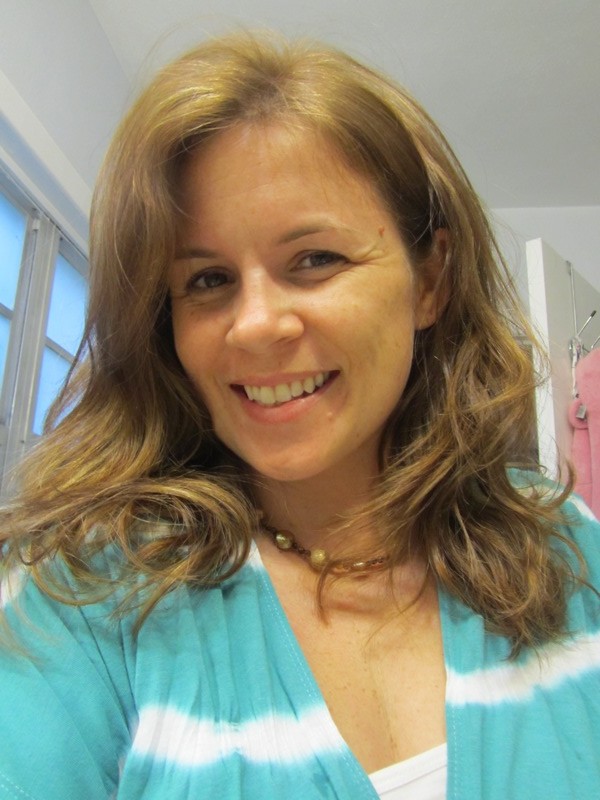 As usual, Paula was right — you should ALWAYS go much lighter than you think you want so that it actually shows. Otherwise you get this reaction.
When I was dying my hair, E. was fascinated because she'd never seen it before but it was bedtime. I told her when she woke up today, my hair would be lighter like hers.
This morning, she comes into the bathroom and examines my hair.
Me: Well, E., what do you think? Does it look lighter?
Her: Kinda.
And it was a really drawn out, slightly judgy "kinda." Well, OK then.
I think I spent a bit too much time focusing on the roots. They have a slightly orangey glow to them.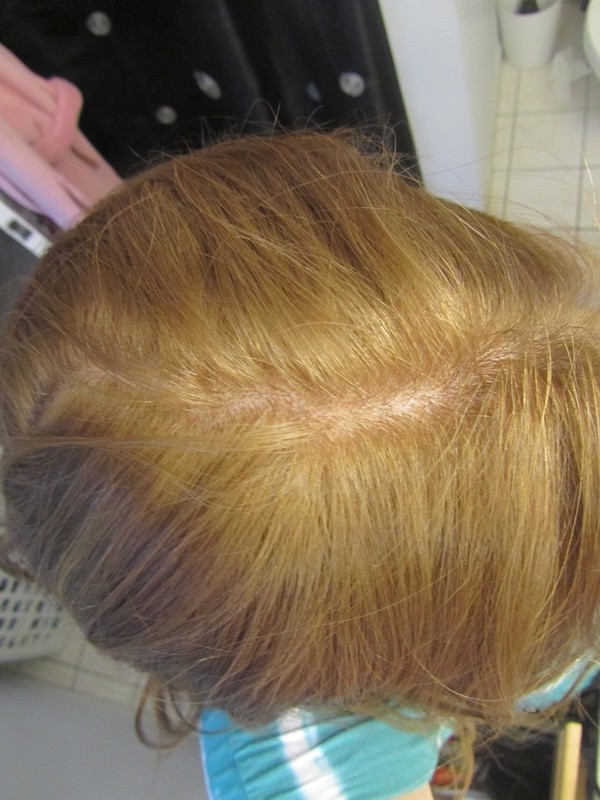 Oh well. It's just hair.
I know this was a really whiny, angsty post. But I've been trying really hard to not say anything of these things at home. The last thing I want is for E. to think I hate my body. I don't hate it. I just know I need to make changes.
And I wish I had a personal shopper.
But that's where you come in: a) Of the two outfits above, which do you like best? b) Where do you shop? Clearly I need to find some new stores. and c) Why didn't any of you tell me that the conditioner in boxes of hair dye makes your hair so freaking soft? I've been petting my head all day like it's a soft kitten. I fear I may become a hair dye addict.