I've really been trying to whip my ass into shape lately. I'd always heard the hushed whispers about what happens to your body when you hit your mid-30s, but I didn't want to believe them. Surely those people were just using it as a crutch.
Now that I've officially hit my mid-30s with my recent 35th birthday, I can assure you — it's no joke. My body is playing some cruel tricks on me.
I know that I've needed to drop some weight for awhile, but at least before, it was mostly evenly distributed and easy enough to cover. But lately, it's all collecting in one place — my gut. I started realizing this last summer when a certain food truck owner congratulated me on my pregnancy. Sadly, he wasn't the last person to make this mistake.
If one more flipping person asks me when I'm due, I'm liable to punch them in their face and just hope for a female judge — she'd never convict me of the battery charges. My usual answer now when asked that question (and more often than not by women. Bitches) is, "Four years ago."
The past six weeks or so, I've been exercising more consistently than any other time in the past several years. I've been going to the gym at least 3, and oftentimes more, times a week. Katy and I came up with a good plan to start going during lunch and doing crazy quick and intense workouts. Let me say, getting your ass kicked by a pregnant woman, particularly one in the throes of her first trimester, has been humbling. Even as she was trying not to puke, she still kicked my ass. But it was a good, much-needed ass kicking and I feel like my arms and legs are already getting stronger.
I've also been running more, going to Dance Trance more regularly and doing a much better job of eating healthier meals. In fact, I think half my stomach issues may be all the veggies I've been cramming in there lately. It's a shock to the system.
But you'd never know that based on the scale. Listen, I'm realistic. I know you can't just instantly drop weight. But I do know my body. If I had put half this effort into exercise and dieting a year ago, I would have lost AT LEAST 5 pounds by this point. But now my weight seems to be stuck at the same pesky, obnoxious number. And the stomach bloat isn't going away.
It seems I'm going to have to get aggressive, and, cue the violins, I DON'T WANT TO. I don't want to count calories. I don't want to give up some of my favorite food groups, like sugar and alcohol. And I sure as hell don't want to hire some boot camp instructor or personal trainer to kick my ass on a daily basis. But it's starting to become very clear that that's what I'm going to need to do.
This girl impressed the hell out of me last night by not only not drinking during our monthly Central Florida Lady Bloggers meet-up, but she also ordered a ridiculously healthy dinner at the sushi restaurant afterwards. So apparently shrimp tempura negates the health benefits of sushi, huh? Damn. How'd she get so smart?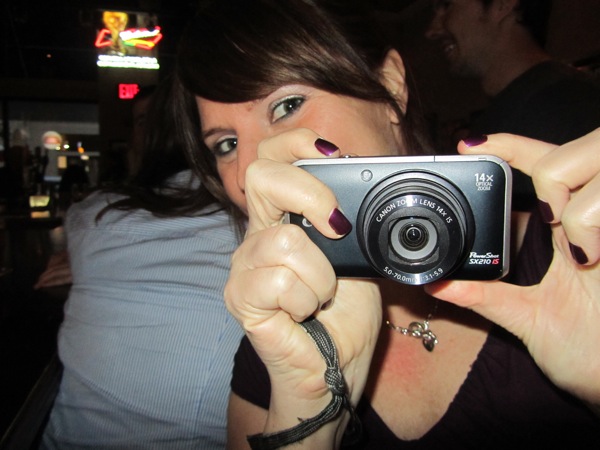 And we won't even talk about these …
It has the word "mango" in the title. That's basically a health food, right?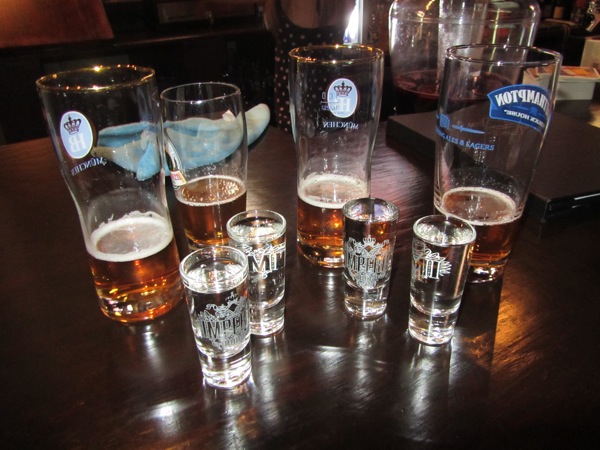 No, that definitely wasn't a health food. Although my favorite part of this picture is Colleen's OK fingers, trying to encourage me to suck it down. Enabler.
Know what really drives home your weight issues? Standing with these gorgeous ladies for a group shot.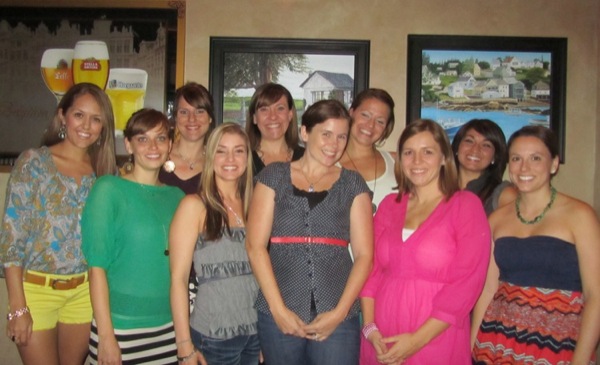 By the way, if you're looking for some great new reads, these lovely ladies are, from left to right: J, Roxy, Paula, Roz, Michelle, yours truly, Colleen, Katy, Hemarie and Victoria. (P.S. thanks for letting me steal some of the above pics and links Paula, Victoria and J!).
Note to self: do not stand front and center when you are a least a head taller than the two people next to you (thanks to some high wedges). Some day I will learn posture so as to not look so awkward in such shots.
Needless to say, though, I lack the willpower of this girl or supreme dedication to running and spinning of this girl. I really have cut back on extra snacks and alcohol. I rarely drink at home anymore, and last night, it would have been a waste to not drink since my neighbor and pal Victoria volunteered to drive us (of course, then I ditched her for sushi with Michelle and Paula. I'm klassy like that. In my defense, she wanted to get home for the draft and gave me her blessing!).
All that being said, I just want to know how my metabolism disappeared over night. The best (and laziest) solution I can think of is to try and convince E. to nurse again. When I was nursing, the weight literally melted off me. In fact, in my heyday, when I was still nursing but she was also sleeping through the night so I had energy to actually exercise, I was about two sizes smaller than I am now. I miss that short-lived, glorious period.
Think she'd be game for some breast milk? It's only been 3 years since she quit. It's got to be easier than Weight Watchers.
Do you find your metabolism slowing as you get older? Have you found any natural metabolism-boosting foods or vitamins? What are your best tips for jump-starting a HEALTHY weight-loss journey? Be honest — I'm going to have to have my ass kicked my a trainer, aren't I?
And send me an email if you're interested in joining us for our monthly blogger meet-ups. I'm even planning the June one!