As you may recall, I have an almost-full-time job outside of the home (let's not bring Hillary Rosen and Ann Romney into this, OK?). That means, I'm at work from roughly 9-5 Monday through Thursday and I'm off Fridays. I've been on this current schedule for about a year or so (slowly working my way up after E's birth from first 10 hours a week to my current 30ish hours), and I love it.
Fridays are my days to get stuff done with E. That usually includes a playdate in the mornings with the moms' group ladies who I barely see anymore, followed by errands, relaxing at home, getting a headstart on laundry, etc.
On this Friday's list, I had a very important task — finding a new pediatrician. I'm devastated by this prospect. Since E. was 7 weeks old, our family friend has been our pediatrician. She's a resident adviser at Arnold Palmer Hospital (meaning she's teaching the doctors of tomorrow), but she also had some office hours in the hospital's pediatric practice. But they're shutting it down to shift the doctors' attention to other projects and other clinics (or something like that). All I know is my days of setting up appointments via text with my friend are over.
I've known about this for weeks, but I've been in denial about it. Thankfully, we had E's 4-year-old check-up in February before the changes were announced, so I've been all, "Oh, we're probably OK for awhile. E. barely gets sick anymore. It's not like the first couple years. We're hardly there anymore."
Why must you be such a bitch, Murphy? I wasn't trying to taunt you. I just like to procrastinate.
Sure enough, when I picked E. up from school today, she was not looking so hot. She was pretty lethargic and her eyes looked like she had been crying (she told me about some silly argument with a friend). As I was getting her into her car seat, she said, "Mommy, I don't think I want to go to ballet tonight. My head and belly hurt."
Oh shit.
If she doesn't want to go to ballet, there must be something seriously wrong. She ALWAYS wants to go to ballet. It's the highlight of her week.
We came home and I took her temperature. It was 99.5. Normally that doesn't even count, but hers tends to run much lower than 98.6 (and yes, feel free to roll your eyes. My late mother-in-law always used to say that to us during her various hospital visits. Every time she told that to a new nurse, DadJovi and I looked at each other and gave a little smile and a little eye roll. But hot damn, she was right! I always laugh when I take E's temperature and it's low. I like to think this is her way of returning the eye roll at me from beyond. She was an awesome woman. Well played!).
Anyway, was very whiny and clingy and wanted to just snuggle up in my lap (honestly, this is the best part of a slightly sick kid — unusual cuddles!). She also kept telling me her chin hurt, which I finally figured out meant her throat hurt. So I made her a smoothie dinner and gave her some ibuprofen.
It's probably at this point that I should mention that strep has been making the rounds at school. E's bestie had it last week, and another friend's younger, diaper-age sister (who goes to the school) actually has it in her butt. Who knew that was even possible?!? Her mother and I didn't when she told me about it.
So, now I'm stuck with that painful decision for tomorrow — school or no school? If she wakes up in the morning and is acting like she did today, the decision is easy — she'll stay home and I'll work at home (thank God for understanding, flexible bosses!). But if she's fine, it'll be a tough call. I know she wants to go because tomorrow is gymnastics day at school, but does she risk making herself or her friends sick, too?
Why isn't there some school indicator light on kids? That would make things so much easier!
And if she is sick, that means I'm going to be scrambling to find a new pediatrician tomorrow. I have a couple leads and in a bind, I know our friend would find a way to see her and get her started on antibiotics if necessary (which I really hope is not necessary).
Am I the only one who leaps into action the moment her kids or husband shows any sign of illness? But for me? Well, I sometimes maybe get around to it eventually … maybe.
Lately, I've been feeling really off. I've experienced everything from a vertigo-like tunnel vision when I was driving last week, followed by seeing spots for a couple hours, to massive headaches. For the past week or so, I've also been dealing with some feast or famine stomach issues (meaning going not enough or way too much) and some painful bloating. All of this can only mean one thing.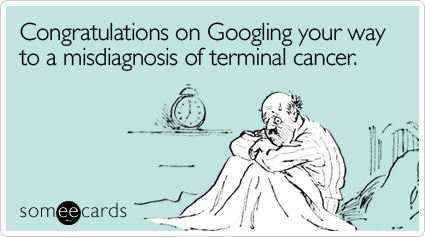 Obviously.
Of course, I'll never get around to making a doctor's appointment for myself because that would require actually finding a primary care physician then having the time for said appointment. Why can't my midwife/OB-GYN be that person again? It's the only doctor I see regularly, so it'd be so much easier if everything was in the same place. Or maybe I could outsource my health?
Or,  better yet, perhaps I can convince E's new pediatrician to take on two new patients!
What usually prompts you to call the doctor for yourself, spouse or kids? Am I germ-spreading monster if I send E. to school?