I PROMISE, this is my last post about a recital … at least for another seven months (Christmastime).
But I'm just too proud not to take a moment and acknowledge E's very first piano recital. For weeks, she's been diligently practicing her piece every day, frequently several times a day. A couple weeks ago, her piano teacher gave her even more elements of the show to practice  — walking up to the piano, setting up her music, then at the end, holding onto the piano and taking a bow. That was E's favorite part to practice.
And she's right. Taking a bow IS fun. Man I was robbed by not playing piano as a kid. Try it some time.
Finally, the big recital day arrived. It couldn't come a day sooner. For the final week leading up to it, DadJovi was a nervous wreck. I swear, he was more nervous for this show than for anything I've ever seen. Oh, I take that back. You should have seen his face when the ultrasound tech told us we were having a girl. She and I seriously thought he was going to faint. He went the proverbial white. Now, though? He wouldn't have it any other way.
I wasn't that worried about the recital, though. After all, she had just sailed through her ballet recital with no nerves. Why would this be any different?
It wasn't until the day or so before the recital that I realized just how different it is. Our girl was going to have to walk up onto a stage by herself and perform for people by herself. There wouldn't be seven other performers on stage with her. It was all up to her. What if she panicked? What if she kept messing up and couldn't collect herself enough to go on? What if she refused to take the stage? What if DadJovi threw up?
There's a famous Elizabeth Stone quote that I thought I understood the meaning of before this point.
"Making the decision to have a child is momentous. It is to decide forever to have your heart go walking around outside your body."
This piano recital was one of the first times I really felt that in a nerve-wracking way. By the time we left for the show, even I was nervous, which I, of course, tried desperately to hide from DadJovi and E.
For her part, the pianist wasn't showing any signs of stage fright throughout the day. She kept saying how excited she was for the show, even as we drove there. But when we arrived, I think the reality of the situation sunk in for her, too.
Since the weather was so horrible (really, Florida? I think we've had enough rain this week. The downpours just aren't fun anymore), we left extra early. That means we also got there extra early, which gave us all too much time to sit and stew before the show. So, to pass the time, E. decided to take my camera for awhile.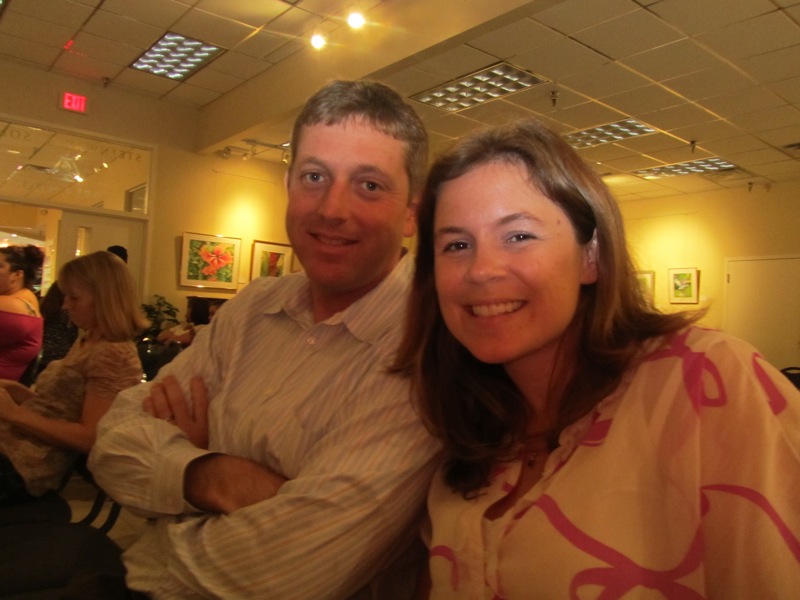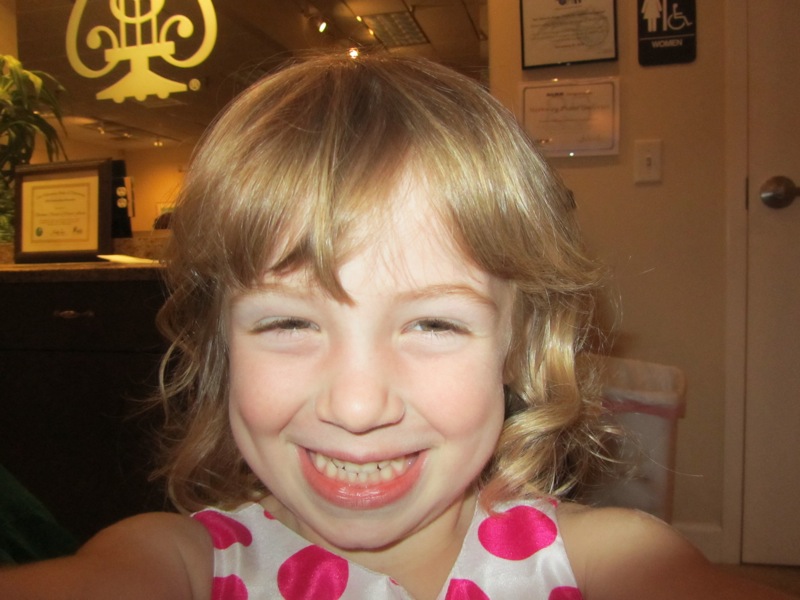 She loves the self-portrait.
As we sat there, some of the other kids took the time to get up on stage and practice their pieces. E. was having none of it. She wasn't going near the piano. Just look at it looming up there.
The closest I could get her to the stage was the front row, on Daddy's lap.
Finally, it was 6:30 — showtime. But due to the horrible weather, which, of course, caused horrible traffic on I-4, her teacher decided to delay the start of the show a little bit because three of the students weren't there yet. So we got to (nervously) wait even longer. That's when the nerves really started to set in for all of us, including E. At one point, she even said to me, "I don't want to do it, Mommy." But a moment later, before I could even think of some sage parenting advice, she was back to being ready to go. If only we could go.
About 15 or 20 minutes later, her teacher decided the show must go on. She got up and gave a small introduction, and then she called the first performer — E. As the night's youngest student, she got the honor of going first.
OHGODIWANTEDTOPUKE.
But as soon as she heard her name, E. popped out of her seat and marched right up to the stage.
First step? Arranging her music.
Look how she has to stand on her tippy toes to reach the music stand? I die.
Then, she got herself arranged on the bench. When I saw how far her feet were from the ground, I swear, I nearly lost it. She's too small to be doing this!
But, in the wise words of Yoda, she basically threw out a "judge me by my size, do you?" and hushed the whole crowd.
Don't take my word for it. Watch the performance video that's taking YouTube by storm. OK, fine, just my mom's Facebook feed. But it's still pretty cute.
Sure, some of the notes were a little too soft, but she didn't miss any notes. And she NAILED her bow.
And then, DadJovi and I finally took a deep breath.
After E. finished her rousing rendition of "Twinkle, Twinkle," we were able to relax and enjoy the other nine students' performances. I've been on the fence about her teacher, but there was a girl that went toward the end and all I can say is wow. Just wow. First of all, she took the stage with NO SHEET MUSIC and played the most beautiful, complicated version of "Small World" that I've ever heard, followed by a flawless Pachebel's Canon in D. And she was no more than 12.
She was the best advertisement I've ever seen. E. is sticking with this teacher as long as they both still like each other.
After the show, we let our little star pick any restaurant she wanted for a celebratory dinner. She chose Steak and Shake. Gross. Her dad has taught her some horrible habits.
But she was happy.
I should have just had a milkshake for dinner. I ordered the best "good" option I could find and got a turkey club. It was neither healthy nor good. Lesson learned.
It didn't matter, though. Our girl had not only survived her first piano recital, she had survived one of those seminal moments of childhood. Years from now, I'm not sure how much of the night she'll remember. But I'll never forget watching her grow up in an instant, right before my very eyes.
It really is the epitome of bittersweet. I'm so sad that she is growing up so quickly but man, I couldn't be prouder of the girl she's becoming.
Now excuse me while I go cry in the corner again.
What's the hardest thing you've ever watched your child do? And do you remember your first big moment on stage as child, whether it was a play, performance or even oral book report in front of the class? I used to get sick to my stomach FOR DAYS before any big public speaking event or test. I hope that skips a generation.