'Tis the season for recitals. Later this week, E. has her very first piano recital. This weekend, though, it was ballet time. And E. attracted a big fan club.
Yeah, DadJovi was a little excited for the show. By the way, notice that no one else was there yet? Since my mom did fly all the way from Pennsylvania just for this show, I knew we should be early to avoid a repeat of the Christmas show disaster — all of us standing in the back. Her show was at 1:30. We were there by 12:40 and I freaked out when we pulled into the lot and it was FULL of cars. Turns out, they were still there from the show before ours (there were 5 shows on the same day). Once they cleared out, we got the front two rows. It was one of my better planning moments — serving a pre-show lunch, then getting 8 adults and a 4-year-old out the door so early.
When the rest of the kids got there (finally — I mean, who doesn't show up an hour early for a 4-year-old's recital?), it was time for them to pose for their mommas and their incessant picture taking.
I think her little friend was done with the photos by that point. Can't say I blame her.
Then, Mr. Troy had some final words of advice before the show. First, they practiced their smiles? Guess who nailed it?
She really loves him so much.
Then, it was time to warm up the vocal cords with some scales. Yes, this would be a full dramatic performance, complete with singing, dancing and acting and a splash of gymnastics thrown in.
Finally, it was showtime.
And that's about the only useable photo I got. I was a disaster with the camera. The flash looked horrible. No flash made everything blurry. See …
I didn't sweat it too much, though. For starters, for this recital, I decided to just video tape the whole thing. When I got our video camera out yesterday, I realized I hadn't recorded anything since October. OCTOBER. Sure, there have been a few things on my phone, but still. Besides, just 6 months ago, Katy the superfriend came to E's Christmas recital and took pictures like this:
Why would I even try to compete with pictures like this? I have about 200 amazing photos like this. There was no need for me to kill myself trying to get pictures of this show. I just sat back and enjoyed it.
I was able to catch one sweet picture of our pleased-with-her-performance ballerina.
Along the way, they performed tap routines to the Muppet Show theme song (including them belting out, "HAVE WE GOT A SHOW FOR YOU!"), the Hokey Pokey, Skip to my Lou, I'm a Little Teapot (mambo style) and Put Your Sparkle On (an awful Barbie movie song that gets stuck in your head for hours. Trust me).
Then, it was time to switch to ballet shoes for the number that brought the house — and my tears — down: The Rainbow Connection. I swear to you, there is nothing sweeter in the world than seven 3-, 4- and 5-year-olds dancing to and singing this song. Yes, DadJovi couldn't resist taking a picture of me bawling. And I love you all so much that I'm going to share this picture, 4 chins and all.
I suddenly feel guilty for every time I mocked Farrah's ugly cry on Teen Mom. Crying is not a good look on me.
The funniest part of that picture is seeing me, my mom and stepdad, all with our cameras aimed at the kids. No wonder most kids feel like celebrities these days. They're followed by packs of paparazzi.
Since the kids were doing so well, Mr. Troy let them do a song they just started working on. He warned that it wasn't "show-ready" yet but it was definitely cute.
Yes, it was quite the show.
And there was still enough time for me to have one more camera fail. Mr. Troy lined them up for one last group photo for all the parents. And guess whose memory card chose just that moment to be full? I scrambled to delete a couple photos, and by the time I was done they were just about to get up. So I ended up with this blurry crap.
I'm going to have to hit up the other parents and steal one of their pics. Sigh.
After the show, it was hard to pin down our ballerina for pictures. She consented to two. Such a prima donna.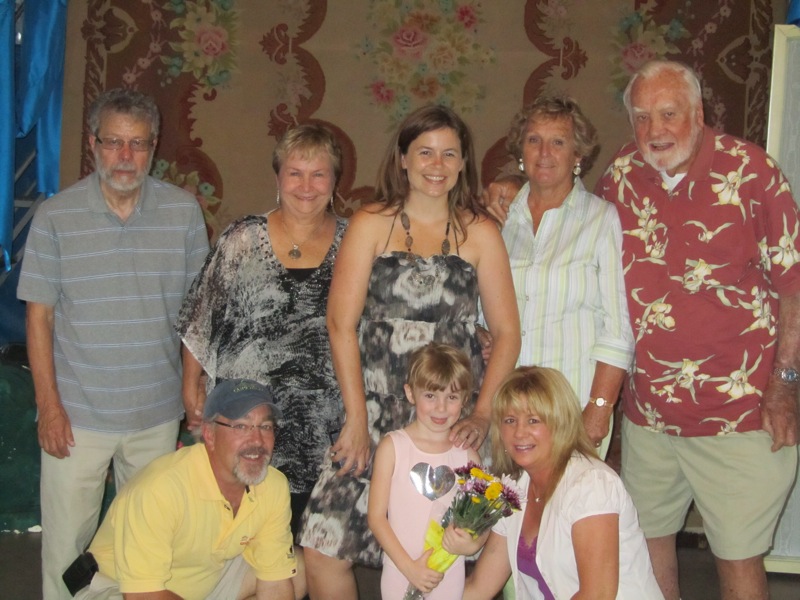 E's a lucky girl. For her show, her fan club included her parents, two sets of grandparents and a set of great-grandparents.
But then, she was done with pictures. She wouldn't even face me when she saw the camera out.
At least all of our efforts are well-documented in the mirror in front of her. Only one person could convince her to get one final shot.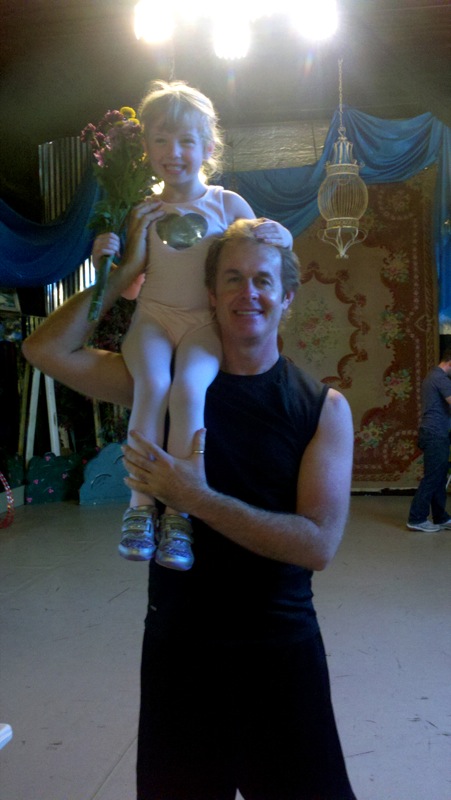 After such a successful performance, there was only one thing our ballerina wanted: ice cream. Can you blame her?
And now it's time for a summer break from ballet. I know E. is going to miss it, but I sure am glad to get our Wednesday nights back. Well, of course, that is after we complete our two-week intensive swimming lessons this summer — four days a week for two weeks in June. THEN, we get a break.
Then comes the big decision whether to return to ballet in the fall, do ballet and soccer or just one of those things (she currently wants to do both). And her teacher wants E. to move up a level in ballet with the next age group. I don't think she will be a professional ballerina, so should we move her up and make her the youngest in the class, even if he thinks she really needs it? Decision, decisions.
I'll think about it in August. For now, I'll just be crying watching and rewatching this performance.
Has a camera fail ever made you miss a big moment?