When my mom came down a couple weeks ago, she brought a big piece of my childhood with her — my Barbies!
I know, I know. I've read and thought deeply about Barbie, her unrealistic body size and the doll's tendency to promote frivolous, fashion-focused play for girls. But I can't help it. I love that dang girl.
I spent such a huge chunk of my childhood playing with Barbies. As an only child, I was alone a lot, and for whatever reason, Barbie always seemed a fun thing to do on my own. In fact, I can remember getting shy (go figure) around friends when we played Barbies because I was so used to setting up my own scenes and dialogues with my Barbies and Kens.
I've heard my mom mention over the years that she still had my stuff but I was unprepared for the avalanche of memories seeing my old friends again brought back.
She even saved my Barbie pool!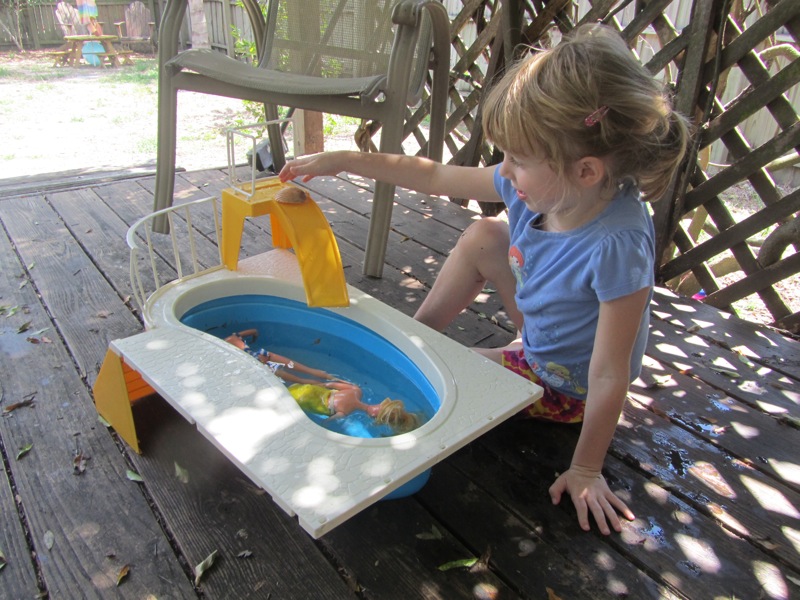 E. was all over that. My mom got her her first few Barbies for Christmas but she hasn't played with them that much. Every once in a while, she'll get them out and change their outfits, but that's about it. But I think seeing the pool gave her a new set of ideas of how to play with them. Not only does she have them go down the slide, but I've been overhearing them "talking" to each other in the pool. There's even been a swim lesson or two. So, even if the lessons E's currently taking every day aren't turning her into a swimmer, at least they're sparking her screenwriting skills, huh?
One of the gems that my mom found is the Syracuse Barbie one of my aunts bought me when I was accepted into SU.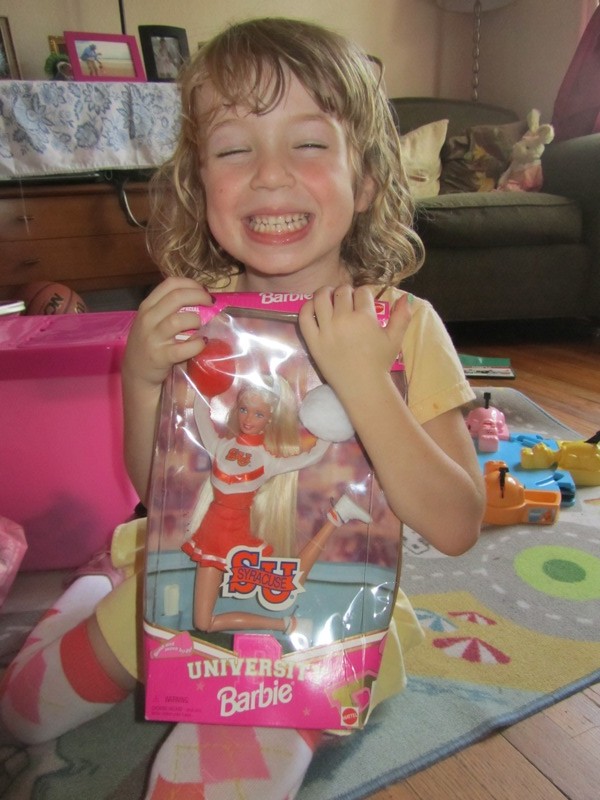 Yeah, that's pretty much how I felt when I became an official Orangeman, er, Orangegirl, too.
Let's go Orange!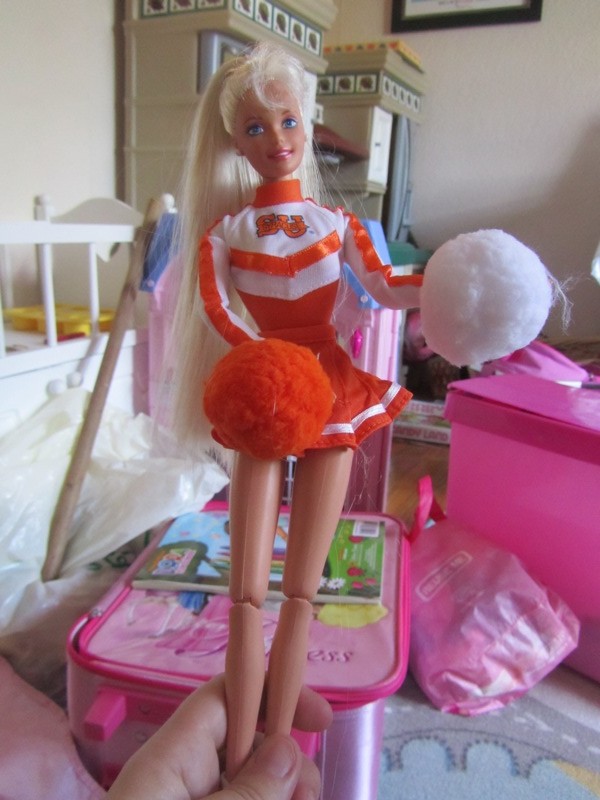 At this point in the post, I'd like to please ask you to not look too closely in the background of these photos. It's E.'s playroom. Sometimes it's super organized. Sometimes it's not. This is one of the latter times. OK, back to the Barbies.
This right here, friends, is the treasure trove of my memories — a giant bag of my Barbies' clothes.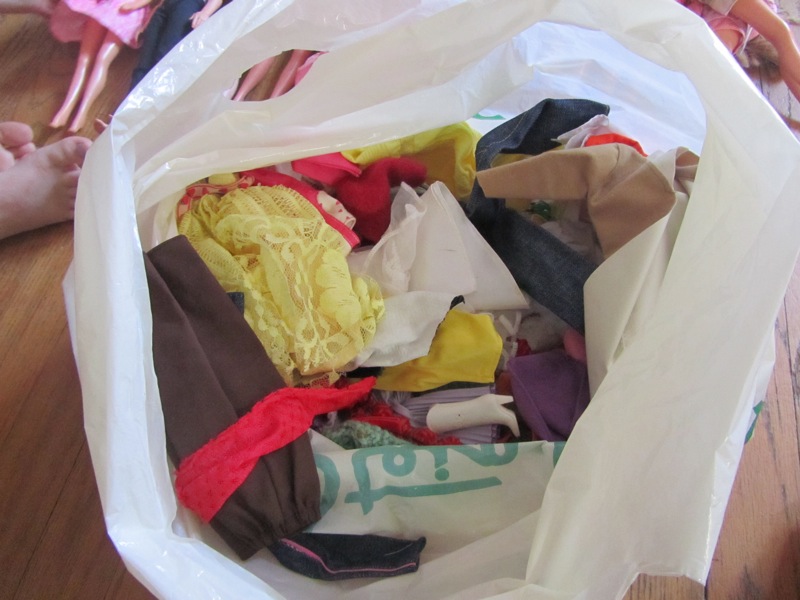 When my mom brought them, I worried that E. didn't have enough Barbies to dress up (and at this point, she's not really able to dress them herself. One guess who has to change the same Barbie's outfit 4 times in 10 minutes).
Enter my father-in-law. God love him. He's never met a yard sale he didn't love. We went over on Saturday for an early Father's Day lunch and he presented E. with a giant box full 'o Barbies.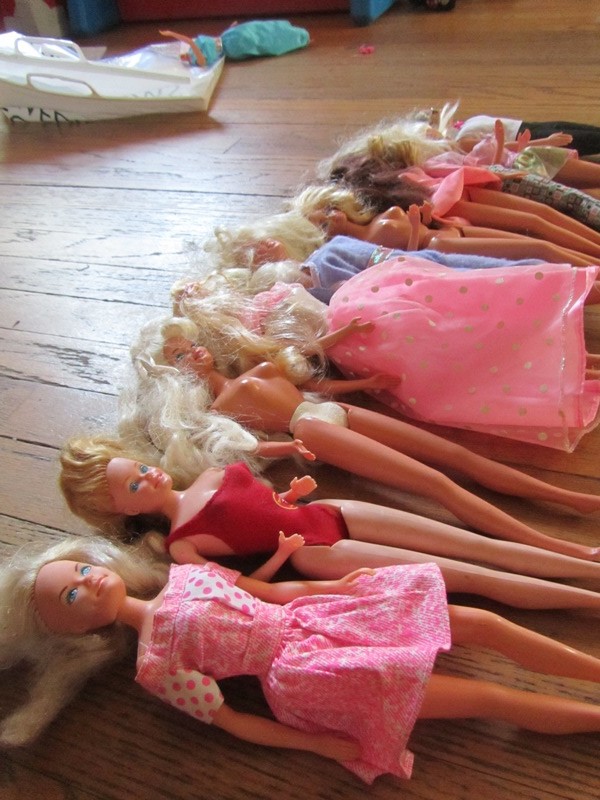 Most of them (OK, all of them) have seen MUCH better days. Thankfully, she doesn't care … even if she can't keep their heads to stay on.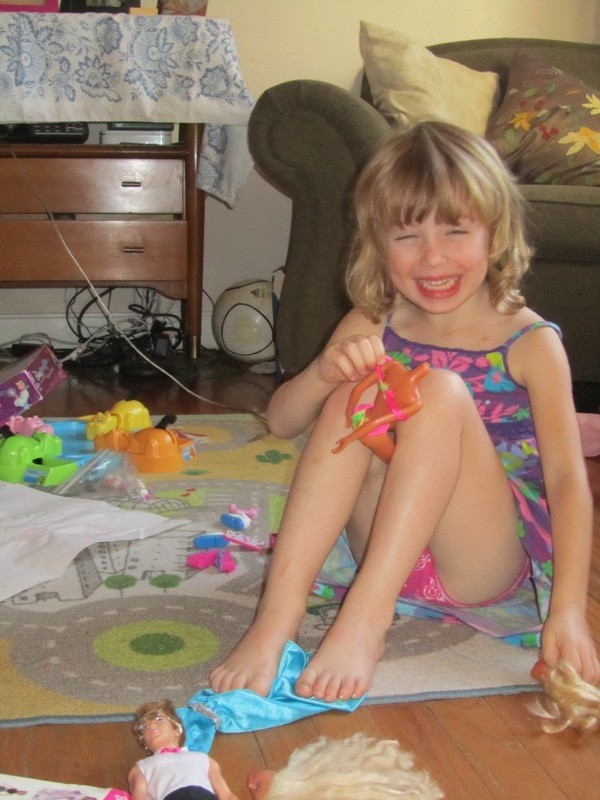 But as I quickly taught her, it's MUCH easier to take their clothes off when they're headless.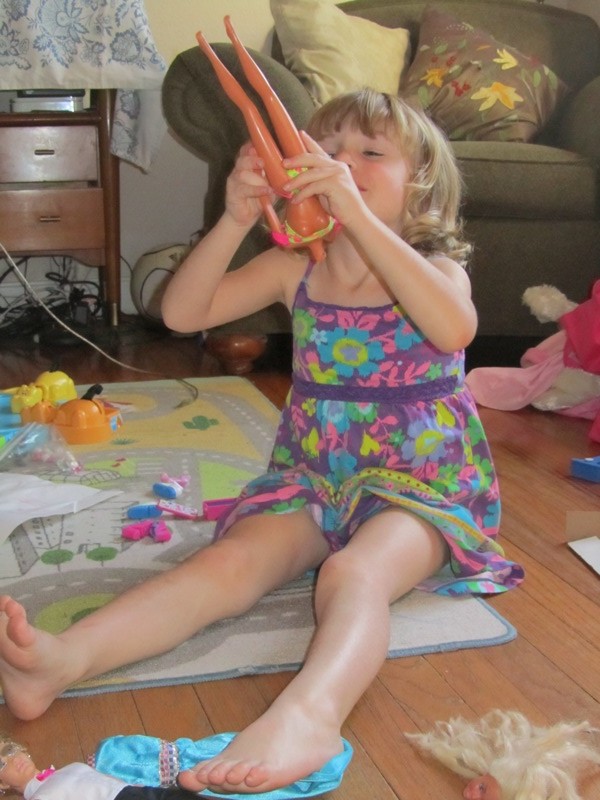 And some of her new friends just have all sorts of issues.
There's Legless Leslie.
Large Marge.
Personally, I think she bears a striking resemblance to Paula Deen. Anyone else see it?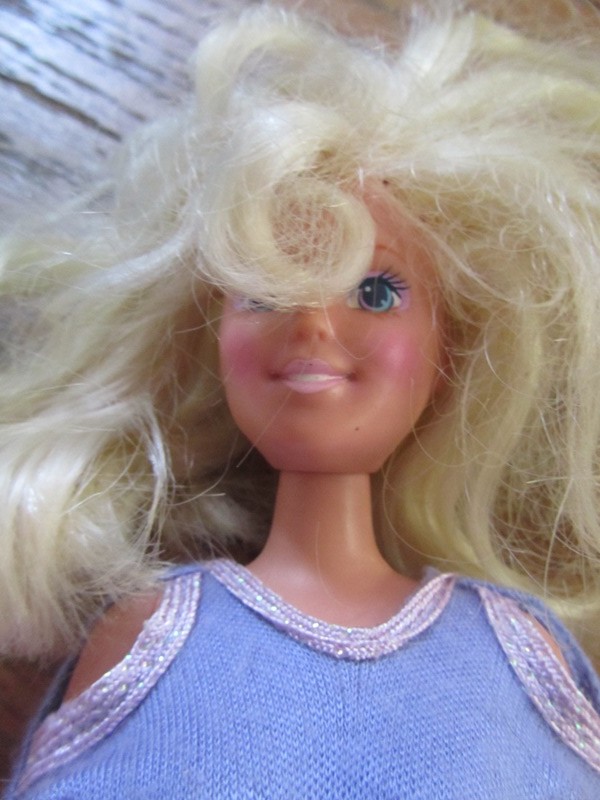 And then there's my favorite — C.J. Parker.
Yes, she's in a Baywatch bathing suit. Yes, her boobs are overflowing out of it. Yes, her hands are firmly positioned in karate-chop run position. Maybe Tom Cruise learned it from her, Michelle and Paula?
Yes, it's awesome.
Know what's even awesomer (or is it awesomier? I always forget)? Some of my Barbies' outfits.
Lest you forget what decade I grew up in, I present this purple and gold leaf gown, in all its '80s glamor.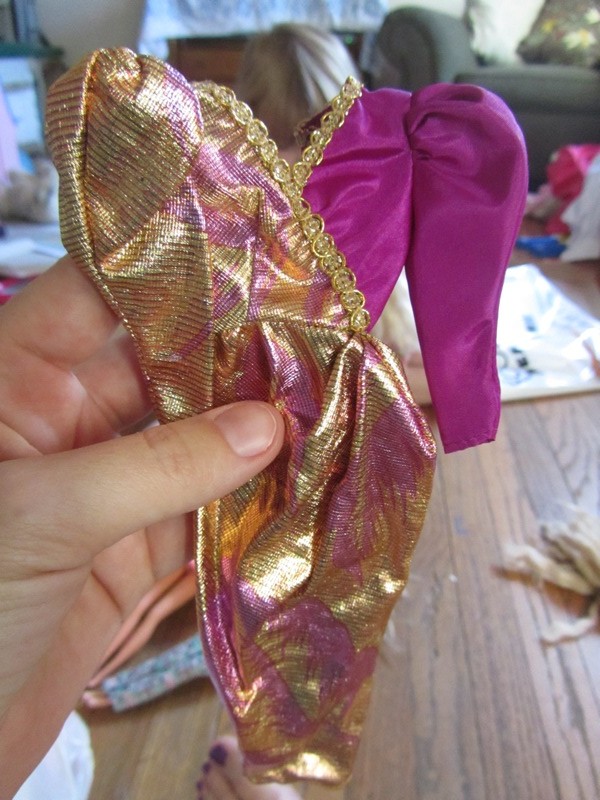 And who says Barbie only cares about fashion? Did you know she's a science girl … who ALSO knows how to make space travel look good? Well, consider yourself educated.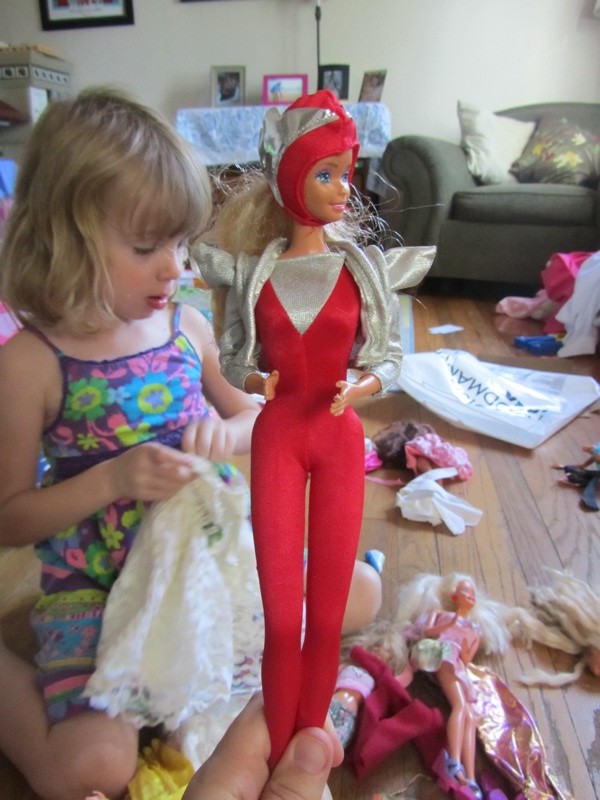 Astronaut Barbie pretty much rules, no?
And don't think that Barbie is the only one having all the fun. Allow me to introduce Hipster Ken.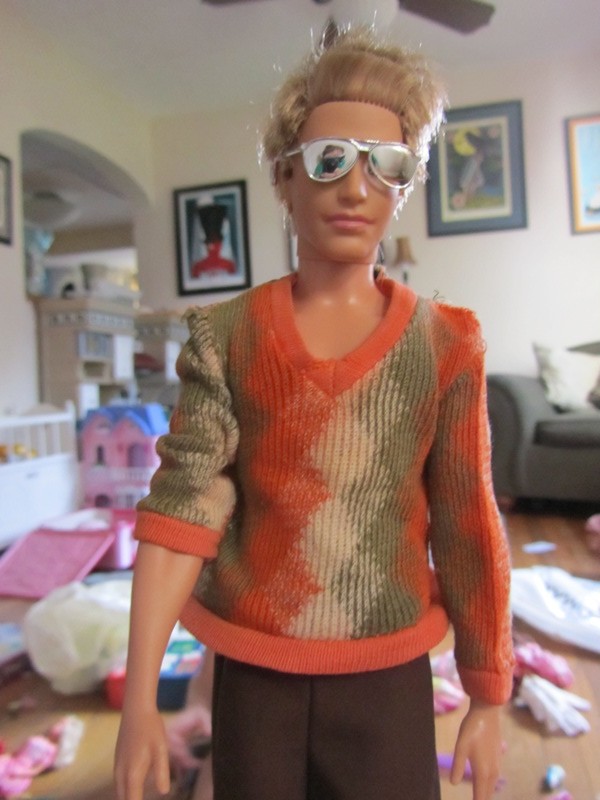 That's a new Ken (obviously. The frosted look really wasn't in for boys in the '80s) but the sweater is pure vintage. Not fake "I got it at a consignment store and it was OHMYGOD made in 1998" vintage. This sweater right here was in my mom's Barbie and Ken collection in the 1960s. I got to say, they don't make Barbie clothes like they used to. This sweater was actually knitted and it's made out of real fabric. Pretty cool, huh?
After we were done dressing all the dolls, there were a few leftover parts.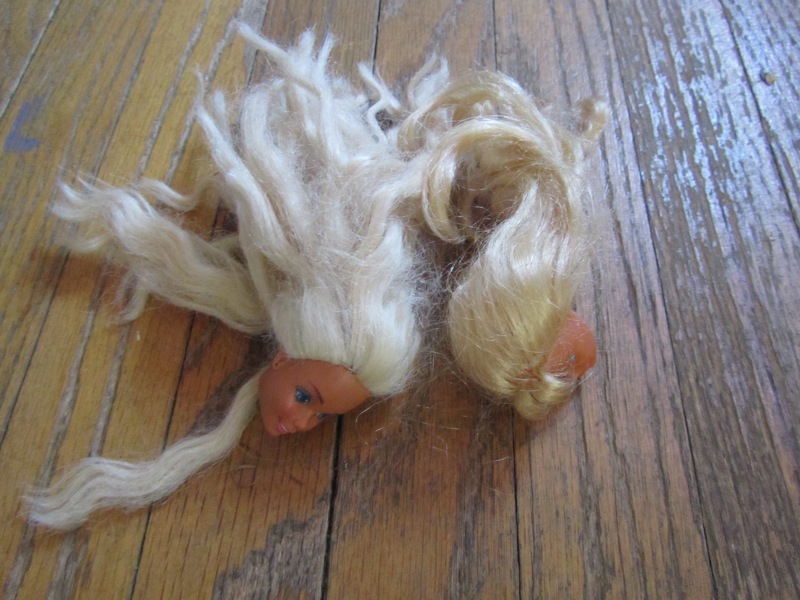 Just because their necks were broken didn't mean E was going to stop trying to jam them back on the bodies.
You think that's disturbing? I present to you my old Ken. And this is exactly how I left him, circa 1989.
Yes, he's shirtless. Yes, he's in leather pants. Yes, they're unbuttoned.
No comment.
I hope my girl has as much fun with these old friends as I did. Well, maybe not AS much fun.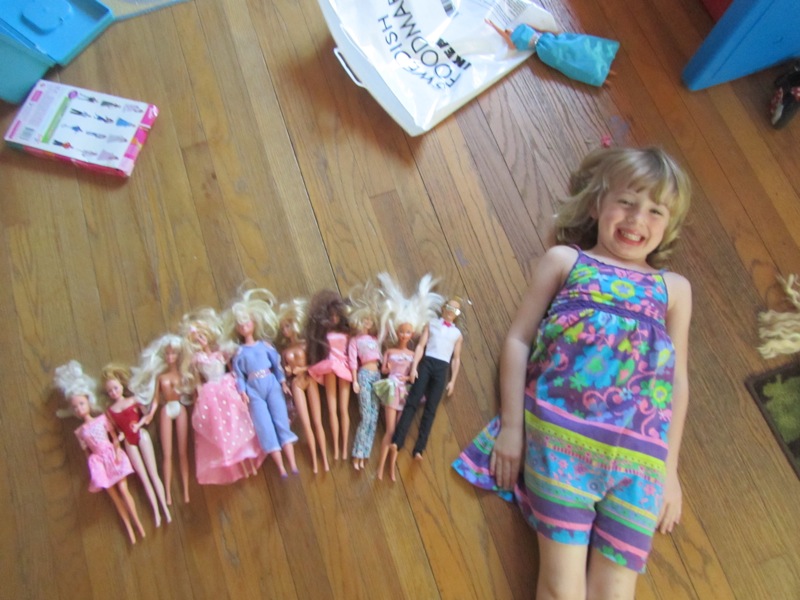 Did you play with Barbies? What was your favorite outfit or Barbie accessory? I'm still bummed we got rid of my Barbie Dream House. It had an elevator. I mean, come on.