Speaking of bad books, there are two books in my house that harass me with their awfulness.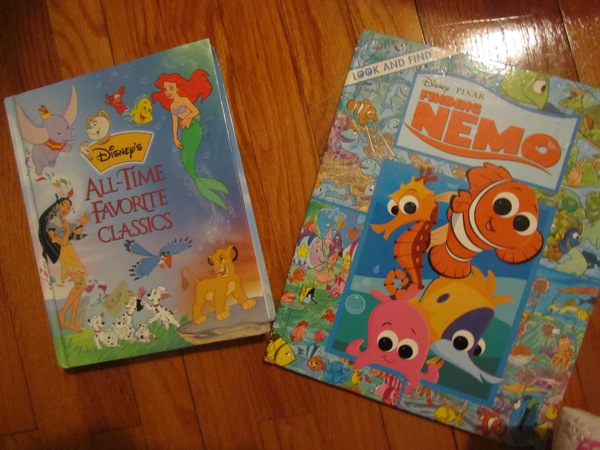 The book on the left is my No. 1 nemesis, and of course, it's E's favorite. It's not just snippets from various Disney movies. Each story is the complete movie. Like scene for scene. The stories are at least 40-50 pages long each (the print is big) and they take fooorrrrever to read. And I hate them all.
The book on the right is obnoxious but not nearly as bad as the Longest Stories Per Book Ever book. It features hide-and-seek pictures from different parts of "Finding Nemo" and one maze. Each picture used to take forever, but thankfully (?), we've all memorized it so it goes much faster now.
But my main problem with these books isn't just that they're mind-numbingly annoying — they actually make me dread reading to E. How sad is that?
Oh, there are nights when reading is a joy.
But more often than not, E. rebuffs our efforts to read "good" books, like Dr. Seuss, Maurice Sendak, and Robert McCloskey ("Make Way for Ducklings," for example), and instead makes us read the literary equivalent of junk food (I'm looking at you "Beast's Surprise for Belle").
I know, I know. We're to blame for indulging her whims and buying her such books. Well, it happened again today. This week is the Scholastic Book Fair at E's school. And every day since Monday she's begged for one book.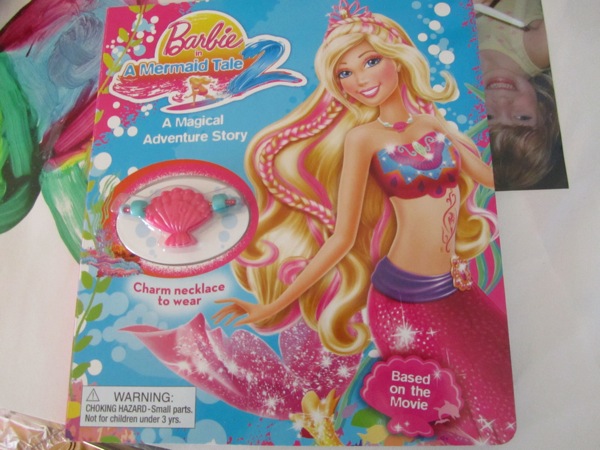 I kept telling her no all week, and to just pick another one. Needless to say, we left school every day empty-handed. But today she caught me. I was riding high on the emotions of an adorable Mother's Day Luncheon that featured E. and her classmates singing "Mommy Loves Me" to the tune of "Jesus Loves Me," a cute beaded bracelet she made me that was nestled in a hand-painted heart box and an abstract picture that she painted that the teacher laminated with a poem about moms.
And cupcakes.
So I caved. But boy did it make her happy.
Any Barbie Mermaid book that's based on the movie has to be good, right? Um, sure (spoiler alert: it's not. E. kept getting confused since the Mommy mermaid and her daughter Merliah look like they're the same age. Actually, the entire plot is confusing even to me, but I digress). At least it came with a mermaid charm necklace with too short strings that I either have to nearly choke E. to get it around her neck or somehow find a way to keep tying, untying and retying.
Good times.
I was able to talk her into one book of my choosing, though.
I forgot that the Pioneer Woman wrote a book (and it's adorable, by the way).
So here's what I'm wondering. Is it enough to just read to E. every night (which we do every night without fail), no matter what we're reading? Isn't is just important for reading to be fun for her, even if I hate the books? Or should I be making a more concerted effort to push some literary veggies at her?
I'm thinking of attempting a new strategy — she picks a book, we pick a book. So far, though, every time I've tried that, it's caused a complete meltdown and just ruined the entire experience.
And please tell me I'm not the only parent who hides or "accidentally" gives away books she can't stand anymore.
Got any books that are both fun for a preschooler and not complete crap? And please share your most-hated books so I know which ones to avoid.
And yes, I recognize the irony that I'm over-analyzing the books that we read to our daughter nightly when so many parents never read at all on the same day that head-banging-on-the-desk Time magazine cover was released. You win, Time. You win. You've discovered our dirty little secret — most days, most of us NEVER feel like we're Mom enough and you know what? It has nothing to do with breastfeeding v formula. Trust us, there are a thousand other ways we make ourselves feel bad. But thanks for helping us out with that. Happy Mother's Day to us!