2012 will always be remembered as the Mother's Day when E. and her father learned a valuable lesson — Mommy is ALWAYS right. But more on that in a moment.
It started out quite lovely. I woke to the delicious smells of breakfast cooking and hearing E's Homer Simpsoneque "whispers" outside the bedroom, conspiring with her father about when to wake me. When I was finally summoned from the room, I found this beautiful scene waiting.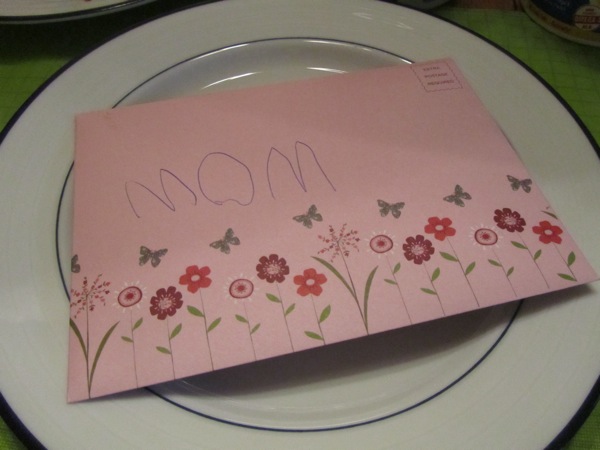 DadJovi made a ginormous batch of chocolate chocolate chip pancakes using the pancake mix Katy gave E. for Christmas. I knew we'd eventually get around to using it. Somehow, we just don't always have a quart of buttermilk, a stick of butter and six eggs around. I still can't believe these came from my healthy living guru. Although I know that she also appreciates the thrill of an occasional indulgence. Oh, these pancakes were worth the wait and the splurge. Seriously. Best pancakes ever.
And can we just discuss the most amazing bouquet of flowers ever?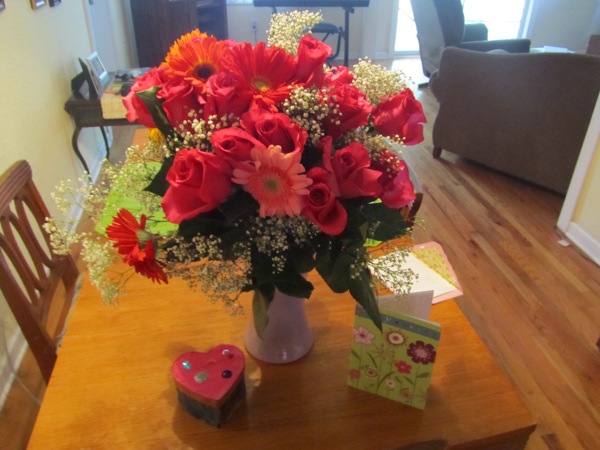 My husband got them at Whole Foods yesterday. I keep insisting that it must have been a $100 because I've never seen anything like it. He insists it wasn't that much, but there are so many roses and gerbera daisies. It's the most beautiful arrangement I've ever seen. The flowers and a fancy new Kindle cover were my gifts. Not too shabby.
After breakfast, we quickly got our stuff together and headed east for our now annual Mother's Day tradition — a day on Daytona Beach.
Oh, my little beach baby. She learned to take her very first steps on Daytona Beach, and every time she returns, it's just pure joy. This was our first trip of the year, and she's even more fearless than before. She got knocked down and flipped over so many times by the rough surf today, and she never even cared.
It didn't hurt that she was there with two of her favorite guys.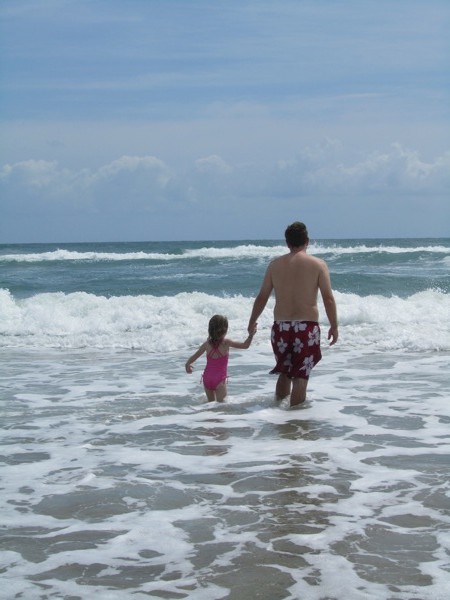 And what trip to the beach is complete without ice cream?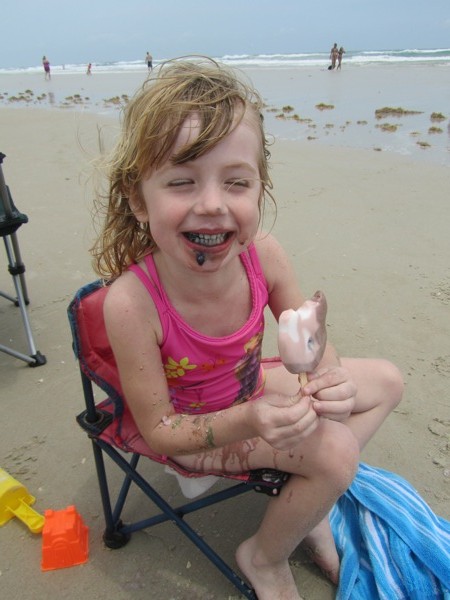 After a couple hours on the beach, we headed back to my in-laws house where my new mother-in-law (she and my father-in-law were just married in November) made lunch for us. We all felt bad that she cooked for us on Mother's Day (her daughter and son-in-law were there, too) but we all enjoyed the fruits of her labor — a bacon, cheese and onion quiche; a chicken and mushroom quiche; a great salad; three-bean salad and asparagus. Oh, and there were brownies and ice cream.
I could get used to mother's day feasts.
Here comes the fun part of the story, where I once again prove that Mother knows best.
Me: "E., I want you to go potty before we leave to drive home."
E: "I don't have to go."
Me: "It's a long drive and you haven't gone all day."
E.: "I don't have to go!!!"
DadJovi: "She's fine. If she doesn't have to go, she doesn't have to go."
I think we all know where this is going. Thirty minutes later. I-4 west. Several miles from our next exit. Heavy holiday traffic.
E: "Mommy! Pee pee is pushing out right now!!!"
Me: "You have to hold it. We'll stop as soon as we can."
E: "I can't. It's already pushing out!"
Yup, nearly two years since we said good-bye to pull-ups, my daughter pissed the carseat. Have I mentioned that this particular model doesn't really come apart for cleaning? (don't even get me started on this mind-boggling realization). I guess I'm going to win the battle for a new carseat/booster seat since she's nearly at this seat's current weight limit, although DadJovi thinks that's just an arbitrary number designed to increase carseat sales.
We'll see if he changes his tune once the piss has a few days to bake in the hot Florida sun.
So we stopped at the next exit. Thankfully, Mommy is also always prepared and I had an extra set of clothes and even another t-shirt for her to sit on for the rest of the drive home.
It wasn't a good day or time to anger Mommy. If you follow me on Twitter, you probably heard me whining all weekend about my leg.
I went to Typhoon Lagoon on Friday with my college boyfriend's friend from high school (true story. We've stayed friends all these years) and his two kids. While we were there, a yellowjacket stung my ankle and an unidentified insect bit my right lower leg. It started itching on Friday afternoon and by Friday night, the spot of dark, bright red and hurt like hell.
On Saturday, it only got worse, not better. I tried Benedryl cream, Advil, cold compresses, a vinegar and water solution and lots of elevation. It kept getting worse. The area spread, the bite felt hot and hard (TWSS) and a giant bullseye was forming on my leg. Of course Dr. Google and Twitter convinced me I either had a spider bite, Lyme disease or a flesh-eating bacteria.
I think we all know what bit me — a tracker jacker. There's no other explanation.
Last night, I had a dream that my late grandmother told me to apply her home remedy — a paste of baking powder and water. Thanks for the advice from beyond, Nam! Sadly, it didn't make my leg feel much better this morning and instead, I left a Lindsey Lohan trail of white powder throughout my house.
I was hoping the ocean water would make it feel better. It didn't. Even though I didn't feel like DadJovi had been giving my leg the appropriate amount of sympathetic understanding over the past couple days, even he could see it was getting much worse, not better.
OK, fine. He was very sympathetic. I suppose there are only so many reactions one can give to "My legs hurts sooooo bad." The leg made me really cranky.
When we got back from the beach, I decided to suck it up and head to the Solantic urgent-care center. Especially because the painful, itchy bite was not only sending pains down my legs, it was now consuming nearly my whole lower leg.
Thankfully it was Mother's Day and not, say, Fourth of July. Within 10 minutes of arriving at the Solantic (which I love, by the way), I was in with the doctor.
The first words out of her mouth were, "Wow. That doesn't look good."
Yup. I'm glad I went.
She said it appeared to be an allergic reaction to some kind of bite that's gotten infected. She said it wasn't abscessed yet but it was darn close. Thankfully she didn't have to give me an injection, but she loaded me up with four prescriptions.
She also gave me some symptoms to keep an eye on in the next days in case it's a brown recluse spider bite (and if I see those signs, I'm supposed to go right to a hospital. Fun). Hopefully the meds start to kick in by tomorrow night because DadJovi and I have some very special pre-anniversary plans — the Wilco concert in Tampa! Can't freaking wait.
So, despite my God-awful pain all day, I got to prove I was right not once but twice and I was treated like a queen. Well, I don't think queens have to clean up piss. So other than that. Although why should Mother's Day mean I get to take a day off from mothering? It actually seems quite fitting. And it's a lesson E. is sure to not forget any time soon. I call that a win-win.
Happy Mother's Day!